3 Ways to Cook Lake Trout
It's hard to beat a fresh, lake-to-table meal with friends and family. My favorite fish to cook is lake trout because of its meaty texture, beautiful pink color and versatility in cooking methods. And I don't know about you, but I think the fish you catch is the best tasting fish.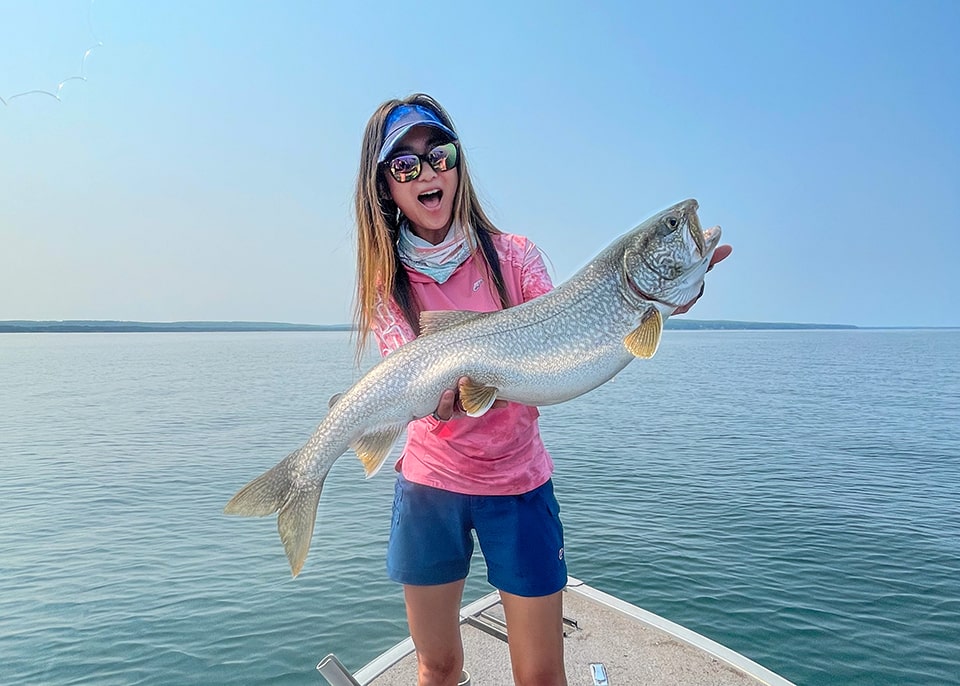 On our most recent trip to Lake Superior, my husband and I managed to haul in our limit of three trout per person. It's the best fishing we've ever experienced. This was thanks to calm waves, my parents stepping in last-minute to watch the grandkids, our experience and knowledge about fishing in big waters safely and efficiently, plus a bit of luck.
With six lakers in the cooler, we decided to cook our catch a couple of different ways, including grilling and smoking. Baking is actually the easiest method for preparing lake trout, and I'll explain why in a moment. I'm excited to share my family's favorite methods and recipes for cooking lake trout with you.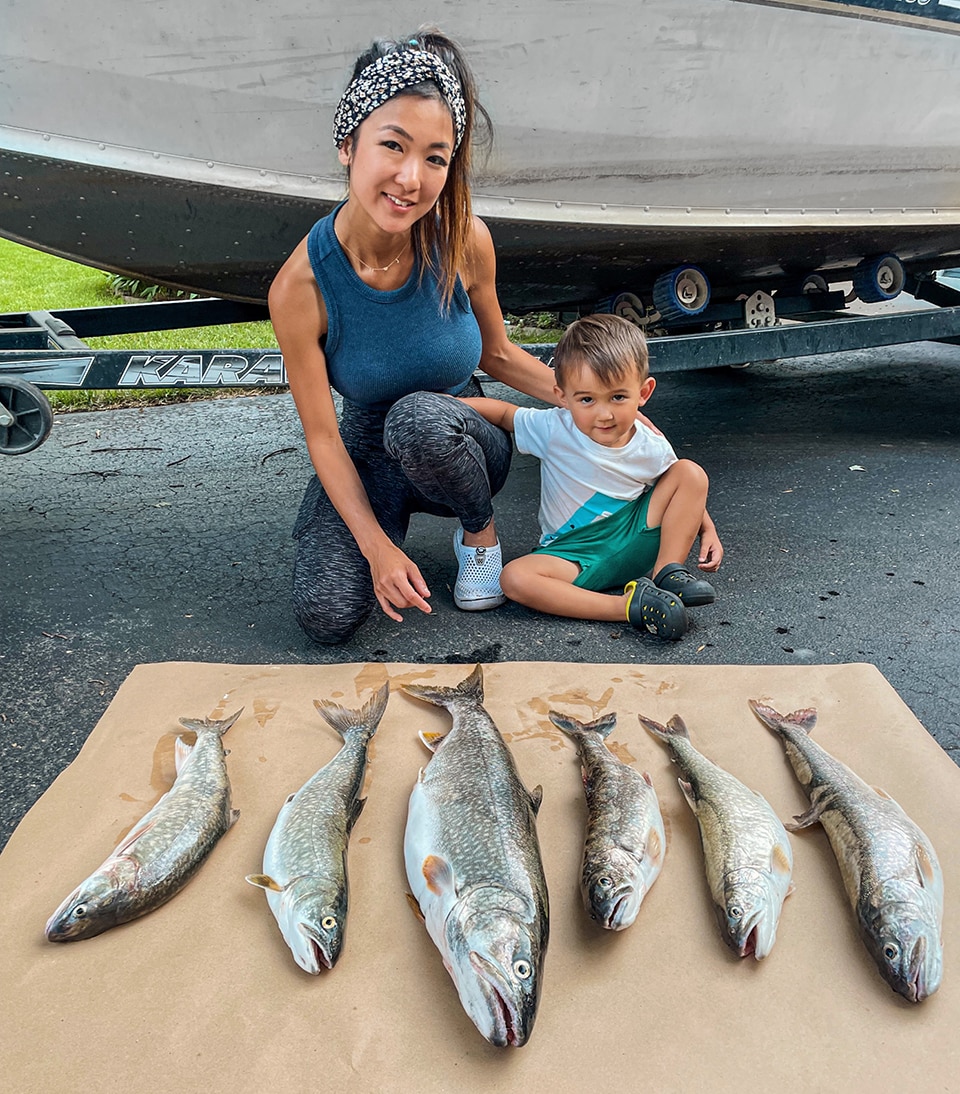 Grilled: Korean BBQ Lake Trout
Trout fillet is so delicious when grilled. This Korean-style grilled lake trout is easy to cook on any type of grill, and it's a crowd-pleaser. Depending on your preference, you can leave the skin on or fillet it off completely. You can use either a gas grill or charcoal grill. If you're cooking while you're camping, you can even grill your catch on a portable gas grill, compact charcoal grill or an over-the-campfire grill grate. You can find different grilling options at Camping World.
Ingredients
4 trout fillets
3 tablespoons soy sauce
3 tablespoons honey
1 tablespoon minced garlic
1 tablespoon rice vinegar
1 tablespoon sesame oil
1 teaspoon black pepper
Sesame seeds
Scallions
Instructions
Fillet and clean the trout with either skin on or off, and pat dry.
Whisk together soy sauce, honey, minced garlic, rice vinegar, sesame oil and black pepper in a small bowl.
Place fillets and marinade in a ziplock bag, and let the fish marinate for 2 hours.
Grill skin sides down for ten minutes, so that the skin gets crisp and slightly charred. Flip, brush with the leftover marinade from ziplock bag and grill for five more minutes.
Remove from grill and top with sesame seeds and scallions.
Shop products related to this article!
Smoked: Trout Cream Cheese Spread & Bagel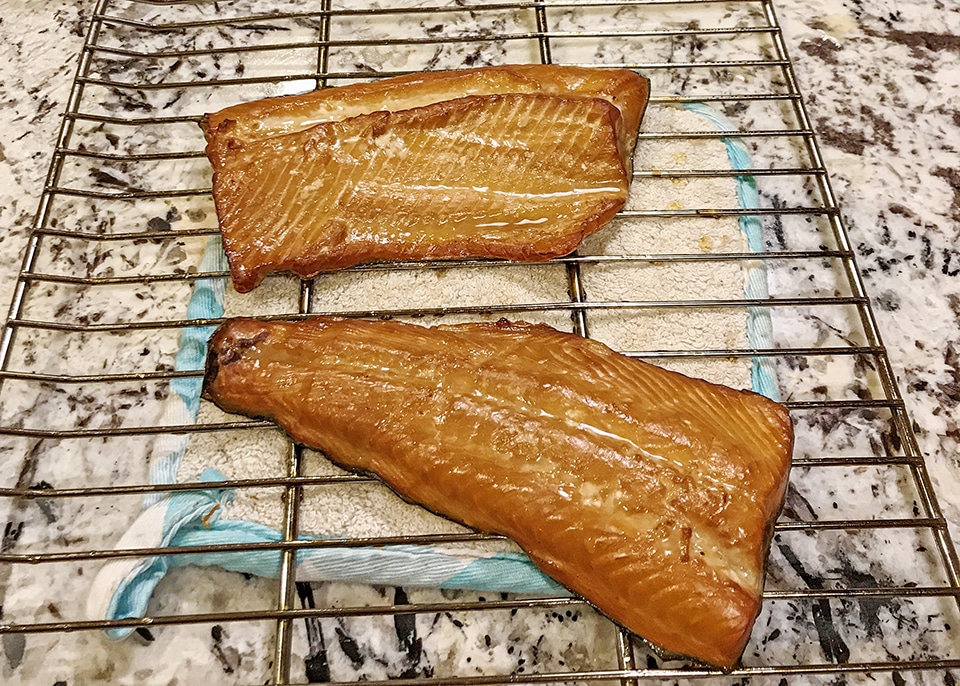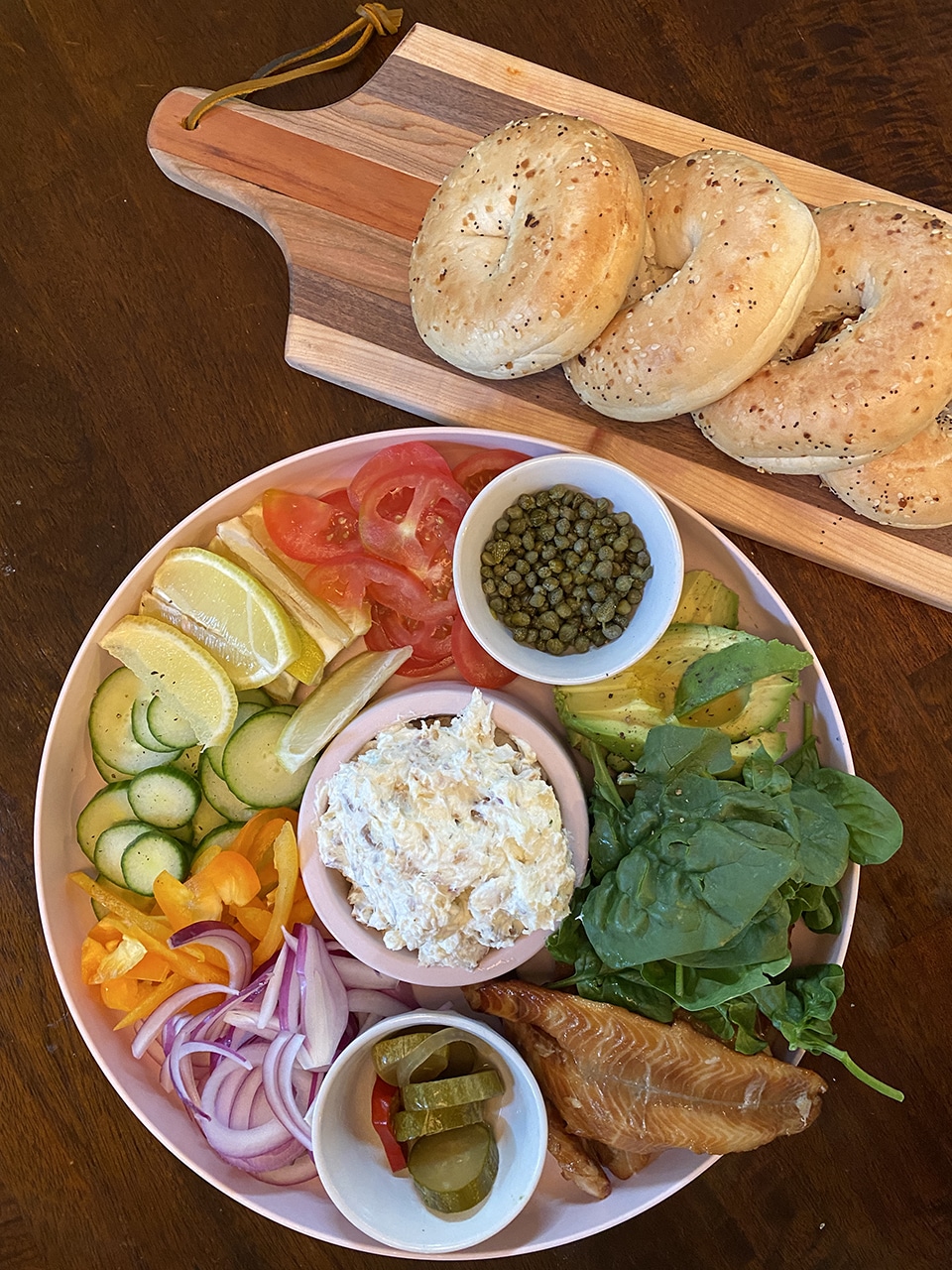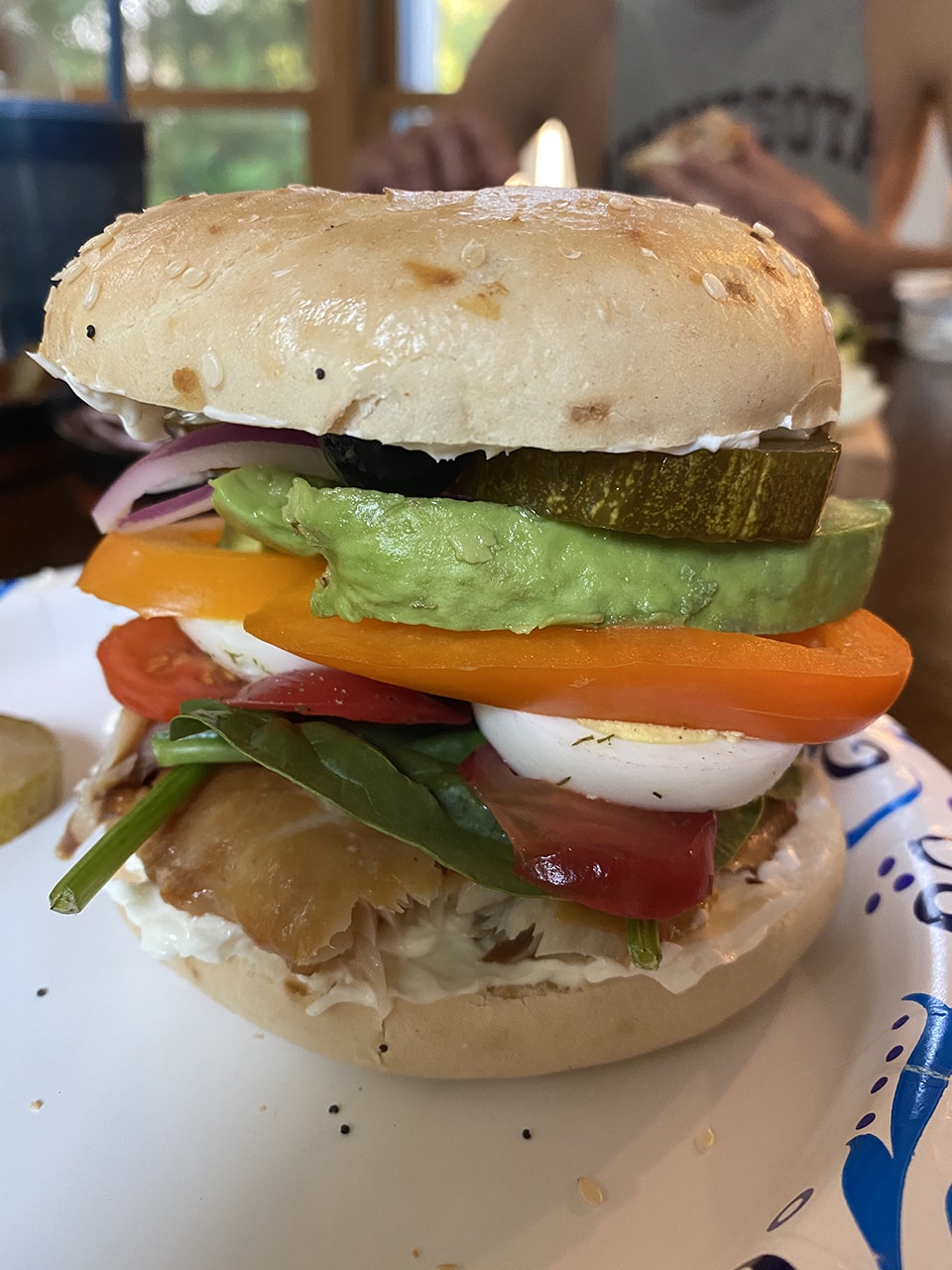 I'm not sure what's more classic, smoked trout or grilled trout. Smoked lake trout comes with tasty, complex flavor and longer shelf life. It's time consuming but worth it! I use a wood pellet smoker and it really brings out so many flavors in smoked trout. There are also electric and gas smokers at Camping World.
I love using this recipe from Smoked Meat Sunday because it's simple and versatile. There's also a delightful smoked trout recipe involving peach brandy and maple syrup from Kristy Crabtree. Smoked trout can be used so many ways. It tastes great by itself, in a salad or my favorite way to eat it — in a cream cheese spread with an everything bagel.
Ingredients
8 ounces smoked trout
8 ounces softened cream cheese
4 everything bagels
1/4 cup minced red onion
1/2 zested lemon
1 tablespoon lemon juice
1/4 cup fresh chopped dill
1 tablespoon coarsely chopped capers
Black pepper
Butter
Other toppings like sliced avocado, spinach, bell pepper, pickles, jalapenos, olives, etc.
Instructions
Mix cream cheese with minced red onion, lemon zest, lemon juice, dill, capers and black pepper to taste.
Mix in smoked trout and break into bite size pieces.
Cut each bagel in half, toast it if you'd like, butter it and add trout cream cheese spread.
Top with other toppings if you'd like! My go-to toppings are avocado, spinach, olives and spicy pickles.
Shop products related to this article!
Baked Lake Trout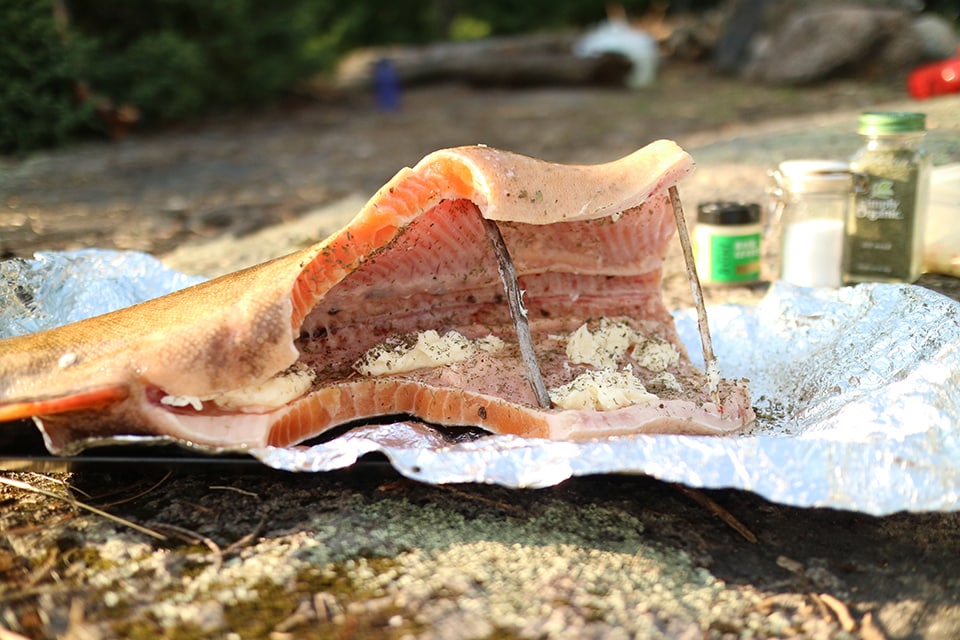 I mentioned that baked lake trout is the easiest method for preparation. That's because there's hardly any filleting involved. All you need to do is cut the head, fins and tail off, cut gently down the belly to clean the insides and leave all of the bones in. The bones will fall out easily once the trout is cooked. This recipe is best cooked in a campfire after a long day of canoeing and portaging but can certainly be enjoyed at home around the dinner table or at your picnic table at an RV campsite. They say hunger is the best seasoning, but you don't need to be too hungry to enjoy this lake to table meal!
Ingredients
1 lake trout
1 stick of softened butter
2 teaspoons sea salt
1 teaspoon black pepper
2 teaspoons cayenne pepper
1 tablespoon dry or fresh chopped dill
1 lemon, squeezed and thinly sliced
Heavy duty aluminum foil
Instructions
If you're out camping in the woods, prep your campfire and make your own charcoal with wood. The wooden "coals" will be red, glowing and possibly ashy, similar to actual coals.
Place the trout on a piece of foil that's big enough to fold over to create a pouch.
Spread the butter on all sides of the trout, inside and out.
Squeeze half a lemon inside of the trout and season with sea salt, black pepper, cayenne pepper, dry or fresh chopped dill.
Slice the remaining half a lemon to cover the inside.
Cover the fish completely with foil and place the foil pouch on top of the wooden coals or on a campfire grate on the coals.
Cook for ten minutes, flip carefully with a spatula or other grilling tool, and cook for another ten minutes. Add a few more minutes for thicker fish.
After cooking, open the fish up and grab the thickest piece of bone near the head of the fish. Wiggle it out and loose it from the meat. It should come out in one large piece.
Serve and enjoy with your friends and family over a campfire.
Shop products related to this article!
Check out a wide variety of grills, smokers, stoves, griddlers and grilling accessories at Camping World and Gander RV & Outdoors.
About Jenny Anderson

Jenny Anderson, known as 'The Girl of 10,000 Lakes' is a young mom, avid angler and outdoors enthusiast. Hailing from Minnesota, there are few places she'd rather be than canoeing in the Boundary Waters, ice fishing on Mille Lacs or enjoying lake life at the cabin. But her love for all things outdoors wasn't something always instilled in her. It's something she discovered later on in life and that's why she encourages everyone to take more detours, step outside your comfort zone and try something new outdoors. View all posts by Jenny Anderson →