TaurusTX 22: Affordable, Reliable Target Pistol
Taurus touts its TX 22 as "engineered to deliver best-in-class accuracy and reliability, this rimfire polymer sporting pistol shoots and feels every bit like a custom-tuned competition model-without any costly upgrades or modifications." Sounds almost too good to be true. So, to put the TaurusTX 22 to the test, I handed it over to my guy, a former competitor on the United States Air Force Academy Pistol Team. Along with my review, let's see what he thinks about this affordable and reliable target pistol.
Sponsored by Taurus
Why Get a Target Pistol?
If you plan to practice shooting, you should own a .22 LR caliber target pistol. For various reasons – such as cheaper ammo, low recoil, ability to transition skills to a personal defense gun – it's a good idea to have at least one of these pistols in your armory.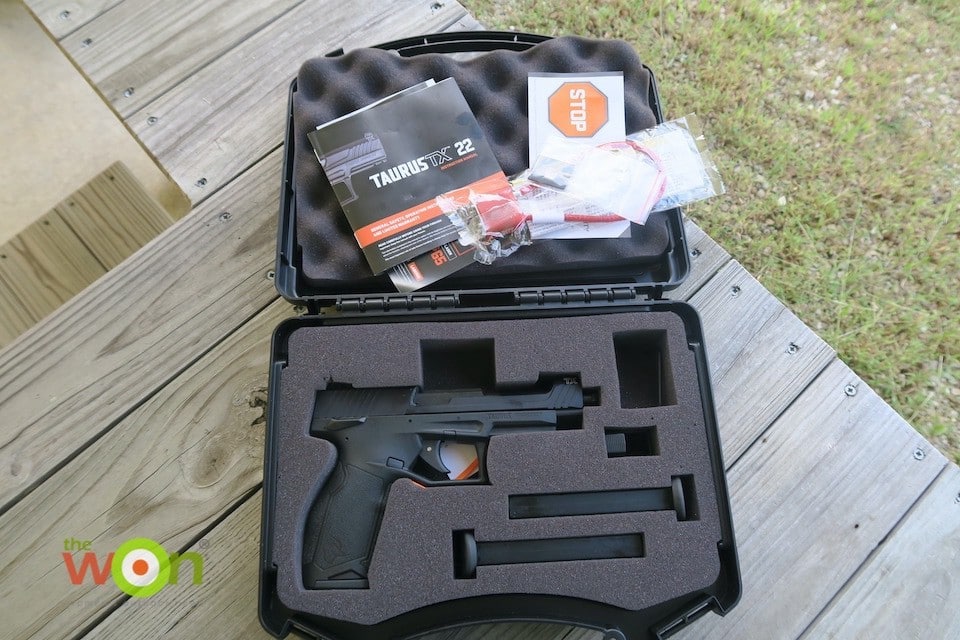 TaurusTX 22
Taurus sent this stalwart firearm my way, and immediately, I noticed that it came with three magazines: two 10-round magazines and one 16-round magazine. I like it when manufacturers include more than one magazine with a gun. Sometimes, it's the fault of the magazine not the gun, and especially with rimfire ammo, that malfunctions occur. We ran all three mags consistently, and with several (at least six) types of ammo – from cheap to competition – and this baby didn't have a single malfunction.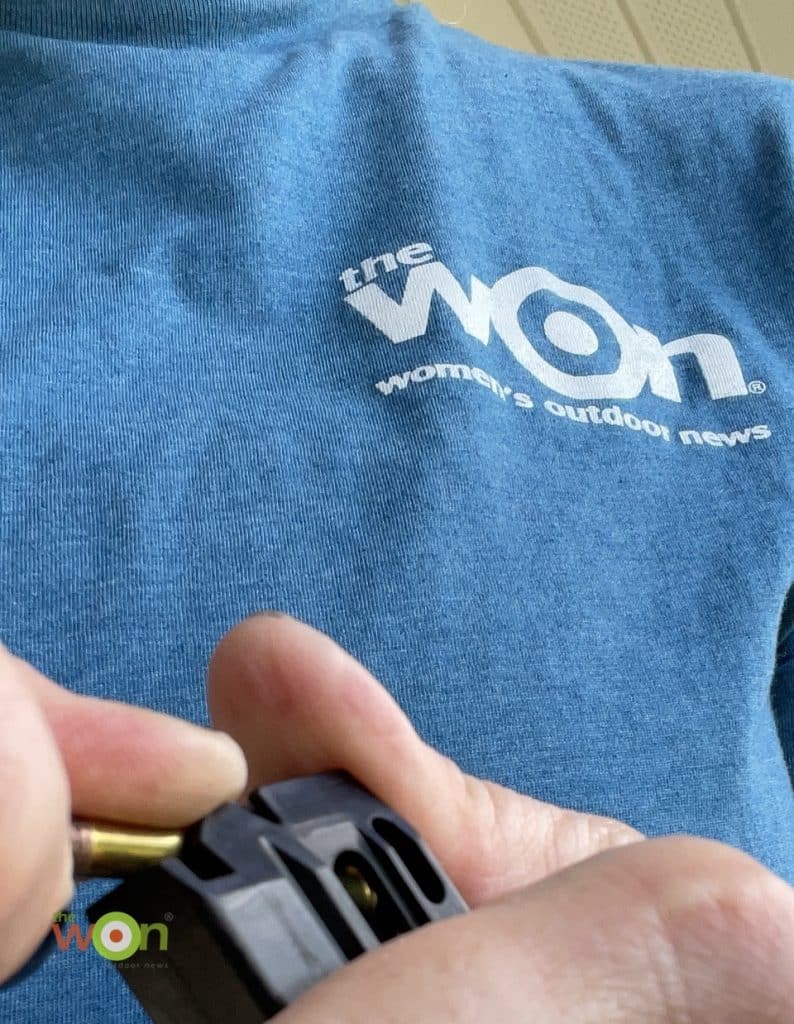 I cleaned the gun first, which is always a great first step for learning the design features of any gun. This one must have been tested by another gun writer before I received it, and it really was a dirty birdie. After about an hour's worth of cleaning at the bench, the gun qualified to go to the range. Note: When you buy a gun, especially a used one, clean it before you use it. Even if it's not overly dirty, it might be dry and need lubrication. And, learning to field strip a gun for cleaning before you take it to the range helps you to understand how the gun operates and where its controls are located.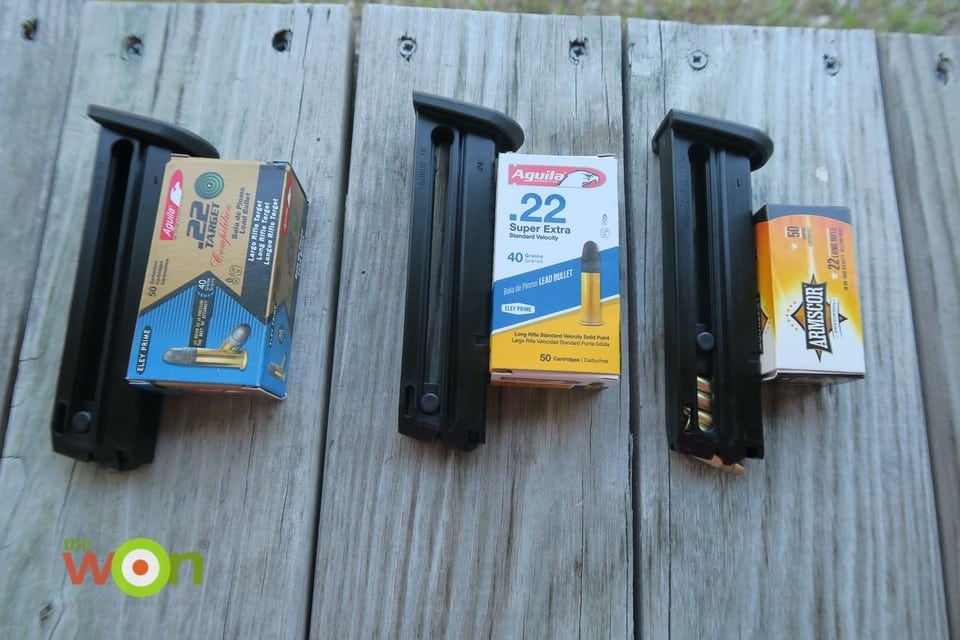 TaurusTX 22 on the Range
We set targets at 50 feet, the standard for .22 caliber competition pistol shooting. We shot off the bench from a rest, to remove as much inconsistency caused by the "nut behind the butt" as possible. Here are the results of three groups of five shots per ammo, with my husband as the shooter. For this test, we used a Crimson Trace CTS-1250 compact open reflex site mounted on the pistol. Note that this gun comes with an optic mount.
Aguila 22 Target Competition, 40 grain; largest group – 1.25; smallest group – .75; average of three groups – .92
Aguila 22 Super Extra, 40 grain, copper plated solid point: largest group – .75; smallest group – .5; average of three groups – .58
Armscor High Velocity, 40 grain: largest group – 1.0; smallest group – .5; average of three groups – .83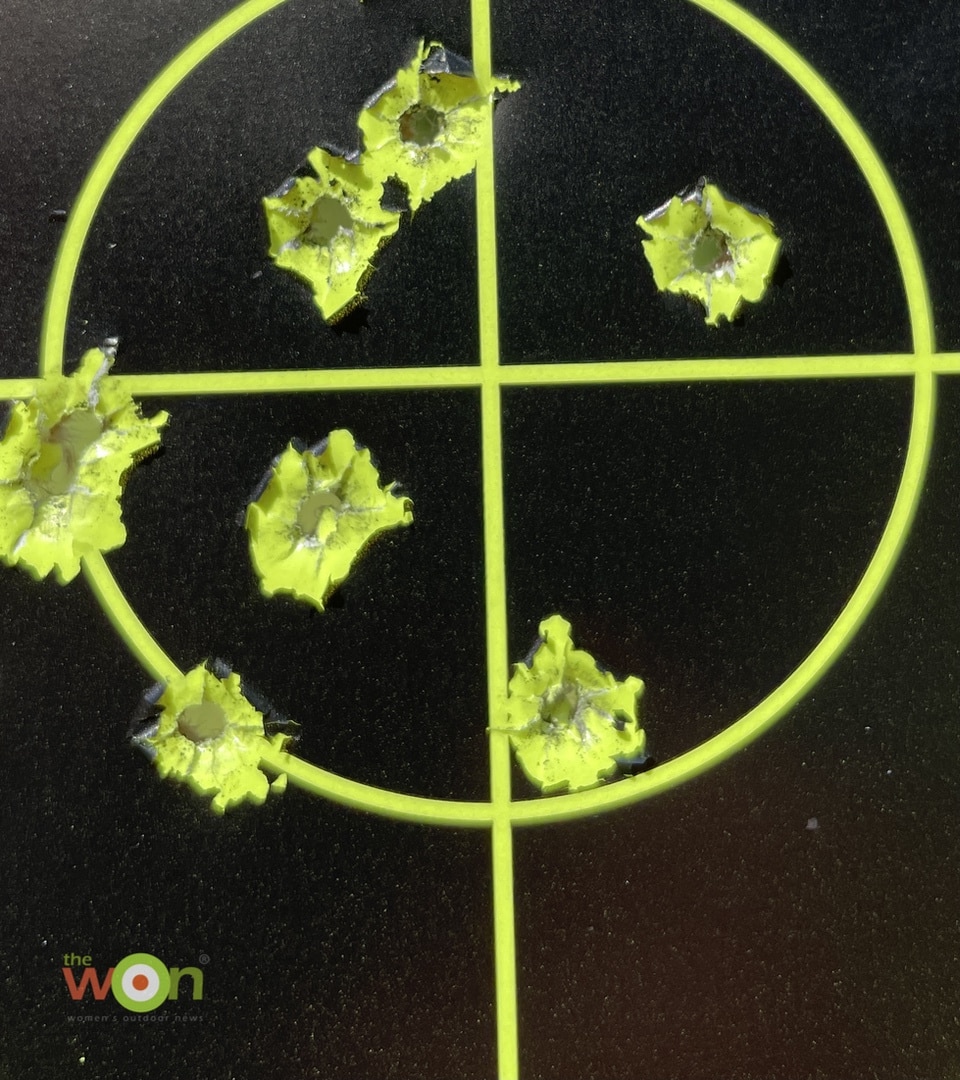 Day Two on the Range
For the second day of testing, I spent some time on the range with the TaurusTX 22 and no optic. I relied upon its white dot front and rear sights (adjustable).
I spent time working on my fundamentals and bringing the groups closer and closer together. I also went from the bench to standing position, one-handed. I like how the gun fit; I never had to deal with a malfunction, and used different ammo than the hubs had used.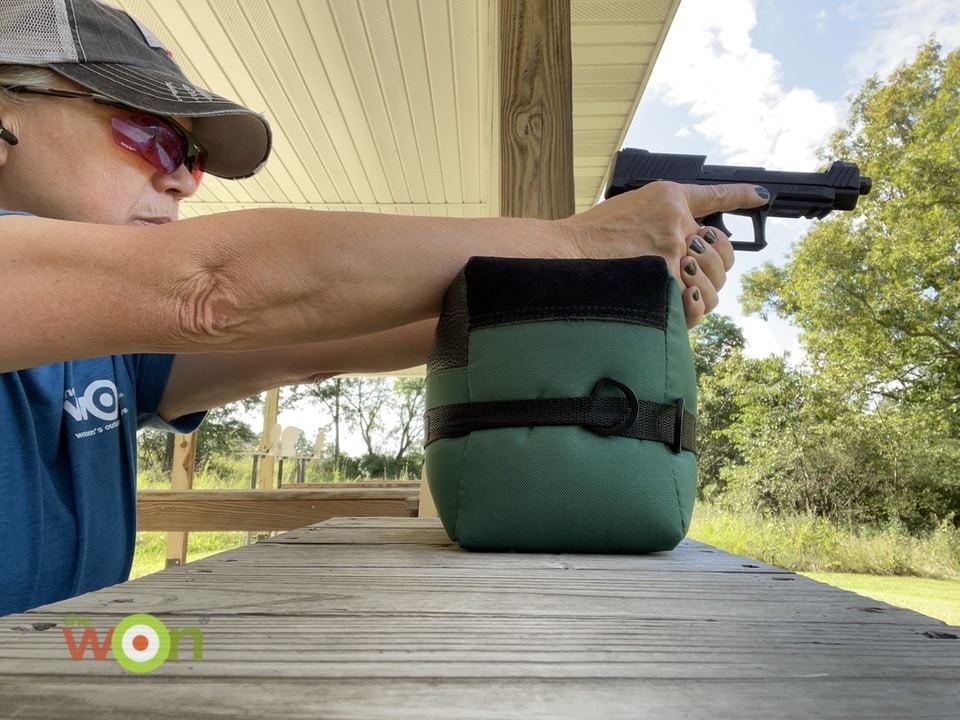 So, I asked the Bomb (aka, the husband) why he would recommend this gun. Here's what he listed:
Consistent trigger release point, no creep or drag (He is a trigger snob, by the way.)
Fairly comfortable grip for medium-size hand; similar feel to polymer-framed carry pistols
Suppressor-ready
Low price
Loaded and fired every round fed to it, with no problems
Three magazines supplied with the gun; no apparent difference in gun reliability when using each of them
Optic mounting system is simple to use
Optic mounts to the chamber rather than the slide, so there is no inherent inaccuracy caused by inconsistent slide-to-barrel lockup
And then, since he is an engineer, he compiled this info in a table, and compared it to other .22 LR target pistols we have shot.
| | | | | |
| --- | --- | --- | --- | --- |
| Gun | S&W Model 41, 7" barrel | Volquartsen Scorpion, 6" barrel | KelTec CP33 | Taurus TX22 Competition |
| Feature | | | | |
| Sight radius, inches | 9-7/16 | 6-3/4 | 8-5/8 | 6-11/16 |
| Weight w/empty mag, no optic, ounces | 44.4 | 34.7 | 25.6 | 22.3 (w/o optic mounting plate) |
| Magazine capacity, as tested | 10 | 10 | 33 | 10 |
| Trigger pull, average 5 tries, with mag inserted into gun | 3 lb 0 oz | 2 lb 5.3 oz | 2 lb 12 oz | 5 lb 5 oz |
| Trigger release point | consistent | consistent | consistent | consistent |
| Grip features (none is adjustable with inserts, etc.) | Wood, ergonomic w/thumb rest, approximate angle 70 degrees | 1911-style, rubber grips w/finger grooves,approximate angle 70 degrees | Molded plastic w/palm swell, approximate angle 75 degrees | Molded plastic w/palm swell, approximate angle 75 degrees |
| Suppressor ready, as tested | N | Y | Y | Y |
| Adjustable sights/Target sights | Y/Y | Y/Y | Y/Y | Y/Y |
| MSRP | $1409 | $1715 | $550 | $533.33 |
As you can see from the table, the Taurus comes in fast and strong as the least expensive, and competes all day long for its price. We also would add that its reliability, an intangible factor, needs to be taken into consideration, as well.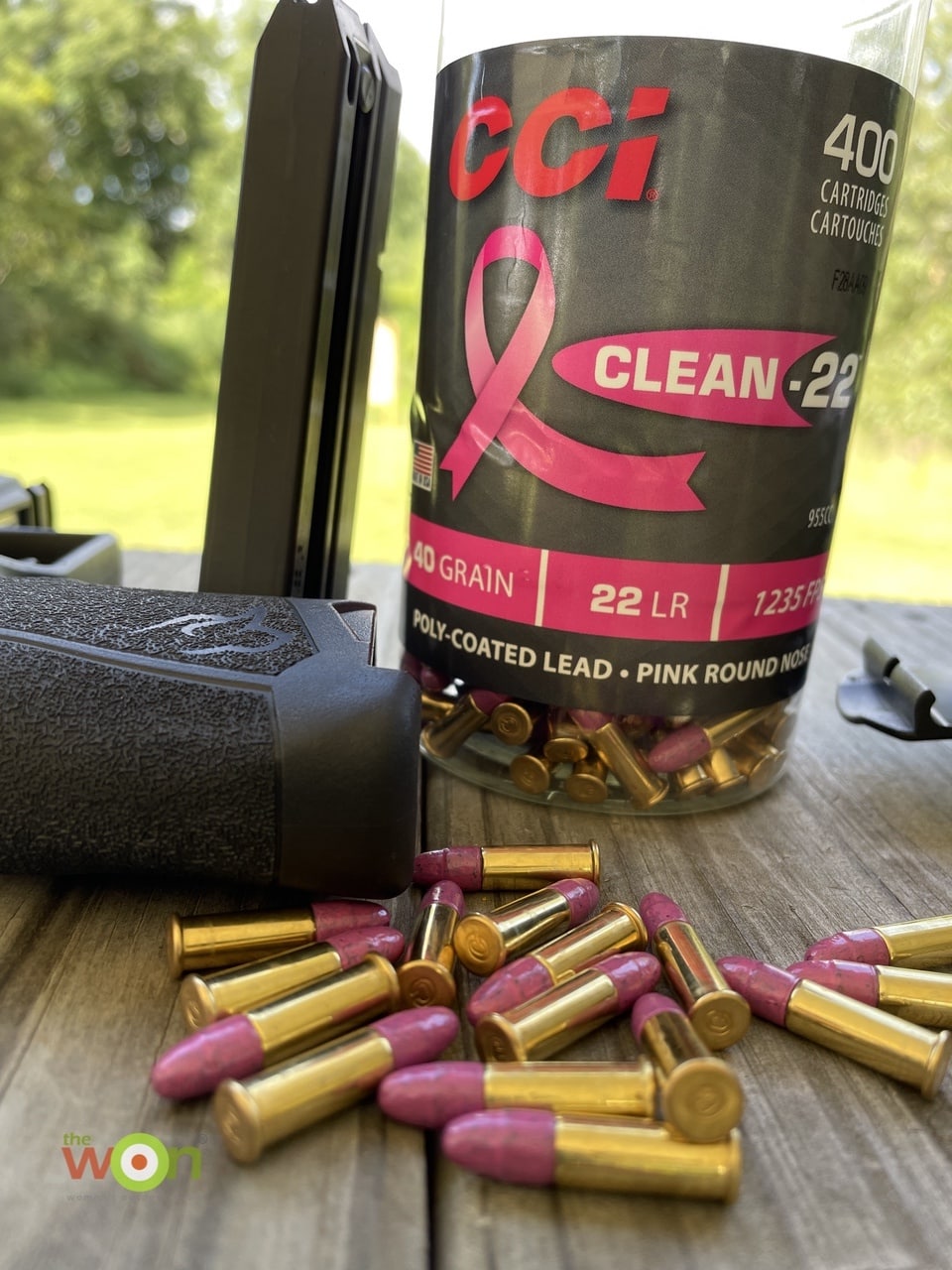 Learn more about the TaurusTX 22 here.
MSRP: $533
About Barbara Baird

Publisher/Editor Barbara Baird is a freelance writer in hunting, shooting and outdoor markets. Her bylines are found at several top hunting and shooting publications. She also is a travel writer, and you can follow her at https://www.ozarkian.com. View all posts by Barbara Baird →