'Wild Child' Recipe: 'Cooked in Coco'
Here is the recipe cooked by our teenage writer and avid outdoors girl, Anna, that we promised a while back. She reviewed the cookbook for us previously, and this time, made one of its recipes. Bon Appetit! ~ the Editors
This summer I read a great cookbook and shared it with you here at The WON. I enjoyed it so much that I asked my mom if we could make one of the recipes. I had no clue what an adventure we were getting into. That's what "Wild Child: Adventure Cooking with Kids" is about though, right?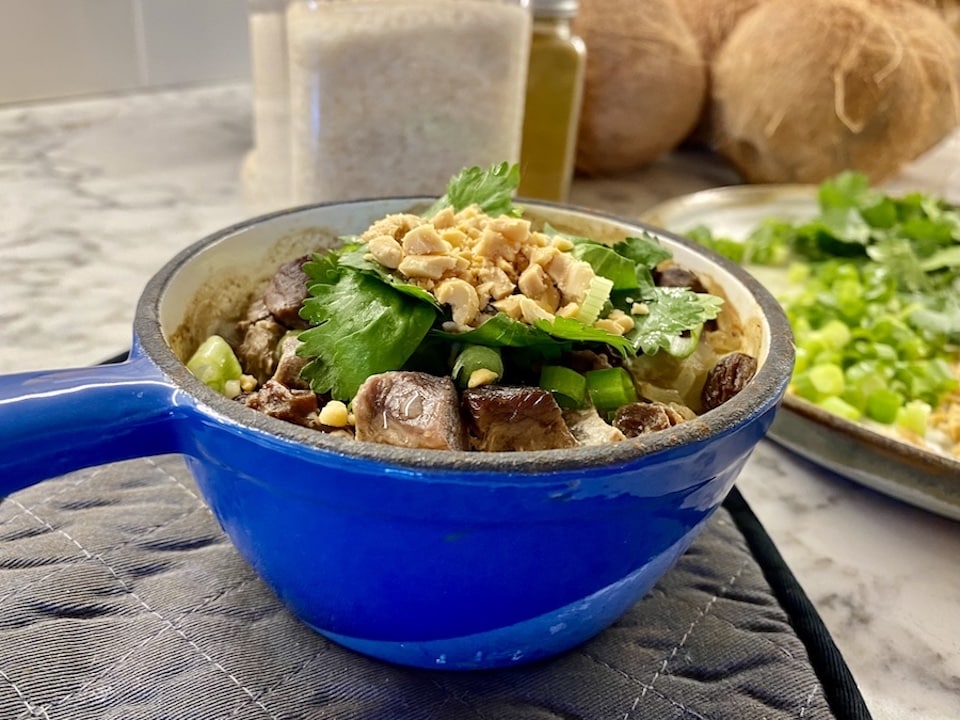 I wanted to make "Cooked in Coco," from page 35 of Sarah Glover's "Wild Child," and at first glance, it seemed like a fun, easy recipe. I knew that I loved all of the flavors in the dish, and was positive that it would be tasty. However, my mom and I ran into some problems.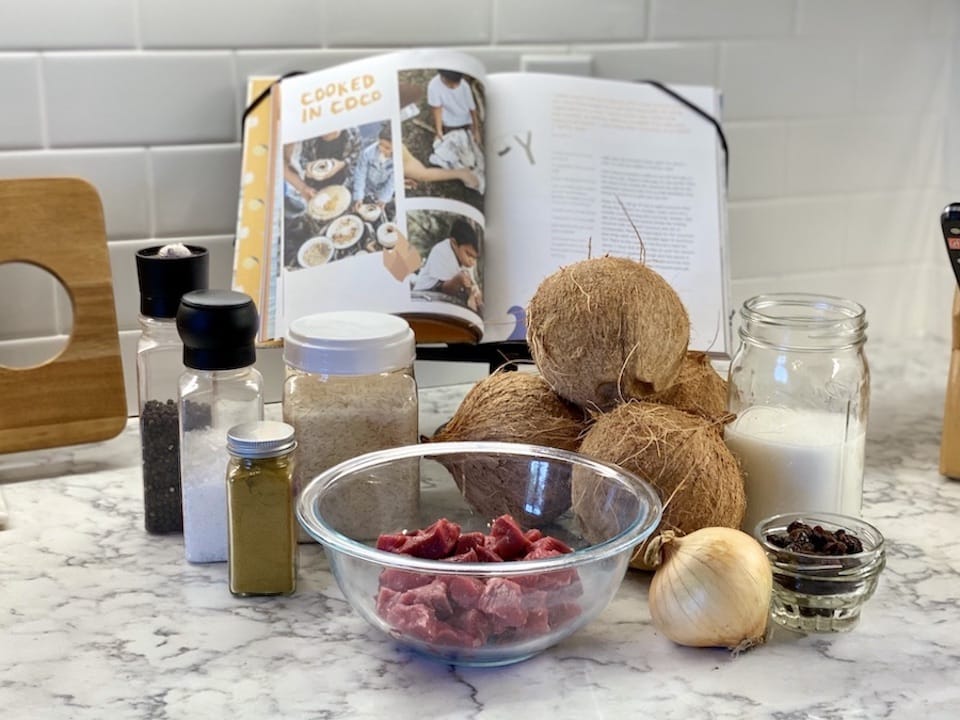 First, we bought the wrong type of coconut. That's kind of important for a recipe with so much coconut. Unlike the author, we aren't from Australia, and unfortunately, our Missouri grocery store doesn't sell fresh coconuts. The ones we bought were coconuts with the shells, and seemed smaller than the ones in the pictures of the recipe. To top it off, we couldn't get the coconuts open. Mom tried slicing with her butcher's knife, and even hacked at the coconut, but the shell wouldn't give. Instead, and for time's sake, Mom said we should improvise using mini cast-iron pots. They weren't coconuts, but still gave our family-of-four individual servings.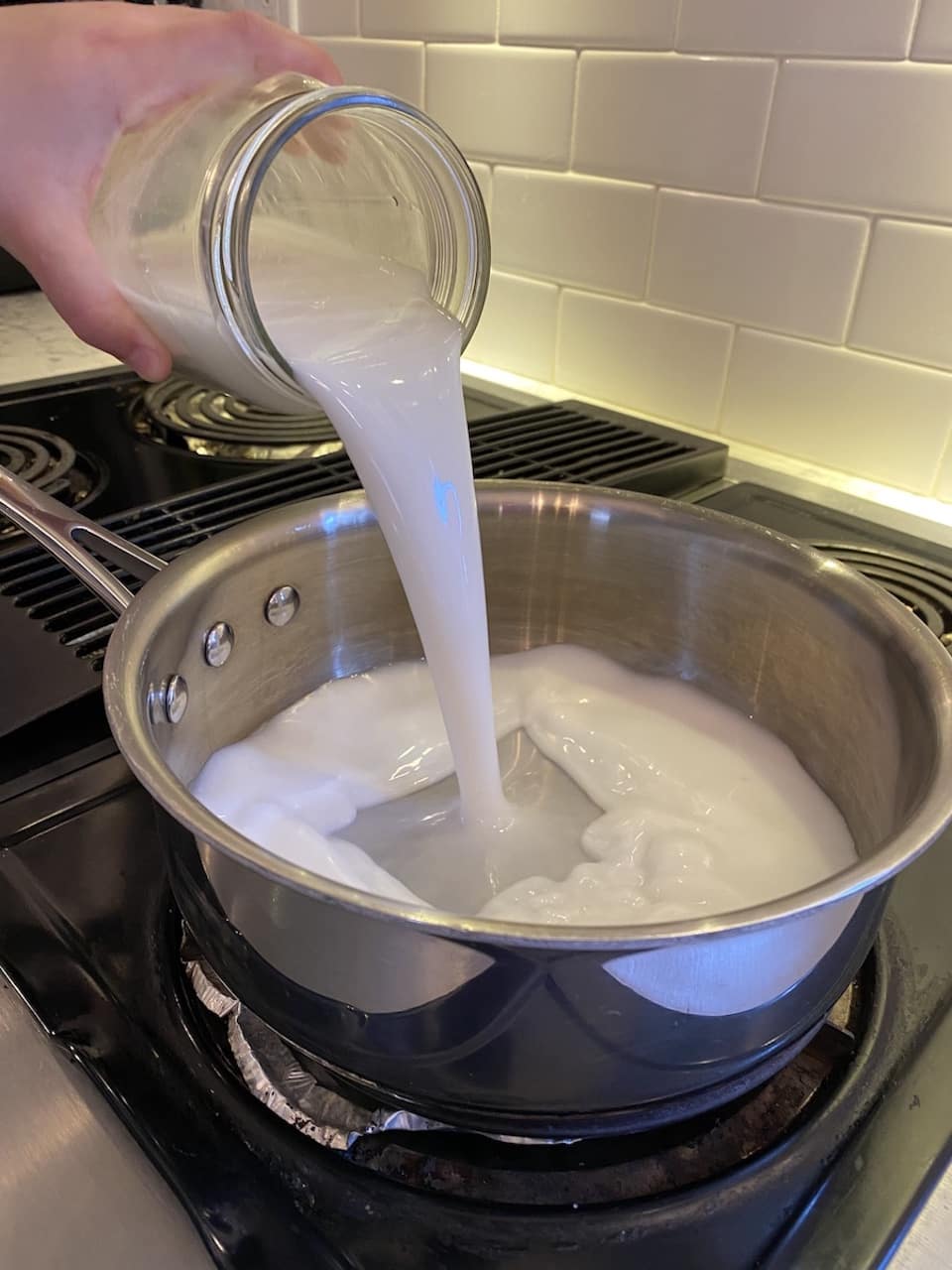 Before we started cooking, we gathered all of our ingredients. After we put everything on the counter, we measured out the jasmine rice and the coconut milk. We then poured the coconut milk into a saucepan and let it come to a boil. While we were waiting for it to heat up, Mom chopped the onion and cubed the meat.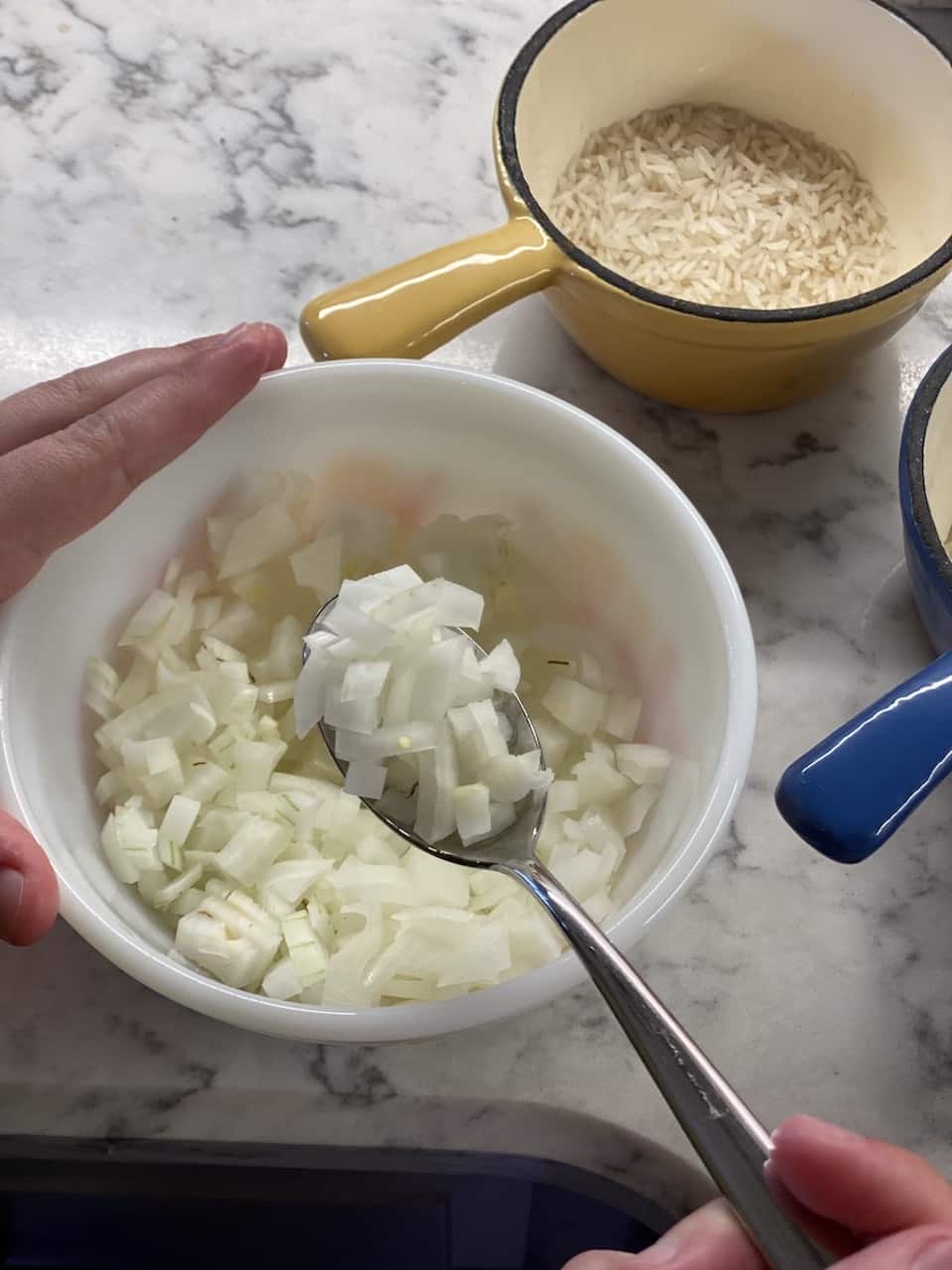 Once all of our ingredients were prepared, we jumped right into the recipe. I put a quarter cup of rice in each cast iron, and moved on to the onion. After the onion was evenly distributed, I put our cubed meat into the pots. I enjoyed that step because I have always liked the feel of tuna poke, and the raw meat was similar.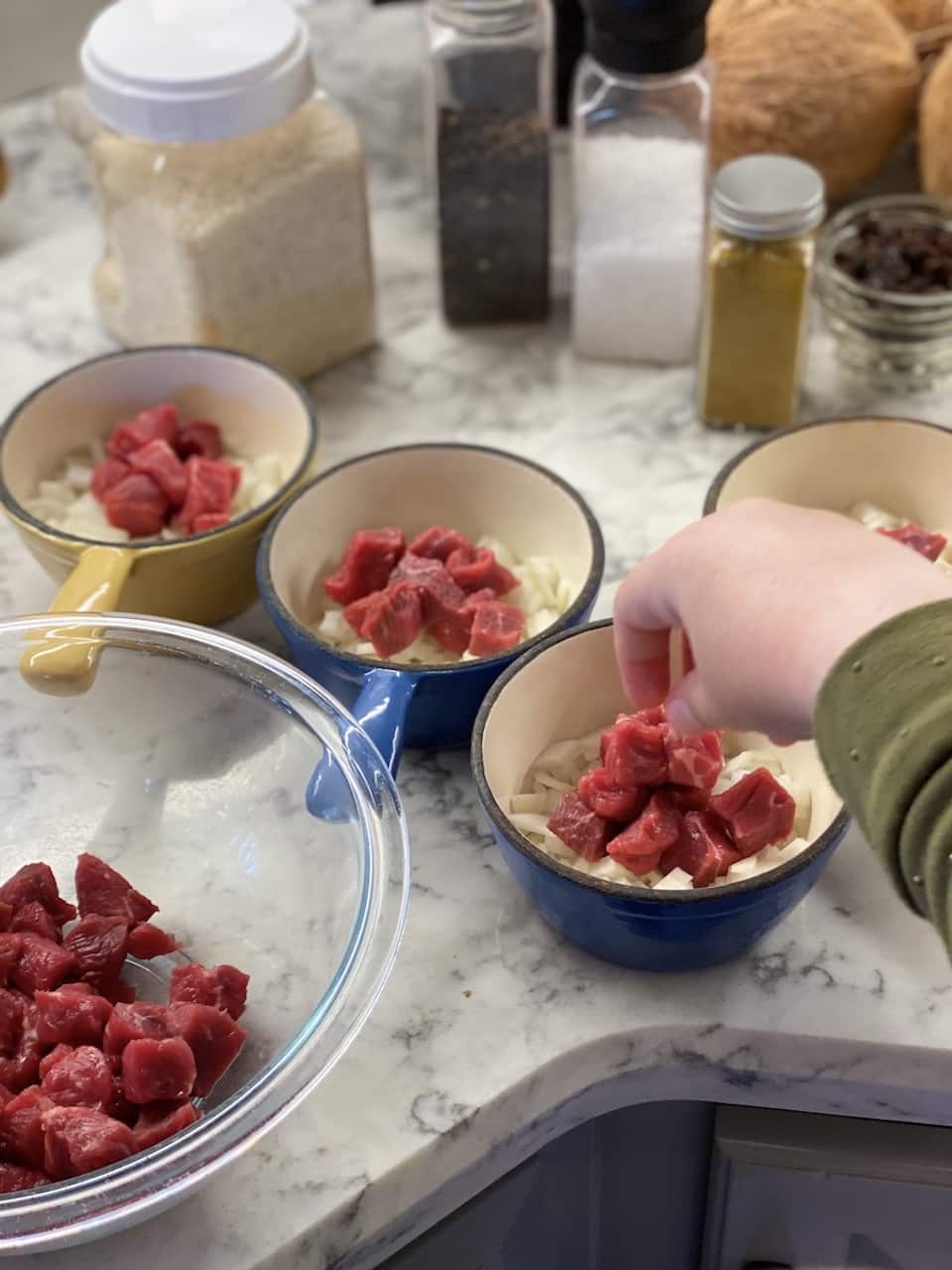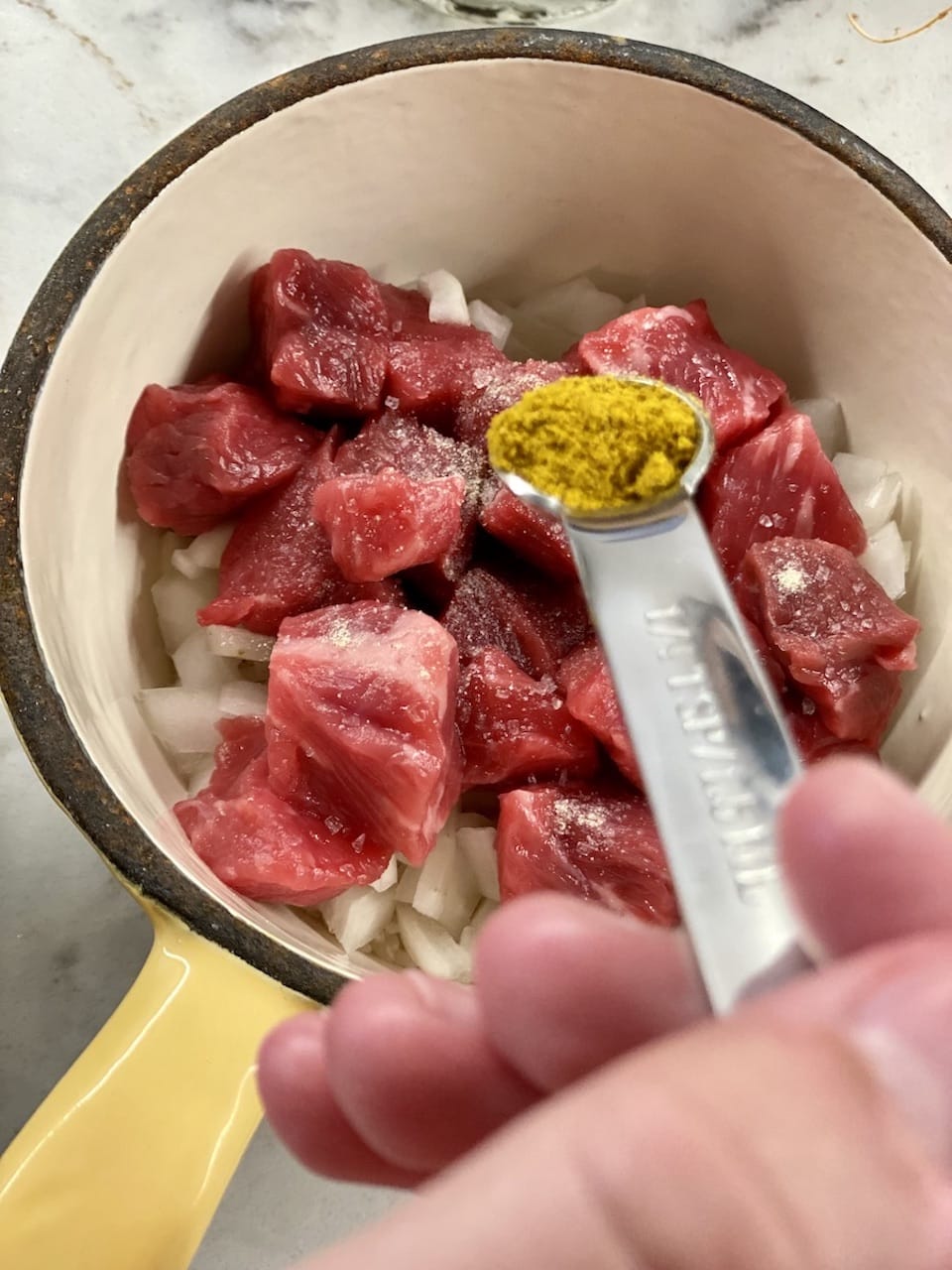 Next, it was time to add the spices. We sprinkled a quarter teaspoon of curry powder over each of the pots. I liked the smell of curry powder, but Mom kept sneezing. It was pretty funny! Since Mom is a great cook, she ground the salt over the dishes. I didn't want to accidentally pour too much salt over the food. Our pepper grinder is very coarse, and Dad doesn't like large peppercorns, so instead of black pepper, we used ground white pepper.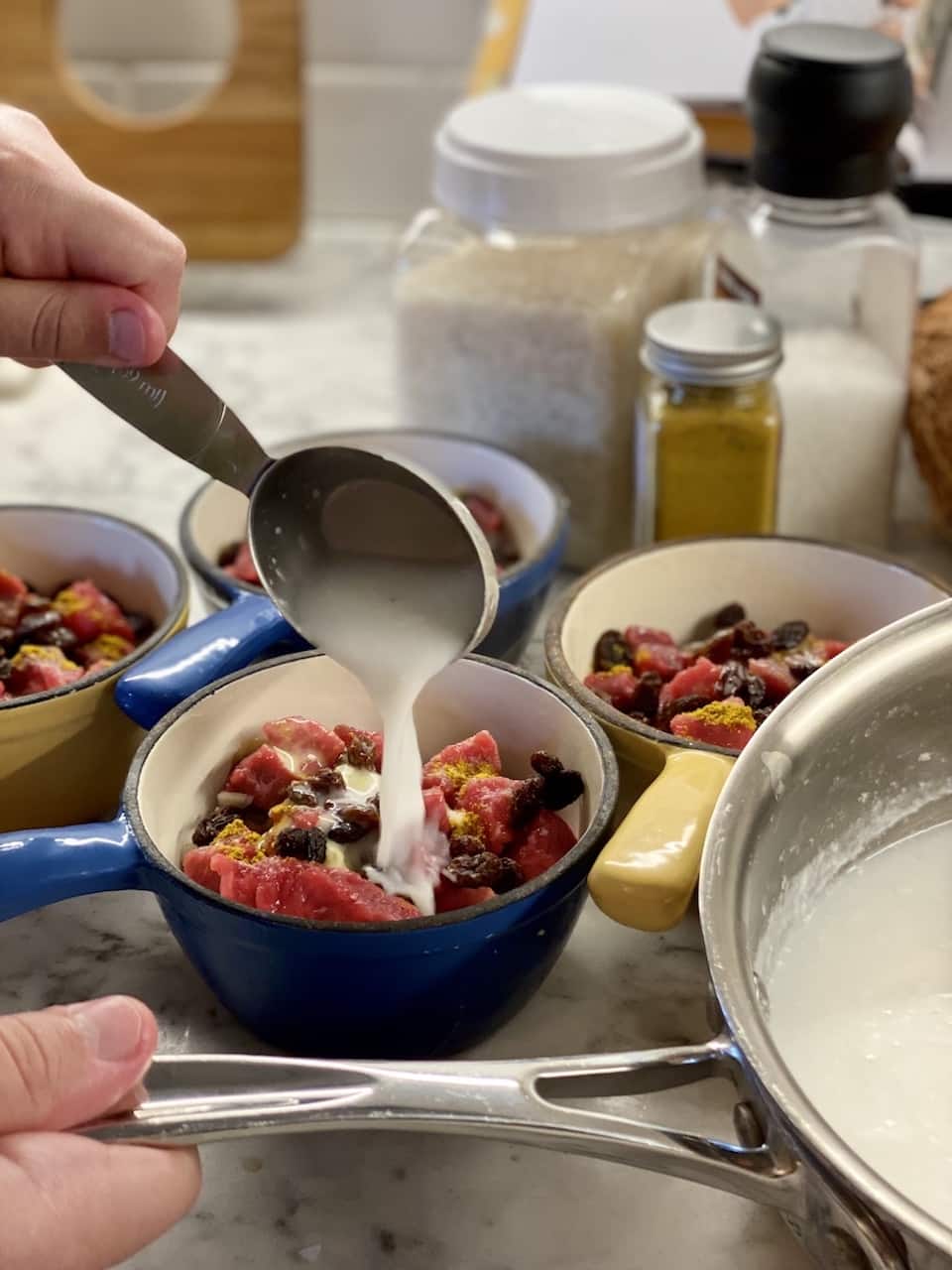 We also added raisins, because "Cooked in Coco" seems Indian-like because of the curry, coconut, and rice, and raisins are used with Indian cuisine. They add a burst of sweetness. Next, we poured the hot coconut milk into each pot. Then, we covered each pot with a layer of foil so that the food's moisture wouldn't leak out and make the dish too dry too quickly. The foil also replicated the sealed coconut from the recipe.
Once the pots were in the oven, I set a timer for one hour. The original recipe said the coconuts were supposed to cook for an hour and forty minutes on the fire. The author recommends 350 degrees Fahrenheit in the oven for those who aren't cooking outside. Because we modified the recipe, using cast iron pots instead of coconuts, we chose to check on it after an hour. It's a good thing we did, too!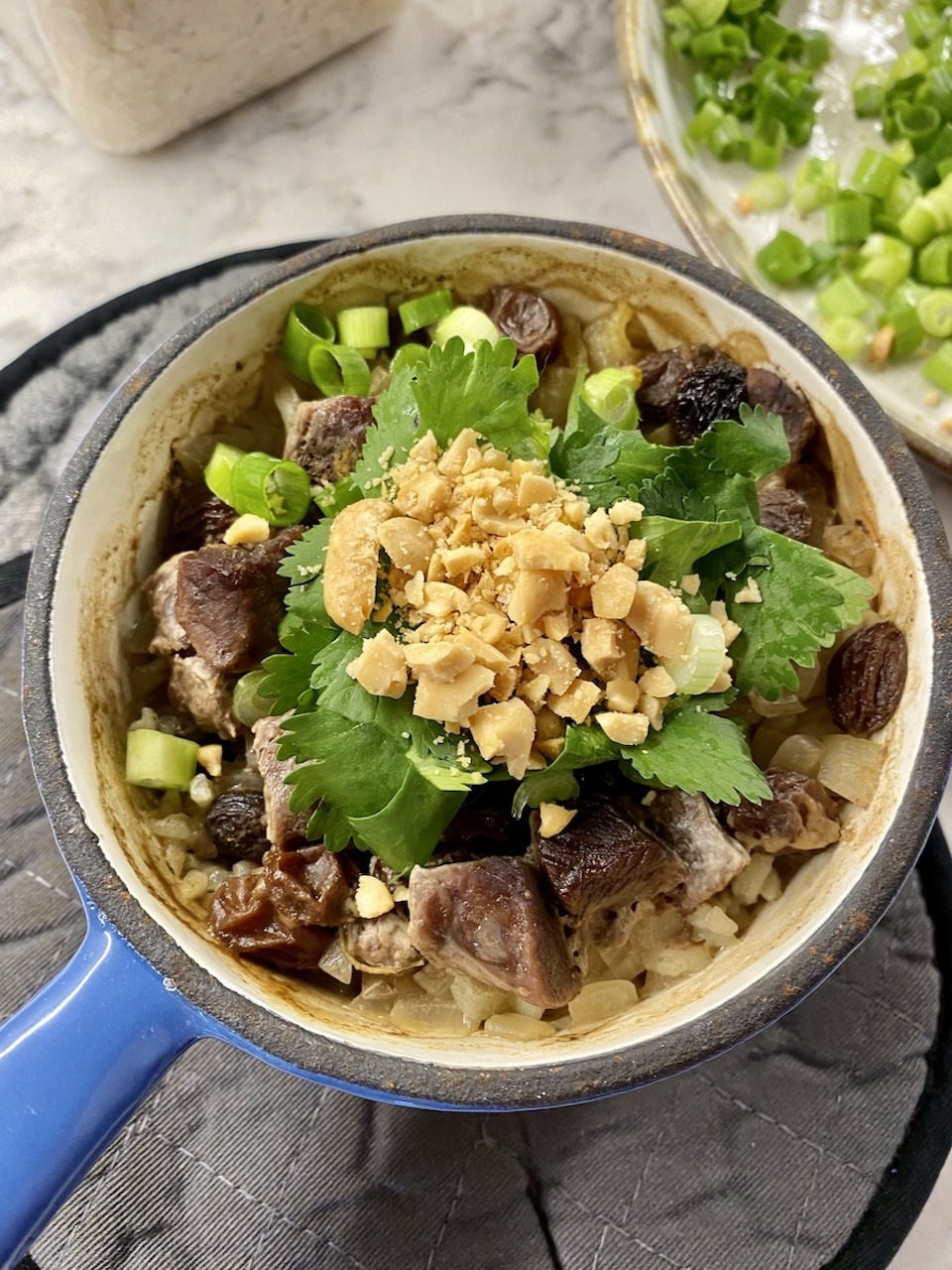 When we pulled the pots out, they were definitely done. According to the recipe, they could be classified as overdone. There was supposed to be a coconut milk sauce, but ours had completely absorbed into the rice, giving the dish a porridge-like consistency. It wasn't ideal, but we still loved it.
Tasting "Cooked in Coco"
Most importantly, the dish was mild and delicious. My younger sister liked the slight curry and pepper flavor, but my parents and I think it could have used even more spice. The raisins added a nice sweetness, and the peanuts gave a crunch to it. My dad said that the dish reminded him of an Indian Biryani, and Mom agreed. We also served "Cooked in Coco" with sweet potatoes, and they were quite tasty together.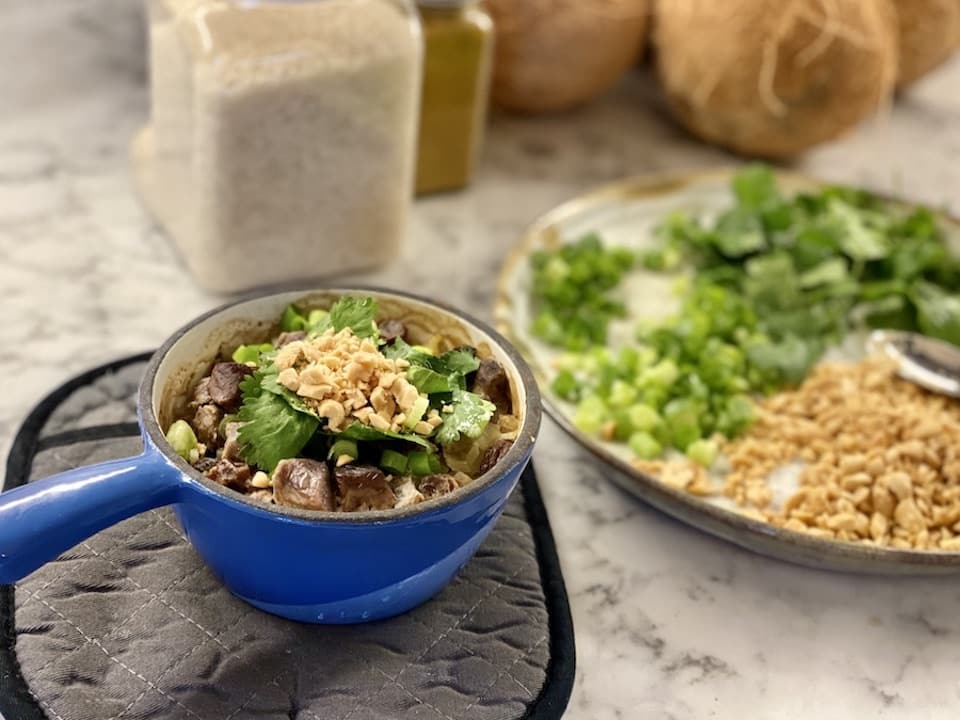 Other than our issues with the coconut and timing, this recipe proved to be very easy to make, and is definitely worth cooking with kids. It has the perfect level of seasoning and spices for young mouths. Also, who doesn't want to eat from a coconut? I'm sad we couldn't make ours work.
I would say, this recipe isn't really ideal for camping. It's more for people spending the night outside, or just cooking in the backyard. It's impractical to carry several coconuts and all the bulky ingredients on a true camp out.
This dish is very flexible, because it is meant for venison, but the author says that chicken is a good substitution. Other meats are easy to use as well. If you have venison at home, this is a great recipe to try. This recipe would probably be very tasty with lamb, too.
Overall, "Cooked in Coco" is a delicious, simple recipe that is fun to cook with kids. I strongly recommend it for outdoor and indoor cooks, and many thanks to Sarah Glover for creating this wonderful dish.
About Anna

"Anna" is a teenage girl who loves to write, read, and do just about anything artsy. She enjoys writing about nature crafts and her experiences while learning to hunt and cook wild game. Anna firmly believes that backyard chickens lay the best eggs and that spending time outside with her flock every morning will start the day off happily. She is extremely grateful to her best friend, who inspired her to really take writing seriously. You can find her lost in her latest idea or listening to her sister "Rose" read book quotes. View all posts by Anna →