Catherine Ragsdale: Veterans Kayak Fishing
One huge plus regarding social media is that it points us to worthy organizations that focus on the outdoors. Add in the component of serving veterans, and it's truly a win-win discovery for me. I saw Veterans Kayak Fishing on its Instagram and reached out to Catherine Ragsdale, who is a founder and the vice-president of Veterans Kayak Fishing.
Clay Ragsdale, Catherine's husband, also is a co-founder, and their story includes developing not only their personal partnership through marriage, but also, this organization.
Catherine agreed to answer a few more questions about the organization in a phone conversation. We think you'll benefit from learning more about this worthwhile group.
How'd you get here?
The short answer: through my husband. The long answer: this is what I was meant to be doing. I grew up in Eastern Massachusetts. My dad took me camping, hiking and canoeing. The older I got, the more I became a city girl. I worked in Boston for a while, and I lost that piece of myself.
I was working for "Home for Our Troops," and traveling for them. I was at a trade show in Atlanta, and my now-husband was there, too, and our booths were right next to each other and it was literally love at first sight. We wound up doing a long-distance relationship and I moved South. … When I started visiting Georgia, I felt like that was where I was meant to be. I moved under different circumstances than we planned. His daughter was killed in a car accident, and in 2017, I dropped everything and came to Georgia.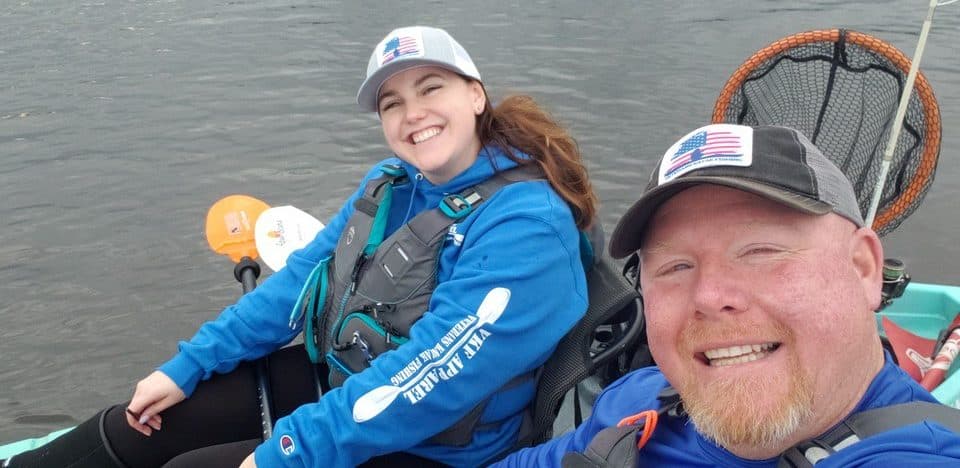 Clay is a retired Army combat veteran and he has PTSD battles. So, we started doing things outside. He fishes for bass, and I noticed it was better for our relationship to be doing outdoor things together. Meanwhile, I was in the middle of my 200-hour yoga teacher training, and I was desperate to get him to meditate. Then, we started kayak fishing. Having grown up canoeing, I was into it immediately. we got kayaks and it was an instant difference. From being in a boat to being in a kayak – I loved it more and I noticed it lit him up in a totally different way and calmed him down.
We always dreamed about having an organization that served veterans and their significant others. We said, 'Maybe this is it?' We said we want to get everyone out on the water with us. Our plan was to start a business first and then into a non-profit. We launched in November 2019. Obviously, it's been a little challenging. Right now, it's just us running it on our own and now that world is starting to reopen, our plan is to file the paperwork to switch over to a non-profit. We're still doing the work, just on a smaller scale.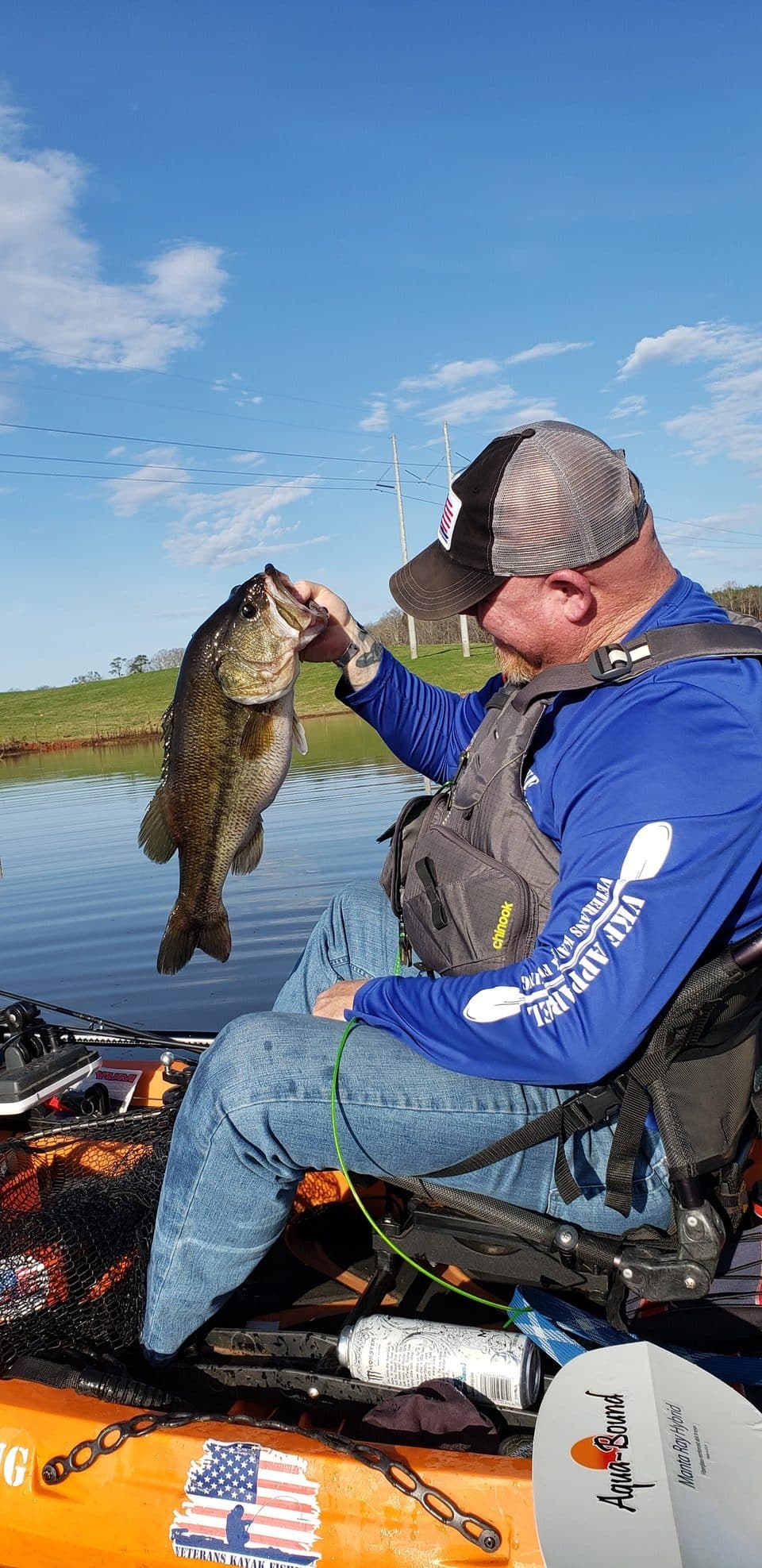 Clay is doing fishing tournaments to get the name out there and one of our guides, Steven Reynolds, took out a veteran just this week (of the interview). We are pretty well known in a majority of military communities, but we want to get the kayak communities within the state and the Southeast to know Veterans Kayak Fishing. This way, we'll have more of a base when we do switch over.
More about Yoga
I'm now in my 300-hour yoga teacher training, and for me, I was trying to get Clay to do mindfulness and meditation in a traditional sense – really, kayaking or anything outdoors is mindfulness and meditation.
Gold Star Family Jobs
I actually do the same day job that he does! He and I both serve Gold Star families in the state of Georgia. We're very embedded in the military community and in the kayaking community.
I've been serving those who serve – I've pretty much been serving combat military families for the past six years, and Clay did 21 years, and immediately started doing this job serving Army families. We are contractors for the National Guard and we serve Army, Guard and Reserve families in the state who have lost anyone while serving. I have a territory and he has a territory and there are five other coordinators in our state. Right now, I serve about 419 survivors, and we work for the Department of Defense. Every branch has its own version of this program and within the Army it's called "Survivor Outreach Services."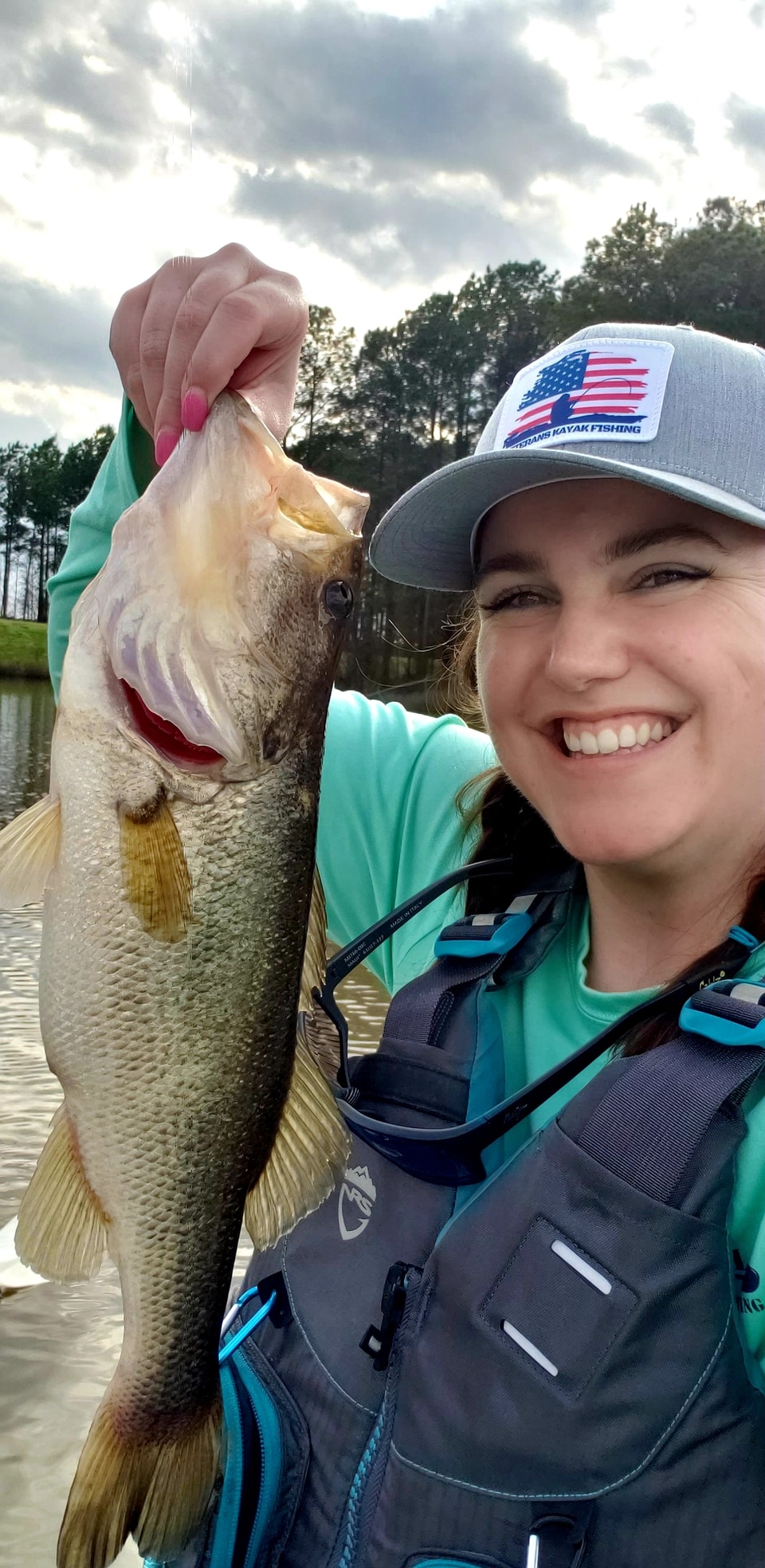 Veterans Kayak Fishing
Why kayak fishing? I love it for a million reasons. The practical reason is that it's so much more accessible and easier. Bass boats are crazy expensive. Even a johnboat is going to set you back $3000 to $5000. People aren't fishing out of kayaks that flip. That's not what people are fishing out of – if you get these quality kayaks that are very stable, you can stand up in them and they're very sturdy. You can get anywhere and go anywhere. It's far easier for us to have a fleet of kayaks to transport. Those are the practical reasons.
Additionally, from my perspective as a trained yoga teacher, the mindfulness is really important. I can say from experience, if you're navigating a boat on a lake and you're just turning on that motor, it's like you're in a car. You're just going places. But, if you're having to paddle, or use a pedal drive, you're having to get there yourself. You're having to use your body; you're having to breathe. If you're casting, there's this aspect of only having to do one thing at a time. You're in the present moment. Without even realizing it, veterans are being mindful and practicing a version of meditation. The more they do it, the more obvious it becomes.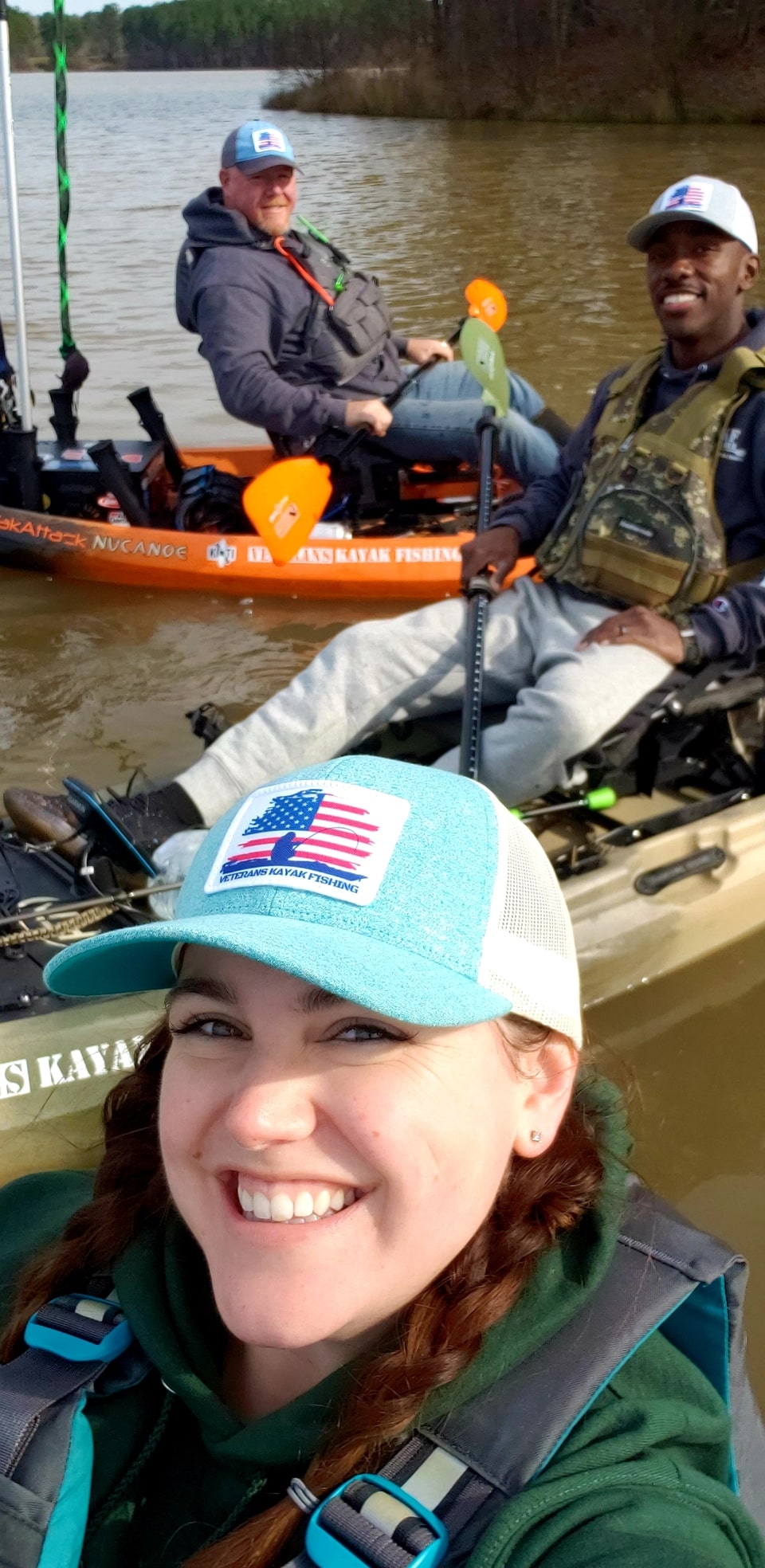 Some of the guys on our team, after years of kayak fishing, have an easier time navigating the civilian world and are more approachable. That's our goal: what we see is that we have these combat veterans who don't know how to speak to civilians because they think civilians won't understand them, or vice versa. But, if you can work on yourself – and this applies to anyone in any situation – if you can become more self-aware, you'll become more attuned to what's going on inside of you, it's far easier to navigate interactions with the world. It is a lot easier to see that we're all the same, and regardless of your background, everyone has a story.
Clay loves to say that to people: 'Everyone has a story.'
Every kind of therapy is beautiful and this is what works for us. It's what we want to share.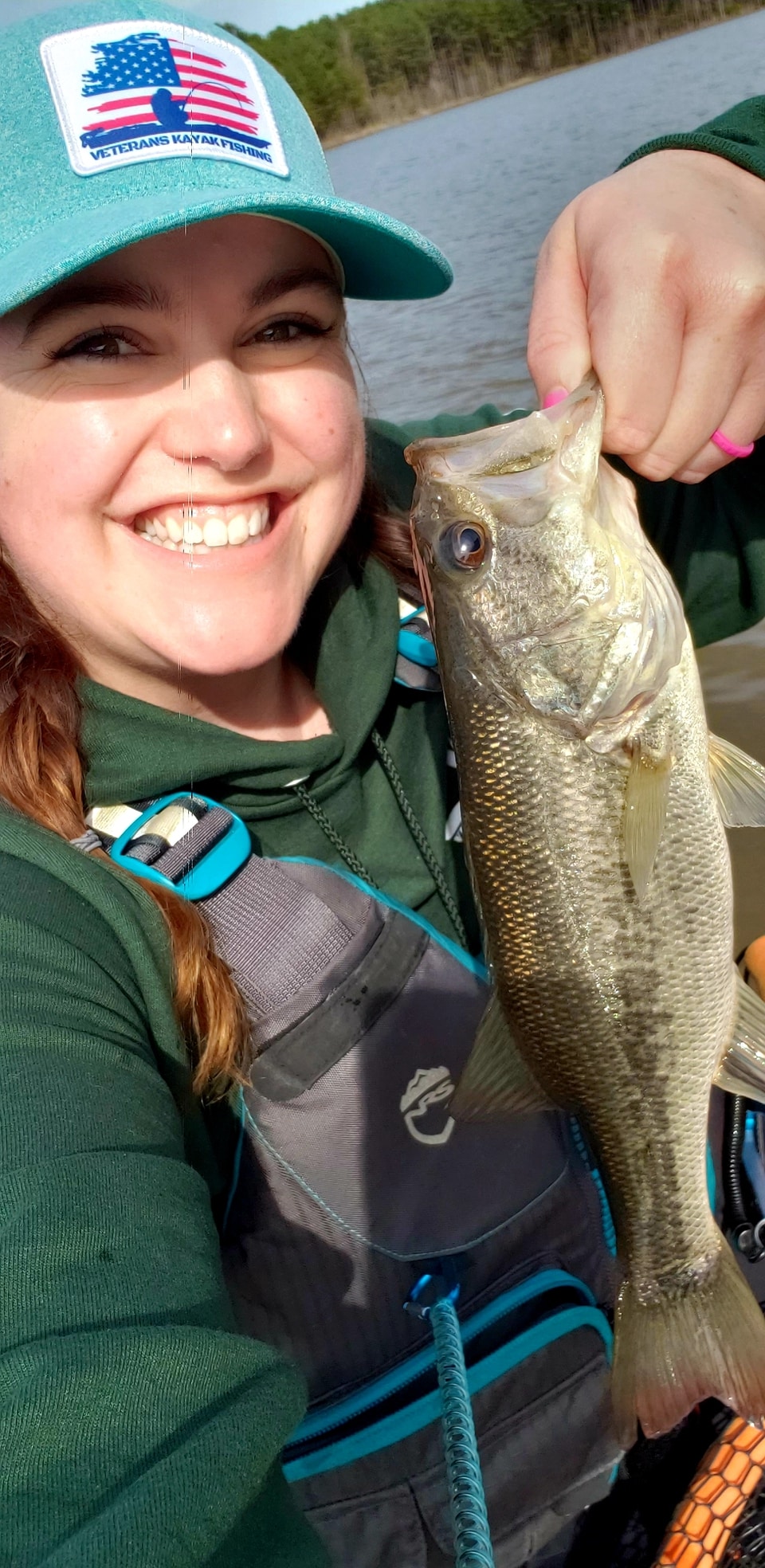 What's coming up in the future?
We're two years into launching Veterans Kayak Fishing (VKF) and it still feels like we've barely scratched the service. Clay had a very successful fishing season and finished seventh in the state. He has been invited to fish in the BASS national tour next year and it's safe to say the Geogia kayak fishing community knows our names. This year, Veterans Kayak Fishing also teamed up with Freddie Garza and the Georgia Highschool Kayak Fishing league. Freddie is also a veteran, and our partnership has helped high school students in Georgia get on the water. We have been fortunate to have members of our VKF Team partner with these kids and mentor them during their tournaments.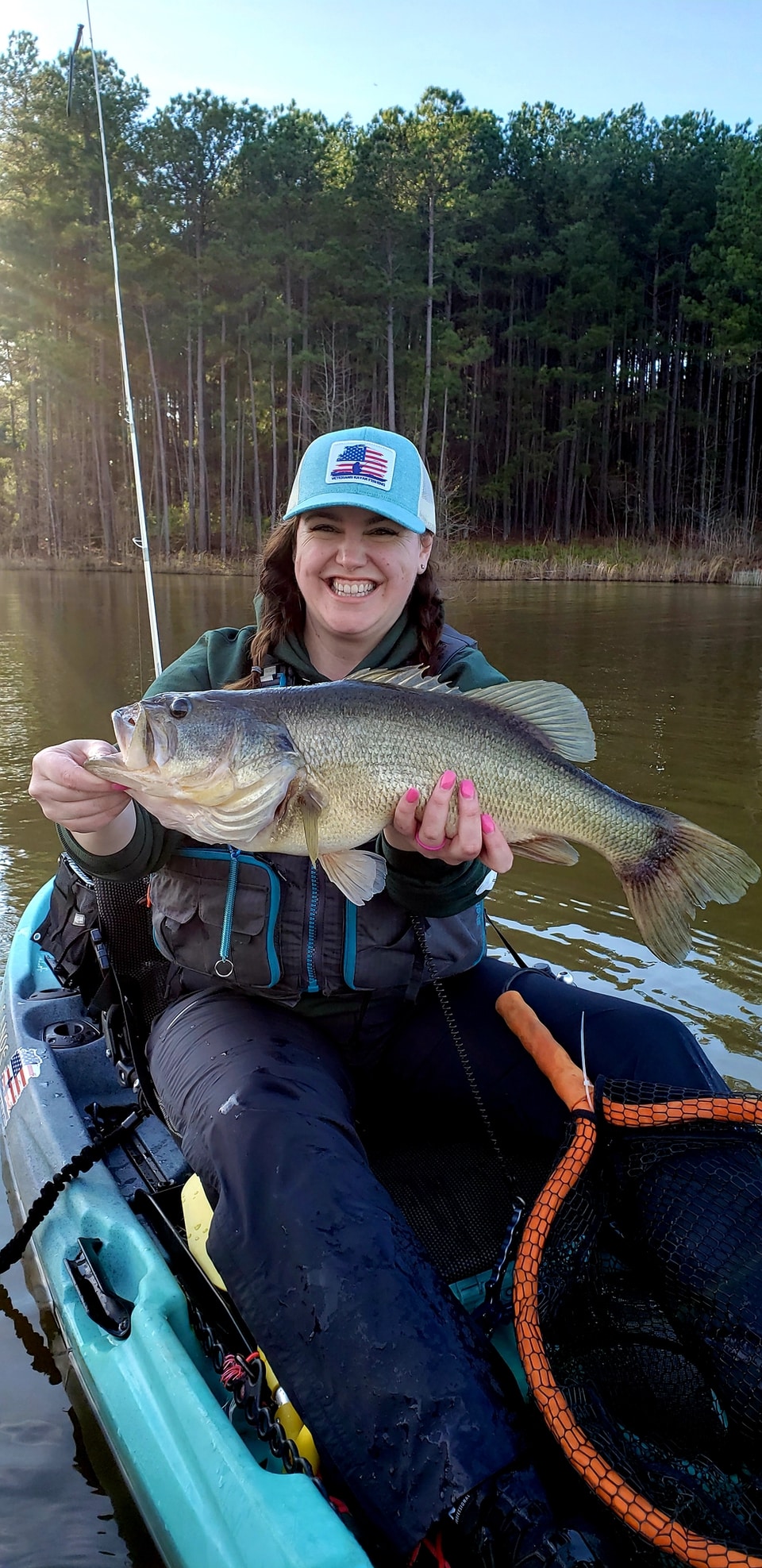 Meanwhile, I graduated from my advanced yoga teacher training program and am now an E-RYT 200, 500 RYT, and YACEP – all of that translates into a lot of training and experience under my belt and I can now train trainers. The plan for 2022 is for Clay, me and the team to combine our experience and certify VKF as a nonprofit. We can then accept donations and make a bigger impact. We still plan to keep our outings small – we know that by working in small groups we can make a bigger impact in a veteran's life, which then create an even larger ripple in the world. Our goal is simply to reach more individual veterans and their chosen support systems.
We couldn't possibly do any of this without the support of our friends, families, our team – Steven and Shannon Reynolds, Garrett and Traci Pate, Bryan and Shelly Hise and Joshua Copeland. Additionally, our friends at Kioti Outfitters, Westbrook Supply, the Georgia KFL Team and Freddie Garza with the Georgia High School BASS Association.
Learn more about Veterans Kayak Fishing here.
About Barbara Baird

Publisher/Editor Barbara Baird is a freelance writer in hunting, shooting and outdoor markets. Her bylines are found at several top hunting and shooting publications. She also is a travel writer, and you can follow her at https://www.ozarkian.com. View all posts by Barbara Baird →