Lockdown Gear Box Giveaway
We are super excited to offer an amazing (and valuable) Gear Box from Lockdown in our latest giveaway. Many of the items were custom made just for this giveaway, so you won't find them anywhere else.
Sponsored by Lockdown
The Lockdown Gear Box contains just what you need to get started securing items in your home – a Lockdown Puck – as well as a set of Lockdown magnets to organize and store your firearms. As a bonus, those who will have the opportunity to spend time in warm sunny weather, you'll get a pair of Oakley sunglasses, Lockdown hat and a beverage holder may come in handy. Plus, who doesn't need a great conversation starter like the "Give a Puck" t-shirt? Enter now for your chance to win some great products from Lockdown.
What's in the Lockdown Gear Box Giveaway?
Brumate Hopsulator Trio — An insulted tumbler for all your beverage needs.
Pair of Lockdown Oakley Holbrooks sunglasses
Magpul Daka Can — protect your important items.
Custom Lockdown Knife
Custom Lockdown Multitool
Lockdown Banner
Lockdown T-shirt
Lockdown Hat
Lockdown Patch
Lockdown Stickers
The Gear Box also contains: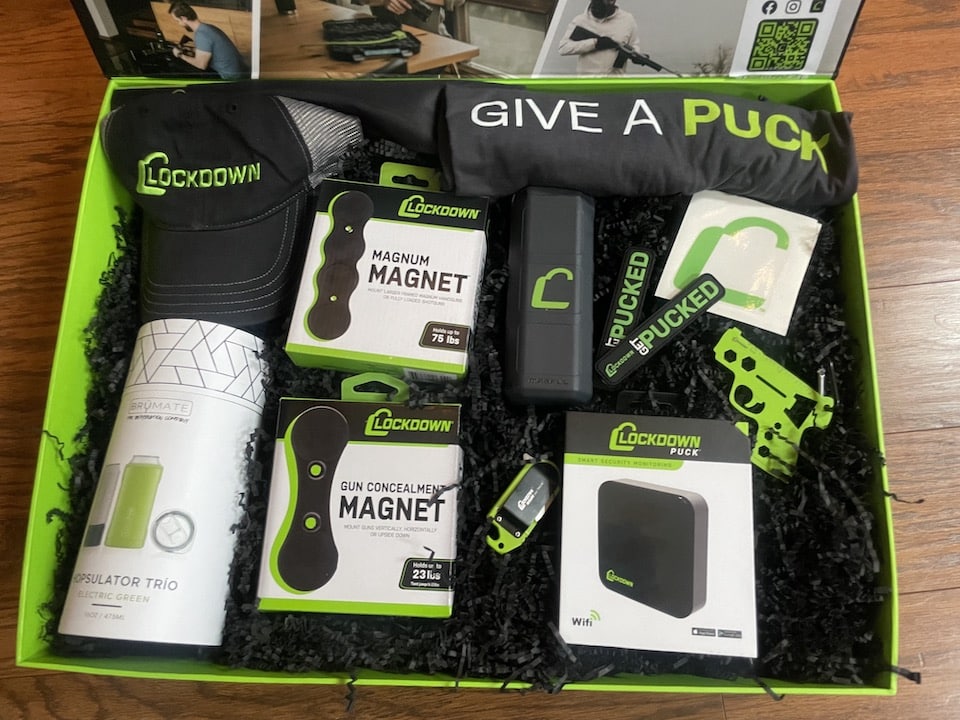 Lockdown Puck, a state-of-the-art monitoring and security device that provides true peace-of-mind with real-time notifications and control using the free Lockdown Logic™ App.
MSRP: $93.46
Lockdown Magnum Magnet easily organizes and conveniently stores your firearms. It's designed to hold pistols or long guns with a maximum weight of 75 pounds.
MSRP: $25.69
Lockdown Concealment Magnet The Lockdown® Gun Concealment Magnet can be mounted conveniently in a variety of locations to securely hold a handgun in place. The powerful magnets easily support full size pistols and revolvers.
MSRP: $18.85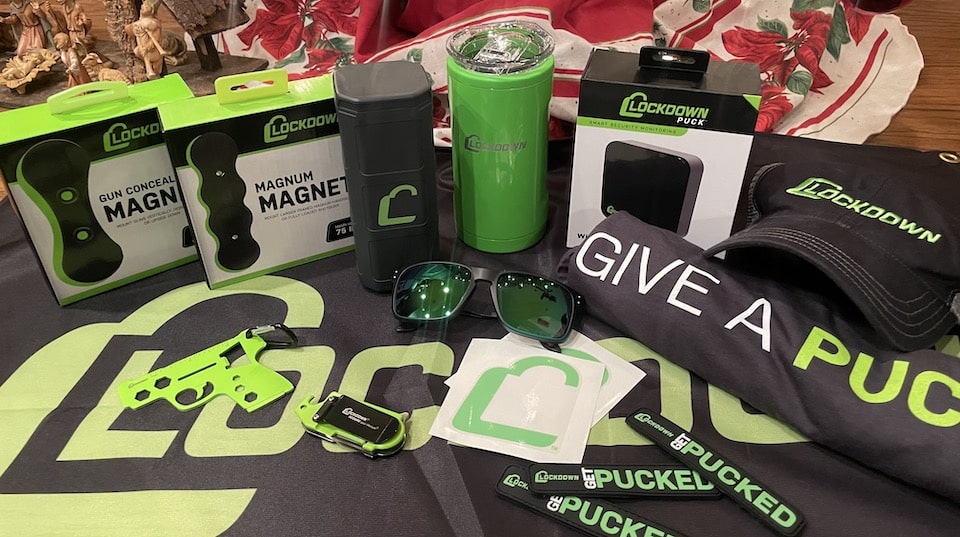 So what are you waiting for? Enter our Lockdown Gear Box Giveaway now for your chance at these cool custom Lockdown products. Happy Christmas a little early.
About Michelle Cerino

Michelle Cerino, aka Princess Gunslinger, entered the firearms industry in 2011 when Cerino Training Group was established. She immediately began competing in both 3-Gun and NRA Action Pistol, becoming a sponsored shooter. Michelle is currently a columnist and Managing Editor of Women's Outdoor News, as well as owner of Pervenio LLC. She also manages social media for Vera Koo and GTM Original. Michelle encourages others to step out of the comforts of home and explore. View all posts by Michelle Cerino →
The Conversation