Review: Taurus Raging Hunter 44 Magnum
Over the past year I have been planning a hunt in the north central part of Montana. We were going to be backpack hunting for migrating mule deer near the Canadian border. One thing I was keeping in mind was the presence of grizzly bears. I had a great 9mm carry pistol, but when it comes to grizzlies, that 9mm would only do the job of putting a bear down in an emergency if I had a perfect shot. The more I read and researched, the more concerned I felt about safety from bears on our hunt. Then, my editor at The WON recommended that I try out the Taurus Raging Hunter 44 Magnum.
Sponsored by Taurus
It was a gun I was interested in trying because not only is it a gun that could put a bear down, but also it is a revolver. The Raging Hunter comes in a few different barrel lengths – from 5.12 to 8.37 inches. (I must admit, the 8.37 inches gives me a visual of a Clint-Eastwood-length of revolver.)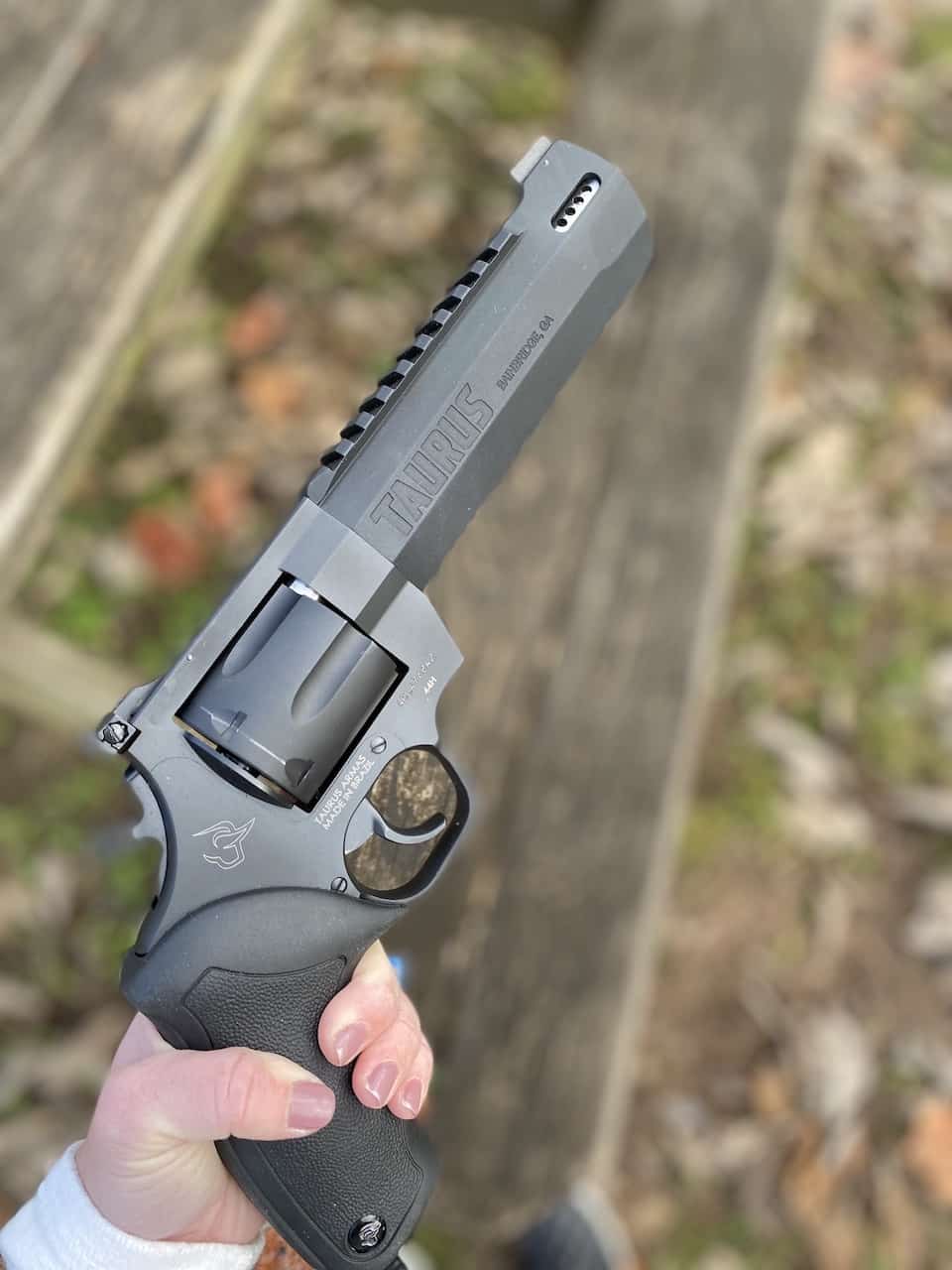 Taurus sent me the Raging Hunter with a 6.75-inch length barrel and I have to say I was surprised by the size of the gun. Having been used to a small carry pistol, this gun is much different. I first noticed the sleek black matte color. I chose this color based on the fact that since I would be out hunting, I did not want to have the shiny stainless steel out in the field. I needed a flat color that would not cause distraction or bring unwanted attention as I moved through the mountains.
On a side note, the Raging Hunter 44 Magnum is the winner of the NRA's 2019 "American Hunter Handgun of the Year Golden Bullseye Award." Its angular barrel design cuts down on weight, while its factory-tuned porting and gas expansion chamber reduce muzzle lift for quicker target acquisition. There is some cushioning on the grip to add comfort to holding and using this gun. It comes with a fixed front sight, but the back sight is adjustable. It has a picatinny rail for an added sight if you want. The total length is 12.60 inches and it weighs 53 ounces. It holds six rounds.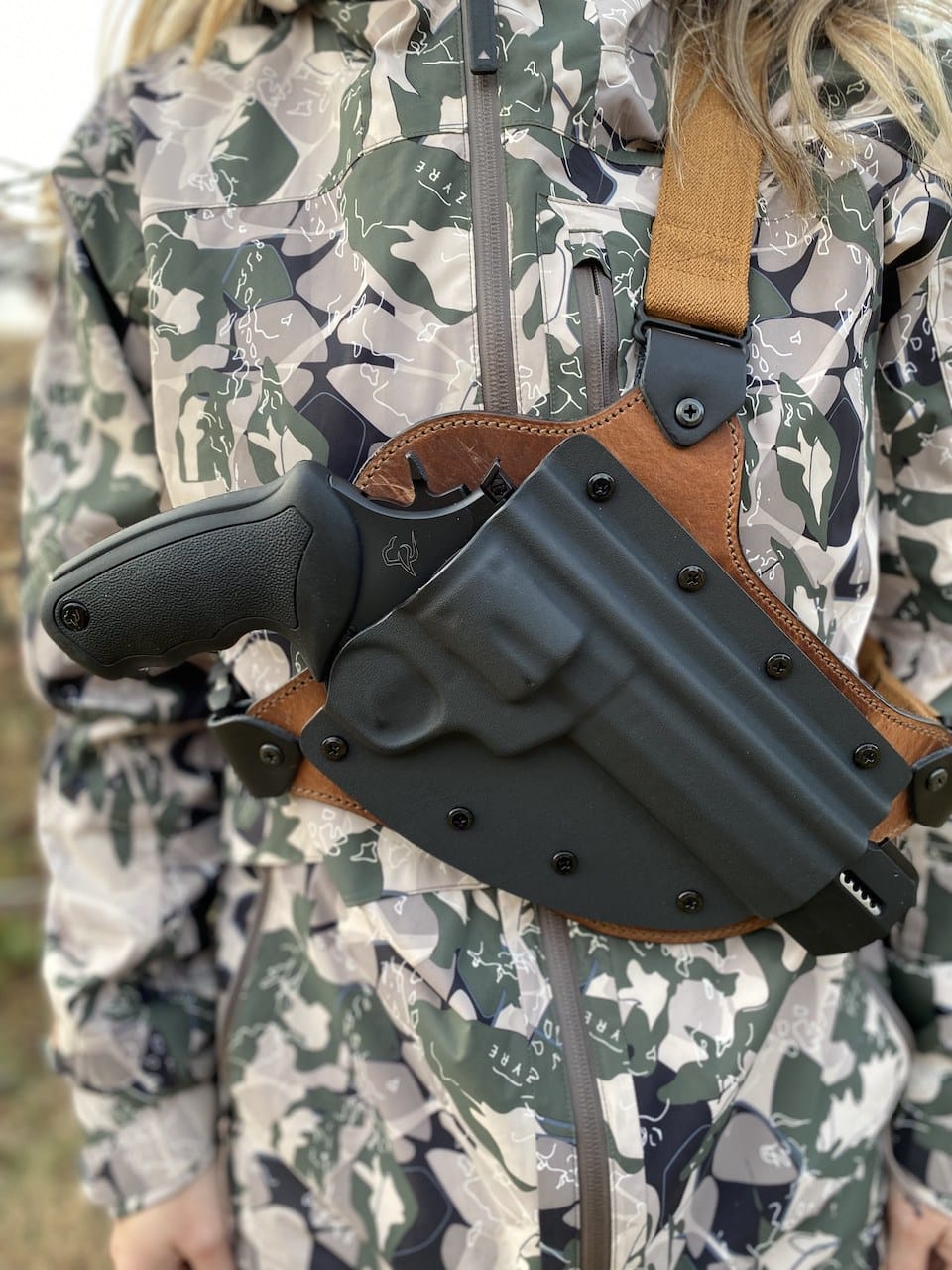 This is not a concealed carry gun. This is a revolver that needs to be holstered in a crossbody harness or placed on the hip. If back country hunting with a pack and binoculars, you would need to figure out what works best for you.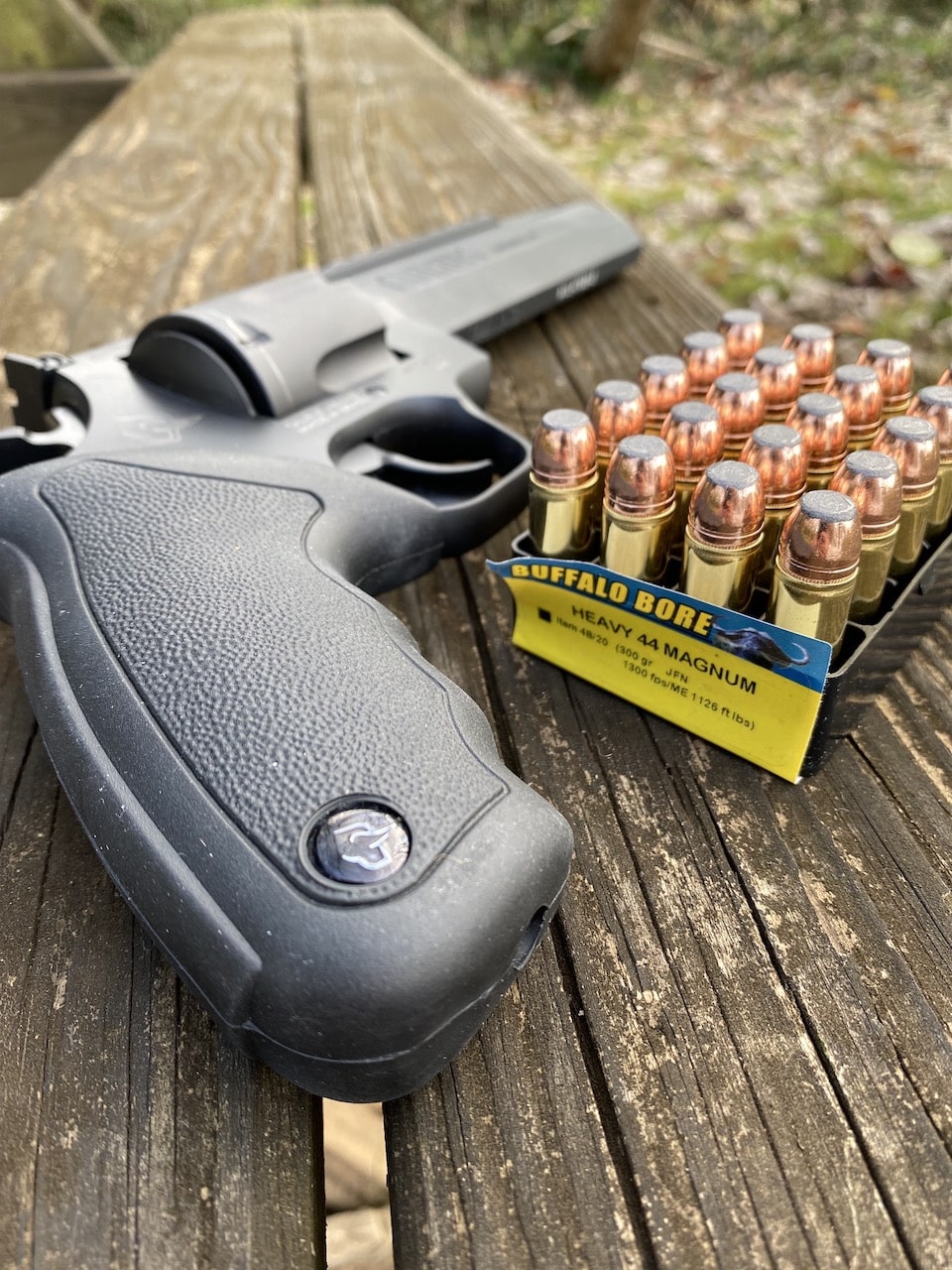 This revolver at the range surprised me on the first shot. I think I was expecting a higher muzzle lift as I shot. It still lifted but not as dramatic as I believed it would. I think when we look at revolvers, we expect that hard to control lift and this one was much easier to control. I shot target ammo and then two rounds of Buffalo Bore bear ammo to be prepared for the full kick. This gun would effectively take care of a bear if faced with a situation of danger to life or if hunting. I would 100 percent keep it by me in the tent and at camp.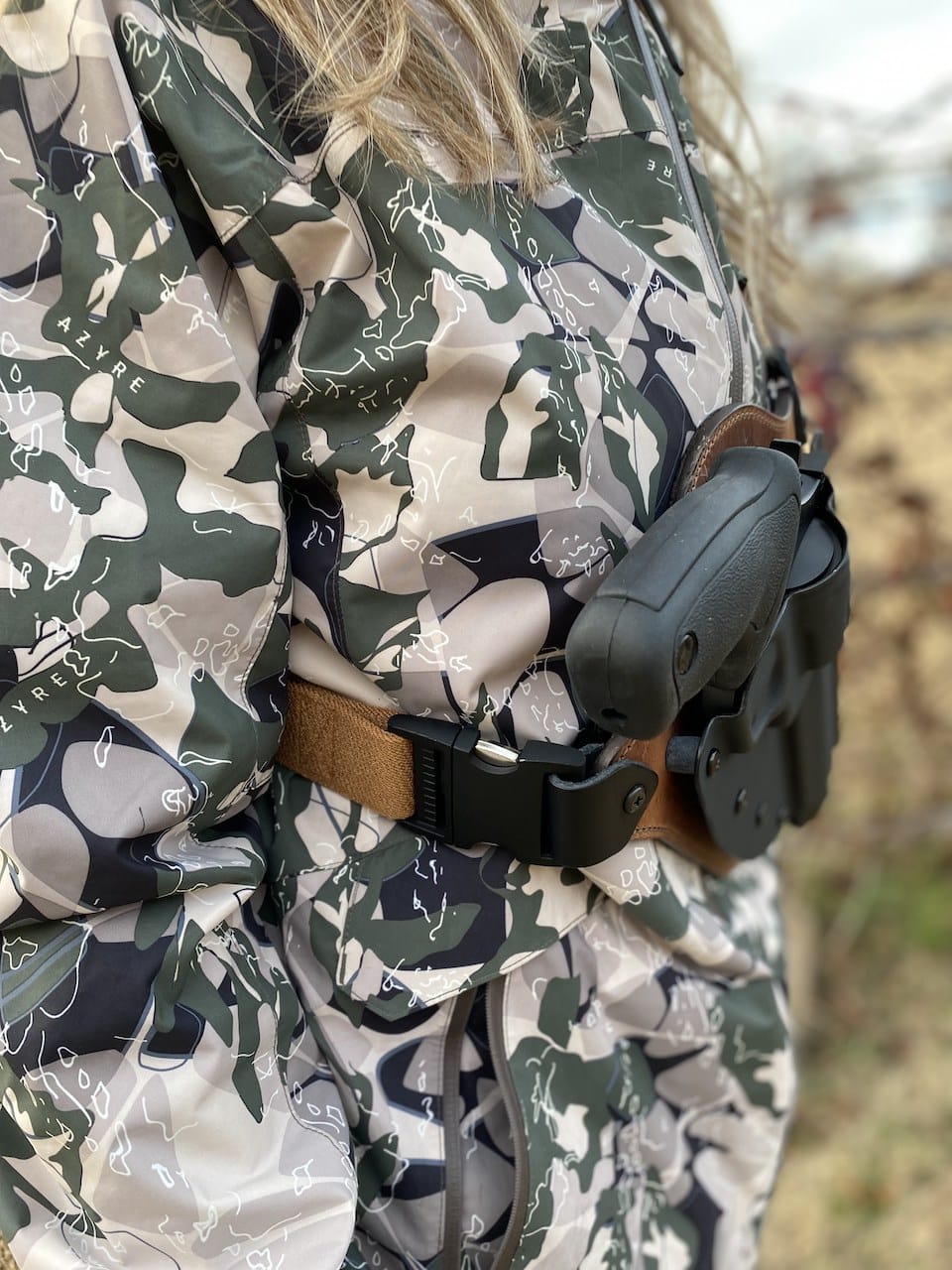 I paired the gun with a Crossbreed Chest Harness, which I loved. I am 5-foot-1 in height, and after carrying that gun in Montana, I would now choose 5.12-inch for easier retrieval from a holster. That is just personal preference on my own build. I have a few friends who are over 5-foot-10 and this length barrel of a revolver is a perfect fit.
Read another review on the Taurus Raging Hunter here.
Meet Amy Hall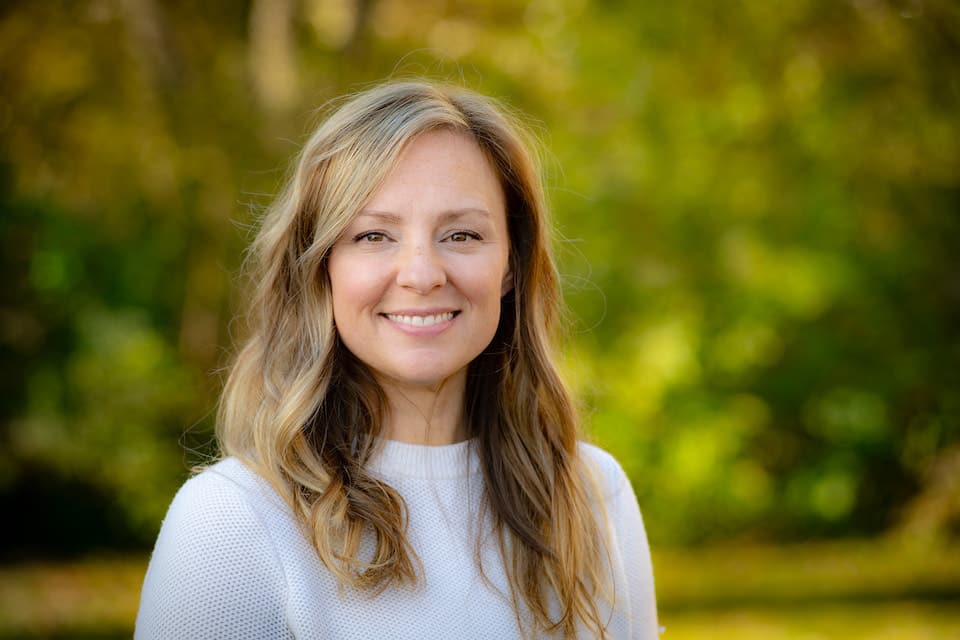 Amy Hall is the Program Coordinator for Tennessee Wildlife and also the owner and podcast host for Her Wild Outdoors. Her grandfather (a forest service employee) imparted to Amy a deep respect for nature and conservation, which further grew as others have encouraged her passion for hunting. Amy has been hunting since 2013. She has been interviewed by such programs as National Deer Alliance, Her Inspired Journey and has a Turkey Call video out with NWTF. Amy is inspired by the challenge and personal growth that come with the practice of hunting. She shares stories of women hunters and the men who support them through her podcast series, Her Wild Outdoors, with the aim of helping to create a supportive community of women in the outdoors. Since 2019 she has hosted podcasts as she has been a contributing podcaster for Miss Pursuit and Western Contours.
About The WON

The Women's Outdoor News, aka The WON, features news, reviews and stories about women who are shooting, hunting, fishing and actively engaging in outdoor adventure. This publication is for women, by women. View all posts by The WON →