A Lockdown-Secured Home at SHOT Show
Last month I attended the 44th Shooting Hunting Outdoor Trade Show (SHOT Show) in Las Vegas. In the course of the event, I'm pretty sure I walked by every one of the 2,400 attending exhibitors. However with 800,000 net square feet to cover, I had to carefully choose how much time I spent in each booth I visited. Well, until I walked into the Lockdown secured home booth … I think I went back three times to show some of my friends how cool it was – especially in relation to a Lockdown-secured home.
Sponsored by Lockdown
A Lockdown-Secured Home
To enter the mock-up Lockdown secured home, I walked through a Logic Vault Door. It was kind of like walking into the wardrobe and entering Narnia. These are supposed to be available online later this spring. We can't wait to tell you more about them and all their features in future articles. In fact, one of our writers is on the schedule to have one delivered and designed her new home accordingly.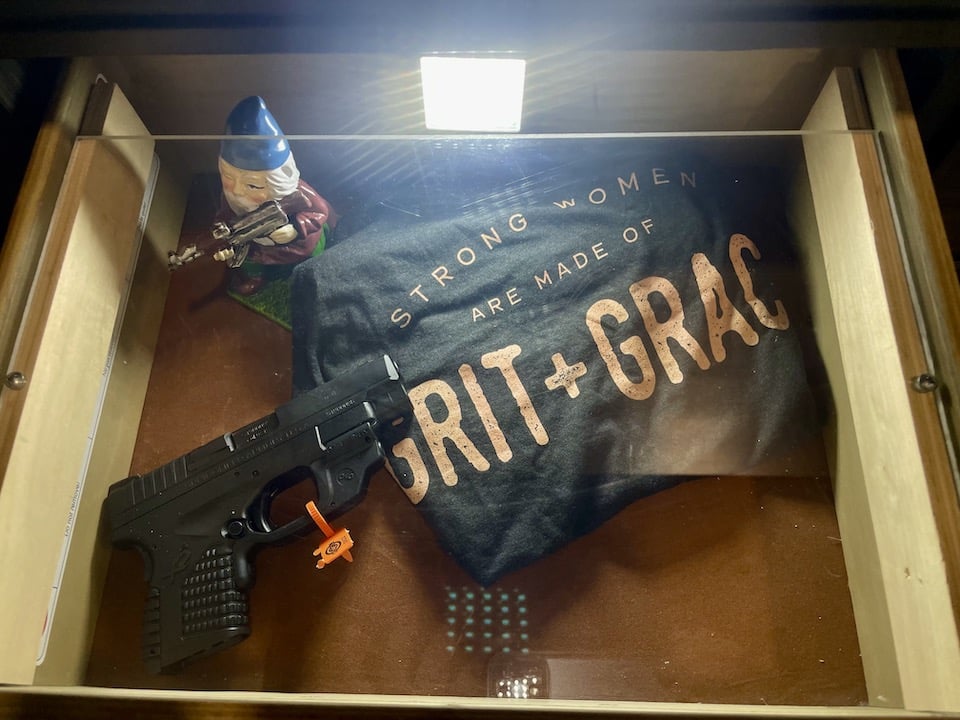 Immediately I began opening drawers in the dressers and peeking inside. I must admit, I hadn't thought of using the Lockdown Automatic Cordless 25 LED Vault Lights in a drawer. It makes perfect sense though, a built-in motion sensor automatically turned the light on when I opened the drawer. I have to assume it also turned the light off once I closed it. But you know how hard that is to check, just like a refrigerator. (Insert a chuckle here.)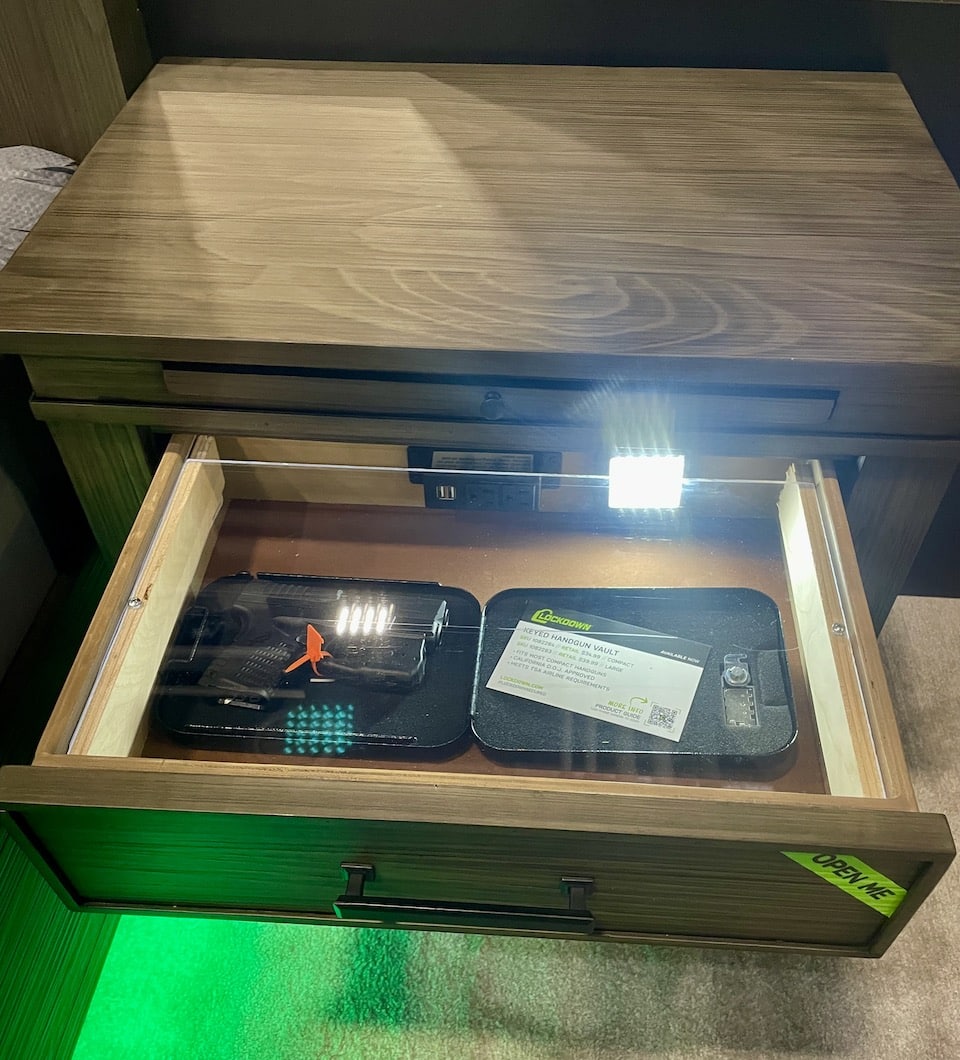 Inside a nightstand drawer, I found a handgun vault with another LED light. Again, why didn't I think of that? The light automatically turns on when the drawer is opened to access the firearm. Think of all the places in your home that could use a little light.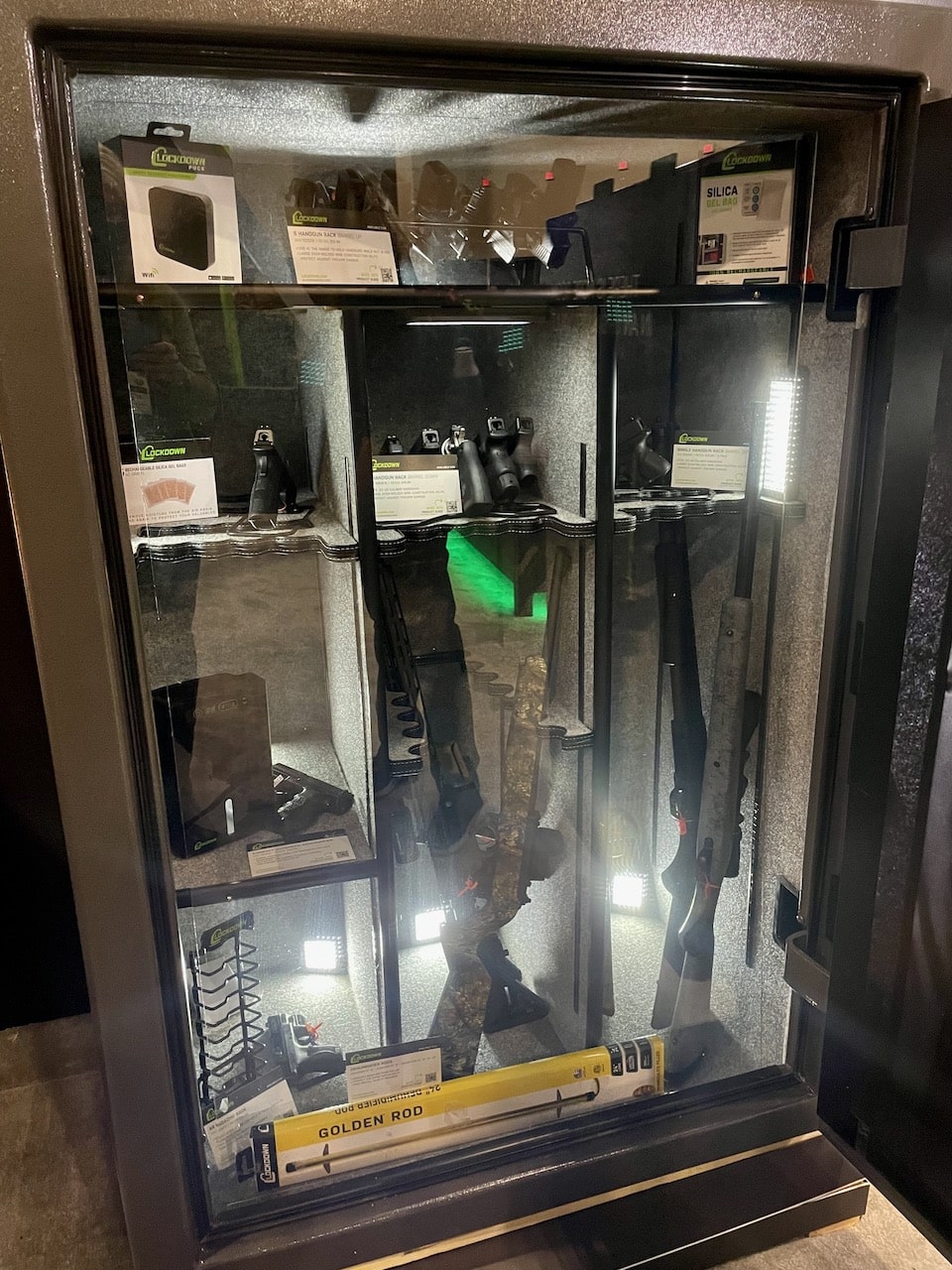 A safe display with the door wide open had me considering the safes I have in my home. The use of lights and the various pieces from Lockdown's vault organization category inspired me to get to work on mine. Plan on seeing my safe transformation in an article later this summer.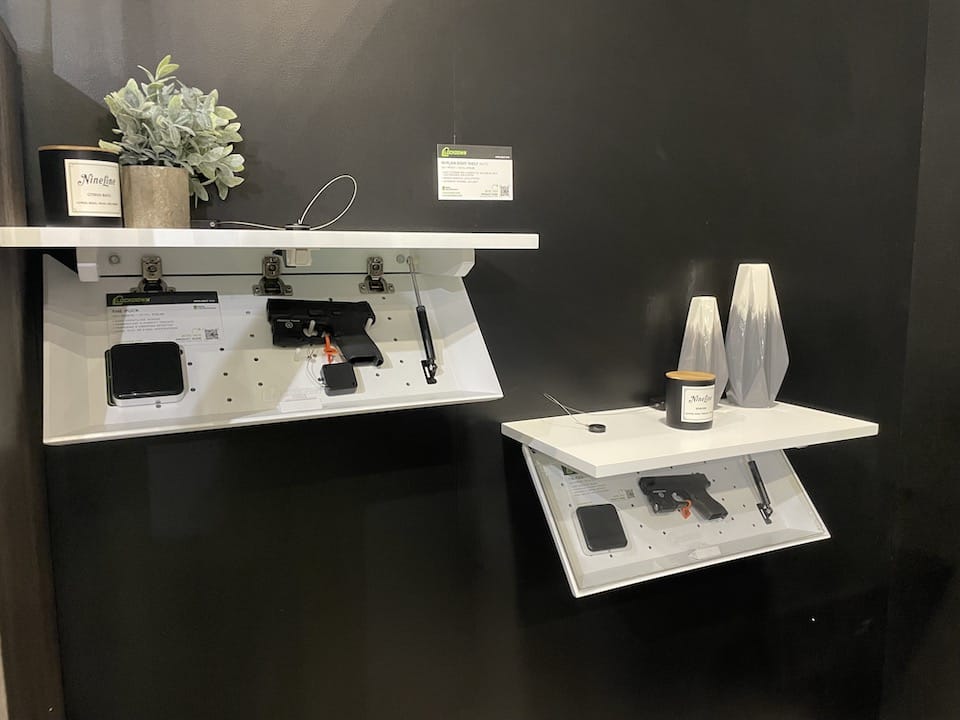 Lockdown's In-Plain-Sight shelves looked especially nice against the dark display wall. You may recall when I added one to my home in the article, "Lockdown's In-Plain-Sight Shelf: Decorating with a Purpose." Looking at the photo above, the extra wires and locks are only for display reasons to keep items from "walking-away" at SHOT Show.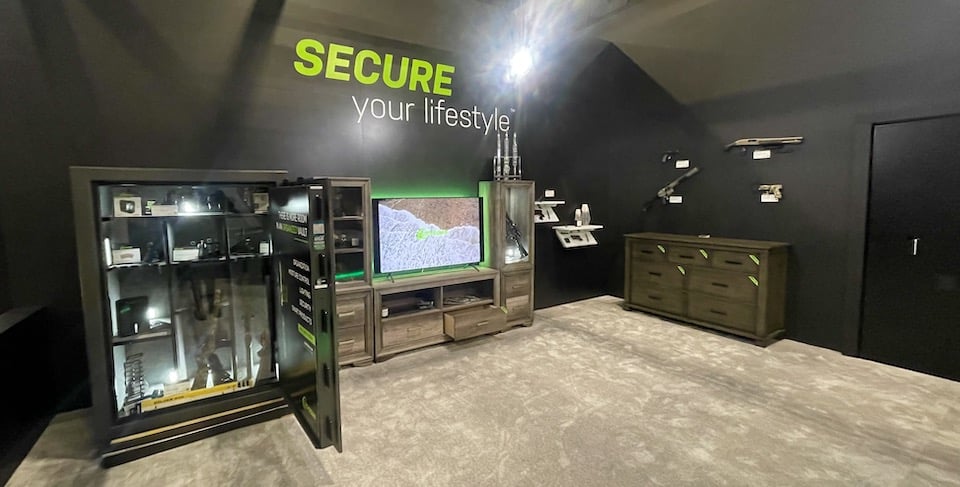 It surprised me to see the firearms that appeared to be "floating" above the dresser. Coincidently, my friend I stayed with during SHOT Show mentioned how she used a super strong magnet to hang her shotgun. Yep, you guessed it, she had a Lockdown Magnum Magnet right in her own house. It can hold up to 75 pounds. Imagine the possibilities!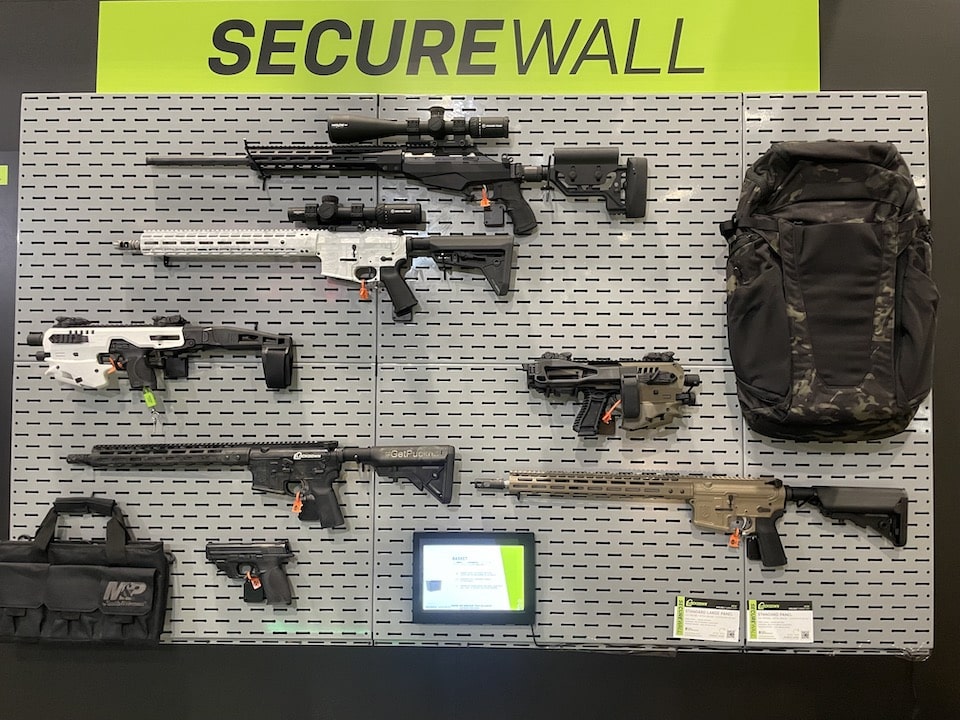 Lockdown highlighted a brand new product at the show, called Secure Wall Panels. Once these panels are available, Lockdown will offer various hangers, shelves, hooks and baskets. I can't wait to add this system to my workroom. Lockdown plans on launching these this summer.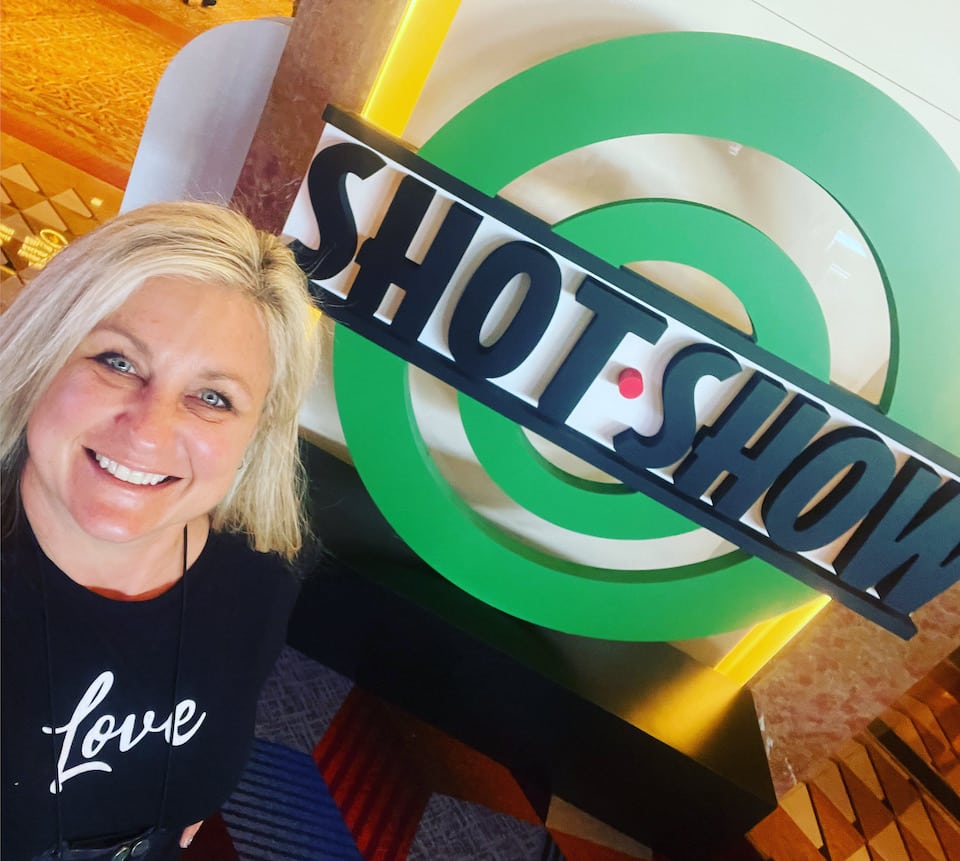 A Lockdown secured home is a safe home. I hope this photo feature conveyed the excitement I had visiting the Lockdown booth. I also hope that now you now have a better understanding of everything it has to offer for your Lockdown-secured home. We are super excited to highlight these products at The WON throughout 2022.
About Michelle Cerino

Michelle Cerino, aka Princess Gunslinger, first entered the firearms industry in 2011 as co-owner, president and trainer at a national training company. She immediately began competing in both 3-Gun and NRA Action Pistol, becoming a sponsored shooter. Michelle is currently a columnist and Managing Editor of Women's Outdoor News, as well as owner of Pervenio LLC. She also manages social media for Vera Koo and GTM Original. Michelle encourages others to step out of the comforts of home and explore. View all posts by Michelle Cerino →