Purse Dump: What's In Your GTM Original CCW Bag?
It's always interesting to find out what other women carry in their purses, especially when it's a GTM Original concealed carry bag. For this "purse dump" I contacted Sharenda Birts, one of my fellow members of Team WON, along with publisher Barbara Baird.

Sponsored by GTM Original
Sharenda Birts GTM Purse Dump
Sharenda is an arbitrator for a B2B (business to business) corporation, as well as the Director of Community Affairs and one of the four founding members of wildHERness.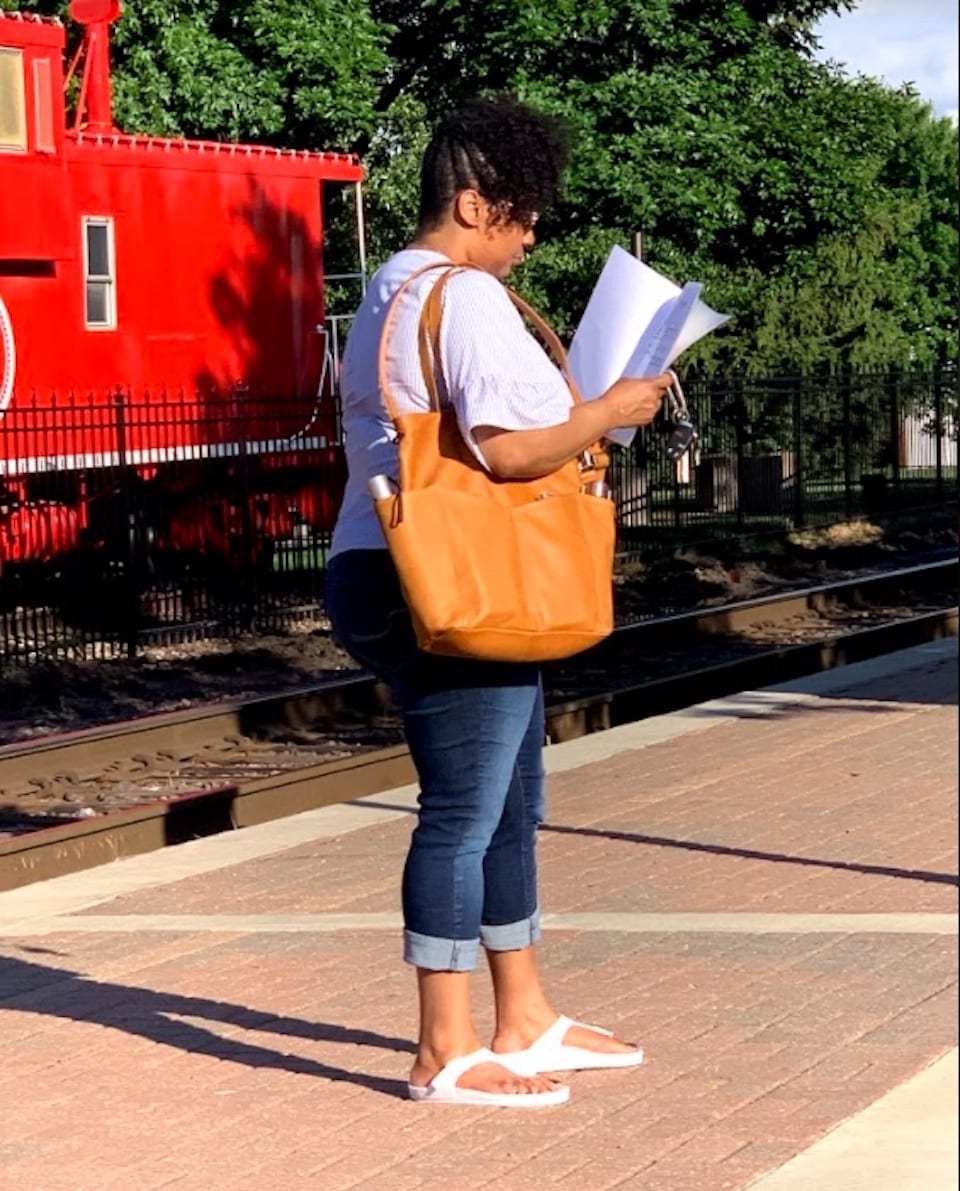 When did you start carrying concealed?
In 2018 Missouri changed to a constitutional carry state. I began carrying concealed after I had one year of consistent pistol training that included drawing from a holster, defensive shooting and malfunction clearing. Before I carried a firearm, I always had a knife. I used to work in IT, so I needed it to open boxes and it just carried over as a self-defense tool. My mom always told me I could use ANYTHING as a weapon to defend myself in a pinch.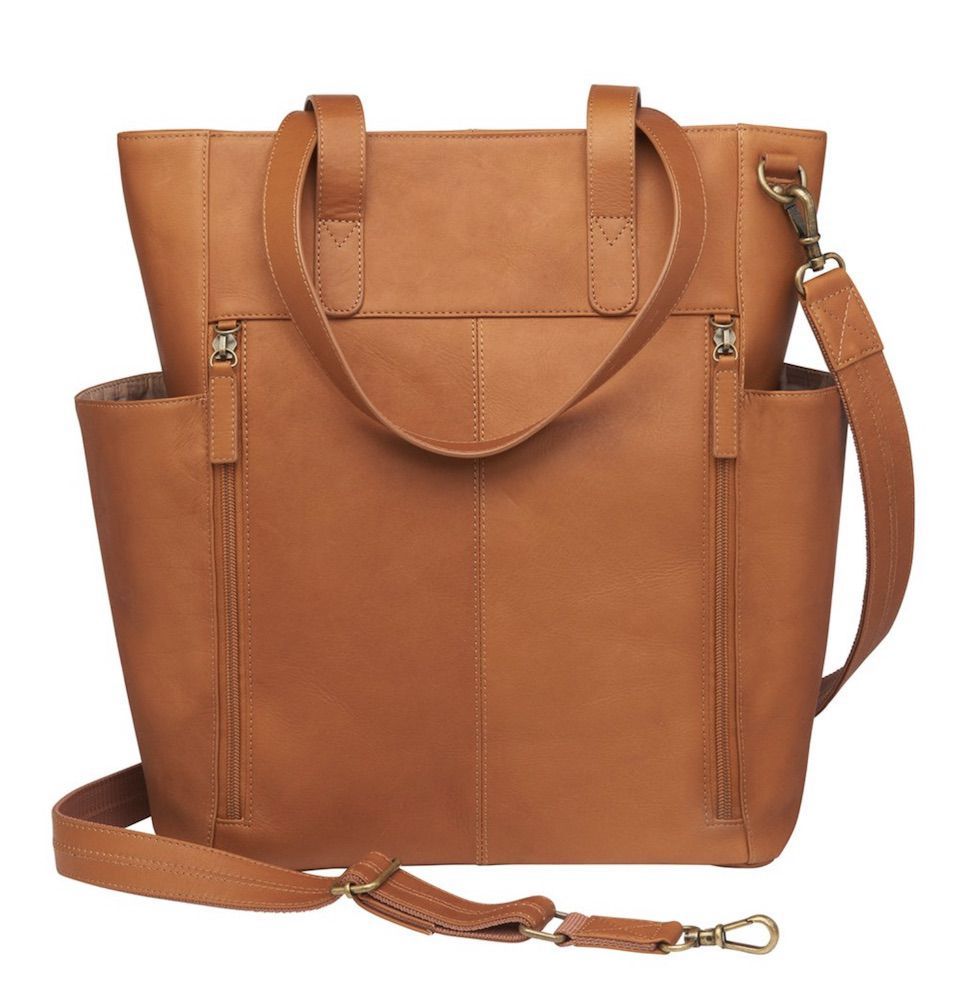 Tell us about your GTM concealed carry purse.
I've had my GTM-107 Oversized Leather RFID Travel Tote for one year and my RFID wallet that I received at an A Girl and A Gun event for three.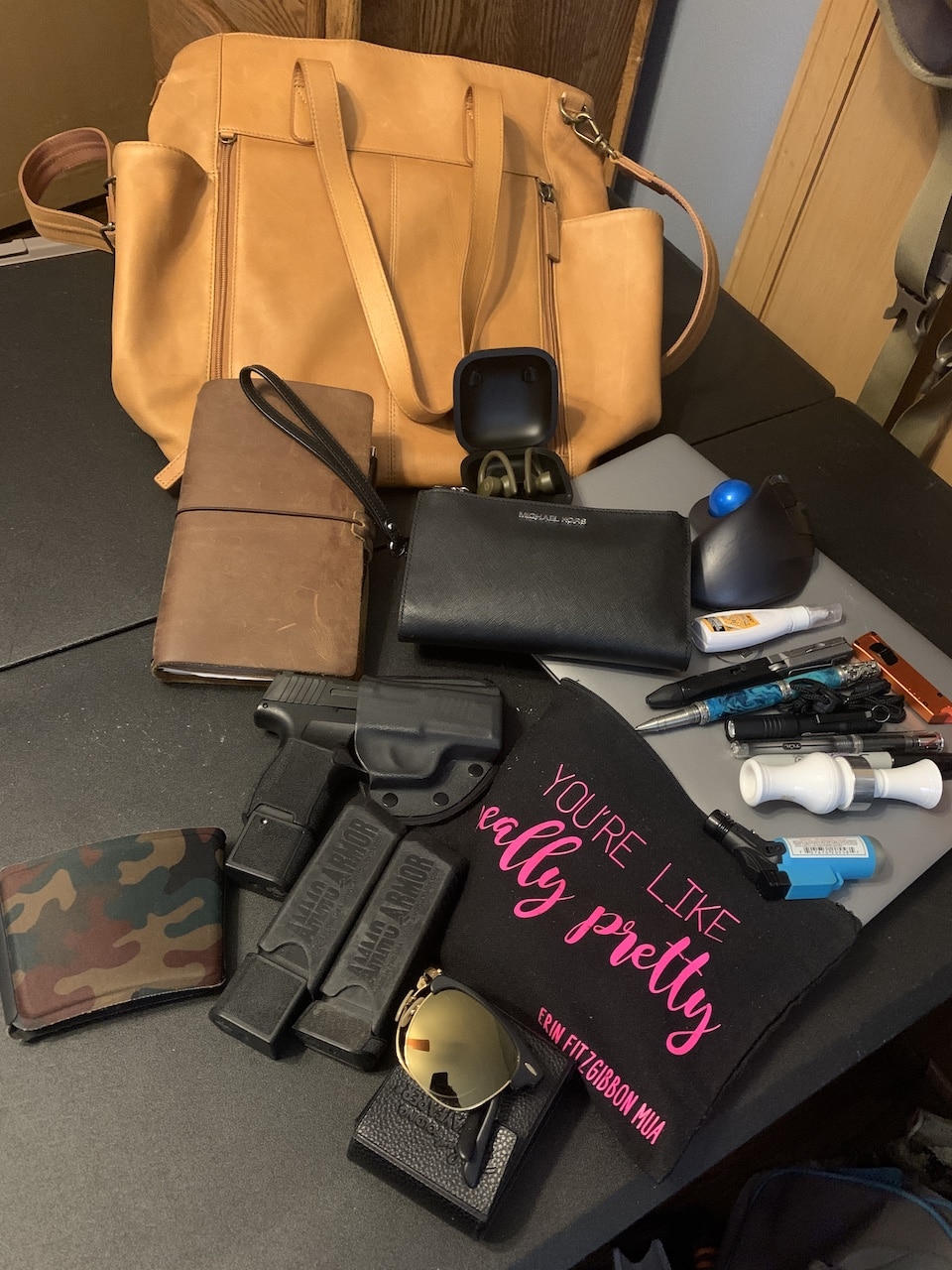 What's in your purse dump?
Currently in the GTM-107 bag, I have my work laptop and mouse, a Sig Sauer P365 housed in a Crossbreed holster, two extra magazines, folding Rx Ray-Ban sunglasses, agenda, wallet, coffee cup sleeve, Beats Pro earbuds, duck call, torch lighter, pens, a Sharpie, Kershaw knife, a make-up bag containing hand lotions, sanitizer and nail file … and a Streamlight microstream USB LED flashlight. Most of these items are carried-over habits from my previous employment​.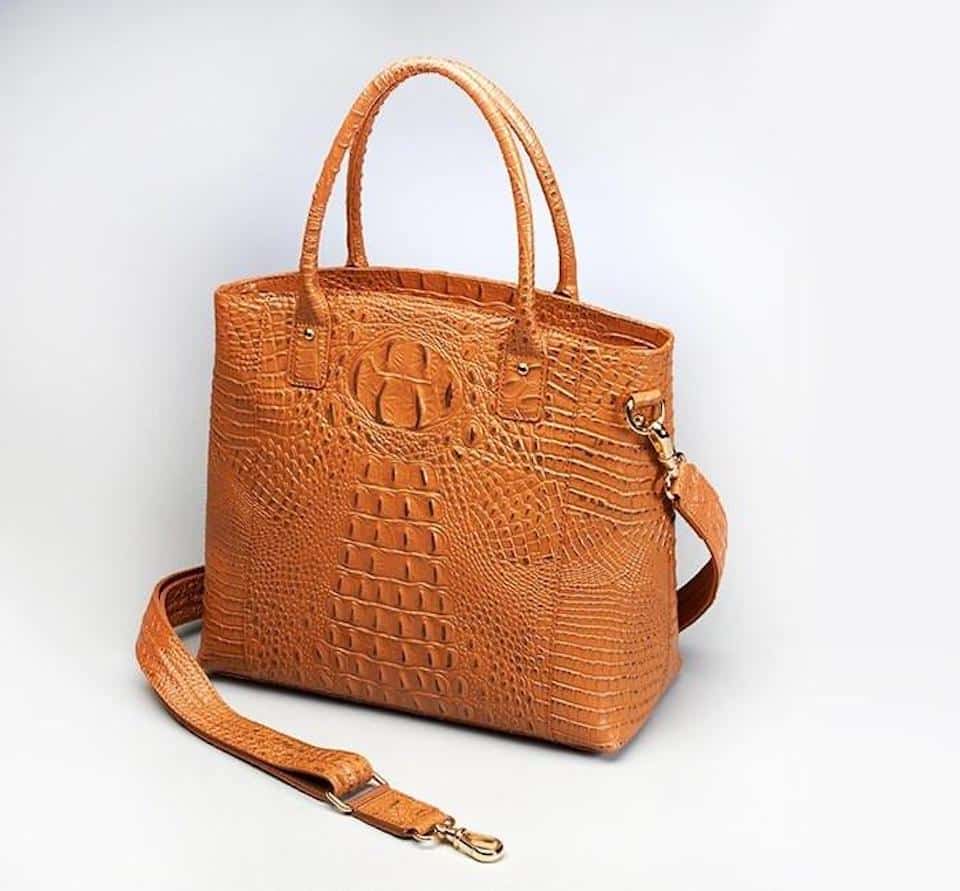 What is the next GTM purse you would like to purchase?
For my next concealed carry purse, I'm contemplating a GTM-53 Town Tote 3-D American Debossed Croco Pattern Cowhide. I love the croc pattern and how it looks like a regular, everyday purse. Plus, it has protective feet at the bottom to keep it elevated off a surface and ample amounts of space to toss in a few extra items.
Sharenda added this side note to her interview that I think is definitely worth sharing.
A while back, I spilled a large cup of coffee with milk on my tote. Well, technically the tote was soaking for a few hours in a small tub of coffee. After letting it dry, I reconditioned the leather. Believe it or not, it's not even noticeable. Actually, as much I use this bag, it has very little signs of wear. GTM's Oversized Leather RFID Travel Tote is my "professional go-to" or "girls' day out" bag.
Barbara Baird (Babbs) GTM Purse Dump
Babbs is the Publisher of The WON, co-owner of vintage and Mid Century Modern resale business, Mamas Maters & Junk, (with daughter, Jackie Richardson), owner of website design and social media company, travel blogger, along with freelance writing for outdoor and travel markets.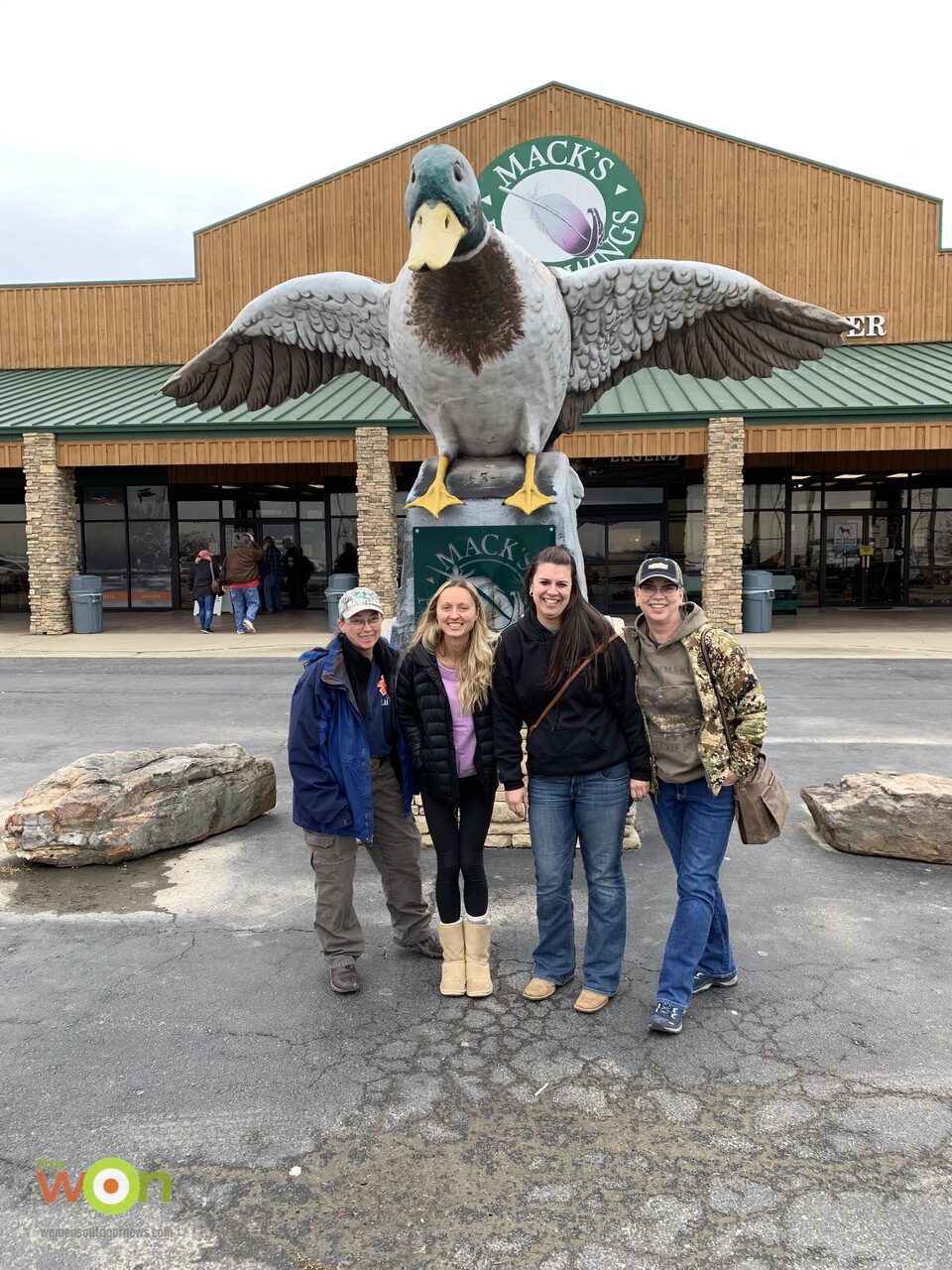 How long have you carried concealed?
I started carrying concealed when Missouri sanctioned concealed carry in the state. I believe it is a right to protect yourself, your family and friends. I believe I stopped what could have a dangerous situation simply by indicating that I was willing to draw my gun when approached by a predator in a car wash.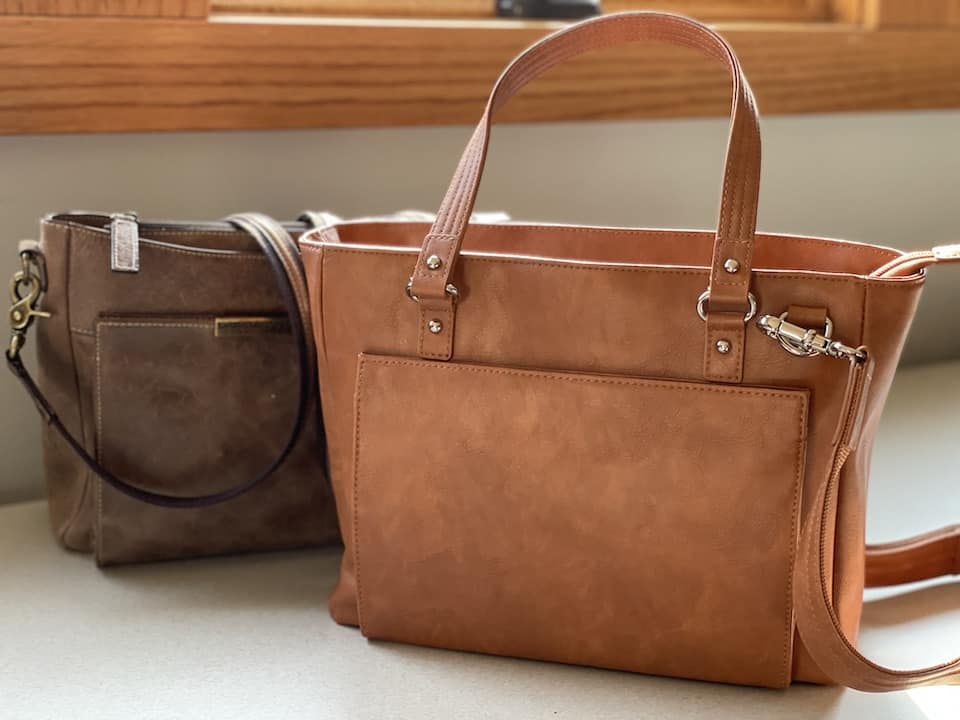 Tell us about your GTM concealed carry purse.
I just switched from the GTM Distressed Leather Slim X-Body RFID Purse that I have been carrying for the past three years to the GTM-86 Washable Leather Wallet Tote. At first glance, there isn't much of a difference between the two styles, which is why I like it. To be honest, I felt drawn to the color of the luxurious leather in the GTM-86. And … it's washable, so there's that.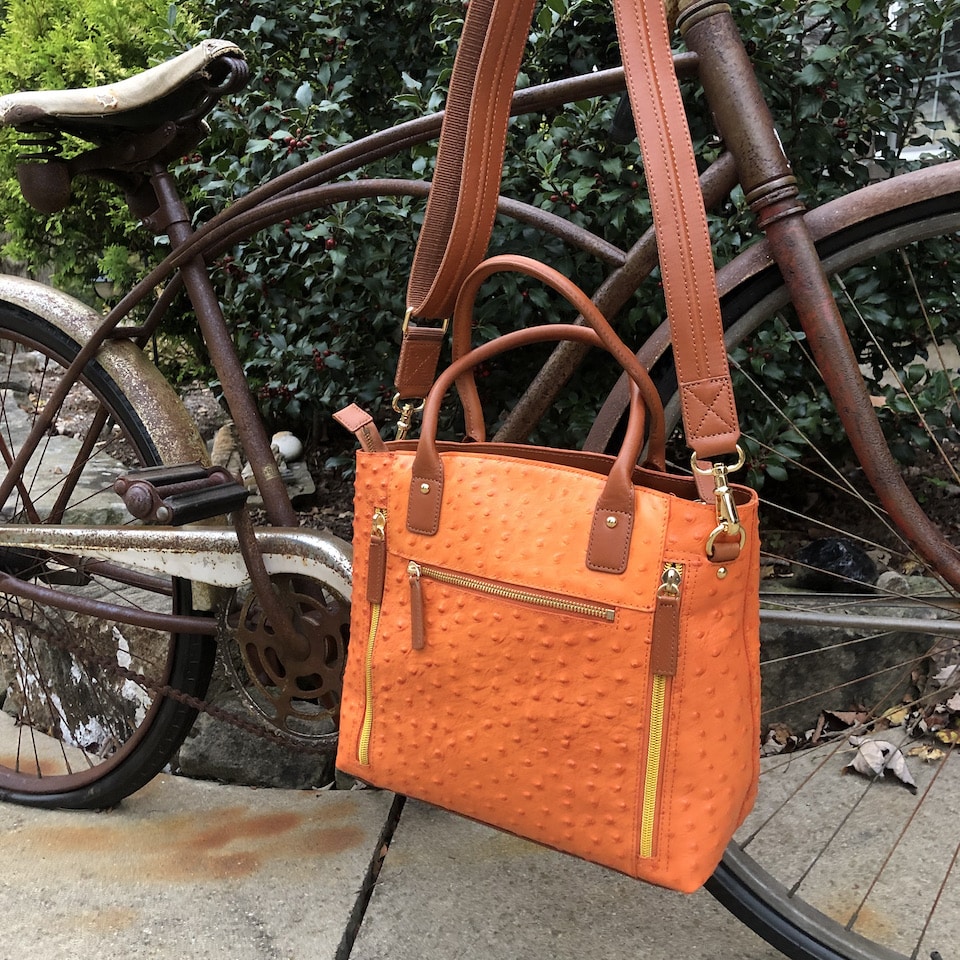 I also carry the GTM-51 (in the fall, because … pumpkins) with its vibrant orange ostrich appeal.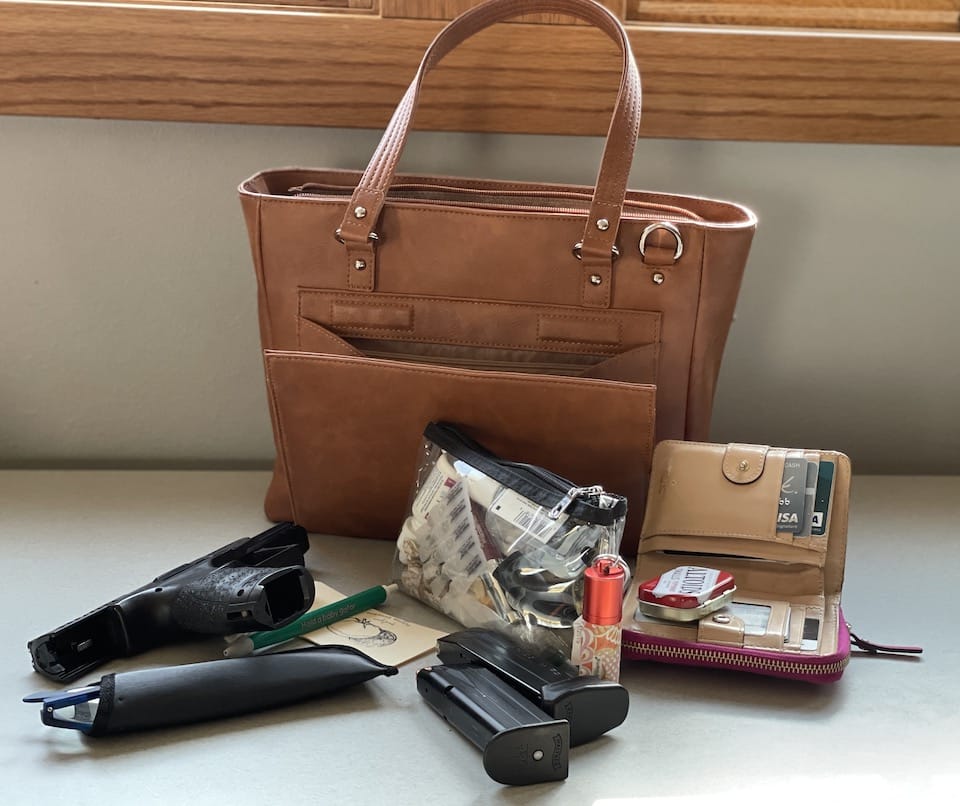 What's in your purse dump?
Extra magazine
Wallet (may move all wallet items into the front of this purse in its built-in wallet)
Altoids
Clear bag that I call my "Mom Bag," that contains hand sanitizer, medicine, dental picks, lip gloss and Chapstick
Pen
Pill container (Tylenol) that my grandkids can't open
Two Mamas Maters tags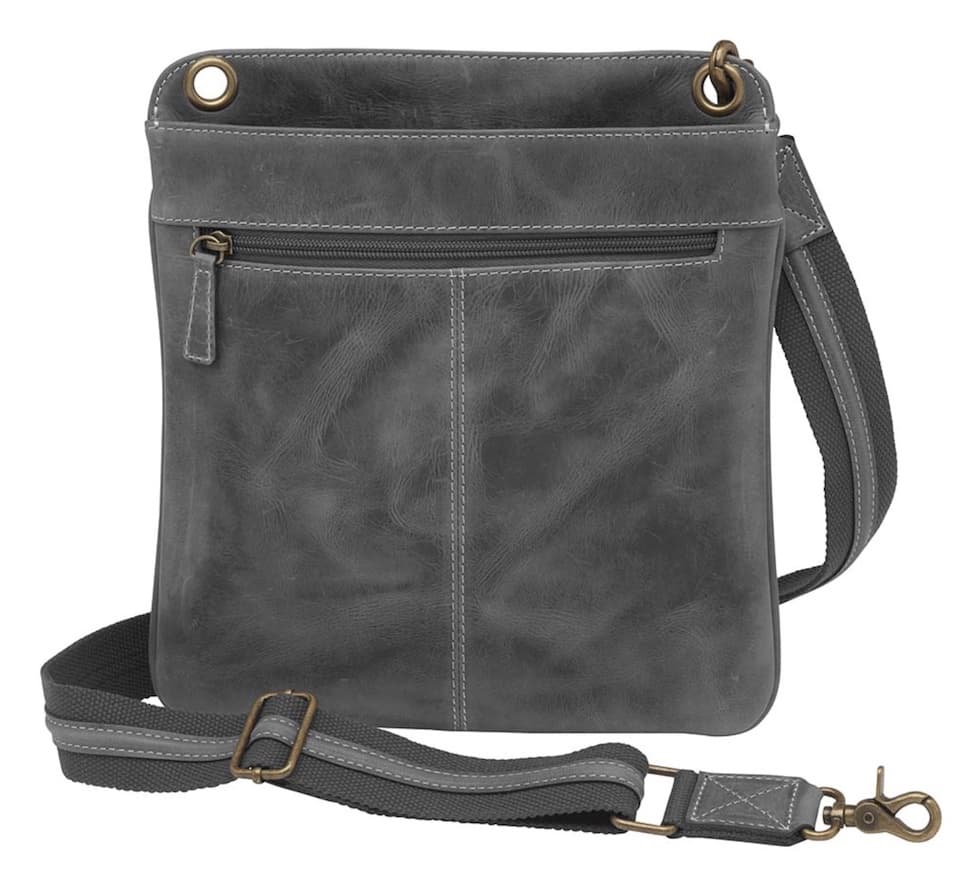 What is the next GTM purse you would like to purchase?
I believe I'd like the GTM/CZY-01 Vintage Cross-Body Bag in gray suede for fall. I love a cross-body bag for concealed carry because of security. I like the downplayed look, the utter class, of this bag and frankly, I like that it looks vintage. My daughter and I look for vintage, classic bags and clothing for our side gig, Mamas Maters and Junk, and appreciate clean lines – which these bags exhibit freely.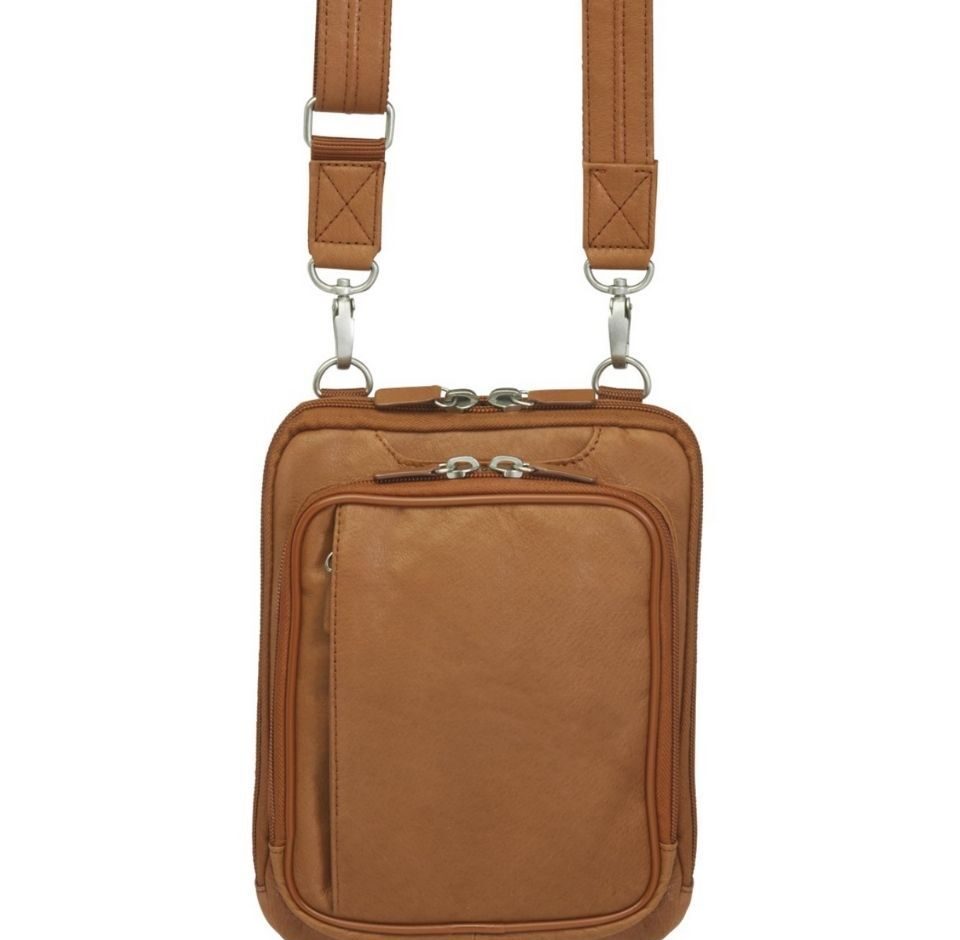 Babbs also shared a little about her history with GTM.
I am a purse snob. I used to buy designer bags that started at $200 (and up). I tried to make them work for concealed carry. (They don't.) I purchased my first GTM bag the very first year that the company appeared – the GTM-99 Concealed Carry Raven Shoulder Pouch. Because I liked it so much, I bought it in black and then, purchased another one in tan. Occasionally, I will pull out the black one (the tan one had seen better days after a decade) and put it to use, like last weekend in Phoenix. I really appreciate how GTM listens to its customers and keeps its finger on the pulse of the women's fashion world, as well as pays attention to functionality of these concealed-carry purses.
Shop GTM Original's website for your next concealed carry purse.
About Michelle Cerino

Michelle Cerino, aka Princess Gunslinger, first entered the firearms industry in 2011 as co-owner, president and trainer at a national training company. She immediately began competing in both 3-Gun and NRA Action Pistol, becoming a sponsored shooter. Michelle is currently a columnist and Managing Editor of Women's Outdoor News, as well as owner of Pervenio LLC. She also manages social media for Vera Koo and GTM Original. Michelle encourages others to step out of the comforts of home and explore. View all posts by Michelle Cerino →