Bond gun cousin Walther PPQ M2 ready to protect her
When colder weather rolls in, it's time to wear a holster under a jacket. Also, I switch from a smaller carry gun to a more robust one. This year, I've chosen to train with and carry Walther's newly released PPQ M2 in .40 caliber, with a 4.1-inch barrel.
If you're a James Bond fan, you'll know that he carries a Walther PPK in a shoulder holster in several movies. In fact, he ditched his "lady gun," a .25 Beretta auto in the movie "Dr. No," and began trusting a Walther PPK in .32 ACP. However, Bond has shown the love to several gun manufacturers – many of which advertise with The WON – like Colt, Smith & Wesson, and of course, Beretta (in other calibers and models). Bond also carried a Walther P99.
The PPQ M2 is a cousin to the Bond family of defense guns, in the family of P99s, but intentionally designed for the carry market and for those of us who like some of GLOCK's features, but might prefer a smoother trigger and slimmer grip.
A redesign of the original PPQ, which featured a 2-sided paddle on the bottom of the trigger guard as its release, the new magazine release on the polymer-framed, striker-fire PPQ M2 appears in a standard side location on both sides. Yes, it's for ambidextrous use. Lefties of the world can thank Walther for this move. It kept the take-down system and bilateral slide lock of the P99.
The gun is chambered in 9 mm and .40 S&W.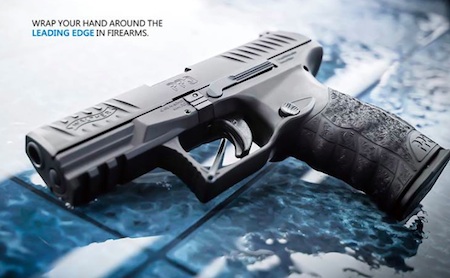 Why I like my PPQ M2
It comes with a low-profile, 3-dot polymer combat sight that looks clear, clear, clear – even on a black target. You can drift the rear sight for windage, and you can change the front sight – available as an accessory item at Walther's website.
A Tenifer-coated slide and barrel means the gun will resist scuffs, fatigue and corrosion. A case hardening process, GLOCK also uses Tenifer-coating on its barrels and slides. For me, this is a critical component for a carry gun, even during winter months, because it will be against my body, which occasionally "glows" or "glistens."
The grip is what initially sold me on this gun at a trade show. As Walther reports, "If a Walther is a sports car, the grip is the steering wheel." The grip's shape, a bit more tapered, angled and slimmer than a GLOCK's grip, fits my hand – and it comes with 3 interchangeable grip pieces so that it'll fit your hand, too. Also, it is built with a non-slip cross-directional grip surface, which offers better control.
Front and rear slide serrations make it easy to rack back.
With 2 drop safeties and a firing pin block, that means there are 3 safety components.
The trigger is smooth and fast. With a 5.6-pound trigger (a short .4-inch trigger travel and .1-inch trigger reset), this trigger allows me to shoot after recoil from the first shot when I'm back on target. No waiting. No drag.
Want to mount a flashlight or a laser? No problem. It comes with an MIL-STD-1913 (Picatinny) custom accessory rail on its dust cover.
For competition shooters (especially look at the 9mm for this task), it comes with a checkered trigger guard for a tactical 2-handed grip stance.
It also comes with 2 metal magazines that hold 11 rounds, and you may purchase +2 magazines that also provide an extension on the grip.
If the chamber is loaded, you can see a red-colored marking on the right side of the slide when the rear of the extractor is recessed.
After cleaning my new PPQ M2, I took it to the range and shot tight-enough groups (It's not about me as a shooter, but it's about the gun's performance.), on target, immediately out of the box at 10 and then 15 and then 25 yards. Incredible. Since that first time on the range, I've set up drills for concealed carry scenarios – including shooting multiple targets at 10 yards and moving – and begun to carry this gun comfortably, thanks to a BladeTech holster and the Sophia, made by Flashbang Holsters. I also feel comfortable carrying it when I jog country roads, thanks to a Pistolwear holster, made for active carry.
Just a note about the cleaning. It's like cleaning a GLOCK. It's an easy disassembly process, and doesn't involve multiple parts. So far, after a few hundred rounds through the gun, I have not seen any wear on the gun at all. I am shooting reloads for training, and carry Winchester PDX for real.
For me, after training with a gun, I want to feel the confidence that comes with knowing if I should have to pull it, I can trust it to hit the target. I feel I can trust the Walther PPQ M2.
Retail: $600
Learn more about the Walther PPQ M2.
About Barbara Baird

Publisher/Editor Barbara Baird is a freelance writer in hunting, shooting and outdoor markets. Her bylines are found at several top hunting and shooting publications. She also is a travel writer, and you can follow her at https://www.ozarkian.com. View all posts by Barbara Baird →
The Conversation