Review: Ruger Wrangler Easy to Shoot and Easy on the Pocketbook
I'm always on the lookout for another gun that we can shoot with the grandkids on the range. They are almost in their teens now, and one of our favorite activities when they come to visit us is to spend some range time together. Since we are still focusing on .22 caliber firearms when we shoot with the pre-teens, it seemed natural to me to ask to review the Ruger Wrangler, a revolver that is easy to shoot and easy on the pocketbook.

Sponsored by Ruger
This revolver falls at the lower end of the price line for Ruger revolvers, less than half the price of its Bearcat or Single-Six models. Ruger holds to an Old West look with the design of this single-action gun, available with a Single-Six pattern grip frame or Ruger Birdshead pattern grip frame, and in several different Cerakote frame finishes. The grips are available in synthetic materials, checkered or not, depending on the model selected. The version Ruger sent me for review was the black-finished version with a 6-round capacity and a Birdshead grip. This type of grip apparently first showed-up on small framed revolvers in the 1870's, and some people really like its shape and feel. The gun fits well in smaller hands, so I figured it might suit my grandkids. The revolver I received for review also balanced well, with its shorter (3.75 inch) barrel, 28-ounce weight and small frame.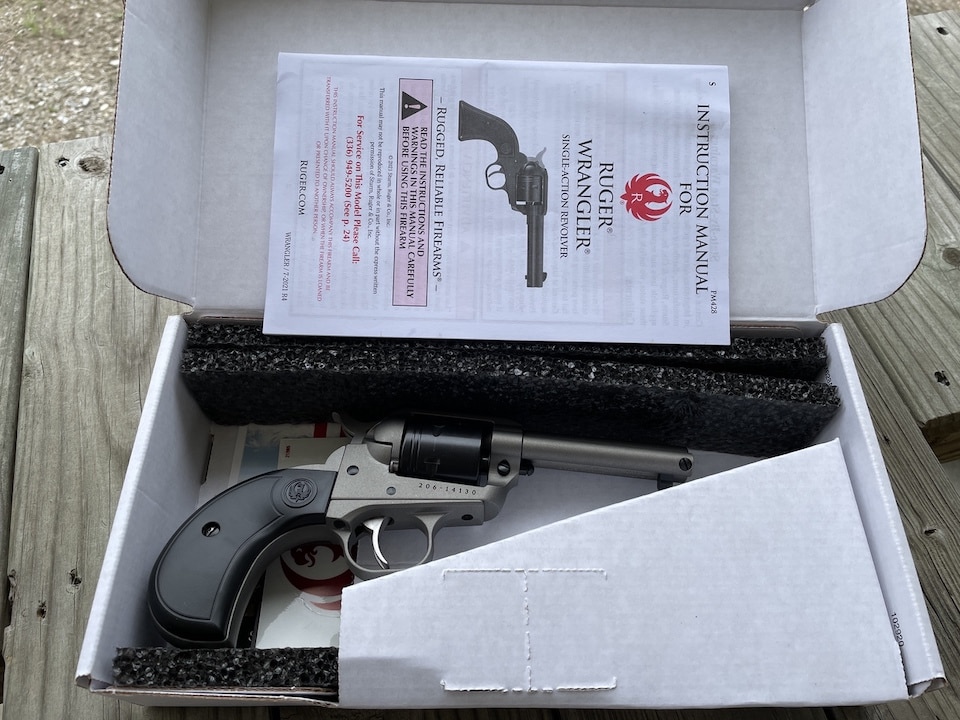 In addition to its styling and above-mentioned features, the reason I like this single-action revolver for new shooters and youth is because of the way it operates. Simpler than the old four-position hammer system (against the frame, safety, half-cocked [for loading and unloading], full-cock), the Wrangler is like all modern Ruger single-actions. There are only two hammer positions – against the frame, and fully-cocked. The gun can only be loaded or unloaded when the hammer is down (against the frame) and the loading gate is open. The gate cannot be opened when the hammer is cocked. A transfer bar mechanism prevents firing the gun unless the hammer is fully cocked and the trigger is pulled, so there is no need to carry the gun with the hammer down on an empty chamber as is true with the older four-position hammer system. There's a deliberate skill set that one must develop to fire a single-action revolver, one that takes deliberate thought and attention, but is easily built upon for other types of firearms in the future.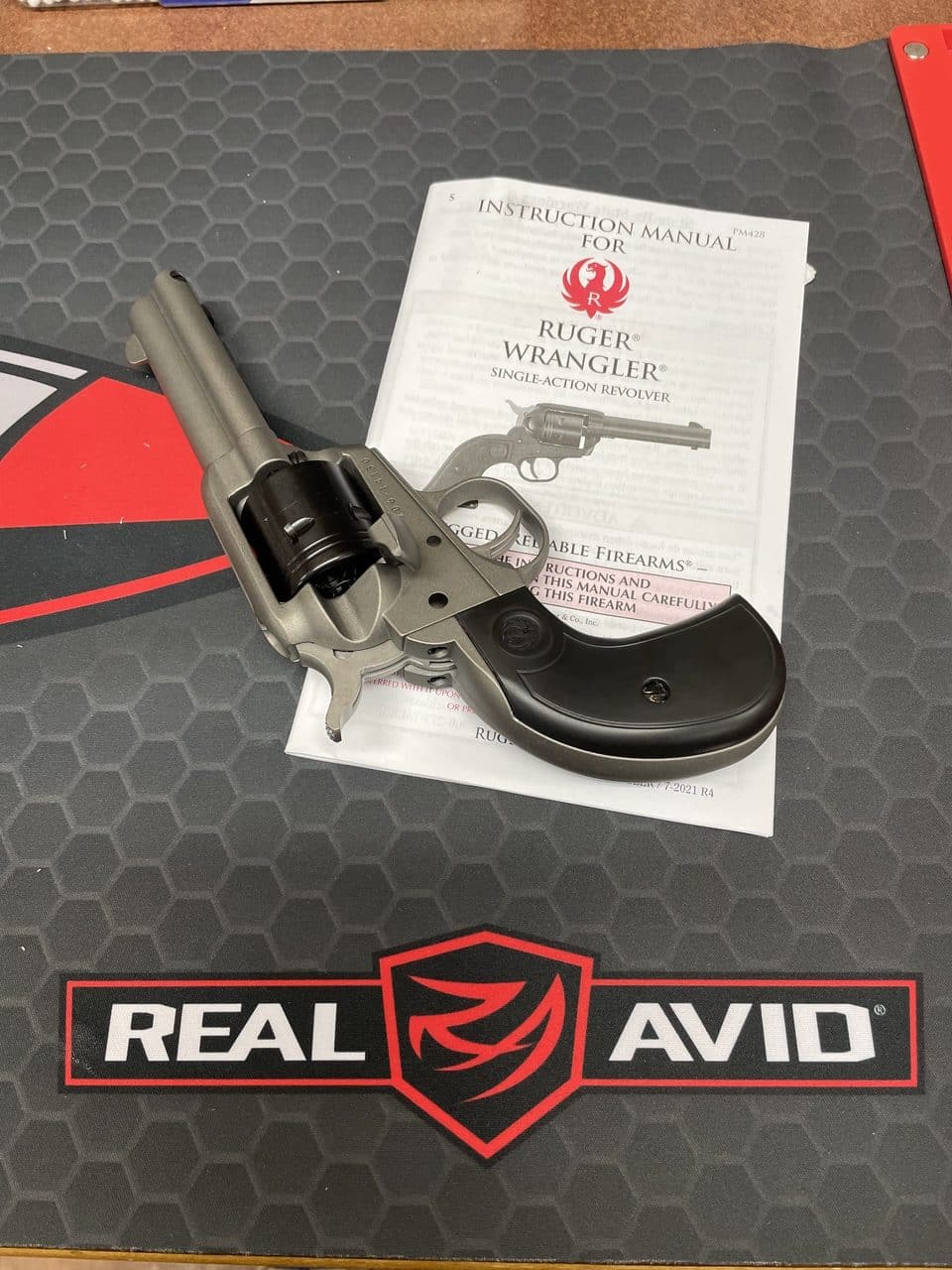 We spent an afternoon at the range with this gun (We, meaning the Bomb and me. He was on the United States Air Force Academy's pistol shooting team in college, and is quite a critic when it comes to target guns.). Right away, he said, "That's accurate," in reference to the first shots we fired. We set up the range as if we had our grands onsite. We normally set the first target stands at about seven, and then out to 15 yards later. Note: I cleaned the gun before taking it to the range, a practice I highly recommend for all firearms, new and used.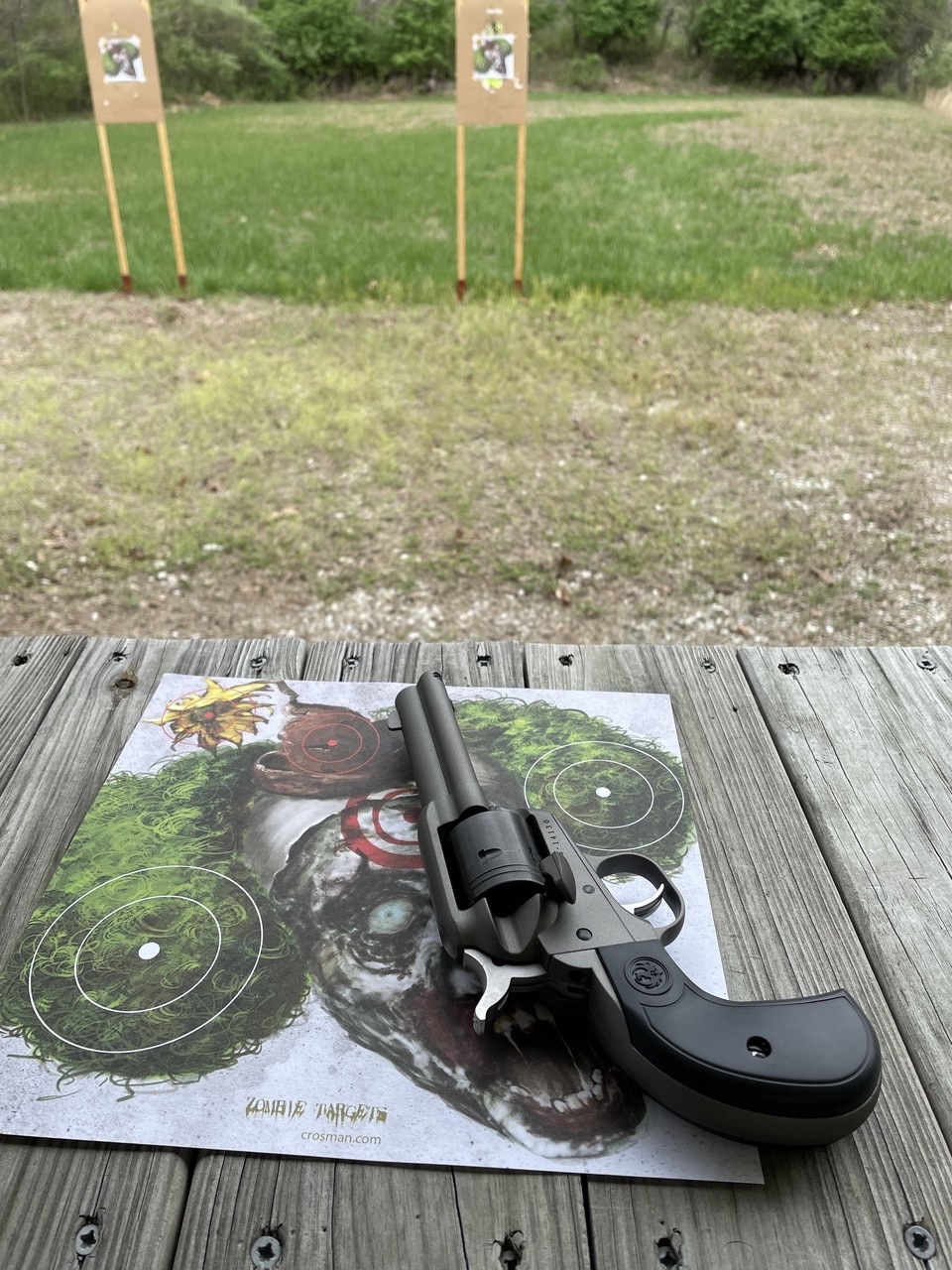 To check how well it functioned with different brands and variations of ammunition, we ran five different varieties of .22LR ammo through the gun. It digested each one without problems, except for Remington Viper 36-grain ammo. Apparently, the tight fit of this (new) gun caused its recoil shield to drag on some of the Remington cartridge case bases, keeping the cylinder from rotating freely. This sort of problem sometimes happens when the case rims are thicker, or with particular chambers that have shallower rim cutouts or are dirty. We didn't investigate it further, but if it continued after cleaning the gun, we'd do so. As with all guns, you need to learn what to feed them and what they like for smooth functioning.
We busted out the splash targets, the zombie targets and then, the spinners. With its blade front and integral notch rear sights, it wasn't difficult to line up the sights for success in hitting where I aimed. The Cerakote material finish impressed me, since we live in humid country. This gun comes in a wide array of distributor exclusive finishes, including OD Green Cerakote, Burnt Bronze Cerakote and Black Cherry Cerakote.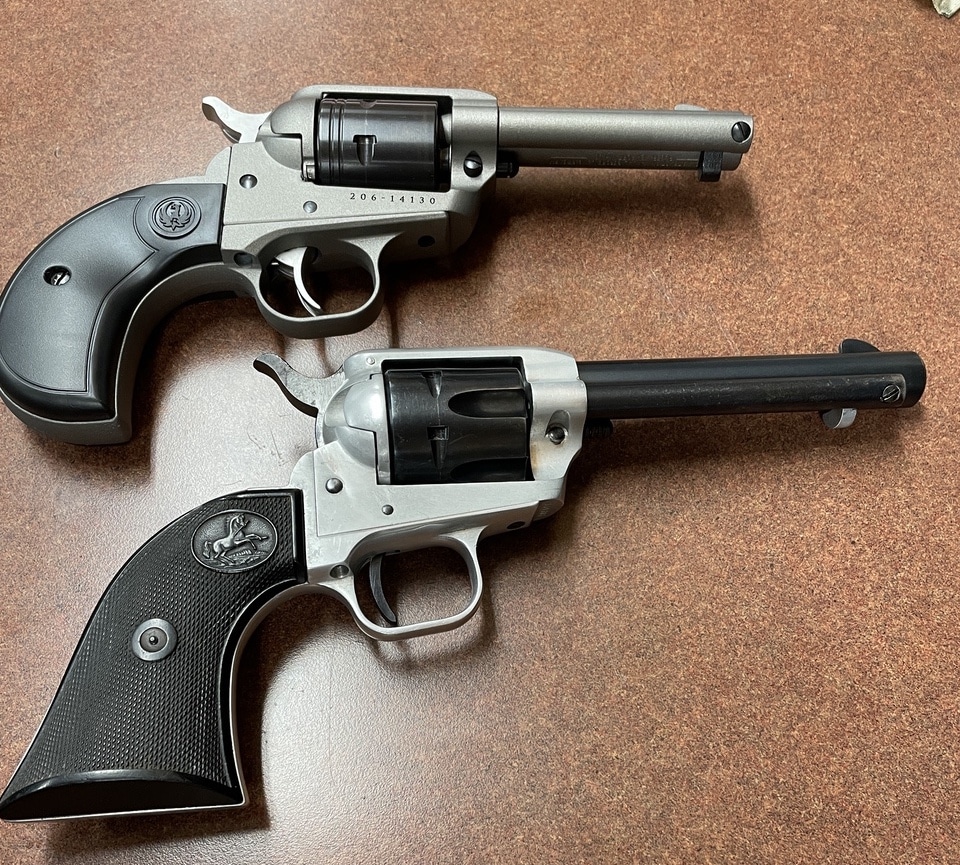 Because the guns are similar in size and weight, we compared the Ruger Wrangler to a 1958 Colt Frontier Scout revolver that my late father-in-law acquired in a trade in the early 1960's. The aluminum-framed Colt has an inch-longer barrel than the Wrangler, and it has the old four-position hammer system, but otherwise the two guns handled and shot almost identically.
We'd love it if the Wrangler became a part of our family's story of on-the-range moments.
Here are the specs:
Capacity: 6 rounds
Overall Length: 10.25 inches
Height: 4.85 inches
Weight: 1 pound, 14 ounces
Barrel: 4.62 inches
Material: Aluminum (frame); steel (barrel, cylinder); zinc alloy (grip)
Grip: Checkered polymer
Trigger pull:
Safety: Transfer bar
Sights: Front fixed blade, rear fixed notch
MSRP: $250
Learn more about the line of Ruger Wranglers available for purchase.
About Barbara Baird

Publisher/Editor Barbara Baird is a freelance writer in hunting, shooting and outdoor markets. Her bylines are found at several top hunting and shooting publications. She also is a travel writer, and you can follow her at https://www.ozarkian.com. View all posts by Barbara Baird →