Purse Dump: What's In Your GTM Original CCW Bag?
For this GTM Original purse dump, I reached out to Jackie Richardson. She is an editor at The WON, a stay-at-home mom (SAHM) of two young children, an interior designer and a co-owner of a vintage & Mid-Century Modern resale business. Since last October, Jackie has been managing a huge remodel of her hilltop home in the Ozarks, taking it from a Western theme to a more modern, eclectic European appeal. Jackie's eye for design guides the team here at The WON for our modern and fresh design, as well. Although Jackie purchased her first handgun at 21 years old, she doesn't have a concealed carry license. I think it will surprise you to find out what she carries in her concealed carry bag by GTM Original.

Sponsored by GTM Original
Jackie Richardson Purse Dump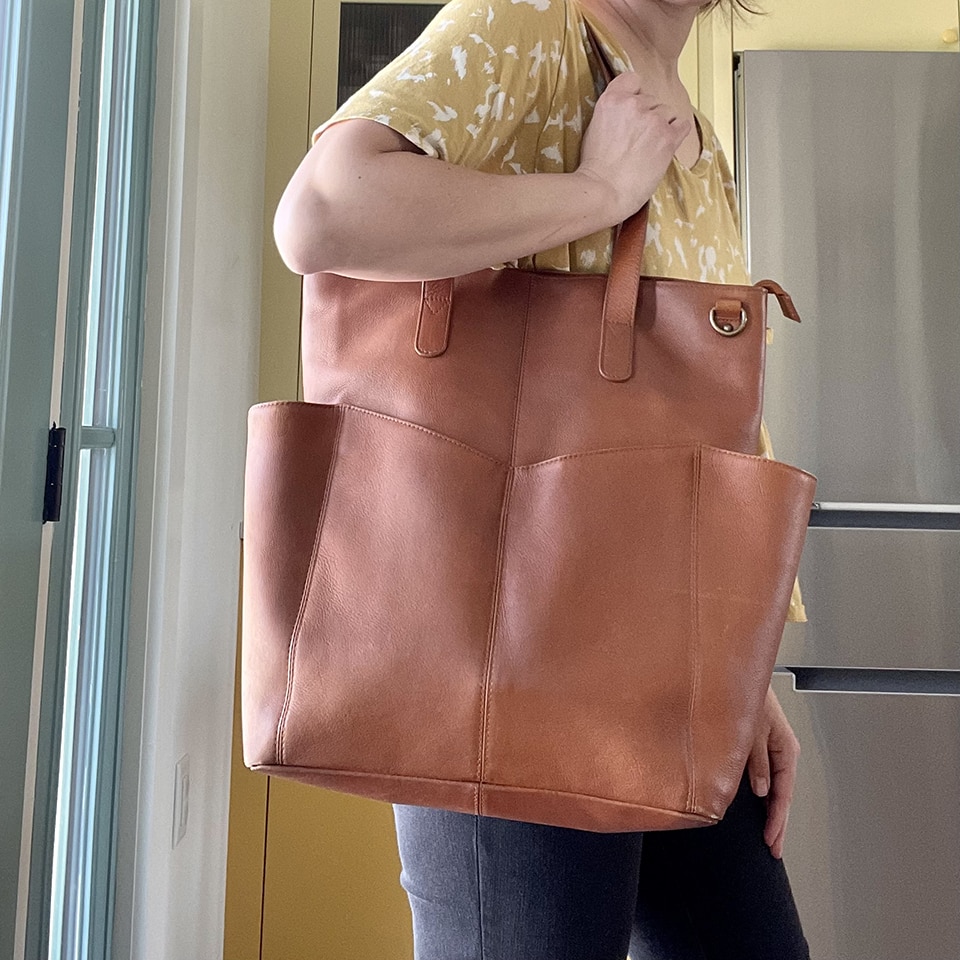 Tell us about your GTM concealed carry purse.
GTM Original's Oversized Leather RFID Travel Tote is my first concealed carry purse. I use this specific bag for my diaper bag, and have used it for two years. My sister-in-law also carries and loves this same purse as her diaper bag, and even wrote this popular review on the product. I love that the bag is so stylish, and is a beautiful, timeless color. I don't feel like I'm carrying something that looks like a diaper bag – in fact, I plan to continue using it after my kids are out of diapers.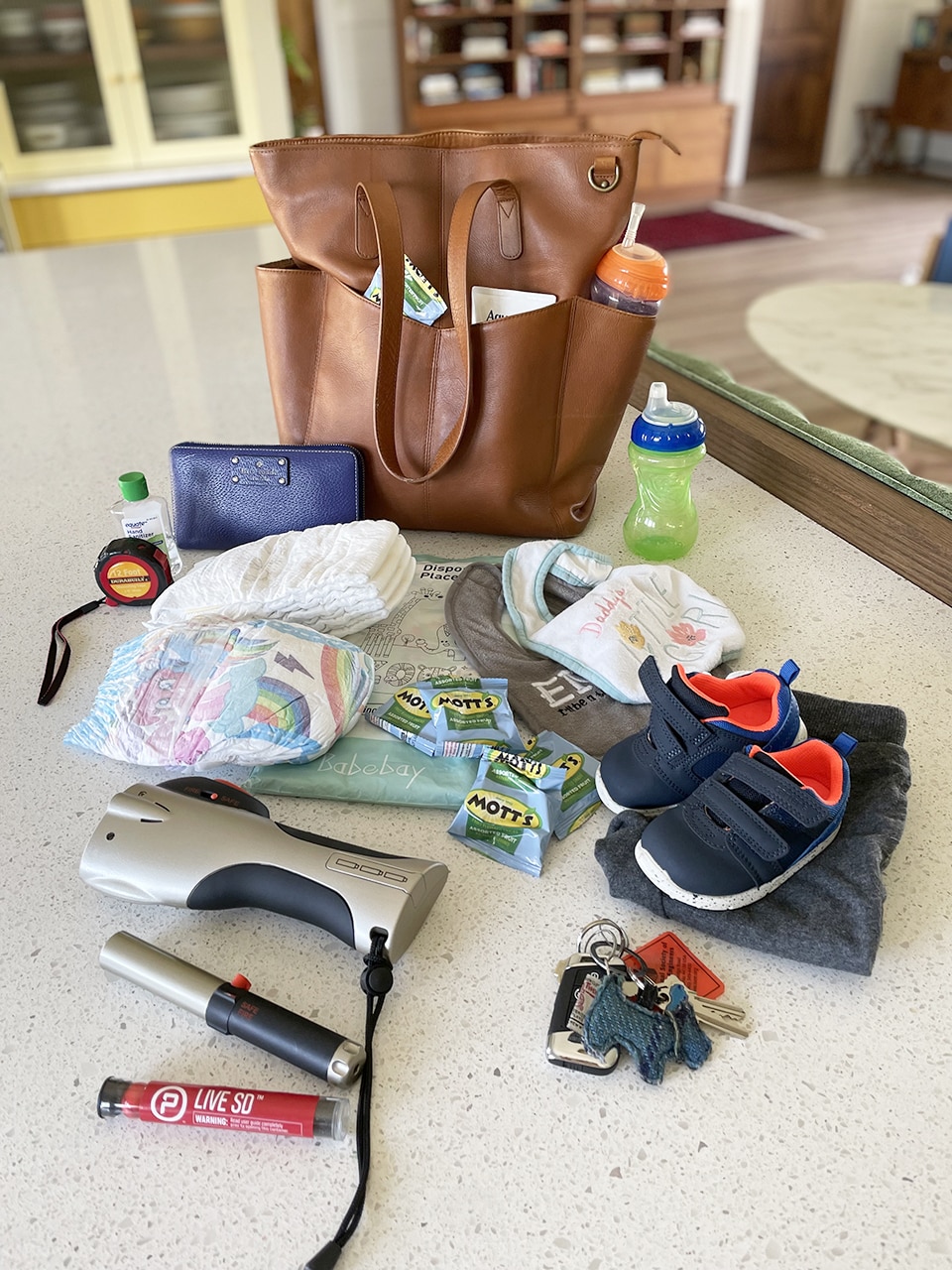 What's in your purse dump?
In my diaper bag, I carry a Pepperball product. As a mom with young children, I think it's important to have a means of protecting my family and myself. The Pepperball BLAST offers a range of up to about 15 feet, and boasts a small scale launcher, which is easy to carry in one of the bag's inner pockets. The Pepperball Tactical Compact Pistol (TCP) slips easily into the zippered portion of the bag (meant for a CCW), and offers a magazine capacity of six rounds with a range of up to 150 feet.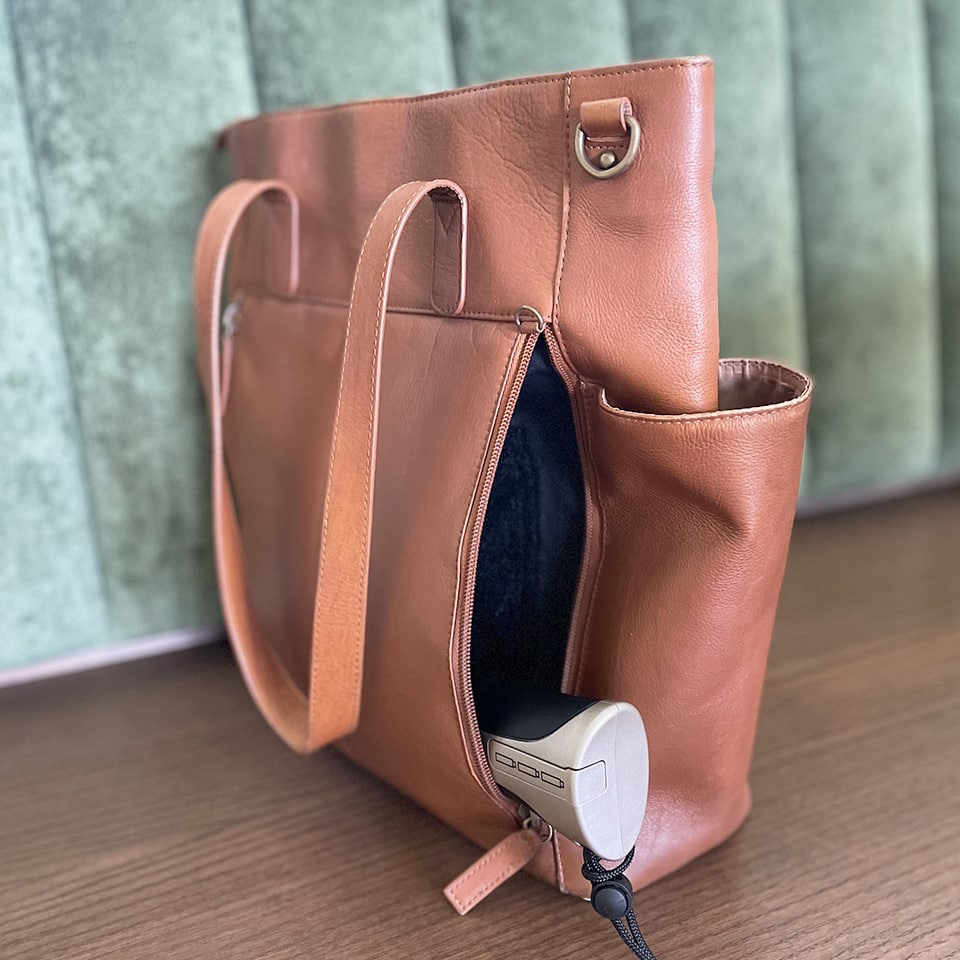 Also, the bags holds the standard fare (diapers & wipes) plus fruit snacks (for kids and me), bibs, sippy cups, disposable placemats, wallet, extra clothes and socks, hand sanitizer and keys. I carry a small measuring tape – this comes in handy more than you'd think, especially when trying to figure out which vintage pieces will fit in the back of my SUV.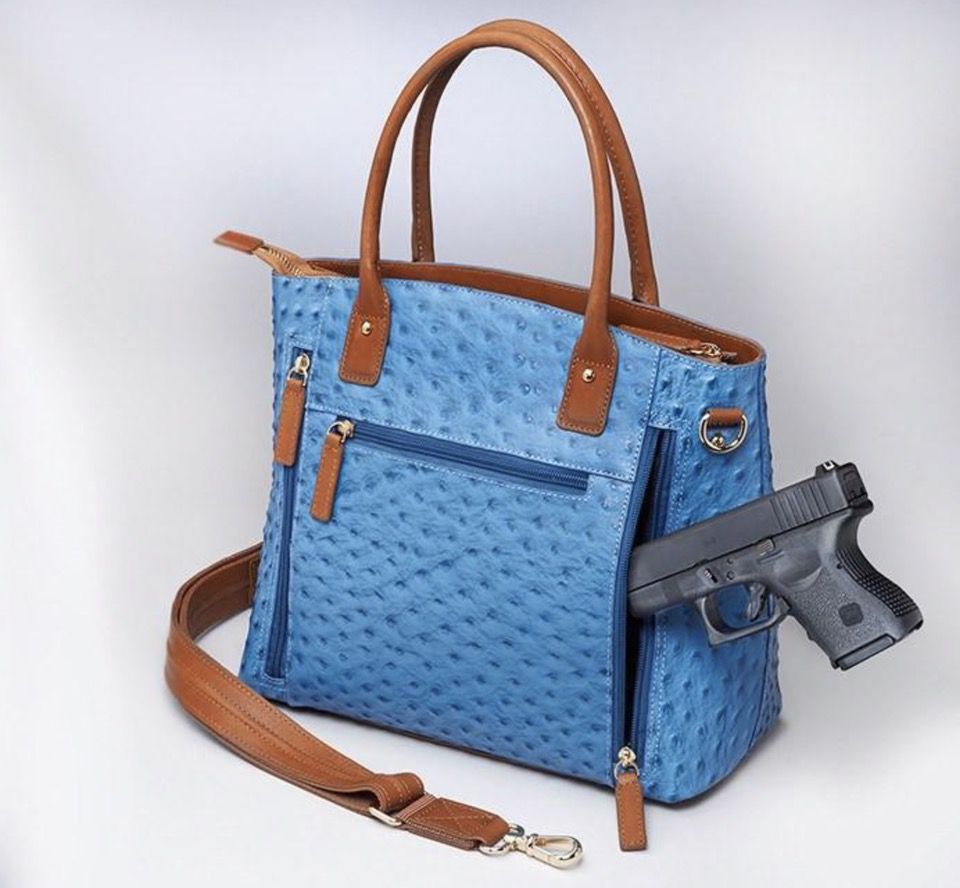 What is the next GTM purse you would like to own?
I have my eyes on the GTM-51 Town Tote in blue for my next purchase. My mom owns this purse in orange, and the ostrich pattern leather is absolutely stunning. She gets compliments every time she carries the bag. This bag is a statement piece, and will be a real treat when I'm ready for a bag that is a little smaller.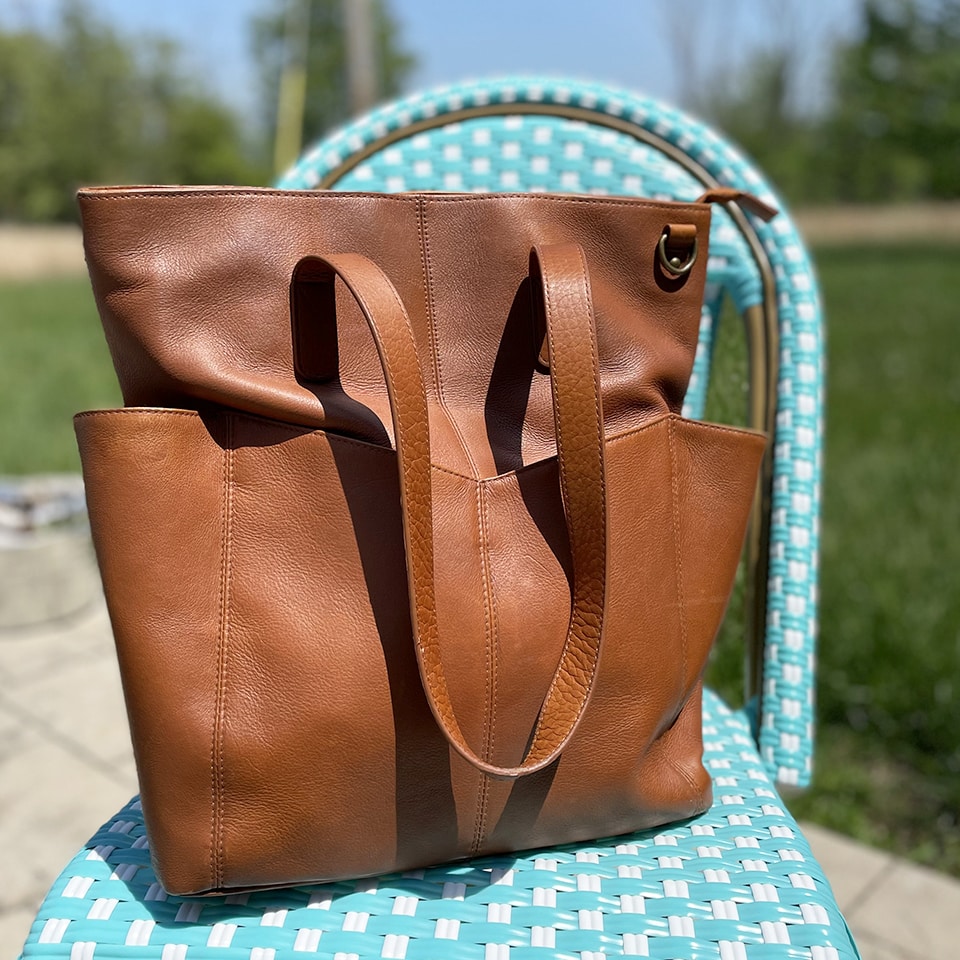 Jackie added this exciting news as a side note to her interview.
The newest version of this bag is made of washable leather, which is perfect for the (potentially) messy environment for a diaper bag. Be sure to follow GTM's care and cleaning instructions for each bag; if your bag needs to be professionally cleaned, find a reputable dry cleaner who offers leather cleaning services.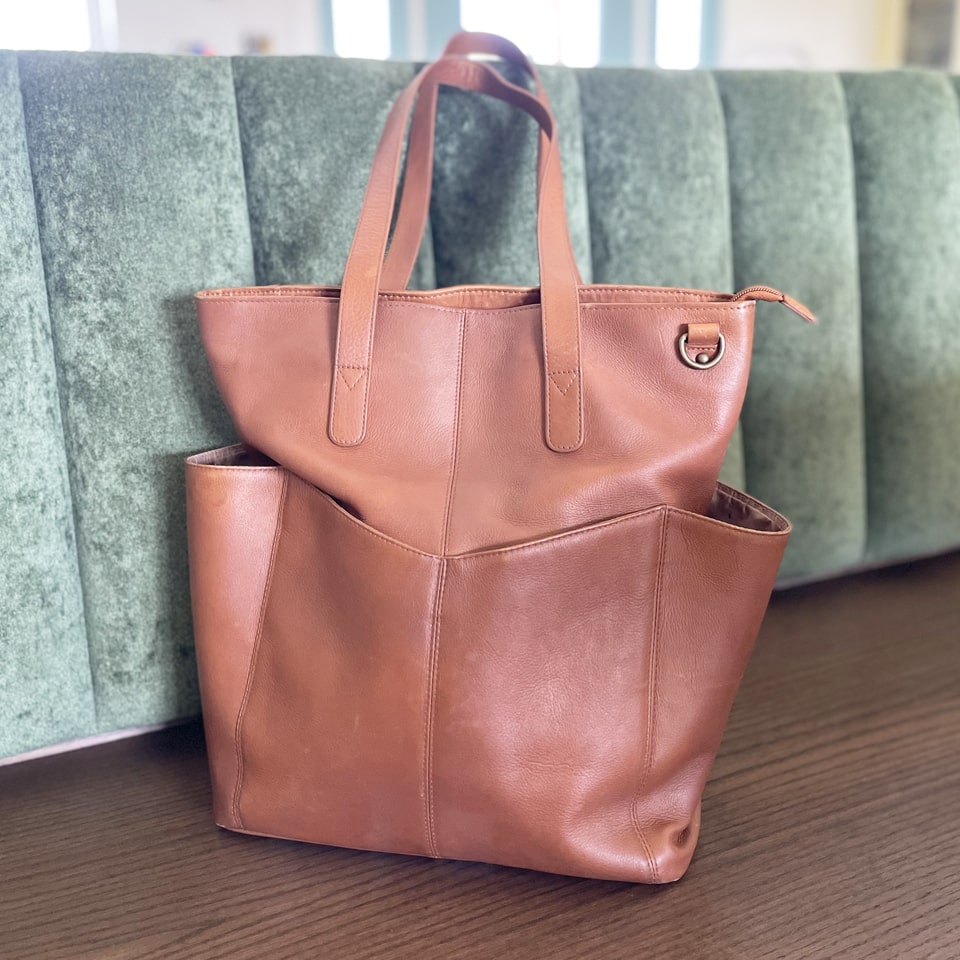 GTM-107 Travel Tote Features
Tested w/ Glock 19, Heckler & Koch VP9 full size, S&W M&P 2.0 full size, S&W, M&P Shield, Sig Sauer P320, Spring eld XD 9 mm
Designed for left or right-handed use
Special padding prevents imprinting of your firearm
Cross body slash resistant, 11 ply steel cable, shoulder strap
Zippered top closure
Will carry laptop and/or tablets
Antiqued brass color metal hardware
South American cowhide
RFID interior zippered pocket
Airline carry-on size approved
Overall bag size: 15-inches tall x 15-inches wide x 5-inches Depth
Now available in tan, black and dark red. MSRP: $170.95
Find more information on GTM's Travel Tote/Diaper Bag and purchase your own here.
About Michelle Cerino

Michelle Cerino, aka Princess Gunslinger, entered the firearms industry in 2011 when Cerino Training Group was established. She immediately began competing in both 3-Gun and NRA Action Pistol, becoming a sponsored shooter. Michelle is currently a columnist and Managing Editor of Women's Outdoor News, as well as owner of Pervenio LLC. She also manages social media for Vera Koo and GTM Original. Michelle encourages others to step out of the comforts of home and explore. View all posts by Michelle Cerino →