Review: Marlin 1895 SBL a Keeper, for Sure
I've always considered lever action guns cool. Never mind the historical significance. If you grew up in the '60s, you'll have watched "Gunsmoke" and/or "Bonanza" and you'll no doubt have seen these types of rifles in action. Or, watch any historically accurate Western, and you'll see lever action rifles in play. Ruger acquired Marlin from Remington because of Remington's second bankruptcy, and Ruger is bringing back some of the old Marlin lever guns that Americans respect and trust. Ruger/Marlin recently produced the first of these re-engineered guns the Model 1895 SBL, chambered in .45-70 Govt. This is a rimmed cartridge with a long history. Like the .30-30, it began as a black powder cartridge, and like the .30-30 it has been updated to smokeless powder. Some .45-70 cartridges are still loaded to low pressures suitable for old carbines, but there are new loads that raise the performance levels quite a bit. With proper shot placement, any of them will stop a buffalo.

Sponsored by Ruger
The Marlin 1895 SBL also is an excellent gun for deer hunting, if you're not needing to stretch out the shot to long ranges. My sons are keen on trying it for the purposes of controlling larger predators on their property.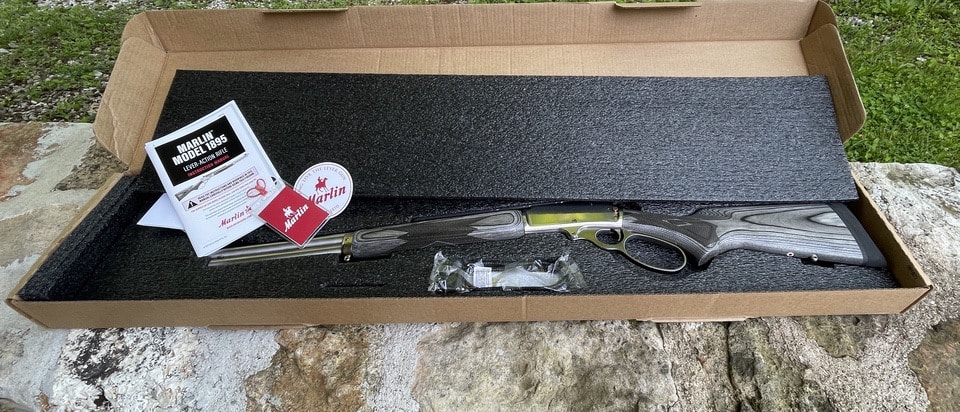 First Tests of the Marlin 1895 SBL
It happened that my pal, Marti, and I had scheduled a day together to catch up; since we never turn down range time together, I invited her to try this gun while we went out. A hunter and shooter, Marti knows her way around guns. Imagine my surprise when I found out – after she had shot several rounds through this gun – that she'd never shot one before. And, she shot it off-hand style.
The 1895 SBL is the first Marlin that Ruger has manufactured since acquiring the Marlin company. Supposedly, Annie Oakley shot a Marlin, Model 1981. I think she'd be impressed with this model and with some of the new developments.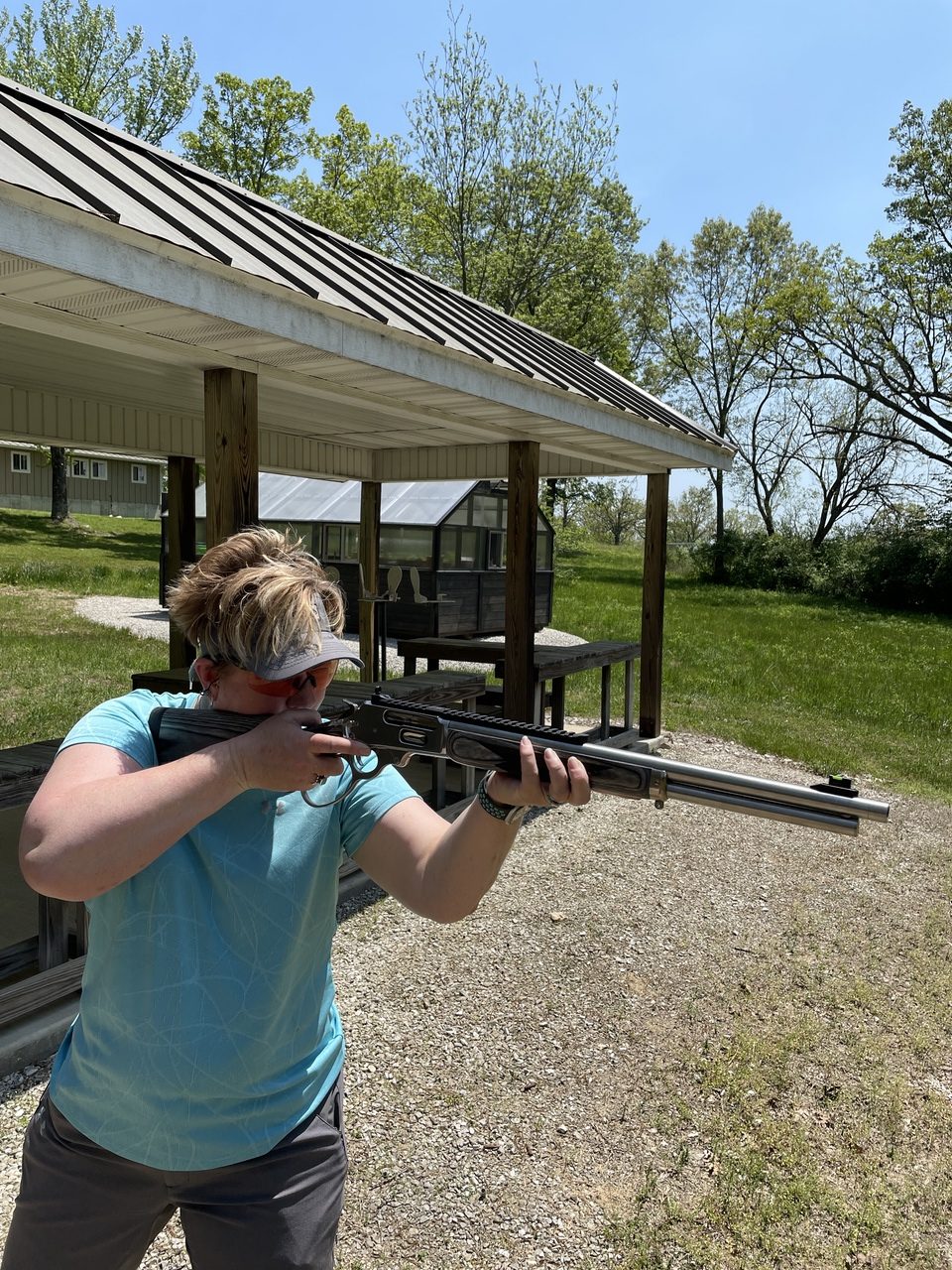 Here are some of the features that we liked about this gun:
Ghost ring sight in the rear, combined with a tritium fiber optic day/night front sight (especially good for low-light target acquisition)
The nickel-plated bolt has been designed with spiral flutes which makes forward and backward motion oh-so-smooth, like butter
A Picatinny rail makes it easy peasy to mount a red dot or a scope
Checkered grip panels add class to the gray laminate stock and forend, which looks rustic and very classically Western
It comes with a threaded barrel, with a matching factory-installed thread protector in a 11/16"-24 pattern, so that you can attach a muzzle brake or other accessories, such as a silencer. The thread protector is not particularly noticeable, as it's been designed to match the barrel finish.
A thinner forend streamlines the ergometries
Other notable features that make this an excellent gun:
Cold hammer-forged stainless steel barrel, made of 410 stainless steel
Six-round, tubular magazine with a loading gate that is on the receiver and accepts loads easily
Soft-rubber buttpad absorbs recoil, even when shooting off-hand
Very appealing look delivered by the Receiver, lever and trigger guard plate, which are CNC machined from 416 stainless steel forgings
Push button, cross-bolt manual safety
Oversized lever loop makes it easy to chamber another round quickly
Comes with sling swivel studs and an offset hammer spur to use with low-mounted rifle scopes
Marti and I shot 10 rounds each through the gun, after I had cleaned it of course. Our groups fell within "dinner plate" size circles at 15 and then 25, then 50. At 50, we saw some fliers that were our faults.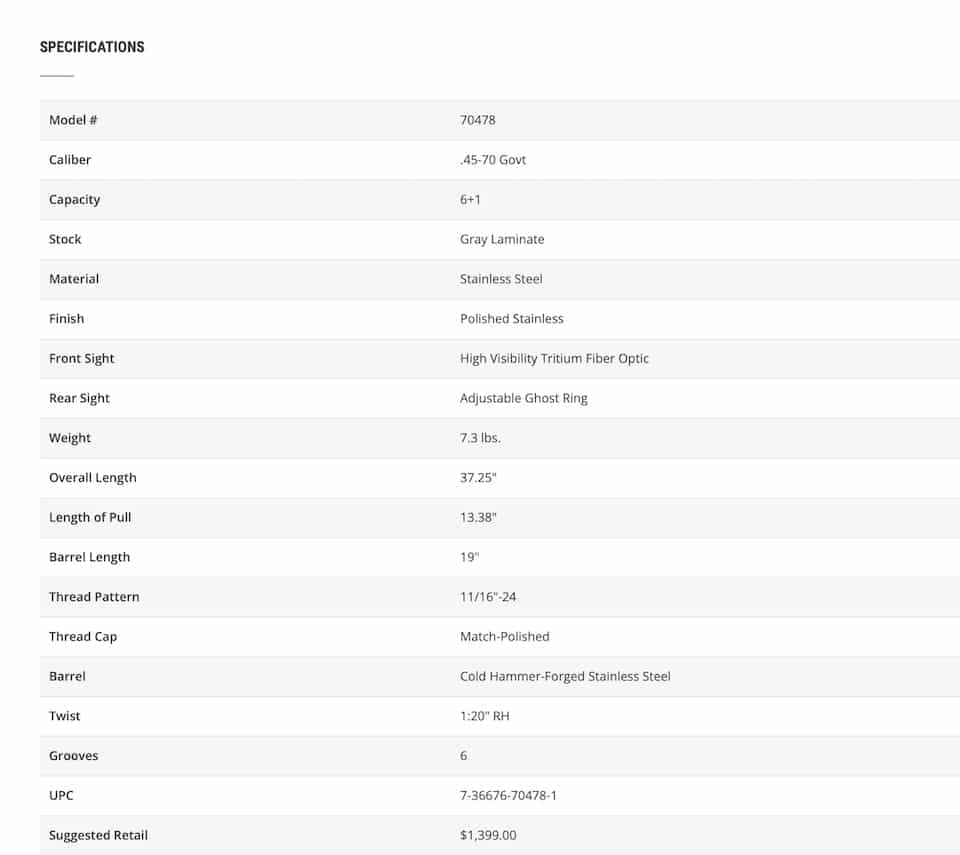 On the Rifle Range with The Bomb
Then, it came time to get serious with the gun. The Bomb (nickname for hubby, who is an explosives expert and gun nut) and I took this gun to a rifle range and quickly determined that in order to do effective accuracy tests at 100 yards with our elderly eyes, the ghost ring rear sight wouldn't do. So, he took the Leupold Mark 4 target scope he typically uses on his .50 BMG rifle and mounted it on the Marlin. It was an easy switch, as the scope was already mounted in LaRue Tactical heavy-duty rings on quick detach mount for the Picatinny rail on the .50. Just a flip of the levers was all that was required to move the scope from the .50 to the Marlin. After a quick laser boresight and a few sighting-in shots at 25- and 50-yards with the three different .45-70 ammo types I had for testing, it was off to the 100-yard range. Tests included three groups of five shots per ammo type.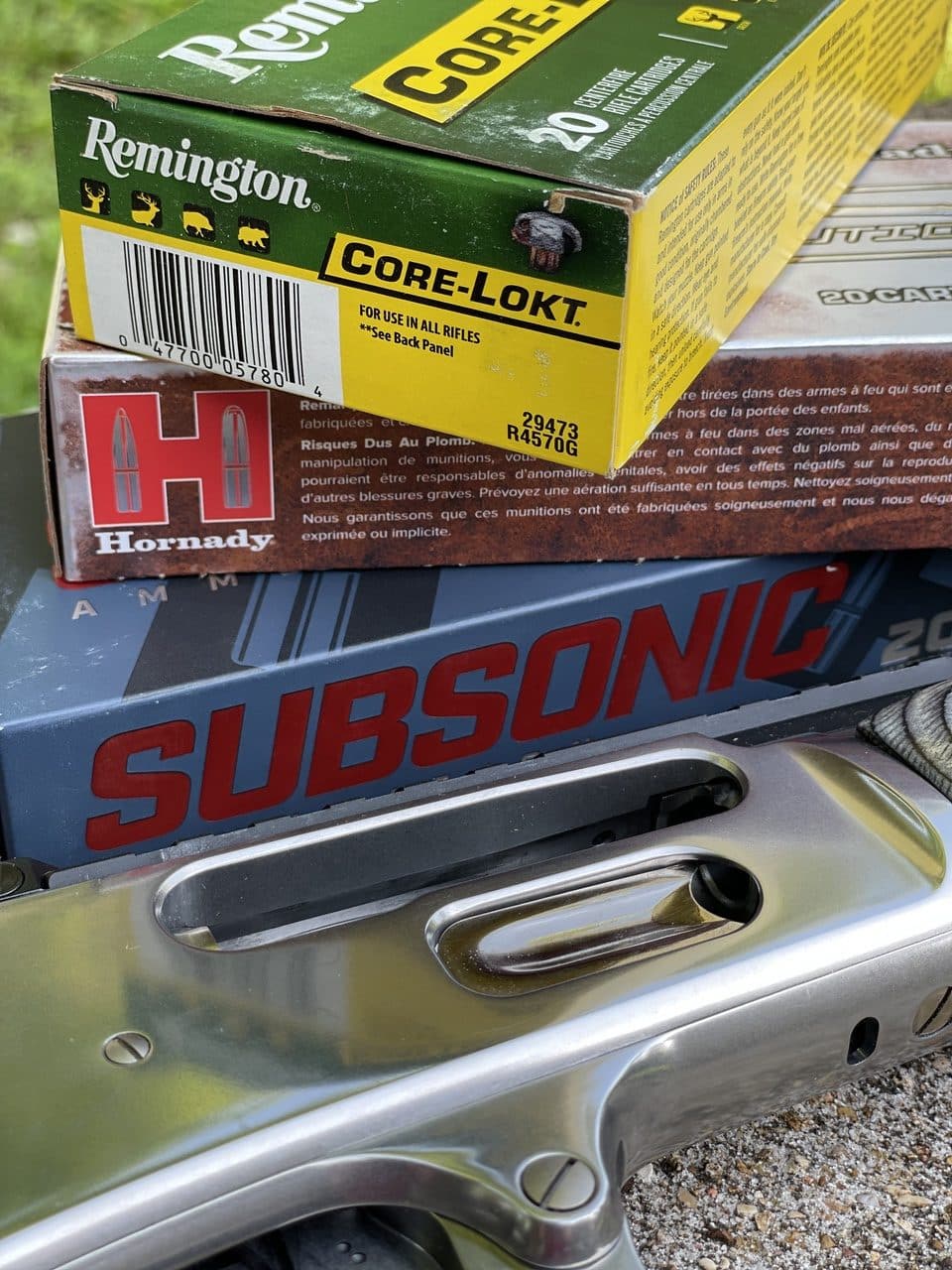 Accuracy tests included the following information:
Temperature – 70F
Bench rest – Lead Sled
Wind – Breezy, from the north, but the shot direction was to the south so there was no effect on bullet trajectory over the short distance
Distance – 100 yards
Hornady Subsonic Ammunition, 410 grain: largest group – 2.25; smallest group 2.0; average – 2.08.
Hornady FTX LEVERevolution, 325 grain: largest group – 2.0; smallest group 1.5; average – 1.67.
Remington Core-Lokt, 405 grain: largest group – 2.25; smallest group – 1.75; average – 1.92.
The Bomb reported, "The carbine cycled smoothly for each shot; in fact, this was the smoothest lever-action rifle I've ever shot. I think Ruger's efforts on tightening the manufacturing tolerances once they started the assembly line at the Marlin plant in North Carolina did wonders for the gun."
Marlin Lever Action 1895 SBL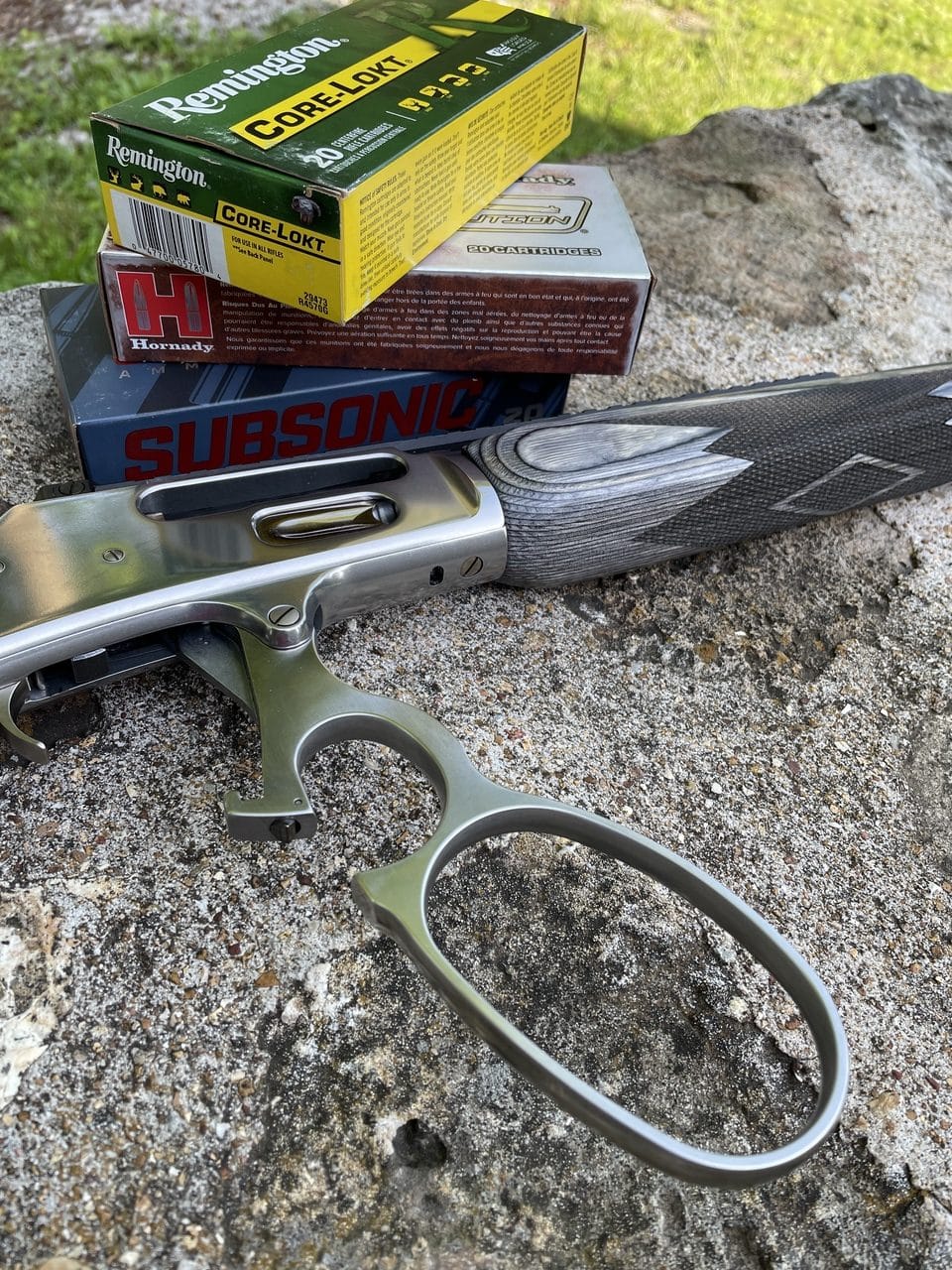 If you're a collector, you'll want this gun. After all, it's out of the box with historical significance, since it's the first gun manufactured since Ruger acquired Marlin. Second, you may want to try this gun on a hunt this coming fall, and you'll have a little different approach than the usual bolt-action rifle. That follow-up shot move is a lot more physical than sliding a bolt back and forward. Finally, just like muzzle-loader aficionados harken back to historic sentiment, you might just feel that way, too, about this design. I know I do.
MSRP: $1399
Learn more about the Marlin 1895 SBL.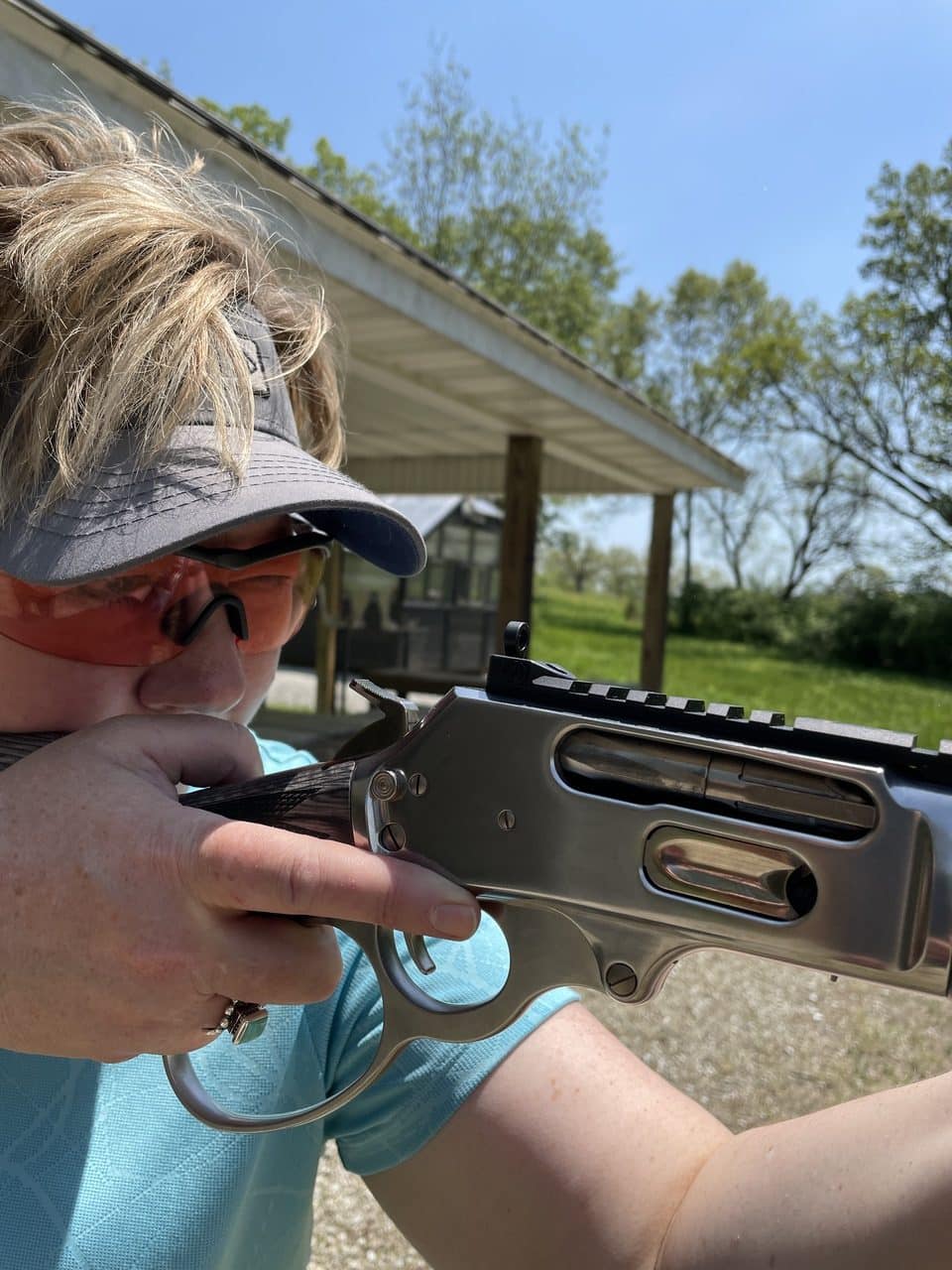 About Barbara Baird

Publisher/Editor Barbara Baird is a freelance writer in hunting, shooting and outdoor markets. Her bylines are found at several top hunting and shooting publications. She also is a travel writer, and you can follow her at https://www.ozarkian.com. View all posts by Barbara Baird →