What You Need to Know: Airgun Hunting Out of State
I hunt as often as I can, and wherever the opportunities present themselves, I will go. In some situations, I choose to use firearms; in others, airguns, though much of the time you'll find an airgun in my hand. I do most of my airgun hunting in my neck of the woods, South Carolina. I also love to travel, and if I add some hunting to that travel, that's my kind of adventure!
Sponsored by Pyramyd Air
A Hunter's Responsibility
When planning a hunting trip out of state, what are some things I need to know? To start, it is important to know the laws in a particular state or zone I plan to hunt in. It is my responsibility to know and follow the laws and regulations of the state where I plan to hunt. In fact, some states do not allow airguns as an option for a hunter – while others have game, caliber, velocity and muzzle energy regulations. I realize sometimes an online search for the laws and regulations can be tiresome and may leave me lacking some of the details I need to know. That's why I love the phenomenal resource Pyramyd Air has created: an Airgun Hunting Map.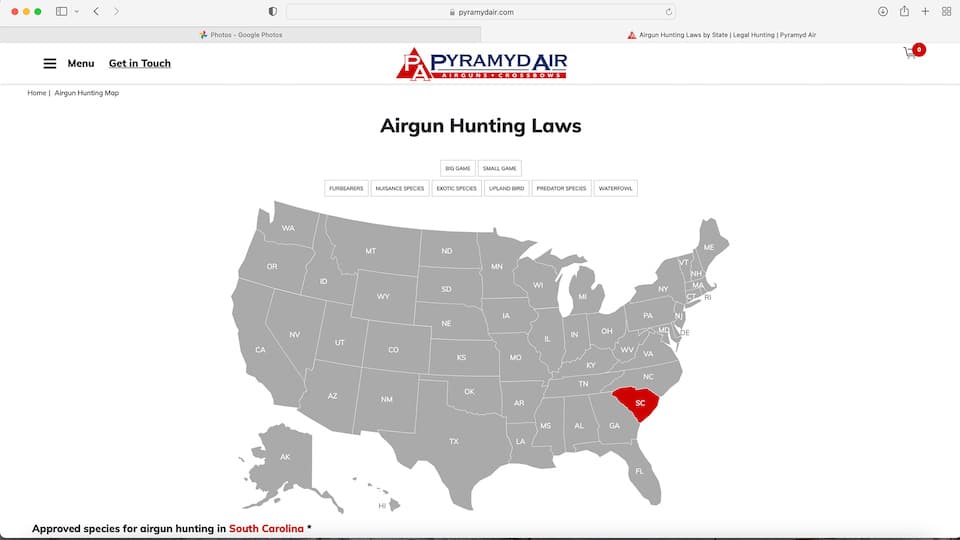 Pyramyd Air Airgun Hunting Map
The Pyramyd Air "Airgun Hunting Map" shows all 50 states. To use it, I easily click on a state, and it turns red, then it reveals a list of all the game and caliber restrictions in that state. If I am in search of a particular type of animal, I can click on the type of animal above the map and the states that allow airgun hunting for that particular animal will turn red, then I will choose the state. For specific laws and exact seasons, Pyramyd Air provides a direct link to each state's wildlife agency, (located below the list of game.) I'll click on the link to that agency to find its exact seasons and licensing requirements for the animal I intend to hunt. After I have an understanding of the laws for that state, I begin by attaining the appropriate licenses/permits required.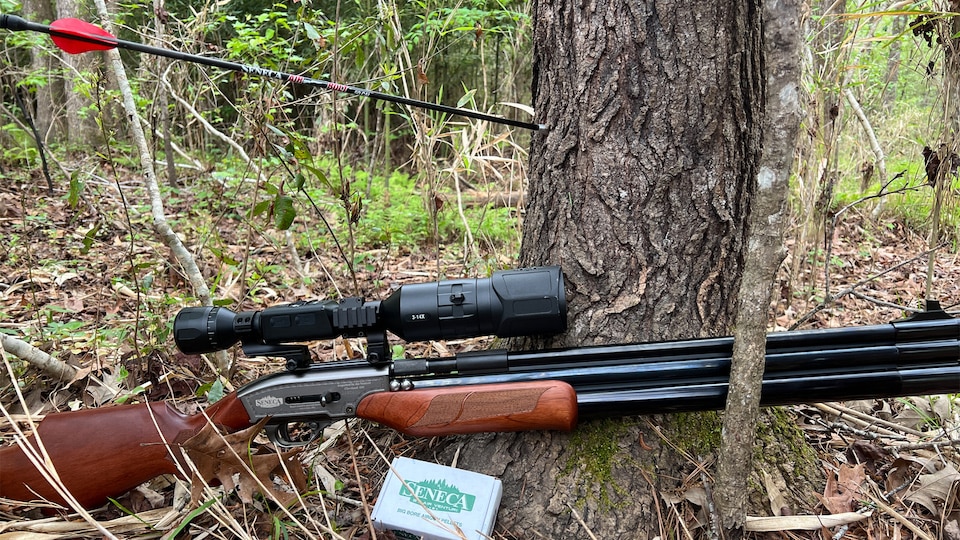 The Air Rifle
My weapon of choice for this particular hog hunt was the Seneca Dragon Claw .50 caliber Big Bore PCP found at Pyramyd Air. You can expect an MSRP of $719.99. This air rifle is a .50 caliber, single-shot air rifle. It's capable of shooting pellets as well as arrows. I have a decision to make, don't I? Am I going to hunt with familiar pellets or will I take a chance with unfamiliar air archery? Until I get more familiar with air archery, as far as shot placement and such, I will stick to the familiar lead projectile.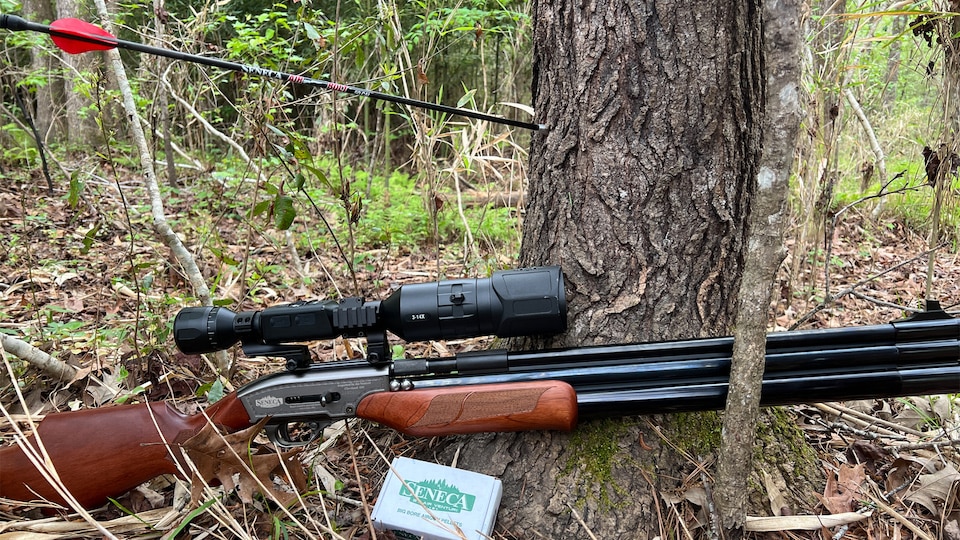 This rifle comes in a classic Western style with its gorgeous hardwood Monte Carlo style stock. It really is an eye catcher. This airgun makes a great hunting rifle for a few reasons. First, it has dual air tanks, that means more shots per fill. I will get four, high-powered shots and be able to follow up with 16 low-power shots. That's a huge deal for a .50-caliber air rifle.
Depending on the type of game you are seeking to harvest, will determine what power level you should use. I can use the map to determine whether the Seneca Dragon Claw is producing enough energy for approval in the state I plan to hunt.
Optics
What type of optics/sights does your air rifle have? The Seneca Dragon Claw is equipped with a fixed front-blade sight, as well as a fully adjustable and removeable rear sight, but I'm not about to try my hand at taking game with open sights yet.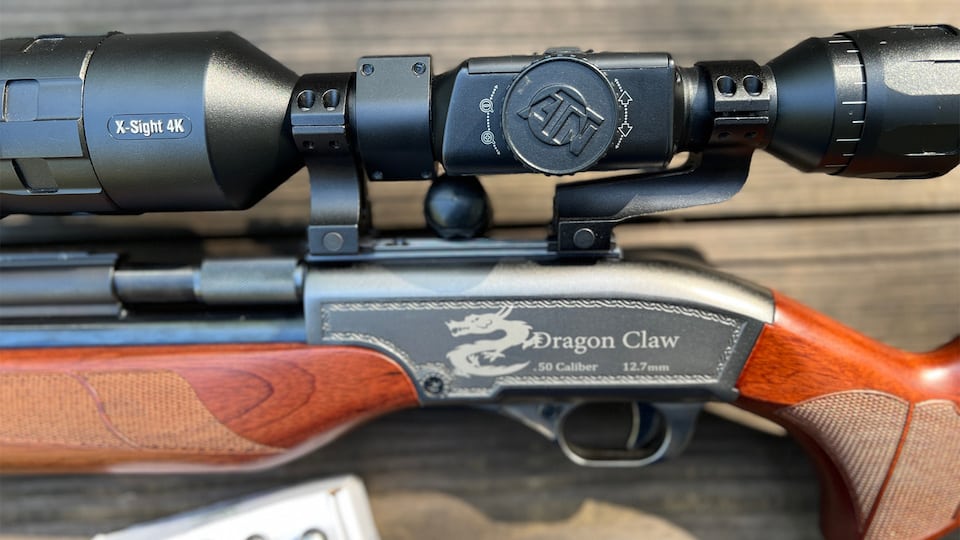 You may be confident with open sights, but be sure not to put your Superwoman tights on and be realistic, do what's best to make an ethical kill. The Seneca Dragon Claw is equipped with an 11mm dovetail rail. My optic of choice for hunting in most situations is the ATN X-Sight 4k Pro and this is no exception.
To be able to mount this optic on this rifle, I used the UTG 11mm Dovetail to Weaver Adapter (MSRP $12.97).The ATN is an electronic day/night scope and the MSRP is $699. It has many mind-blowing features – for instance, with its one-shot zero, it only takes two shots to zero your rifle. Another feature is the 4k video capability where it produces beautiful crisp footage of all your kill shots, or your misses. (If we're going to be honest and you've hunted for any length of time, you've experienced that dreadful miss.) Now that the optic is mounted, and I have an idea of the key features and functions of the gun, I'll take it to a frequently visited shooting range at our hunting club.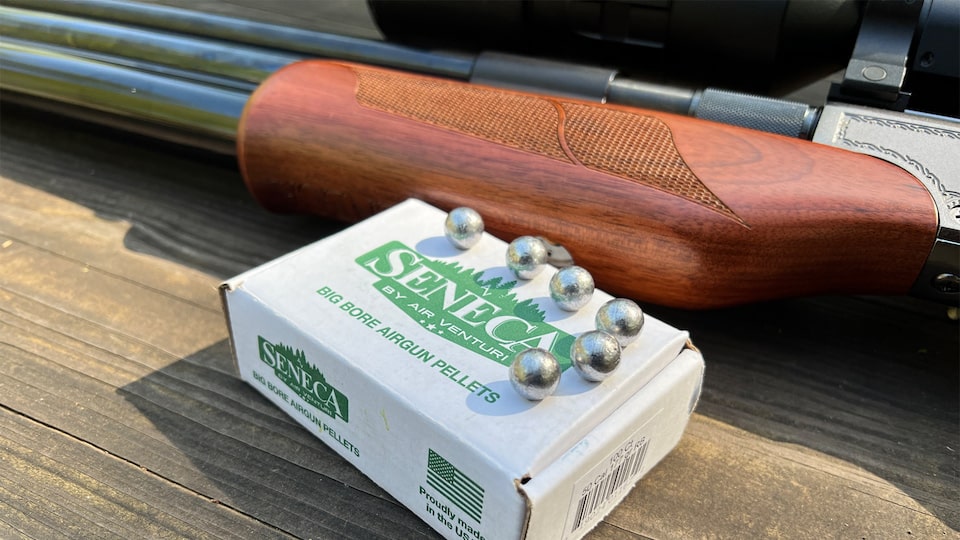 At The Range
Shooting can be unpredictable at times, it's important to wear the appropriate ear and eye pro. I'll sight the optic in at 50 yards and get familiar with my new Seneca Dragon Claw as well. I will need to make myself familiar with the location of the safety, the feel of the trigger, where and how to load the ammunition, what ammunition it likes the best, the location and feel of the cocking handle, as well as its recoil. Airguns are no different than firearms when it comes to favoring particular ammunition. After I get the ATN Optic relatively sighted-in, I will test a few types of ammo to see which ones group the best. After testing from 177- up to 336- grain ammo, I found that the Air Venturi Seneca .50 caliber, 177 grain, round balls shot the best. The MSRP for a box of 100 round ball pellets is $29.99. I then fine-tune my zero for those exact pellets. Once I'm confident I can operate the gun well and achieve consistent accuracy and power, I'll pack it up for the road.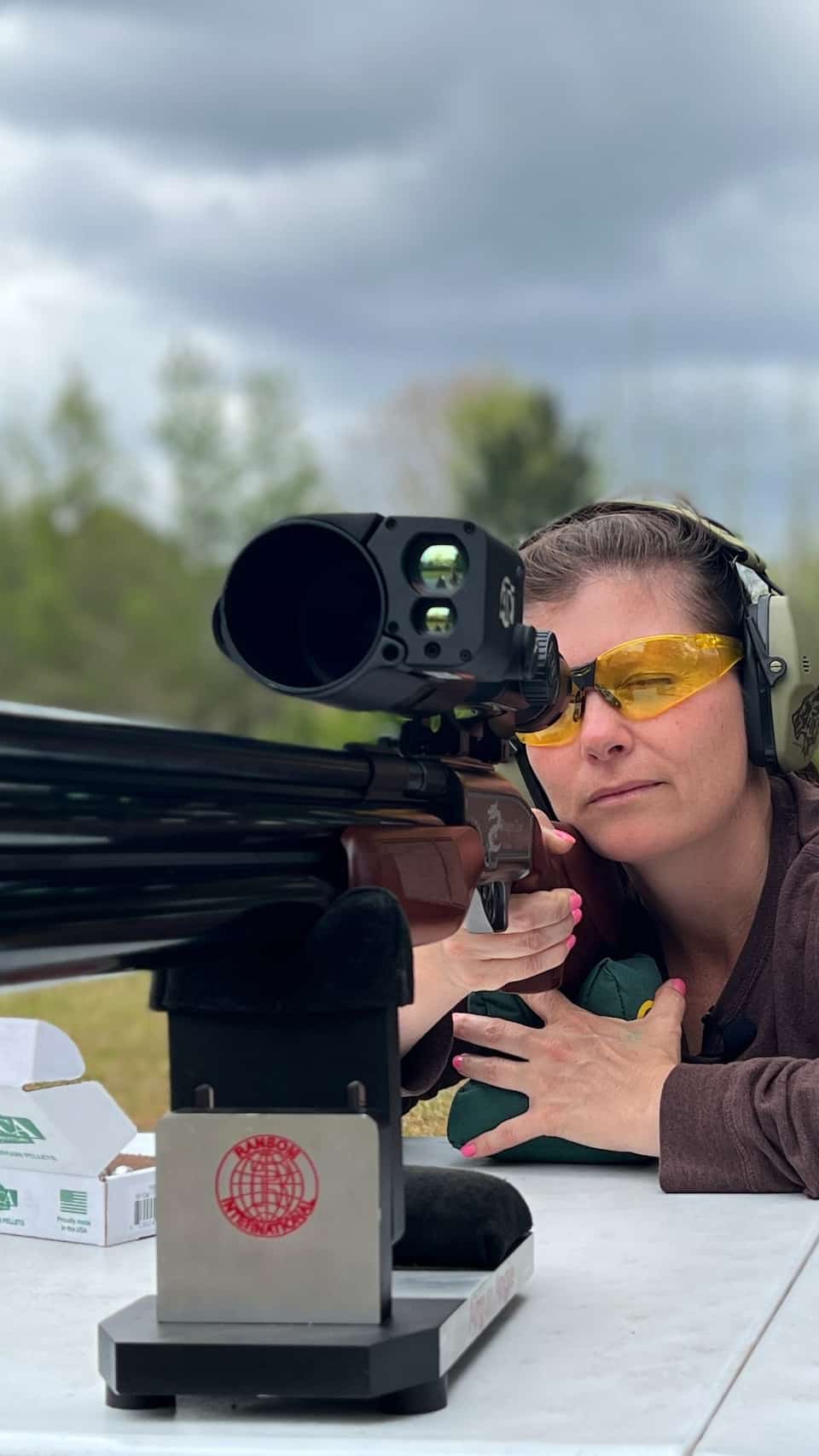 Preparing the Dragon Claw for Travel
Before I pack the airgun in its hard-shell gun case, I will make sure I've topped it off with air. The hard-shell case allows little movement, and will better assure that the optic is safe, intact and still holding zero. The things necessary to pack when hunting with an airgun include an air source, such as the Air Venturi Mini Wingman 100 cubic-inch carbon fiber tank. You can expect an MSRP of $389.99. The Seneca Dragon Claw's max fill is 3,000 PSI. The 100-cubic-inch tank will be sufficient and is easy to take along (you may not need the bottle, bring it just in case). I also bring a few tools such as, Allen wrenches, a ratcheting screwdriver set and a backpack for all my accessories.
Other Preparations
Aside from becoming aware of laws and regulations, preparing and packing my hunting equipment, it is equally important to pack appropriate hunting attire. After checking the weather and the type of terrain and foliage in that particular state, I will pack the appropriate clothing items to stay comfortable and to blend in with my surroundings. Once I arrive at my hunting destination, if possible, I will check my zero one last time to assure the most accurate kill shot.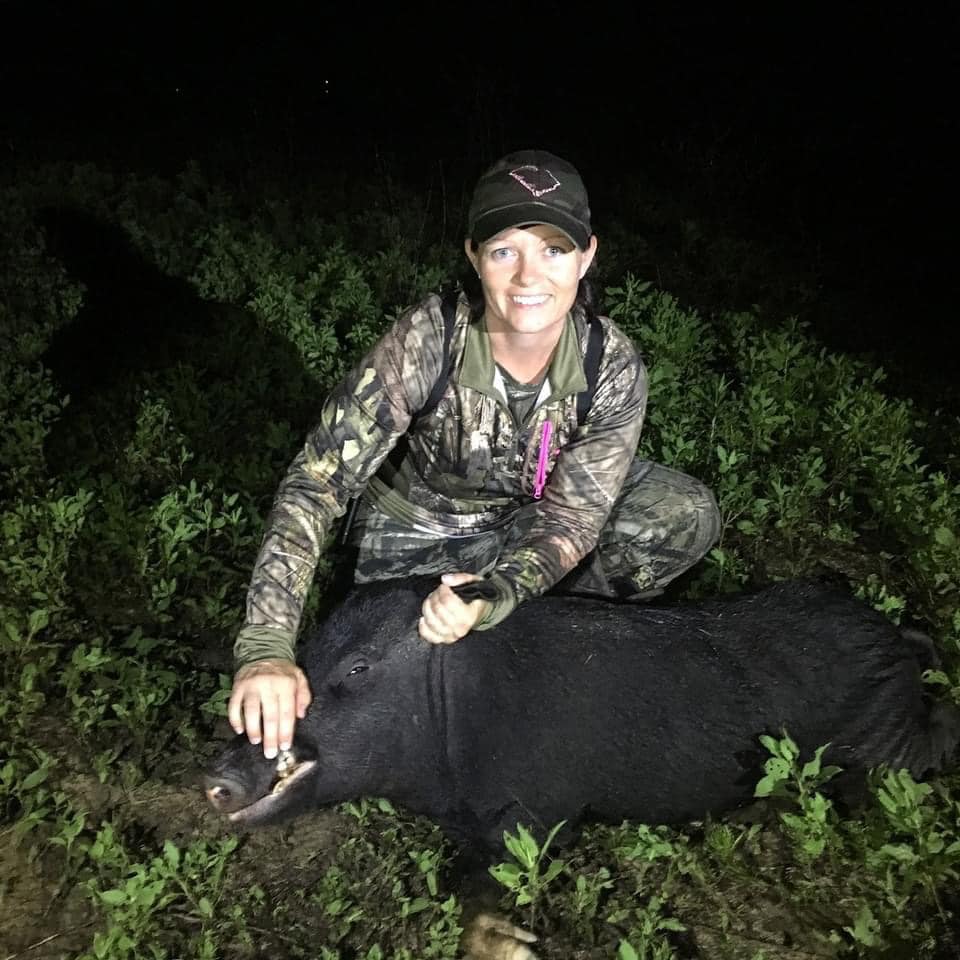 It is always a pleasure to go hunting, whether it be locally or afar. There is, of course, more preparation when planning an out-of-state hunt. Every bit of the experience and opportunity to get outdoors and do what I love is worth every effort. The Airgun Hunting Map allows me access to all the hunting laws and regulations for each state in one convenient place.
About Angie Perry

I am a wife and a mother who loves the outdoors, I also review and test airguns and shooting products for various manufacturers. As Airgun Angie, I get to spend a fair amount of time outdoors hunting and shooting! I love what I do, I get the opportunity to test many different types of shooting and hunting gear. My current adventures can be found on https://www.youtube.com/channel/UC764VE4T-i2XihiyISmkJKA You can also follow me on Facebook, @leadlife17 "Airgun Angie." View all posts by Angie Perry →
The Conversation