Meet the Bianchi Cup Women's A Squad
My photographer and I headed up to Hallsville, Missouri, on May 26 to see the second day of action pistol competition for the prestigious Bianchi Cup. I particularly wanted to watch the Women's A Squad, with Becky Yackley, Julie Golob, Sally Talbott and Cherie Blake. I knew these women would be fierce competitors on the range, yet friends off the range.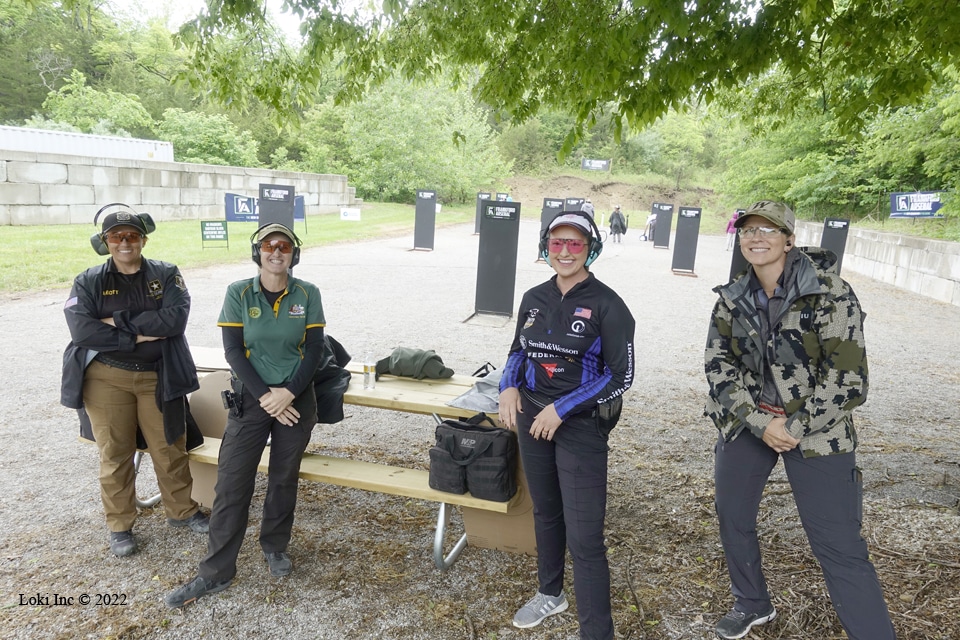 Background on the Bianchi Cup
The 2022 Bianchi Cup Championship saw two new title champions, Benito Martinez (men's) and Sally Talbott (women's). The Cup hosted 117 competitors, mainly elite shooters in the world of action pistol competition. The Bianchi Cup is renowned for its longevity (1979) and for the four stages of competition. Held at the Green Valley Rifle and Pistol Club and affiliated with the National Rifle Association, the Cup is the holiest of shooting grails to action pistol shooters, and there are no do-overs.
On the day of our visit, the women's A Squad – all "High Masters" – would be on the range shooting the "barricade" and the "moving targets, aka movers." The day before, they competed in the " falling plates" and "practical."
If you want to learn more about the details of the match, check out Vera Koo's post about the Bianchi Cup.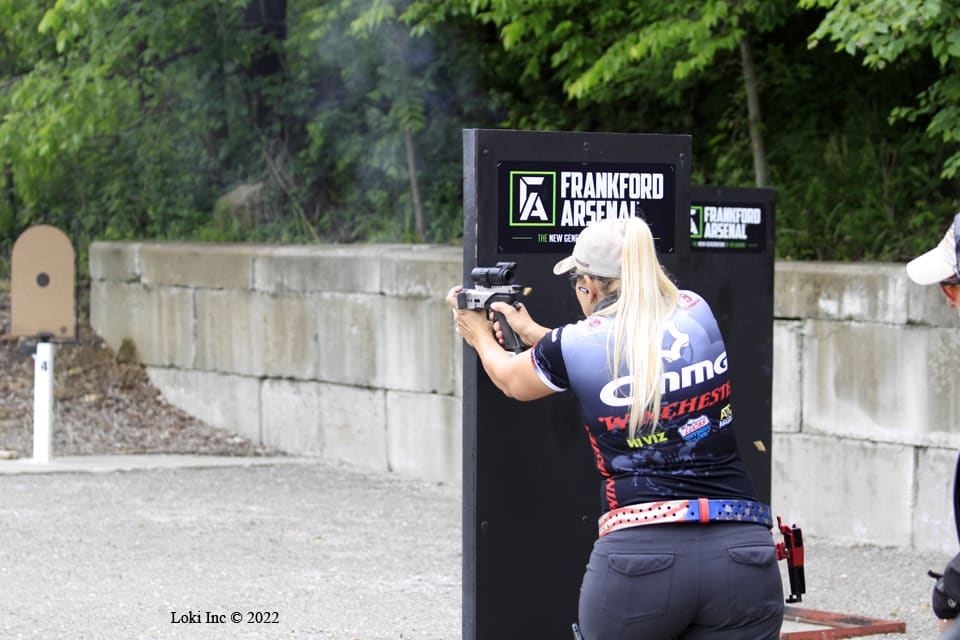 Becky Yackley
A former MCAA collegiate air rifle and pistol competitor who later became a formidable competitor in Bianchi Cup/NRA Action Pistol, USPSA Pistol, PPSC Shotgun and Rifle, Palma rifle, 3-gun and more, Becky Yackley lives and breathes the shooting sports and representing women in this arena, and won last year's Women's Bianchi championship title.
She said, "The Bianchi Cup is a match that my family began competing in because we knew it would help us become more skilled competitors with pistols. But the growth in skill has surpassed just pistol marksmanship skills. It strengthened our overall ability to compete in any event!
"The Bianchi Cup has made us stronger competitors because of the tenacious mental game needed for such precise shooting. It's made us better at logistics and managing resources for multiple people competing with multiple calibers across different divisions. And it's helped us all grow in our ability to assess where we need to work and what needs to happen to reach goals.
"However, on the sheer marksmanship side, we hold as a family:
– 7 consecutive junior national champion titles between our three sons.
– National records on all four of the events
– Lady's Overall champion 2021
– 3 time Lady's Metallic champion
"Bianchi is a place for people who want to learn and grow. The only limitation to your growth is how much you are willing to work."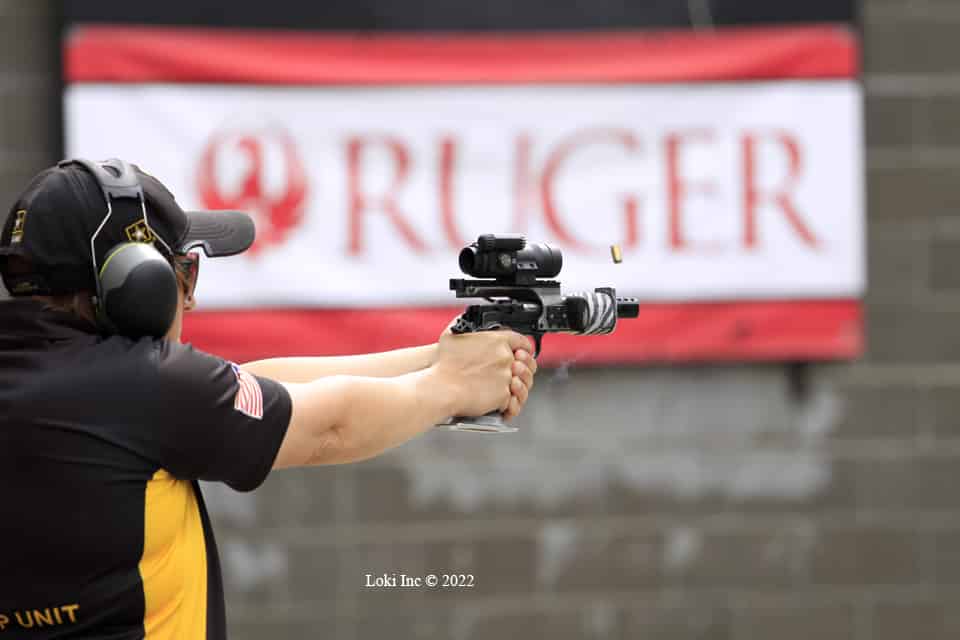 Sally Talbott
In her second appearance at the Bianchi Cup, Sally Talbott represented the U.S. Army Marksmanship Unit (AMU). She competes in both NRA Precision Pistol and NRA Action Pistol competition. Her first assignment with the Army was with the AMU, at the same time that fellow competitor Julie Golob was on the team. At the time of Bianchi, she was counting down the days (35) till her retirement. She also shoots Bullseye shooting matches at Camp Perry in Ohio. "I'll be there, but not wearing 'Army!'" said Sally. She intends on continuing with her shooting career after retirement.
"This match will put you up and down; it's emotional having been 24 years in the Army. I'm super thankful for all the opportunities that I've had, and I have the Army to thank for that … it's the best decision I ever made, as a 17-year-old kid to join the Army."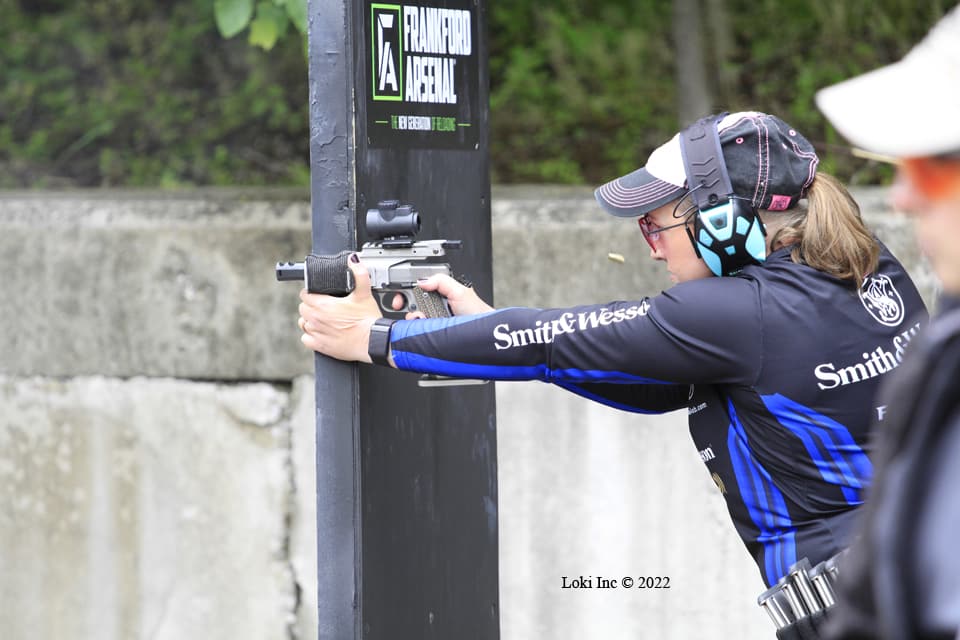 Julie Golob
Julie Golob recently celebrated 30 years of competition, and as a result, is one of the world's most accomplished handgun shooters. She also served in the AMU. During her illustrious shooting career, Julie has claimed the top prize in the Women's division at Bianchi for three years (2007, 2009 2012).
Julie said, "Bianchi is the most challenging course of fire I shoot. It's hard but also addictive. There's nothing quite like standing on the line among the many of the best shooters in the world with the goal of making 192 perfect shots. With a set number of rounds, there are no make-up shots. Fixed time limits for each string mean there is no advantage to shooting faster. As soon as you receive the start signal, you have to perform on demand.

"Being able to shoot on the line with the sport's top women is an honor. Between the AMU's full-time shooter, Sally Talbott, Australia's best, Cherie Blake, and last year's Women's Bianchi Champion, Becky Yackley, we had quite the lineup. Add the cameras and media coverage, adds to the pressure but I love the thrill of it.
"Not only was I able to compete as an individual, but I was also a member of two teams, a two- person Women's Team, and a four-person Open Team consisting of all women. My teammate, Becky, and I won gold in the Women's Team Event and though our Open Team with Sydney and Jodi didn't make it to the podium, it was fun all the same. Shooting as a team changes the dynamic and it's not just about competing for yourself, it's about cheering one another on, and hopefully inspiring more women to give the sport a try, too."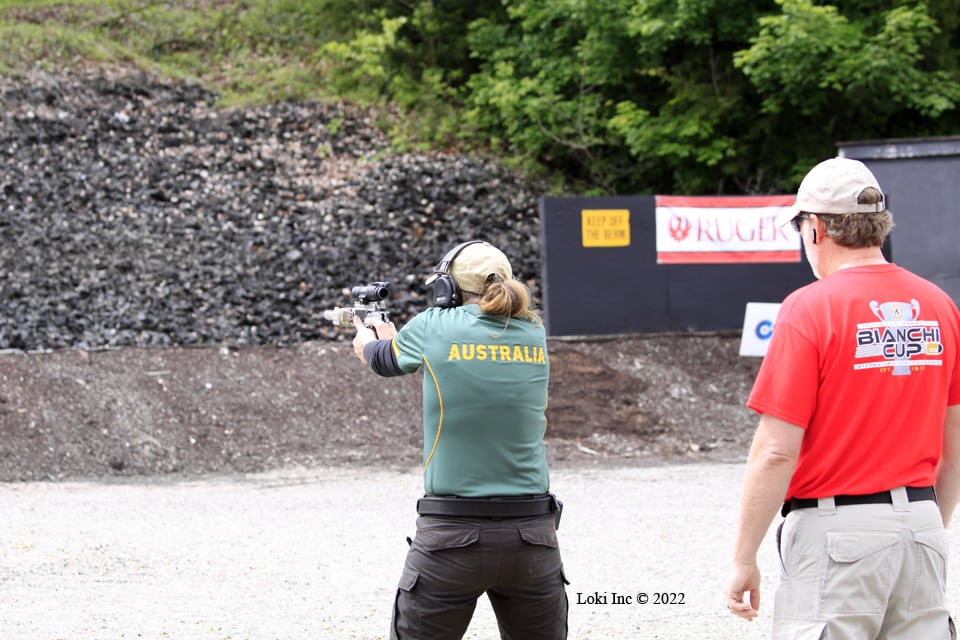 Cherie Blake
Hailing from Victoria, Australia, two-time Bianchi cup winner, and holder of numerous Australian shooting championships, Cherie Blake stopped for a chat.
The last time she attended Bianchi was in 2019. When I got here, and meeting up with all these people again – they're really good people – and it's like a reunion.
"There's something special about this match – it's almost like a love-hate relationship. It's really hard, and so rewarding. There are no make-up shots. You've got to be on your 'A' game for every shot. It's a challenge, but a really rewarding challenge."
The Reason They're Called the 'A Squad'
Final results showed Sally as the overall Women's champion:
Sally Talbott, 1913-155X
Julie Golob, 1903-144X
Cherie Blake, 1900-142X
Becky Yackley, 1865-132X
Learn more about the Bianchi Cup.
About Barbara Baird

Publisher/Editor Barbara Baird is a freelance writer in hunting, shooting and outdoor markets. Her bylines are found at several top hunting and shooting publications. She also is a travel writer, and you can follow her at https://www.ozarkian.com. View all posts by Barbara Baird →