Review: Ruger Max-9 a Micro Marvel 
Ruger's handguns have been at the top of buyers' lists for concealed-carry firearms for decades, based to a great degree on Ruger's reputation for firearms quality, and their latest addition to the market of micro-sized 9mms is no exception. Ruger sent me the Max-9, model 3501, to review. For several reasons, I titled it the "micro marvel."

Sponsored by Ruger
The gun is a "micro marvel" because frankly, it meets and in some cases exceeds its claims that I listed below.
Striker-fired with a short, smooth trigger pull, clean break and positive reset.
Slim, lightweight and compact for personal protection.
Rugged construction with a through-hardened alloy steel slide, a one-piece, precision-machined fire control chassis, and a high-performance, glass-filled nylon grip frame.
Medium-textured grip frame provides a secure and comfortable grip.
Tritium fiber optic day/night front sight for high visibility and drift adjustable rear sight.
Optic ready for direct mounting of co-witnessed JPoint™ and Shield-pattern micro red dot sights.
Cold hammer-forged barrel with ultra-precise rifling that provides exceptional accuracy and longevity.
Safety features include integrated trigger safety, manual safety, internal striker blocker and inspection port that allows for visual confirmation of a loaded or empty chamber.
Reversible magazine release.
Also includes: two 10-round E-Nickel Teflon® coated magazines and finger grip extension floorplate that can be added to the magazine for comfort and improved grip.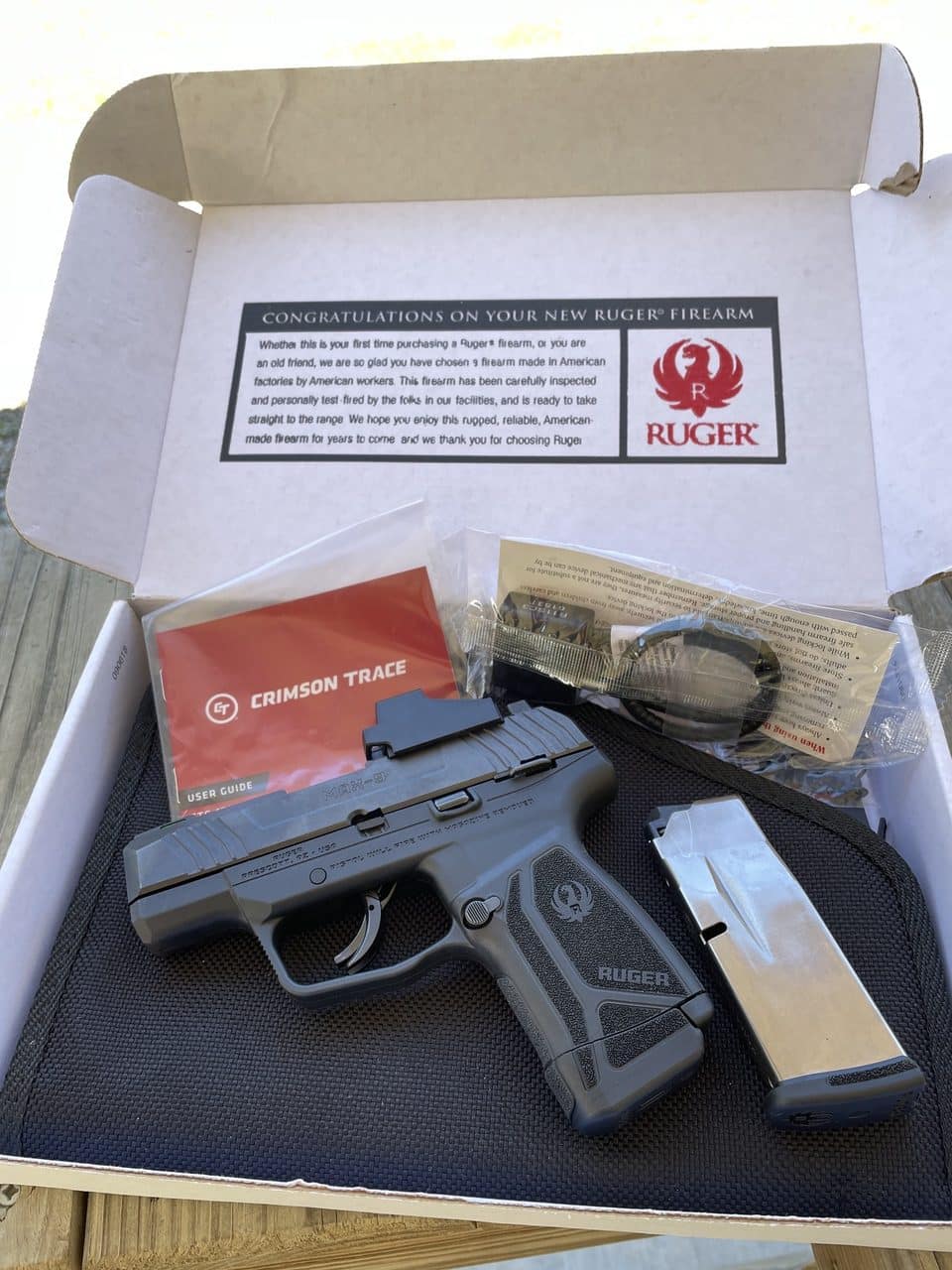 The Max-9 that Ruger sent to me came with a Crimson Trace CTS-1500 Series red dot, which didn't take long to zero and co-witness with the rear sight and the easy-to-see tritium fiber optic front sight. The nice thing is this – if the red dot goes away, you can still shoot accurately using the iron sights.
After checking it over, before I took it to the range, I cleaned the gun, lubricated it and did the post-cleaning safety checks per the owner's manual instructions. I make it a practice to do so with each new gun, whether it is one for review or a personal one, and I highly recommend you do the same. The Max-9 was easy to disassemble and more importantly, to reassemble. You'll just need a small punch or tool in order to push out a pin that holds the action in place.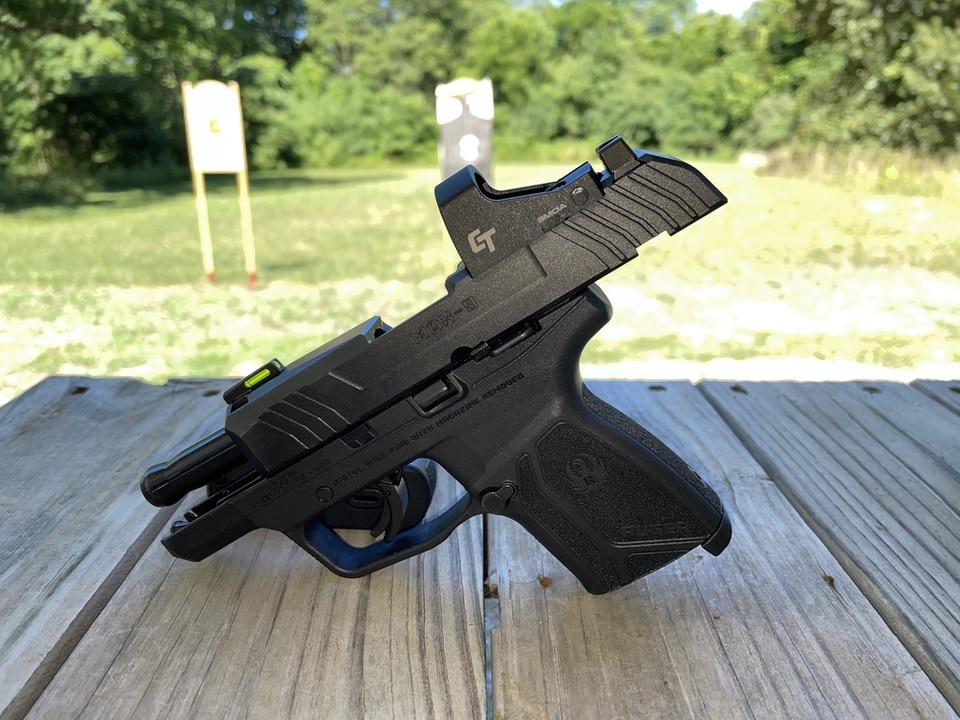 On the Range
Right out of the box, with a slight adjustment for windage on the rear sight, this 9mm shot nice groups – from three to seven yards. The red dot sight had the gun shooting high and to the left, but after a bit of dot adjustment with the included hex wrench, I had the red dot zeroed and co-witnessed with the iron sights.
Since I carry concealed, I belong to the United States Concealed Carry Association (USCCA). It publishes a membership magazine, "ConcealedCarry" that routinely features helpful drills for firearms owners who carry for personal protection. For my evaluation of the Max-9, I used a drill by Beth Alvarez, titled "The '3×5 Challenge,'" which detailed how to train using simple three-by-five notecards and a target stand.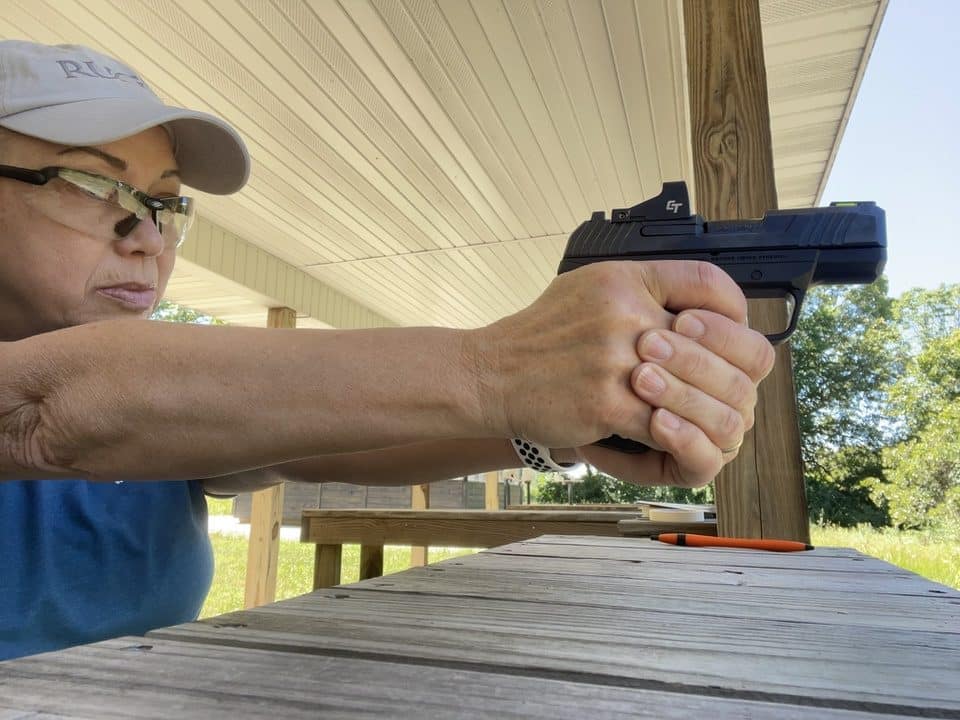 The premise of this drill is that you want to group your self-defense shots as closely as possible in the center of mass of your assailant. To enable that, place a three-by-five notecard vertically on your practice target and attempt to keep your shots on the card. It is difficult to do, unless you use either the pistol's front sight or a red dot to make each shot count. Frankly, with the cost of ammunition these days, a drill that quickly gets down to the basics of training is important. Beth advises starting at about three yards, with three shots. Try to speed up the action a bit if it seems too easy. Also, start moving back, maybe a yard a time, until you are at the maximum distance where you can keep your shots on the card. Keep up the standard of having close groups. Beth also recommends changing things up and shooting one-handed – from the "strong" hand and from the support hand. You could always add even more pressure by having someone use a shot timer to time your shooting, along with a draw from a holster if you are at a range that allows it.
I invited my senior pal from the Sunshine Shooting Club over to try-out the gun. She went from not knowing anything about shooting a gun for personal defense about five years ago, to being on her church security team. Although she is particularly partial to a .380 in another brand, she agreed to shoot the gun and found, to her surprise, that she could manipulate the slide and get good shots on the notecards, too. She hadn't used a red dot before, and it came easily to her, as well.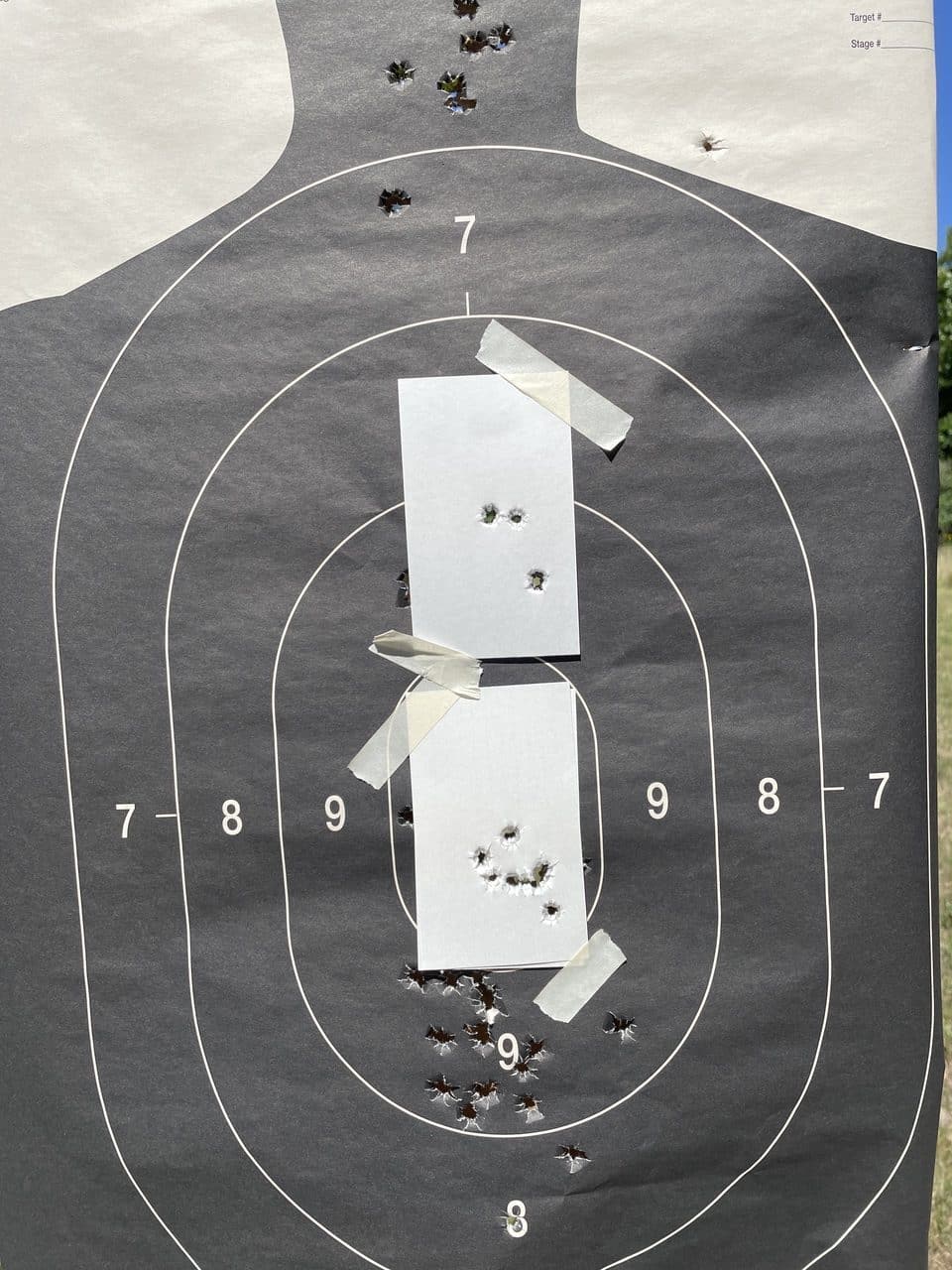 I left the notecards on the target backers for another drill where I shot back and forth between the two target stands, because sometimes there's more than one threat.
For this review, I didn't see the necessity of shooting accuracy tests, because frankly, these days with ammo shortages, I only have odds and ends of 9mm ammo, so I didn't have enough for a thorough accuracy evaluation. I ran 35 rounds or so of each of 6 different brands of ammo through the gun, and it digested each of them without problems except for three failures to return to battery with the target ammo from Remington.
Here are the brands I used:
After a couple of hours, and about 200+ rounds of ammo, we called it a day. I felt confident that I could carry and effectively use the Max-9 – and I especially like the safety feature on the side.
At the price of $579 (MSRP – you may be able to find it for less somewhere), it's a good investment for your personal safety.
About Barbara Baird

Publisher/Editor Barbara Baird is a freelance writer in hunting, shooting and outdoor markets. Her bylines are found at several top hunting and shooting publications. She also is a travel writer, and you can follow her at https://www.ozarkian.com. View all posts by Barbara Baird →