How to Make Jam in the Bread Maker
The journey to this bread maker jam began earlier in the spring. I spent some time picking strawberries at a local strawberry field. The activity occurred in early May, when our weather was starting to warm up in the afternoons, but the mornings still allowed for enjoyment of the outdoors while wearing a sweatshirt. We picked our fill, and ate a bunch of the berries, too.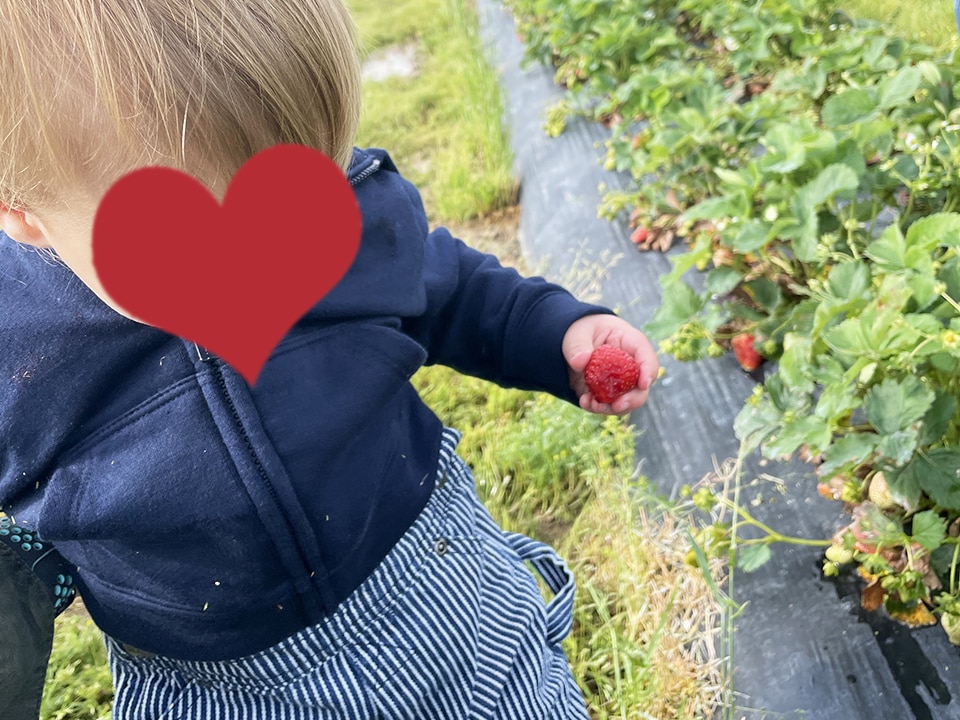 After making pies and eating strawberries on top of cereal and ice cream, the rest of the bounty was cleaned, topped and chopped in half – ready to be stored in the deep freezer. I weighed and placed berries into quart freezer bags by the pound.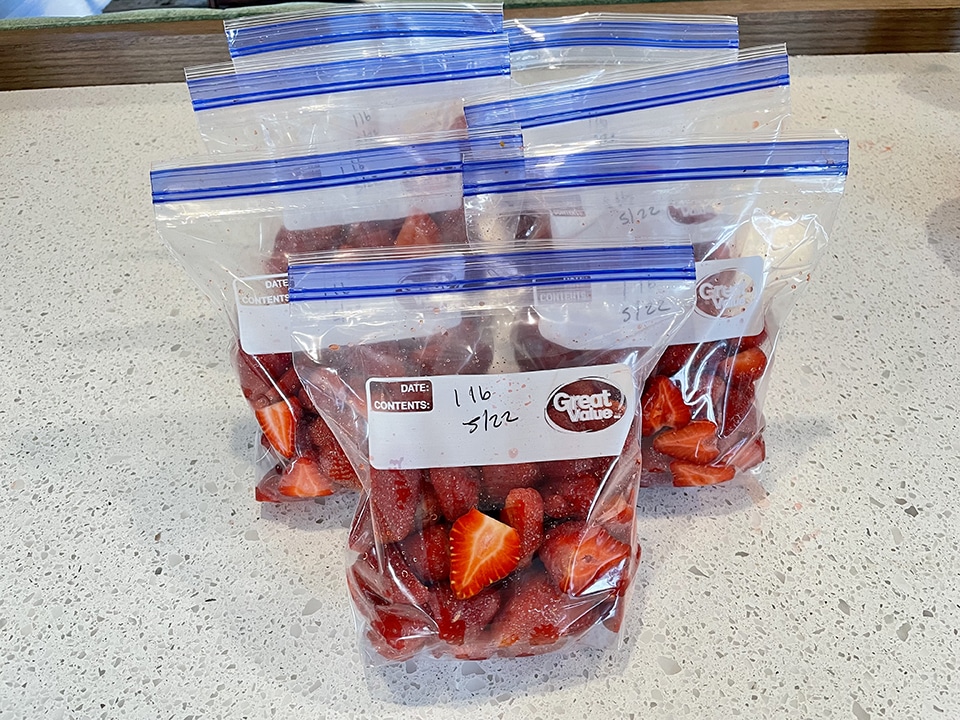 Jam in the Bread Maker
In May I also became the proud owner of a bread maker. While reading its manual, I was excited to find a recipe for making jam in the machine. I am a huge proponent of using small appliances in place of the oven or stove top, especially during the hot summer months. The recipe's ingredients seemed simple enough, and I had all of those prepped strawberries in my deep freeze, ready for use in something delicious.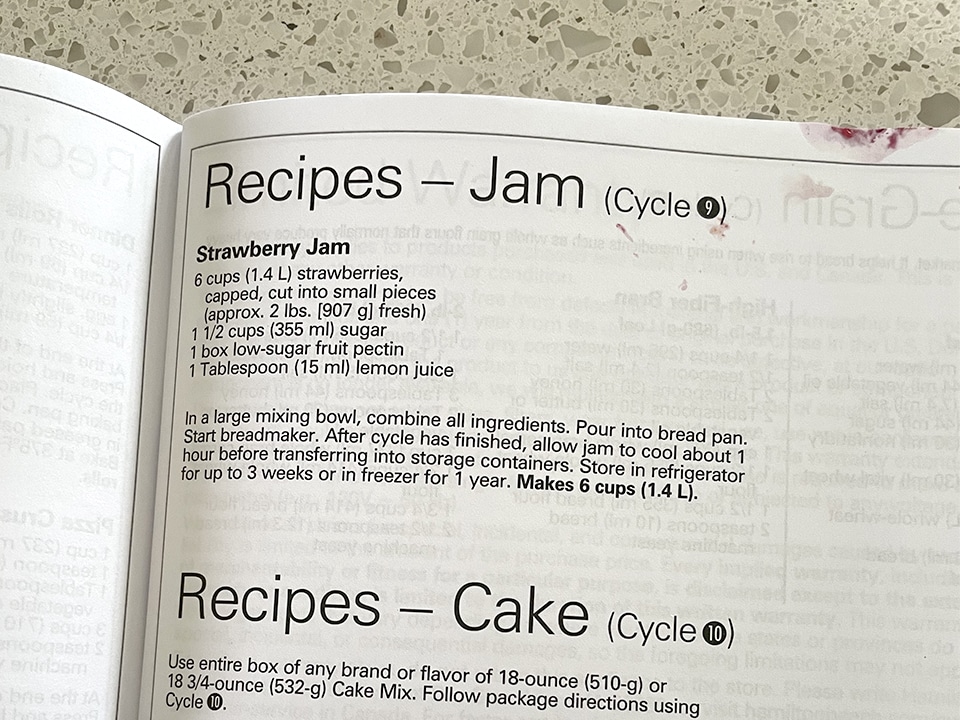 Bread Maker Jam Ingredients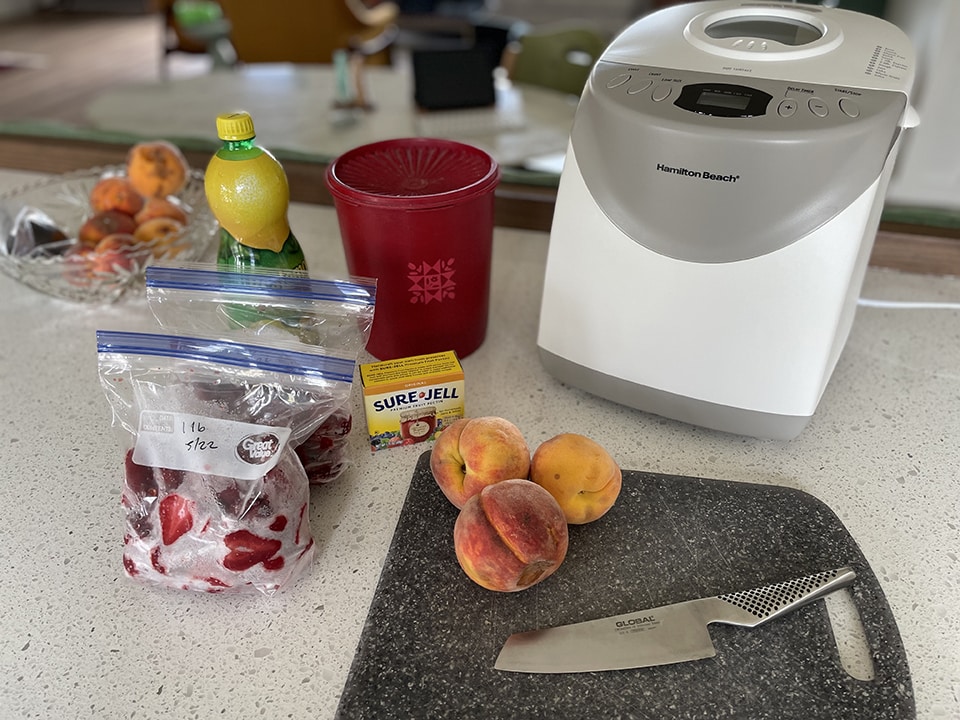 To make this jam, you will need:
6 cups of fruit – fresh or frozen (I used strawberries and peaches)
1 1/2 cups sugar
1 box pectin (1.75 oz) – I used the original version, not low sugar
1 tbsp lemon juice
canning or storage jars – I needed 7 – 8 oz. jars
bread maker with jam setting
Jam is fabulous because of its versatility of ingredients. Fresh or frozen fruit can be used. This is also a wonderful way to use up any over-ripe berries or culled items. Our local fruit station sells culled produce at a fraction of the price of the regular. It just so happened that I had a bowl full of culled peaches in my kitchen on the day I decided to make jam.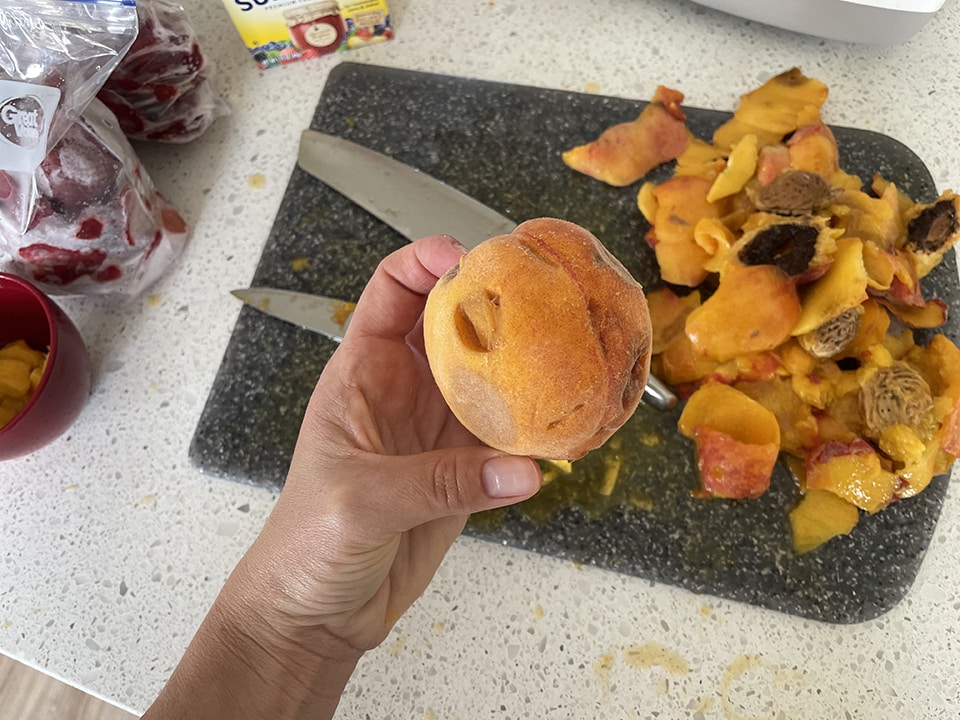 Making the Jam
Before you start on the jam ingredients, run your jars, rings and lids through a quick wash in your dishwasher. Or, wash in the sink in hot, soapy water, and set aside to dry while you make the jam.
First, clean and chop your fruit into small pieces. I peeled my culled peaches, and added them to a large mixing bowl when they were cut-to-size. While working on preparing the fresh fruit, I placed the bags of frozen strawberries in a bowl of hot water. This allowed them to easily be broken apart when added to the ingredient mix in my bowl.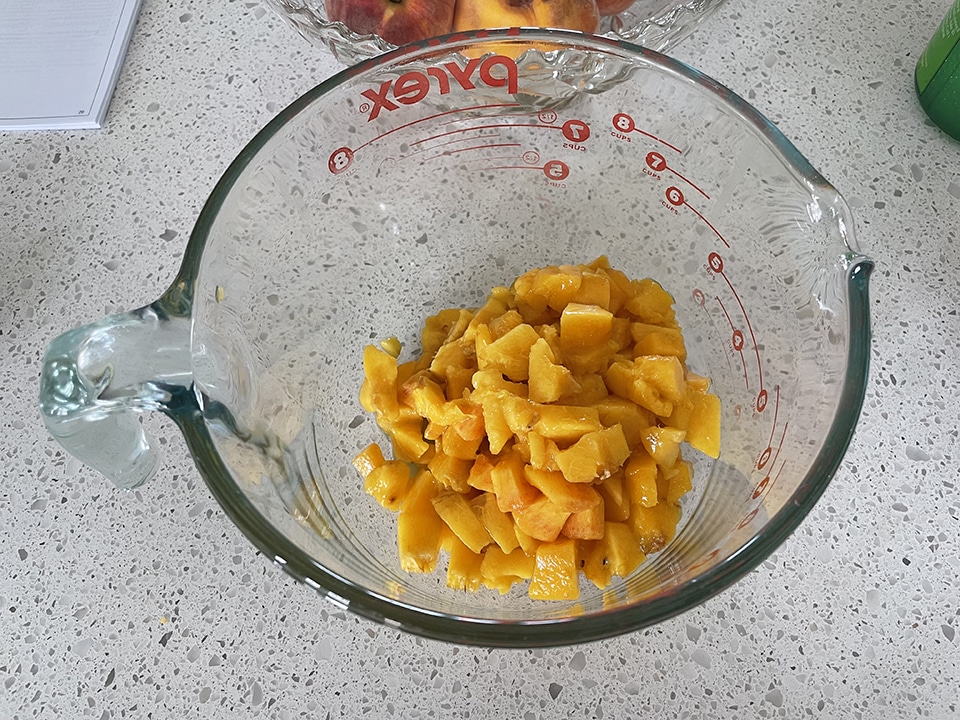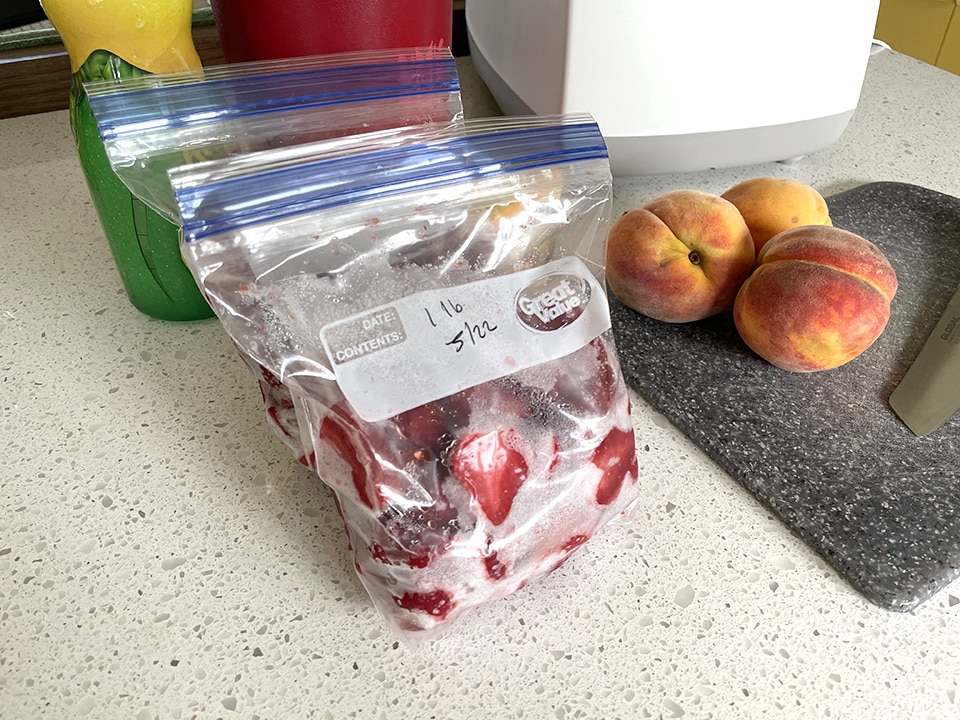 Combine all the chopped fruit, so that it totals 6 cups. Give the mixture a good stir, and pour in the remainder of the ingredients.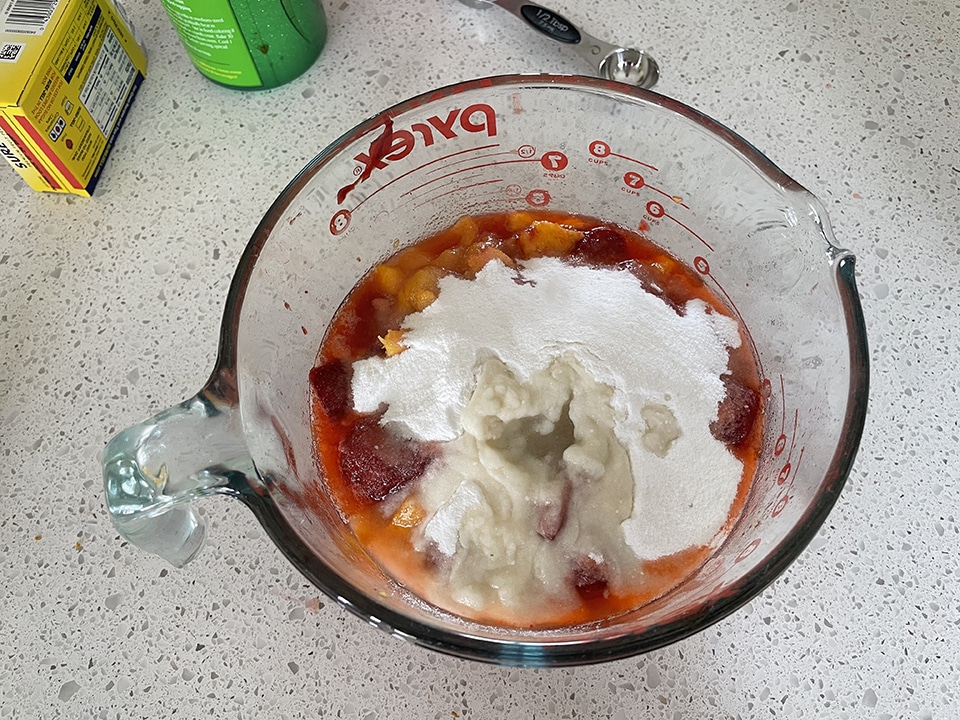 Stir again to combine all the ingredients.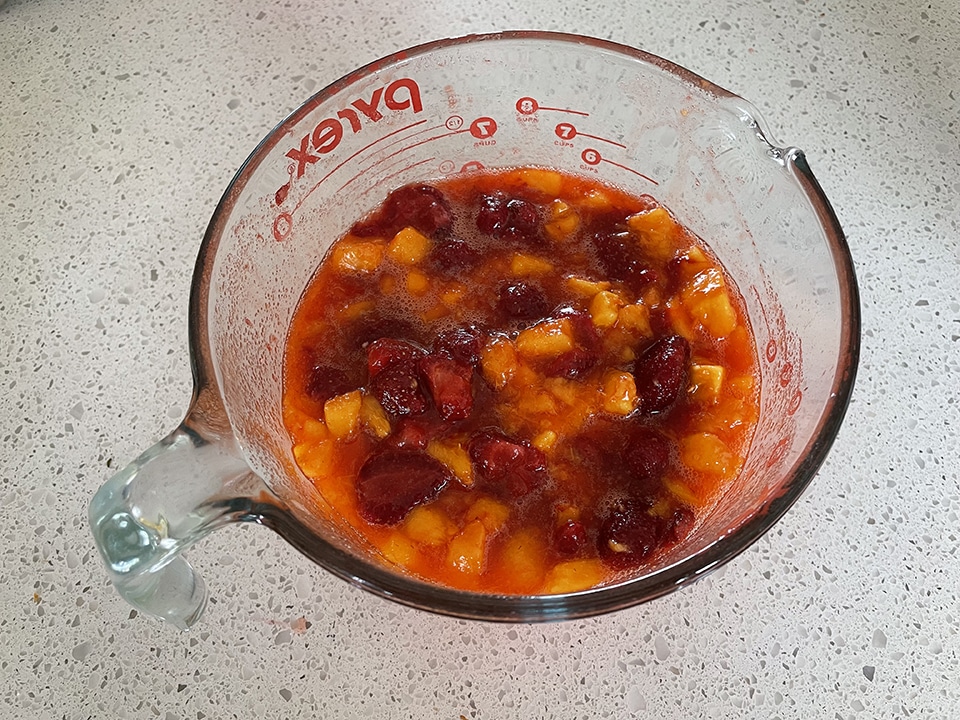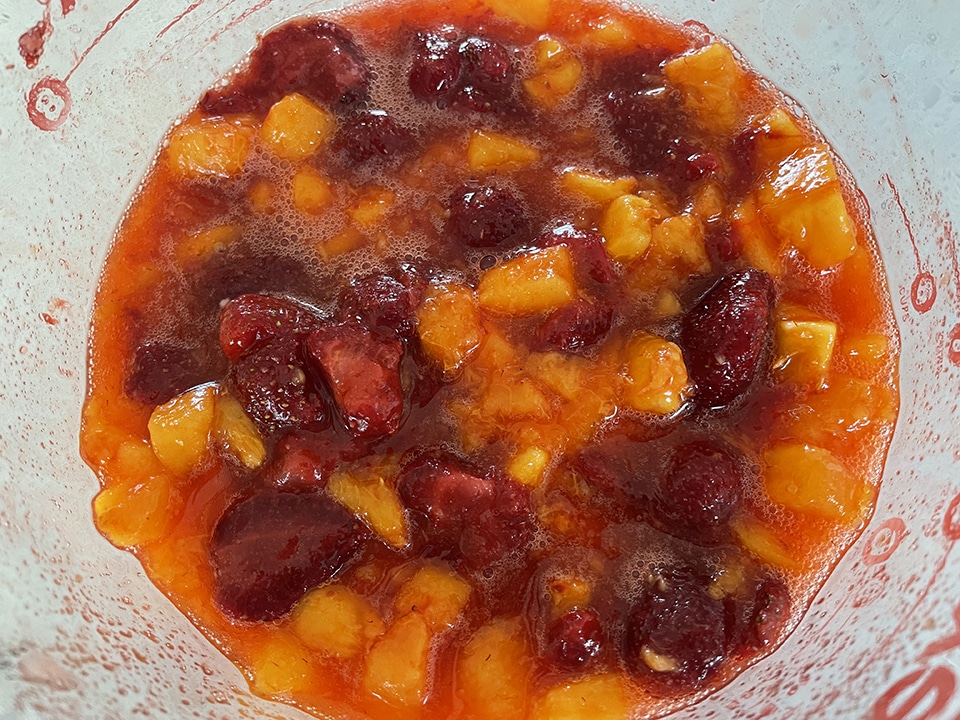 Make sure that the bread maker's bread pan is locked in place, with the paddle attachment on. Pour your fruit mixture into the bread machine, close the lid and start the jam setting.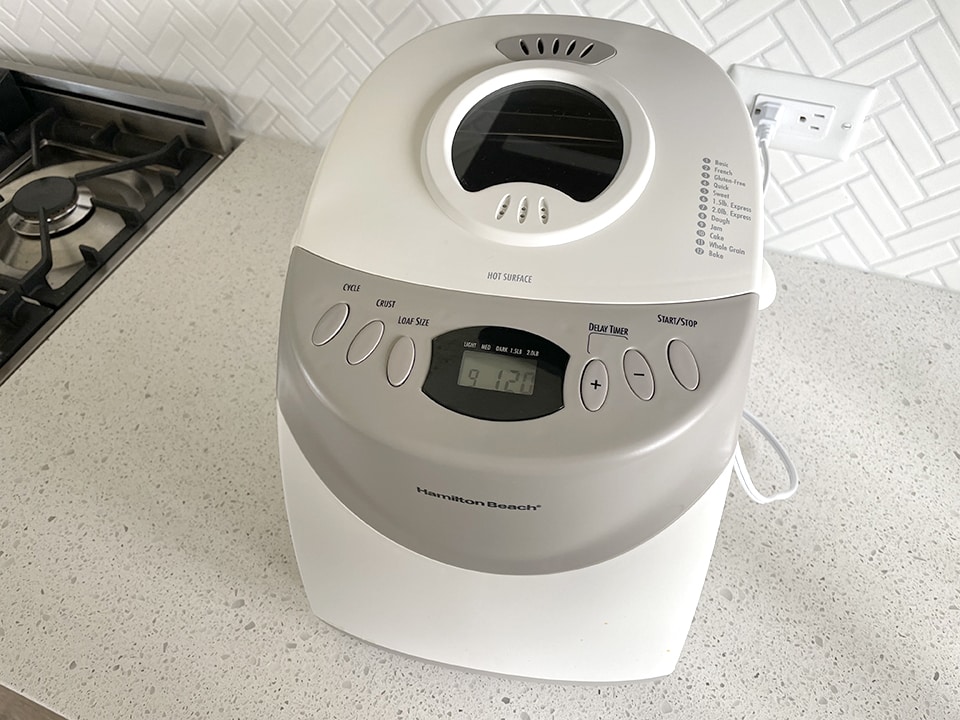 The instructions in my bread maker's manual instruct that you allow the jam to cool for one hour before ladling into storage containers. So, that is what I did. This allowed the jam to thicken up nicely while it cooled on the counter.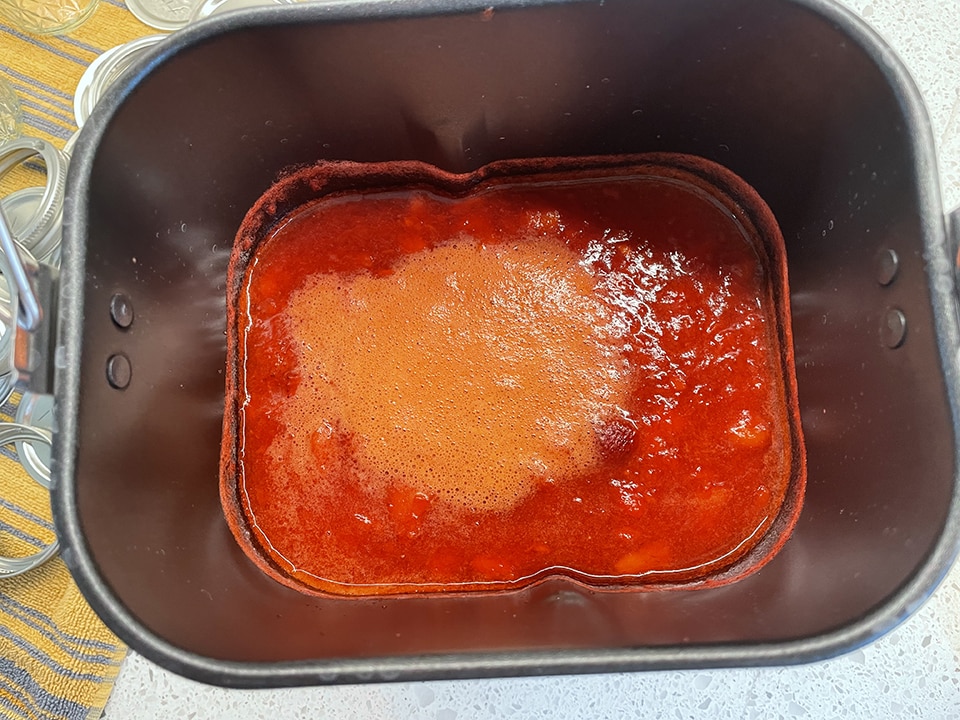 Carefully spoon the cooled jam into jars. Wipe the outside of each jar before adding a lid. Be sure to label the lid – this jam stays good for three weeks in the fridge, or can be frozen for up to a year. If you choose to freeze your jam, be sure to read the tips here, so that your jar doesn't explode in the freezer!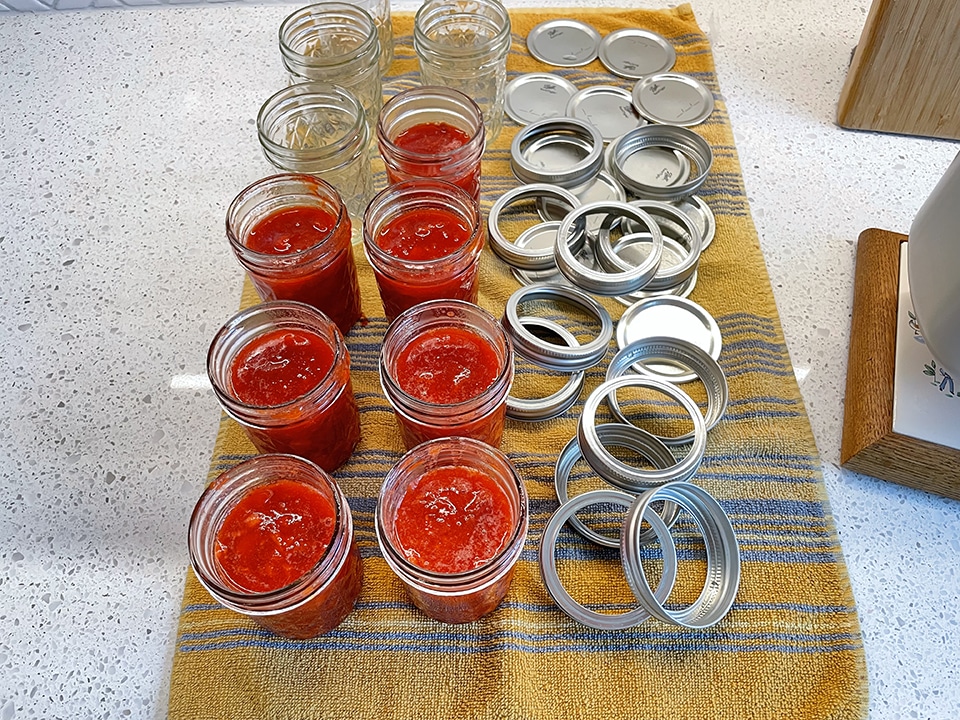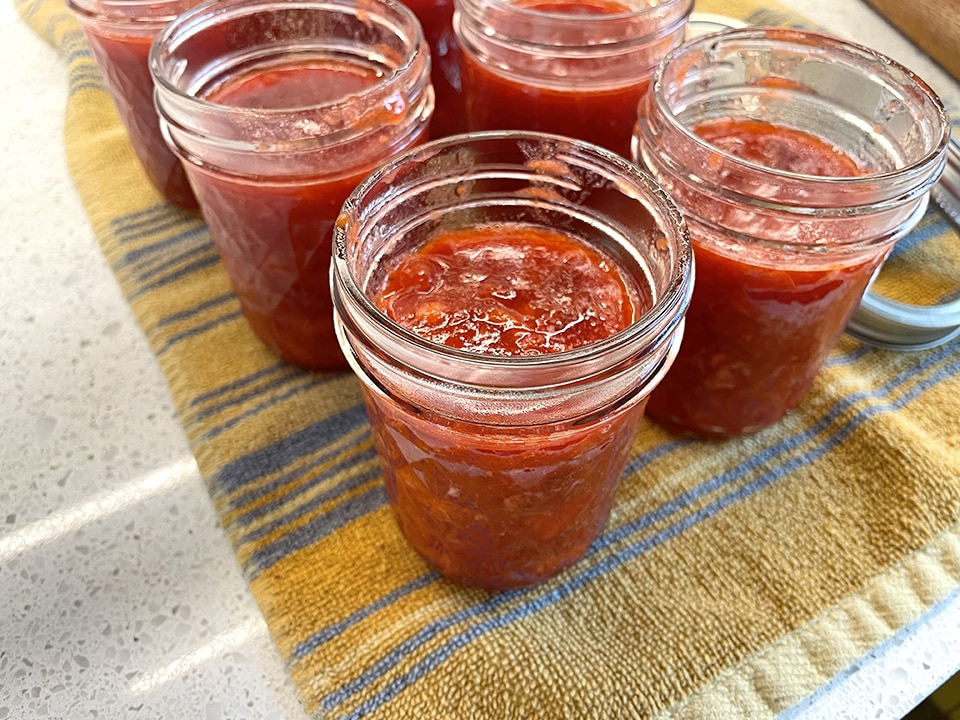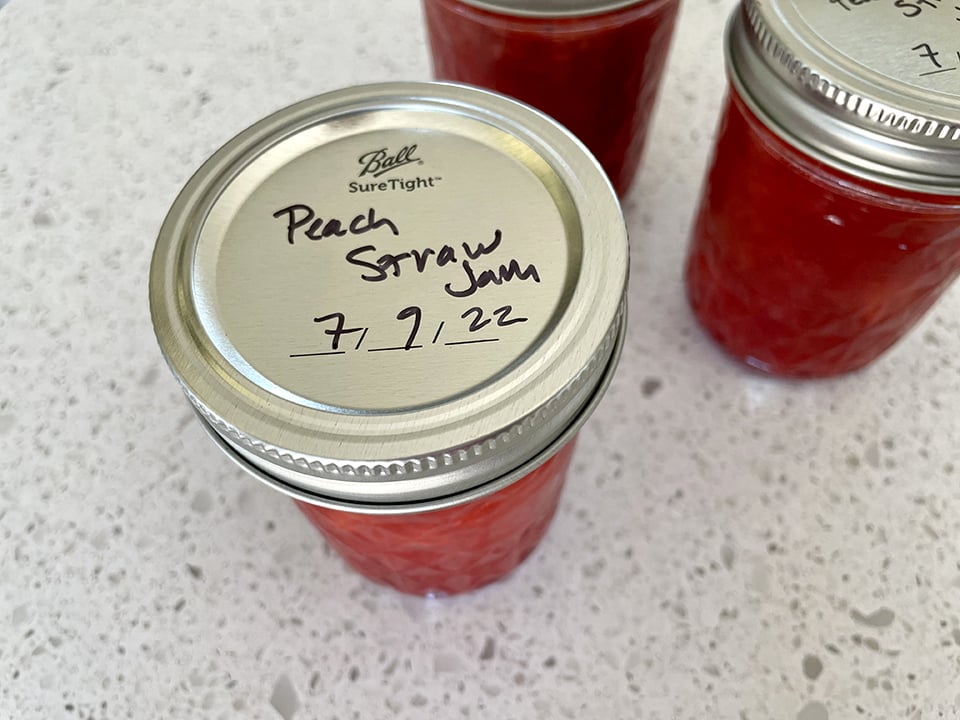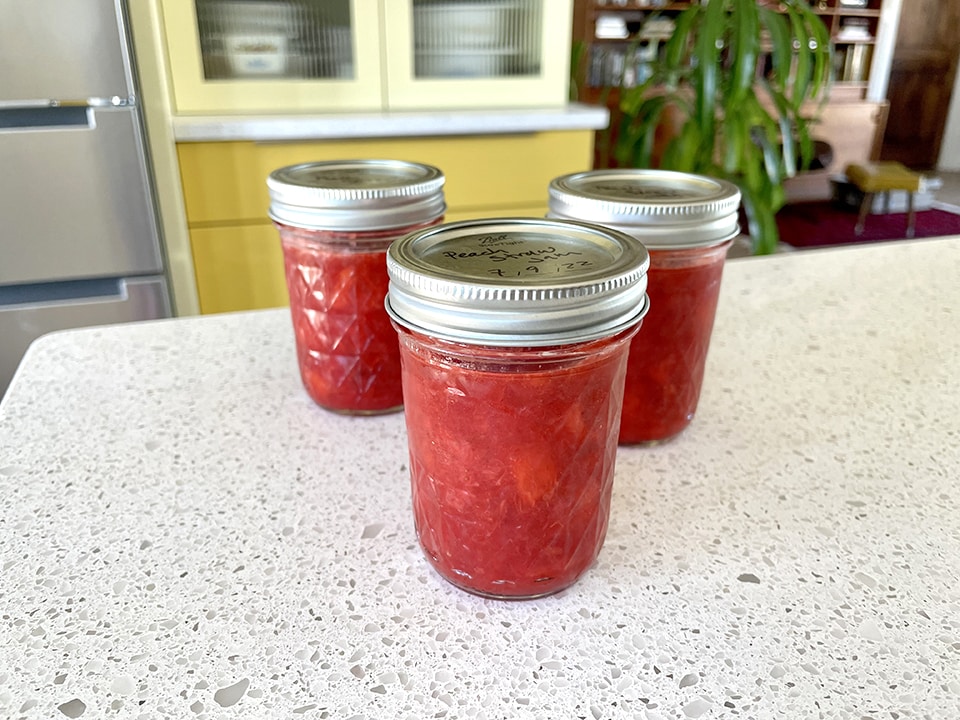 This jam is wonderful on toast, or even as a topping for ice cream. The peach and strawberry flavor combination is a nice change from the traditional strawberry jam. These little jars make the perfect gifts, too.
Strawberry Sage Simple Syrup
Have any surplus strawberries after making this jam? Use them in our Finely Farms Strawberry Sage Simple Syrup. It's a wonderful addition to sun tea or even coffee. Enjoy!
Cook Time
1 hour
20 minutes
Total Time
2 hours
35 minutes
Ingredients
6 cups fruit - fresh or frozen
1 1/2 cups sugar
1 box fruit pectin
1 tbsp lemon juice
Instructions
1. Wash, peel and chop fruit. Add to a large mixing bowl.
2. Dump in remaining ingredients, and give everything a good stir.
3. Add mixture into the bread pan in your bread maker. Start the jam setting.
4. Allow jam to cool on counter for 1 hour.
5. Ladle into clean jars, give each jar a wipe, then cap and label it.
About Jackie Richardson

Jackie Baird Richardson is an interior designer, editor at The WON and avid junker. Watch for her design tips and occasional crafting ideas, bringing the outdoors indoors. View all posts by Jackie Richardson →