PrairieFire Announces Eight Regional Championships
Florence TX – September 20, 2022 – PrairieFire today announced the launch of its new shooting competition series called the 2022 PrairieFire RANK Championship with a $100,000 cash prize. It will follow this inaugural championship with the $1 Million 2023 PrairieFire RANK Championship – handing out the biggest cash prize pool the industry has ever seen.
Major General (Retired) Mark O'Neil, Chair of PrairieFire's Competition Committee explains, "PrairieFire is transforming the shooting industry by creating iconic competitions that combine skill, athleticism, comradery, celebration, and storytelling."
Shooters can visit the PrairieFire website at www.prairiefire.com to register for their nearest regional tournament. Tournaments will take place at the following locations through the country. The 300 highest ranking contestants will qualify to compete in the $100,000 RANK Championship on October 28th at PrairieFire's new range complex in Florence, Texas. All tournaments are free to the public.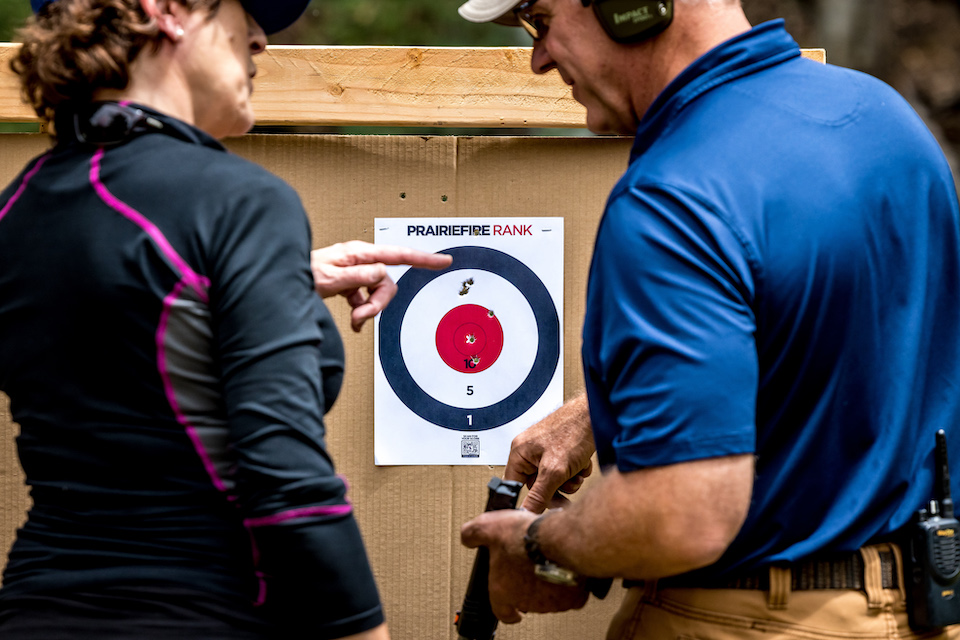 Silver Eagle Group in Ashburn, VA on 9/24
Shoot Center in Cape Coral, Florida on 9/30-10/1
Oak Tree Gun Club in Los Angeles, CA on 10/1
GRITR in Fort Worth, TX on 10/5
Reno Guns and Range in Reno, NV on 10/8
Rio Salado Sportsman's Club in Phoenix, AZ on 10/10
The Glock Store in Nashville, TN on 10/15
The Range at Austin in Austin, TX on 10/15
Registered contestants can bring their own handgun or use one of the PrairieFire-provided handguns. PrairieFire will also provide ammunition (9 mm). During the tournament, competitors will pick the distance their shooting distance (5, 10, 15 or 25 yards) based on their skill level. From the timer, they will shoot 5 rounds in 60 seconds, then reset and shoot 5 rounds in 10 seconds.
PrairieFire's RANK officials will score the targets. First place will receive $1,000, second place will receive $500, and third place will receive $250. The top contestants at each tournament will also receive an invitation to compete in the $100,000 RANK Championships on Oct 28th in Florence, Texas.
PrairieFire team members will be present at these competitions, including 3x Olympian and Professional Shooter, Lanny Barnes, leading the competitions and offer shooting tips. Barnes notes, "These are such exciting times for the shooting community as our goal is to elevate and energize the entire industry for the benefit of the whole 2A and competition community
Potential competitors should watch PrairieFire's social media to see PrairieFire RANK in action. For the latest news and information on PrairieFire and the Rank Championships, visit: www.prairiefire.com
PrairieFire is also the creator of RANK, the immediate scoring standard for measuring and comparing shooting skills – like a golf handicap. Shooters can visit the PrairieFire website at www.prairiefire.com to download the PrairieFire RANK target to get started. PrairieFire RANK shooters will have an opportunity to see how they compare against people in their local area and throughout the country.
About PrairieFire – PrairieFire is a team of Military, Law Enforcement, Competitive Shooters, and Instructors who share the same passion – imparting what they have learned in their careers to help and empower individuals achieve their goals. The PrairieFire team is devoted to delivering a new and fun experience the shooting community that encourages training, sport, and competition! PrairieFire is also focused on providing the most memorable and unique "special ops" experiences available to civilians worldwide. PrairieFire is transforming the shooting industry with its PrairieFire Method Q Academy Special Ops inspired training for civilians, $1 Million Dollar Cash Prize PrairieFire Open Competition in 2023, and RANK – our immediate scoring system to assess an individual's shooting ability.
PrairieFire Competition Committee Members are as follows:
Major General (Retired) Mark O'Neil – Chair of Committee
Lanny Barnes
Eric Eckhardt
Hans Hansen
Todd Jarrett
Craig Kozeniesky
Heather Miller
Buck Pierson
Tony Pignato
Christina Rhine
Tony Viggiani
For more information, visit: www.prairiefire.com
About The WON

The Women's Outdoor News, aka The WON, features news, reviews and stories about women who are shooting, hunting, fishing and actively engaging in outdoor adventure. This publication is for women, by women. View all posts by The WON →
The Conversation