5.11 Tactical Pieces: You're a Prepper and You Didn't Know It!
We often think of women as nurturers and caregivers. Women care for and prepare for their families. We should be considered the OG (old gals) of prepping. We don't all necessarily prep and plan for the fall of civilization; often, we're just thinking about the everyday, always-be-ready for what could happen situations. You could call it the, "Make sure you have clean underwear" school of preparedness. I received a few items from 5.11 Tactical to review, and along the way, I came to the conclusion that these pieces of apparel and a bag might help women who are "preppers," whether they know it or not.

Sponsored by 5.11 Tactical
5.11 Tactical Pieces
Pants for Working People
Every woman needs a pair of work pants, just like she needs a little black dress or a favorite pair of shoes. For years, my hands-down favorite pair of paints has been from 5.11. The Stryke is my go-to choice. Additions to 5.11's line, like the Icon, were well-done, but their new pant, the Spire, ranks as impressive.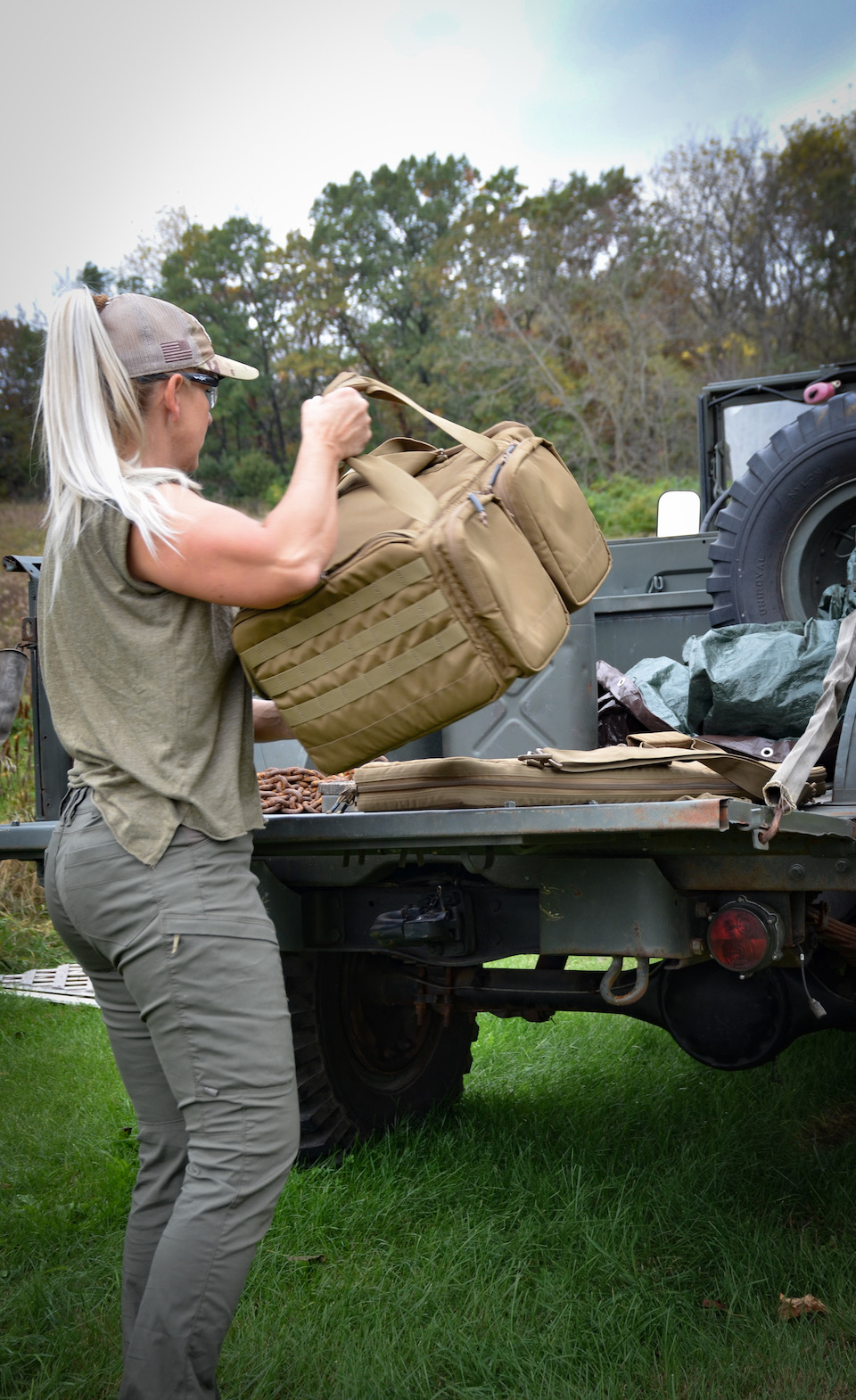 Why is that so? These pants are durable, comfortable and allow freedom of movement in whatever you are doing. They also have a lot of room for carrying things – with eight pockets, two of them zippered and large enough to hold a phone.
I like the fabric because it's light and soft, and the straight fit makes them much less "cargo pants" in appearance. (Think slimming, not skinny.) Here are some of my favorite features:
Low profile zipper cargo pockets with hidden inside pocket
Eight pockets
The material: 72% cotton/ 25% nylon/ 3% elastane poplin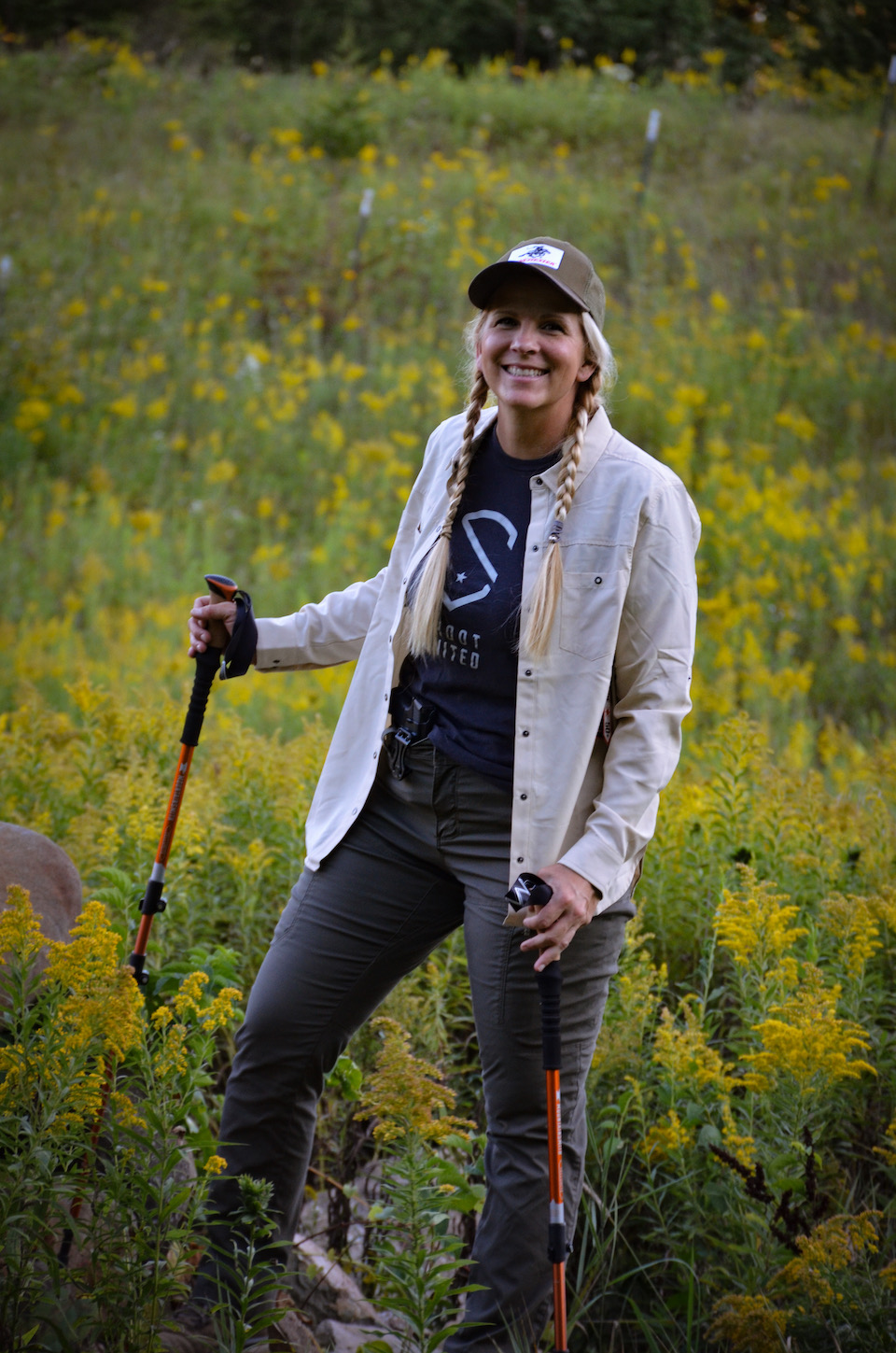 Top off Your Amazing Pants with an Amazing Shirt
What do you wear with amazing pants? Well, you should consider this shirt, the Women's Marksman long sleeve. This shirt is made from lightweight, UFP 50+ fabric. So, it will protect you as a light, airy layer. It's a great lightweight piece for travel, but what I love most about it is that where I spend most of my time outdoors, ticks are an issue. The light, vanilla color is perfect for seeing critters you don't want crawling on you!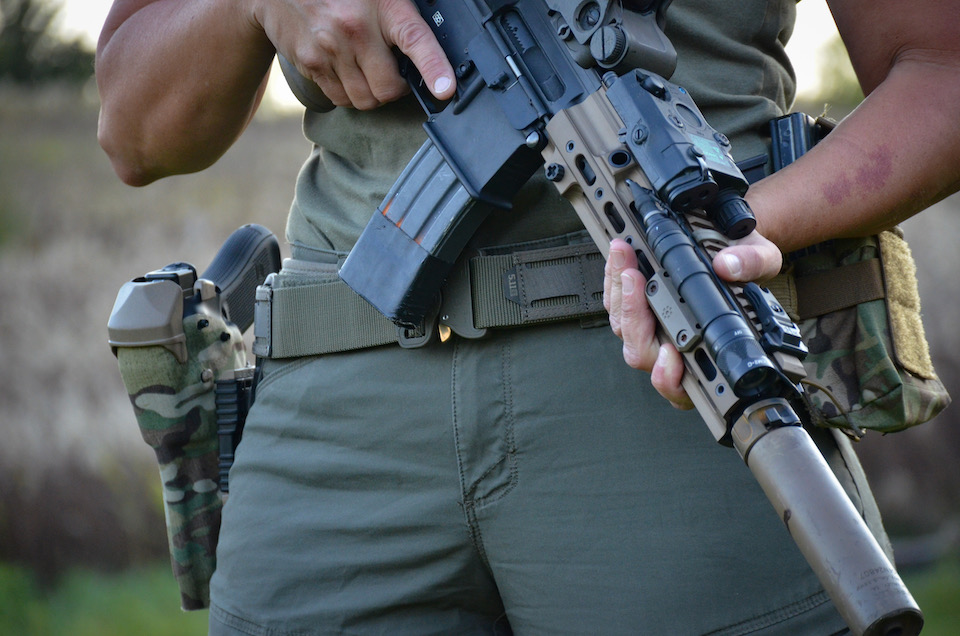 Belt Up
The Maverick Battle Belt is a piece of gear that I am really happy to see from 5.11. It is most suited to people working in environments where they need to have holsters, mags, pouches, or anything heavy on their belts.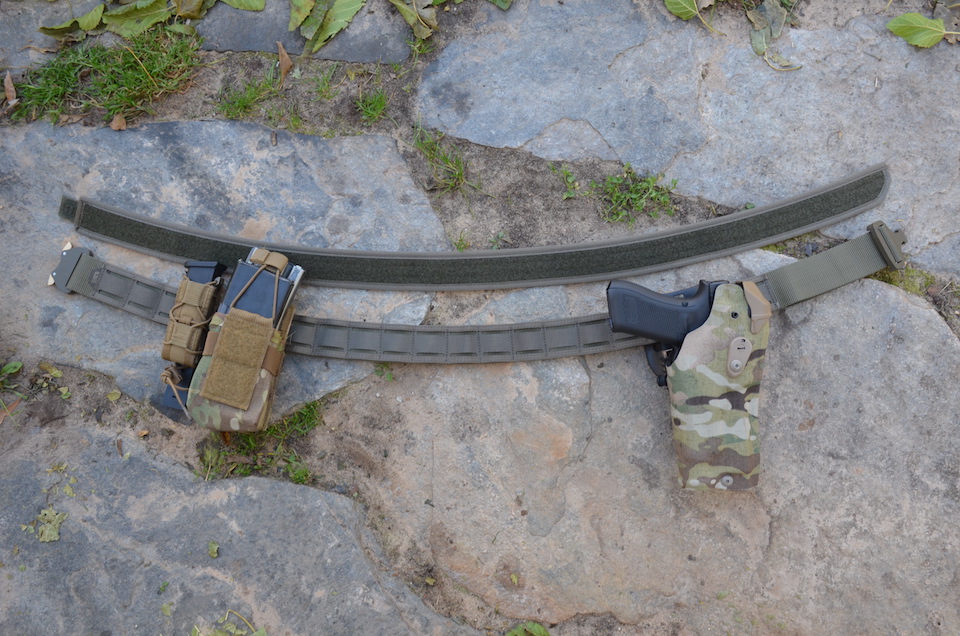 The thing that makes this belt stand out from what's available is how it is made. It is cut in an arc, versus many traditional belts being made from a straight strip of nylon material. Why does this matter? Well, the arc, when wrapped around your hips, creates a shape with the top side narrower, and the bottom side wider – just like the human body. This means for those of us with hips, it sits on your hips without digging into them. If you have ever worn a heavy belt for a day, or multiple days in a row, you know that this can be very painful! Even for men, who tend to be less curvy, a belt that contours the body is a better method of load-bearing – actually working with the body instead of creating a "fit" by constricting and digging into the body. So kudos to 5.11 for bringing this to their line of belts!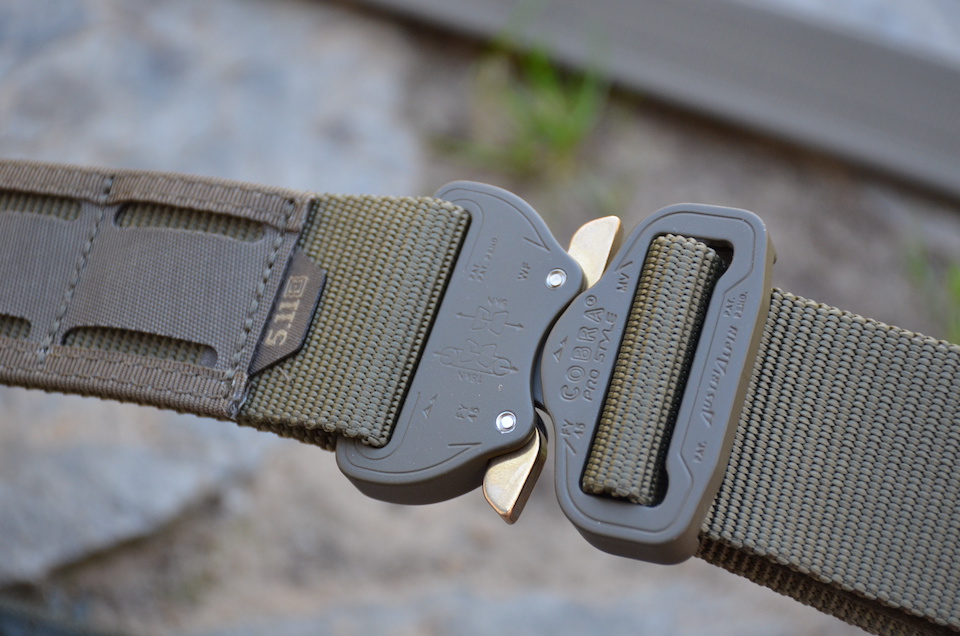 And if you never think you will use a belt like this, don't underestimate the utility of a belt with a drop pouch for snacks and a canteen holder, etc., if you hike or work in the outdoors. For law enforcement and military members, who wear belts all day, this is a great product.
Shoes for the Extra Mile
I'm a pretty picky footwear person. This pair of mid-height boots, the AT Mid Boot, have some great features. I live in an area that sees heavy dew and the fact that I could walk outside in the early morning and late evening without my feet becoming instantly wet mattered. The upper of the shoe is very supportive. One small thing I liked – I hate overly-long laces and having to double-knot them, just to keep the laces from dragging or coming untied. These came at just the right length. (The mom in me sees untold extra pairs of shoelaces that are either thrown away because of this, or imagines all the pairs that could be made from the 6-inch extra per lace that seems to be the norm.)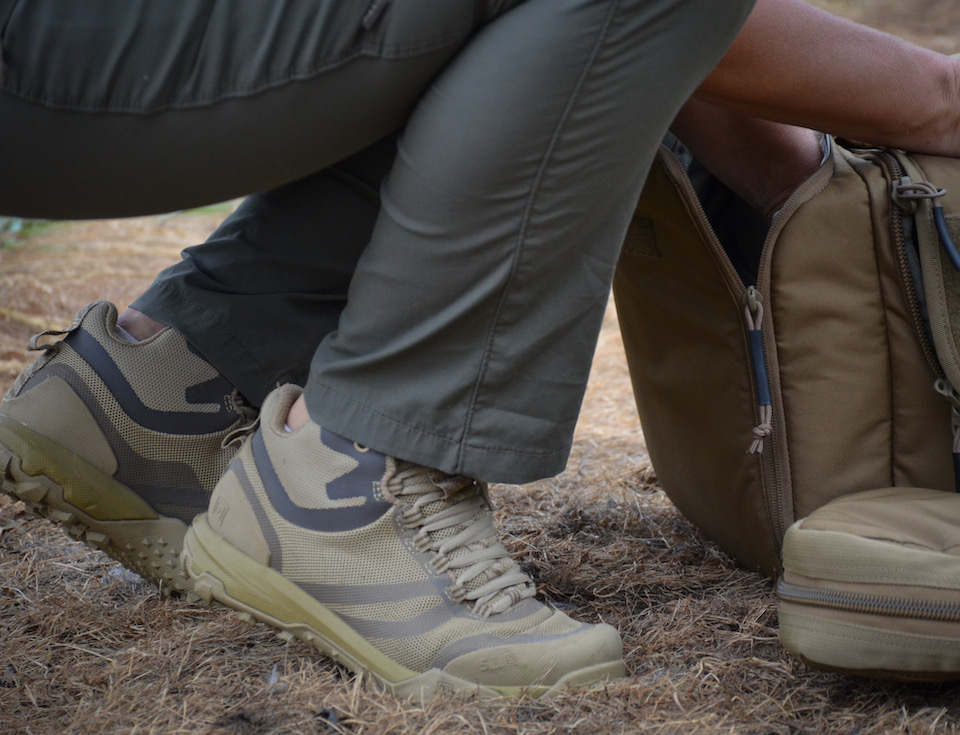 This boot is sold in unisex sizing and I have a size 6. Normally, I wear a size 7.5 – 8 in a woman's shoe.
Some features of the boots:
A.T.L.A.S. All Terrain Load Assistance System
3D molded TPR toe and heel protection
5.11 A.T.L.A.S Technology Support Plate
Ortholite® footbed
Grab Your Bags
Two new range bags from 5.11 also make great pieces for women who like to have their gear organized and ready to go.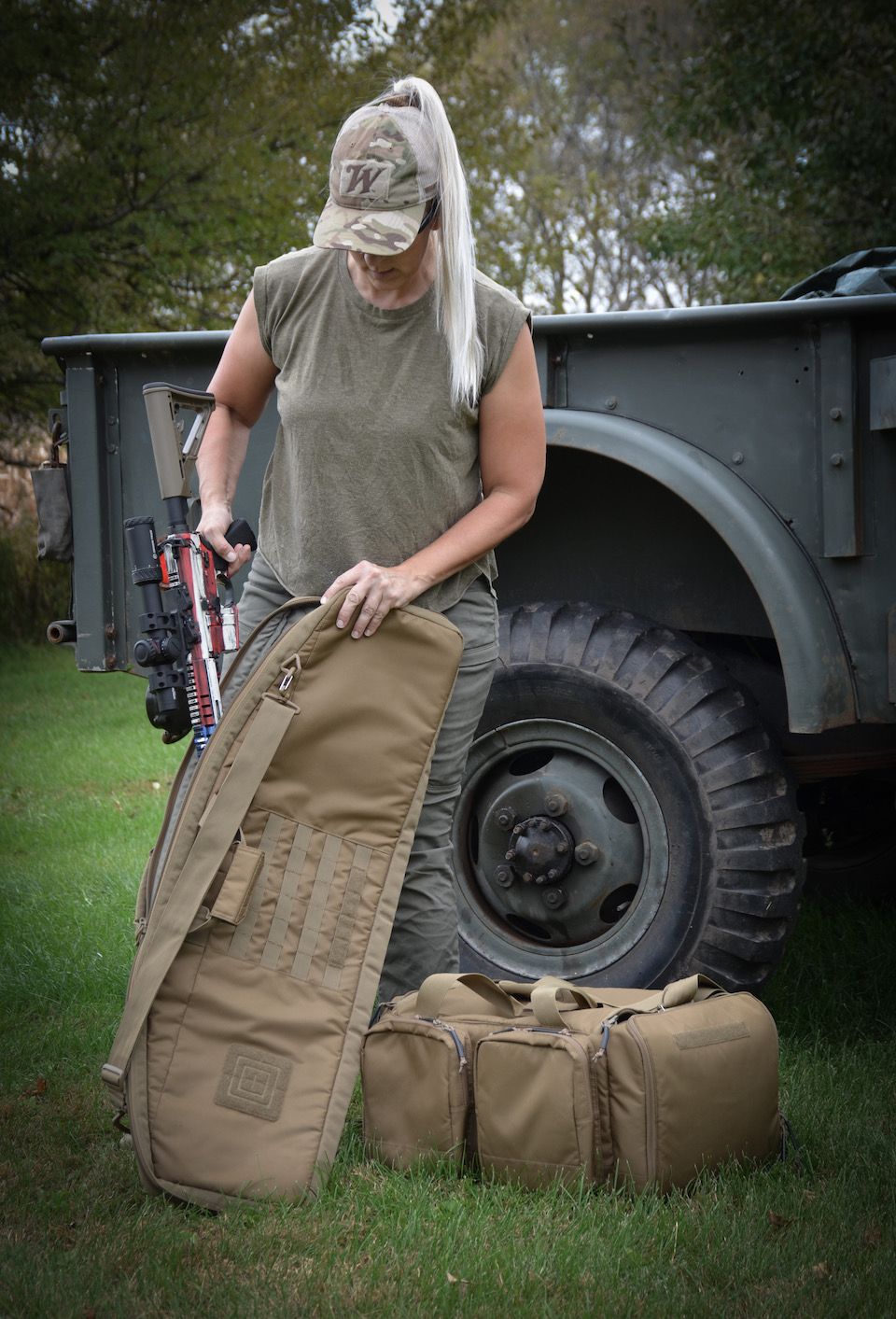 I used the 36" Single Rifle Case for my rifle, as designed. This would also work for other precious, elongated objects … maybe a musical instrument or your throwing ax. Maybe you want to wrap your knitting needles and project into something that will make the other women jealous. I like the strap and that it's secured with webbing and sturdy connections. It's a small detail, but the carrying strap's connection points can mean the difference between dropping a heavy rifle and optic or not. It's something to be aware of when shopping for a rifle case.
The other bag I really like is the Range Ready Trainer Bag. While it is designed for the range, it could also be your bug-out bag, or your family gear bag for whatever sport you compete in. The compartments and the versatility are awesome. It does come with elastic loops in the front for holding magazines. But I could see sunscreen, goggles, and other sporting gear working just as well in those loops. You have enough room for snacks and your water bottle too! Several zipper compartments and smaller pockets in the end pouch give you space for whatever small items you might want to separate from the main compartment.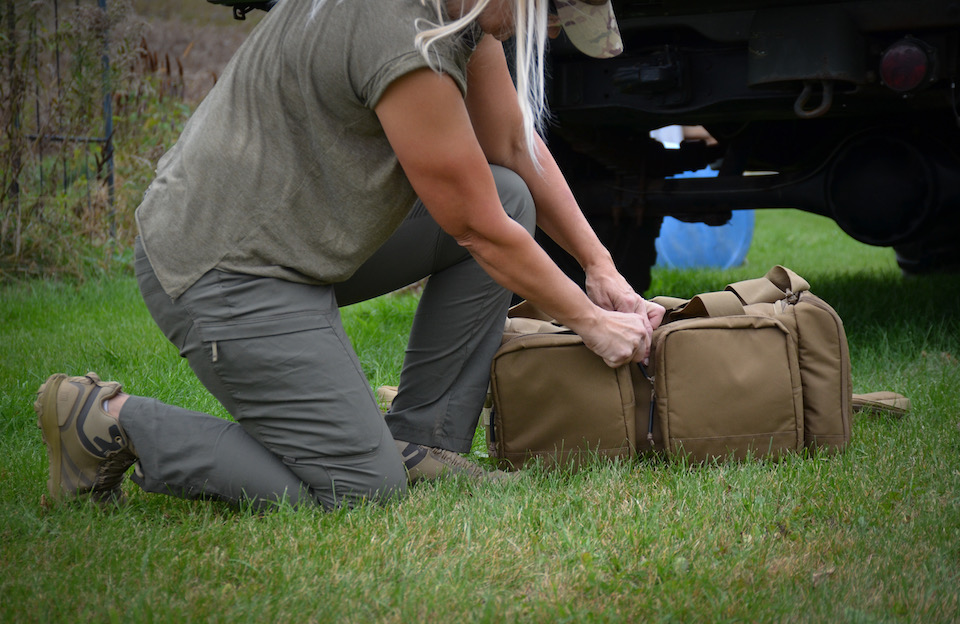 One facet that I found an issue was the way the lid unzips. It requires the user to zip it shut in order to carry the bag. Helpful, since you can't walk off with your bag open, but I kept trying to do just that at a pistol match because I was hurrying from one bay to another between stages. This makes it a bag much more suited to a day of being in one place for extended periods of time. This bag could even fit a chronograph or other gear that requires a roomy, padded bag that would allow you to store it and any accessories in one place.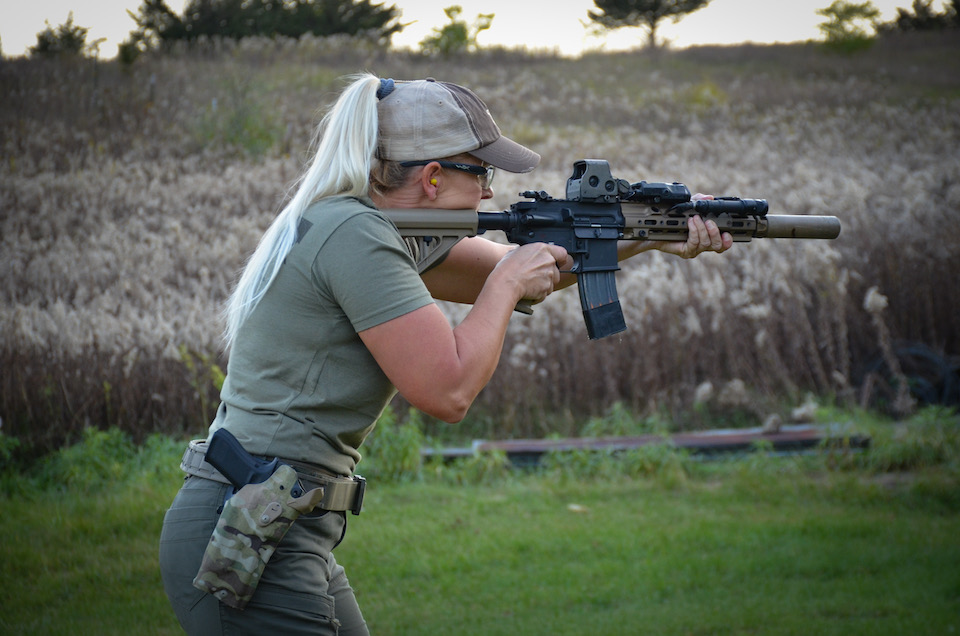 Evolving Needs
One of my favorite parts of the 5.11 brand is that it's ever evolving – just like women and mothers whose needs change. Having a bag or clothing that's great for every day, but really useful if we have to pick up and go, or stop what we are doing and take care of others, can make the difference in our day. Being prepared isn't about giant, extravagant steps; it's really about all the little things you do to make sure that when you need something, you're ready.
Now's the perfect time to purchase 5.11 Tactical bags and apparel. Visit the website and go shopping today.
About Becky Yackley

Becky Yackley primarily competes in 3 Gun, USPSA, Bianchi pistol, but has competed in shooting since 1989 in disciplines from service-rifle, to NCAA Air Rifle and Smallbore, air pistol and a little bit of long range rifle. She shoots guns and cameras at competitions around the country, and writes in her fictional spare time. Her writing can be found here The WON in her column titled "Not a Soccer Mom" and sponsored by Jagemann Sporting Group, as well as Guns America and Gun World. View all posts by Becky Yackley →
The Conversation