Franchi Momentum Elite Tip: Will Rattling Bring in the Buck?
Opening day for deer season in the southern part of South Carolina fell on August 15, with a restriction of bucks only. Hunters have many different methods of drawing in deer: corn, smelly baits, grunt calls and doe bleats, deer urine and rattling. I've tried a few methods, but I've never rattled and honestly hadn't given rattling much thought.
Sponsored by Franchi
With a new rifle in tow – the Franchi Momentum Elite chambered in 6.5 Creedmoor – I added rattling to the mix for the early season hunt. Here's why.
Generally, the early part of deer season is when many hunters harvest bucks; it may be that the deer are off guard and accustomed to making their way to the dinner table during daylight hours, as they did in the off season. That didn't seem to be the case in my neck of the woods. I found myself getting very discouraged, even though I videoed two mature bucks sparring nearby, but not within legal light of shooting times.
After sharing with my husband a video of the bucks sparring, he handed me some antlers he had cut off a deer head and explained, "Rattle them together for about a minute, take a break for a few minutes and do it again. You have to hit them together hard sometimes, and make sure you put them outside the window of the stand … if you don't, it won't sound right."
At the next opportunity when I headed to my stand, this time along with my normal equipment, I had a new piece – those antlers. Having heard and seen the deer sparring, I felt confident that I could mimic them, but would it draw in the bucks?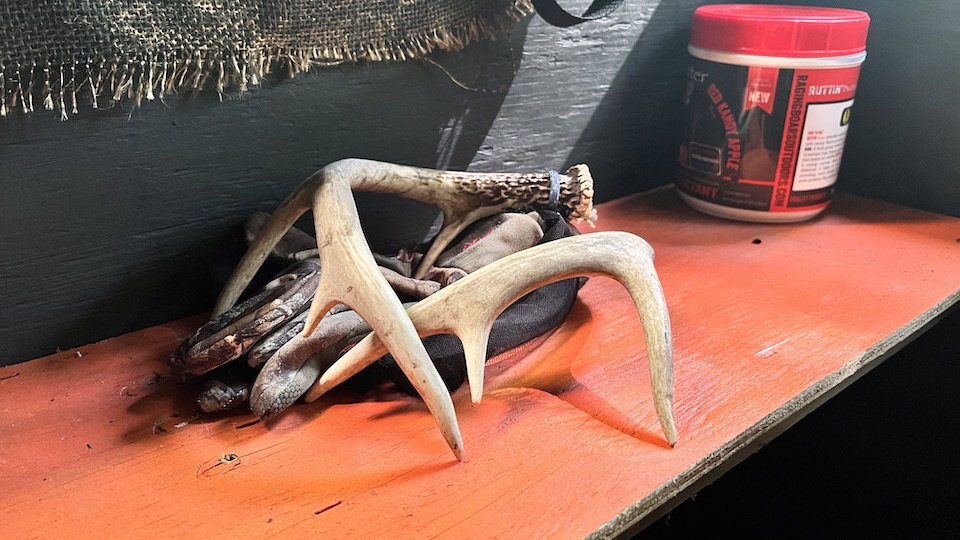 I chose to do what my husband said and started the rattling session. I remembered to rattle the antlers for at least a minute, take a break, then do it again occasionally – hitting them hard. It was only pre-rut so there wasn't a need to get into an all-out brawl, just some friendly punches mixed with some competitive knocks to test the waters before the big show, aka, the full-on rut. And remember to put the antlers outside your stand, it will sound odd inside.
After four spread-out sessions, with the intensity building each time, I decided that was enough. Then when the sun began to fade, I decided to do it one more time in case they weren't close enough to hear the first sessions. I put the antlers down and waited. When I heard leaves crunching and scuffling to the left, it was the first buck of the season and a nice one! He didn't stick around because he quickly assessed the situation and bolted across the path. I looked up and spotted another buck coming toward the corn pile. The rest is history and you can read about it here.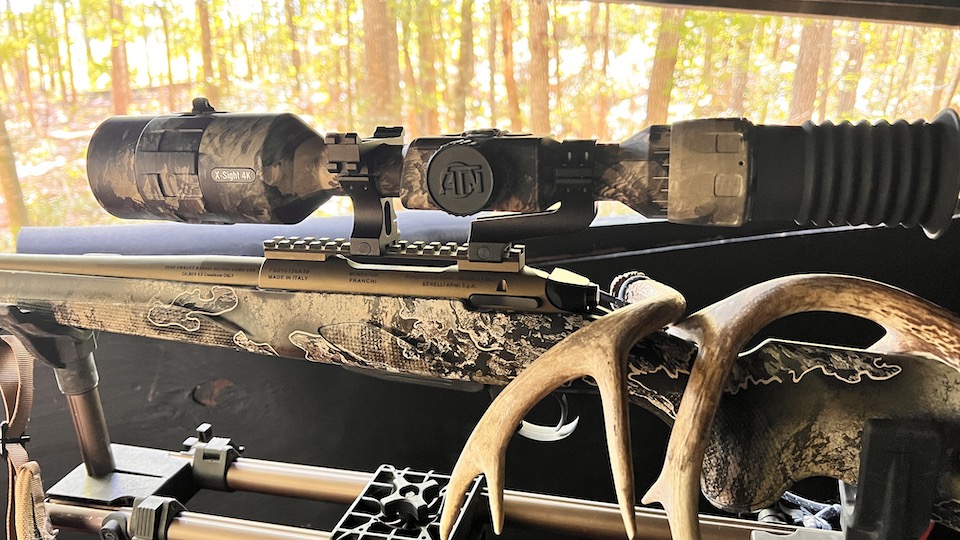 It's obvious to me now – at the appropriate stage of deer season, pre-rut and rut, rattling draws them in! In pre-rut the bucks are sparring, not a full-out brawl, but in the rut, it's time to get serious about the rattling. You can bet I'll add these antlers to my bag of hunting tricks.
See Franchi's excellent lineup of deer hunting rifles.
About Angie Perry

I am a wife and a mother who loves the outdoors, I also review and test airguns and shooting products for various manufacturers. As Airgun Angie, I get to spend a fair amount of time outdoors hunting and shooting! I love what I do, I get the opportunity to test many different types of shooting and hunting gear. My current adventures can be found on https://www.youtube.com/channel/UC764VE4T-i2XihiyISmkJKA You can also follow me on Facebook, @leadlife17 "Airgun Angie." View all posts by Angie Perry →