Early Season Whitetail Hunting with the Franchi Momentum Elite
With 2022's deer season approaching, I faced a significant measure of newness in many ways. With a desire to have a successful season, I began with prayer and then, deer stand placement. I also added a new gun to the mix – the Franchi Momentum Elite, chambered in 6.5 Creedmoor. And, I learned how to rattle antlers.
Sponsored by Franchi
First of all, we moved our stand to a new location, because of logging going on in the old area. My stand, located in South Carolina, is large enough to comfortably sit three people and is quite the job to build. After accomplishing that task, I placed the game camera and put out the corn. The deer had two weeks to get accustomed to this odd new "box tree" that resurrected in a day and a sudden supply of food, seeming to spring up out of the ground. I felt a little unsettled with all this newness and had a huge supply of new doubts crowding my thoughts.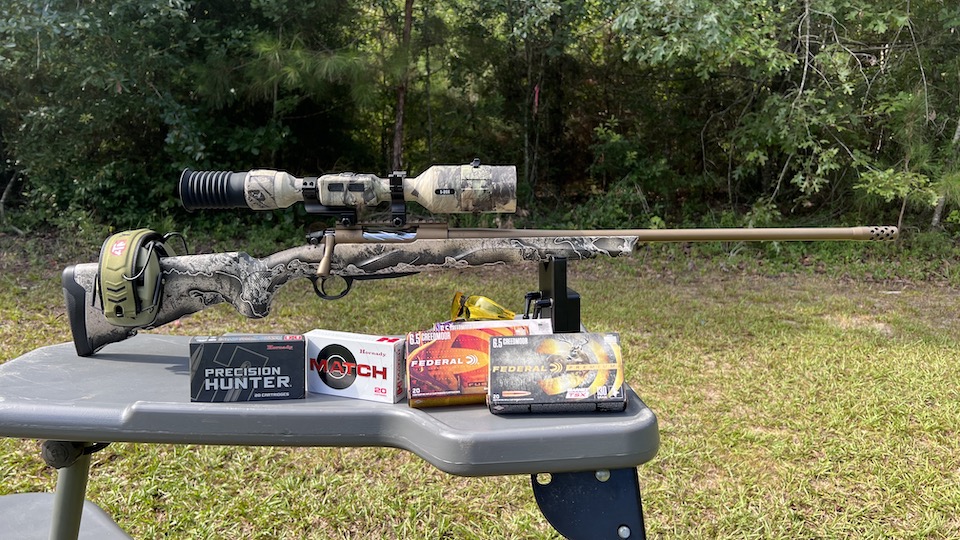 The next "newness" for this season equaled one of the largest components, a new rifle. If you're a hunter, you know how unsettling it can be to change your equipment; it could mean success or failure. I have experience with deer rifles chambered in .270, .308, .30-06 and 7mm Remington Magnum. I have never worked with a 6.5 Creedmoor version. Before I took the Franchi Momentum Elite anywhere, I downloaded its manual from the Franchi website to get to know it so I have a better understanding when I take it to the range. Next, for deer hunting, an optic must complement the rifle, and I chose the ATN X-Sight 4K Pro in Mossy Oak 5-20 (MSRP: $799.99). It's an electronic day/night scope with 4K video recording capabilities, allowing me to record my hunt.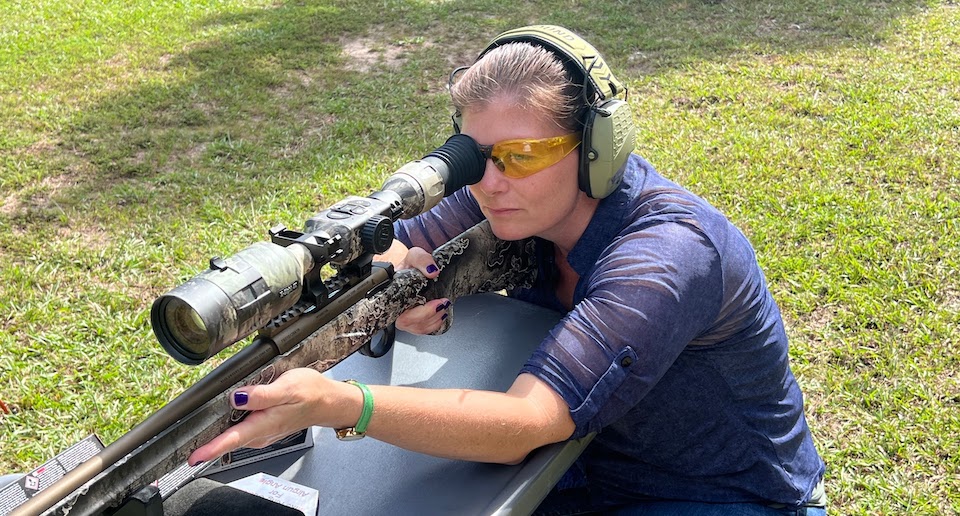 The Franchi Momentum Elite has a lot of great features to make your hunting extremely comfortable and natural, such as the TSA Recoil Pad that reduces the recoil up to 50 percent and its rounded design that snugs perfectly to the shoulder. It has an ergonomic stock that doesn't only just feel right – with a few different options depending on your preference – it looks just right, too! I chose the Real Tree Excape Cerekote pattern, but the rifle also comes in the Elevated Two Pattern and the True Timber Strata Camo. It also comes with a three-shot removable box mag that is extremely easy to insert and eject. I love the bronze barrel and muzzle break, as well as the chrome bolt. It also has a nice, meaty picatinny top optics rail, my favorite kind.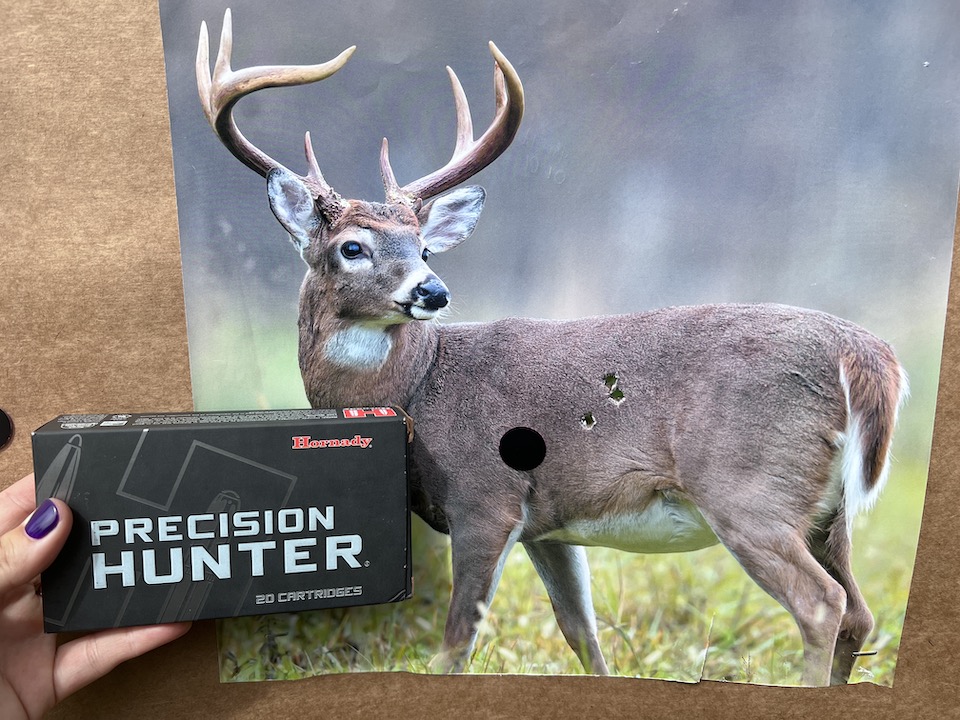 Then, it came time to pack up my gear and the different types of ammo and head to the range. Hornady sent some of its Match Grade (MSRP: $42.99) and Precision Hunter cartridges (MSRP: $46.99). Federal sent some Premium Barnes TSX (MSRP: $61.99), Fusion Bonded Soft Points (MSRP: $48.99) and Non-Typical Whitetail soft points (MSRP $37.99). I took my gear to the range to find out which bullet this Franchi Momentum Elite likes the best. Conclusion: the Hornady Precision Hunter worked the best, with a half-inch, three-shot group at 50 yards.

The Hunt that Wouldn't Quit
Before heading into the woods, I attached my EZ Shoot Two Point Padded Rifle Sling (MSRP: $13.95). For the next three weeks, I went to stand whenever I could go. I didn't see a thing. It seems like a short period time when I say it now, but the continuous experience of coming home empty-handed, with no story to tell, except of how I saw another squirrel take an entire corn cob up a tree again, it seemed a lot longer.
One morning, I saw a nice buck cross the road coming from my stand at 7 a.m.; that's legal shooting time with plenty of light. I felt so excited I could hardly contain myself. I decided to spend the night in the stand because I didn't want to spook the deer sneaking in early in the morning. The night dragged on, and I succumbed to sleep. I woke up to the sound of antlers clanking together. I looked through the ATN Odin LT (MSRP: $1,299), which is a handy-dandy, pocket-sized thermal monocular to see two bucks sparring on the corn pile. I couldn't see the antlers in the thermal, so I traded out for the ATN 4K Binox (MSRP: $899.00) to watch and record this amazing experience. As the darkness fled, so did the deer. I waited a while longer hoping for their return; it seemed they made their way to bed down and I needed to, as well. Tired, yet excited, I called the hunt, and after getting some rest I looked forward to the next opportunity to sit.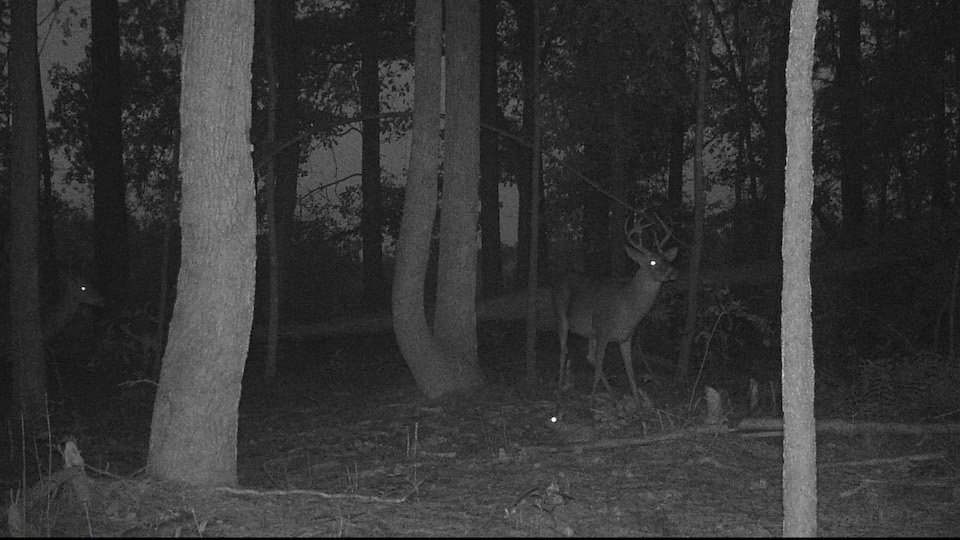 The next morning, I got in the stand at 4:30 a.m. Immediately after settling in, I decided to use the thermal monocular for a quick scan and much, much, much to my surprise, behind the felled tree, the same eight-points prepared to spar again. I watched intensely, hoping to learn about some of my favorite species to hunt. Before daylight, I heard the bucks sparring again to my left in a thick brushy corner, and then silence. Again, just as before, as the light shown through the trees and I was able to see when I changed my setting on scope to night vision mode, until the sun made its full appearance, the deer were nowhere to be seen. As I sat, I said, "Lord, it would be super cool to hear those antlers crashing together again, but only if they're coming back." At about 7:30 a.m., not even 10 minutes later, that's exactly what I heard in the same place as the last one. I took it as an answer to my request.
However, I had to get out the stand no later than 8 a.m. and by 7:55 a.m., I became very discouraged and began questioning if there was something I did wrong. Hunting gives ample opportunity for a whole lot of thinking time. Five minutes later, I called the hunt off for the day and left the stand wondering if I'd ever see a buck during daylight hours on my stand.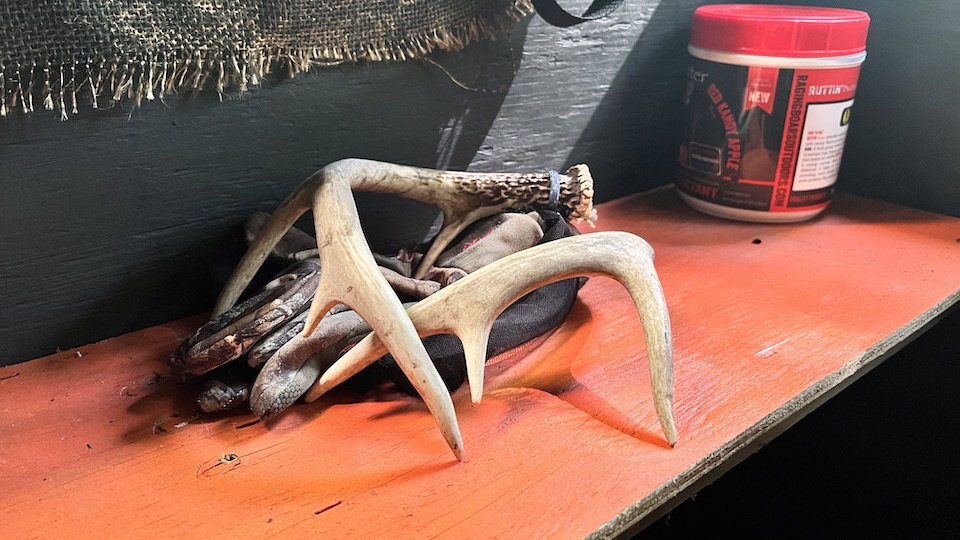 I told my husband what happened and he gave me a set of antlers to rattle. He said it would cause the bucks to get curious and come in early. My husband told me to rattle the antlers for at least a minute, take a break, then do it again – occasionally hitting them hard. It was only pre-rut, so no need to get into an all-out brawl, just some friendly punches mixed with some competitive smacks.
Later, I walked into the woods, climbed into the stand and performed the usual tasks; I settled in for about 30 minutes before I began my first-ever rattling session. I completed four rattling sessions before I decided to wait and see what happened. I waited about 45 minutes, and as the sun began to drop, I decided I would rattle one more time. The light was fleeing, and so was my hope, though not completely. As I began to come to grips that this might not be the day either, I heard leaves scuffling around off to my left. I looked up, it was an eight-point at the edge of the woods, 25 yards from my stand. He took a quick inspection and bolted across the path. When I looked up to the corn pile, I saw the silhouette of another buck – another eight-point! As the light faded, my heart pounded, and the buck meandered to the corn pile. He picked the perfect place at the table to eat, with his body, from his front shoulder back, perfectly behind a tree, keeping me from the perfect shot placement. I watched him in the scope for nearly four minutes until he positioned himself perfectly. I placed the crosshairs on the front shoulder and squeezed the trigger. Because the ATN being an electronic scope, the recoil of the gun causes the scope to briefly blackout, only a couple seconds, but long enough to lose sight of the game. As soon as I could see again, my heart sank, I looked for kicking legs, the chest of a deer raising up and down taking his last breath, the entire body of the deer lying still or trying to get up and go, but I saw nothing. My first question, "Did I miss?" I texted my husband, "I shot a buck. Bring a trail dog."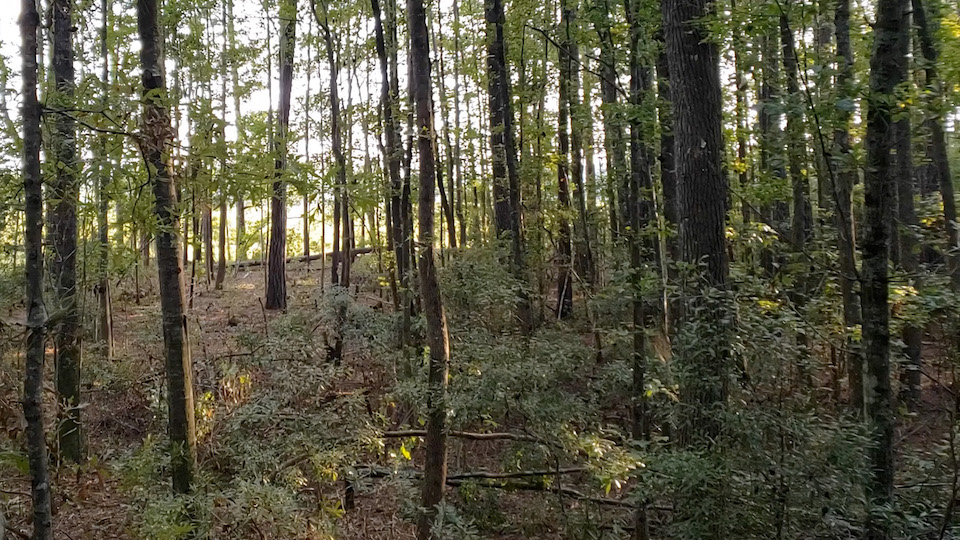 My husband made his way to me with our trail dog, Lucky, collared up and we let him go. Lucky quickly picked up the scent and off he went: 80 yards, 100, 200, 300. With every hundred yards Lucky traveled and every bark of excitement, telling us, "Here he is, here he is!" my heart sank. We called Lucky back and made our way back home.
Then came the battle in my mind: Did I wound him and leave him suffering? Did I completely miss? Did Lucky get on the right deer? Will I ever know? My husband asked, "Are you going to look at the video?" I said solemnly, "What video?" He replied, "The one from your scope!"
Without a word, I did just that. I went to my husband and said, "Babe! Lucky was on the wrong deer! Lucky went to the right, on that other buck, the one I shot went to the left!" Without hesitation, we loaded up our other dog, Fred, a Treeing Walker hound and headed out again. Fred started at the corn pile and veered left. He circled that area for a bit and made his way into the cutdown. About 35 yards from the corn pile, he entered into a tall patch of grass that looked like the middle was mashed down. While Fred searched, I could only see the top of his back and his tail; he didn't make a peep, he only wagged his tail a few times, made a circle and came back out. I looked at my husband, "You'd think if the deer were down, Fred would say something right? It's a little odd for him to go in there and wag his tail and come back out." My husband walked in there and said, "There's the deer, he's down! It's a nice one, Babe! Good job!"
Well, what did I do? I began to praise and thank the Lord (and my husband). And then, we set up the official photo featuring the Franchi Momentum Elite, the deer and me.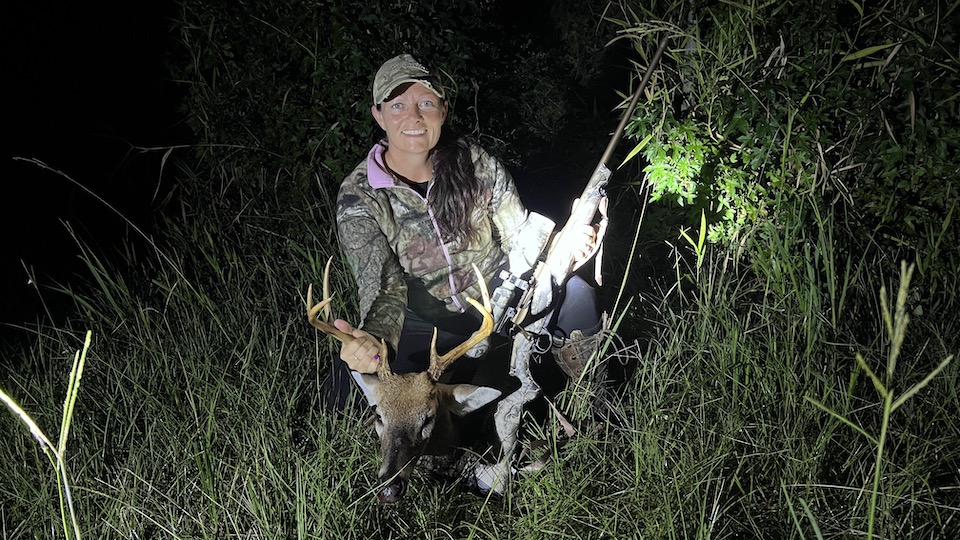 I began this adventure with hesitation and fear, fear of the "new." A new rifle, a new stand and a new skill. I was confident in the Momentum Elite's accuracy, before entering into this adventure and now I am confident in the rifle's stopping power. For those of you who prefer different calibers, this one is also available to be chambered in .308 Winchester, .300 Win Mag, .350 Legend, 6.5 PRC, as well as what I have here, the 6.5 Creedmoor. The different calibers will produce different levels of recoil and with the 6.5 producing what I have found to be, the least amount of recoil and an absolute pleasure to shoot!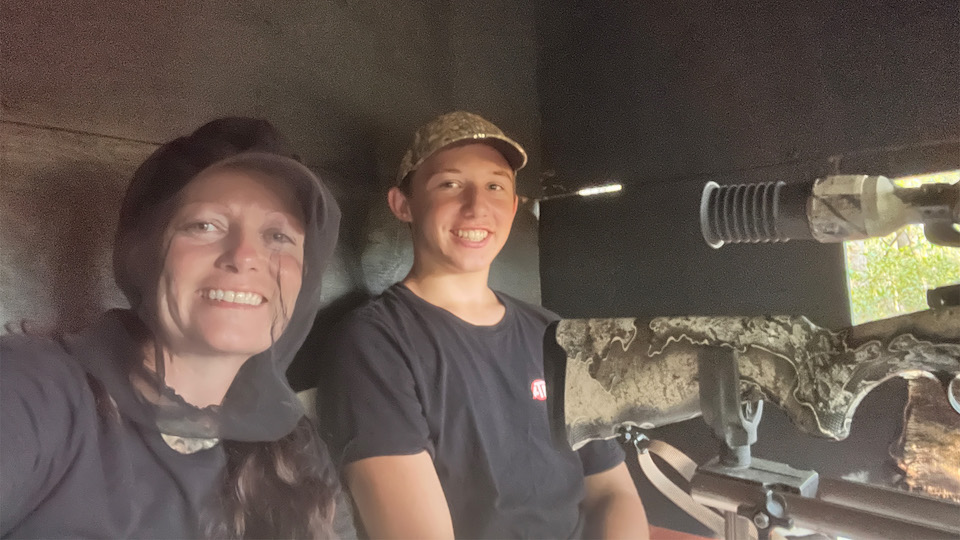 There's another adventure awaiting for this Franchi Momentum Elite, because I've had such a wonderful experience. In fact, I can't wait to go again! This time, I'm taking a friend who's never harvested anything larger than a squirrel. This rifle is a perfect one for him to tag his first whitetail.
Visit Franchi to learn more about its selection of deer rifles.
About Angie Perry

I am a wife and a mother who loves the outdoors, I also review and test airguns and shooting products for various manufacturers. As Airgun Angie, I get to spend a fair amount of time outdoors hunting and shooting! I love what I do, I get the opportunity to test many different types of shooting and hunting gear. My current adventures can be found on https://www.youtube.com/channel/UC764VE4T-i2XihiyISmkJKA You can also follow me on Facebook, @leadlife17 "Airgun Angie." View all posts by Angie Perry →
The Conversation