The Taurus GX4XL – A Pleasure to Carry and to Shoot
I've been hearing a lot of good things about the Taurus GX4XL and so I wanted my chance to check it out as an option for concealed carry. I received it and started carrying it in the Crossbreed Modular Belly Band 2.0. I chose this method because my body style doesn't really allow for well-concealed carry basically anywhere around my hips. With the belly band, I can wear it a little higher around my ribs, a better concealment spot for me, and it's just more comfortable for me.

Sponsored by Taurus
Specifications
The specs according to Taurus are a stainless steel frame and barrel, alloy steel slide, matte stainless finish and gas nitride slide finish. The GX4XL has 11 and 13-round magazine options, two backstrap options, as well as a flat-face serrated target trigger. The barrel length is 3.71 inches, width is 1.08 inches, overall length is 6.43 inches and overall height is 4.40 inches. It weighs 20 ounces, unloaded. The magazine release is reversible as well.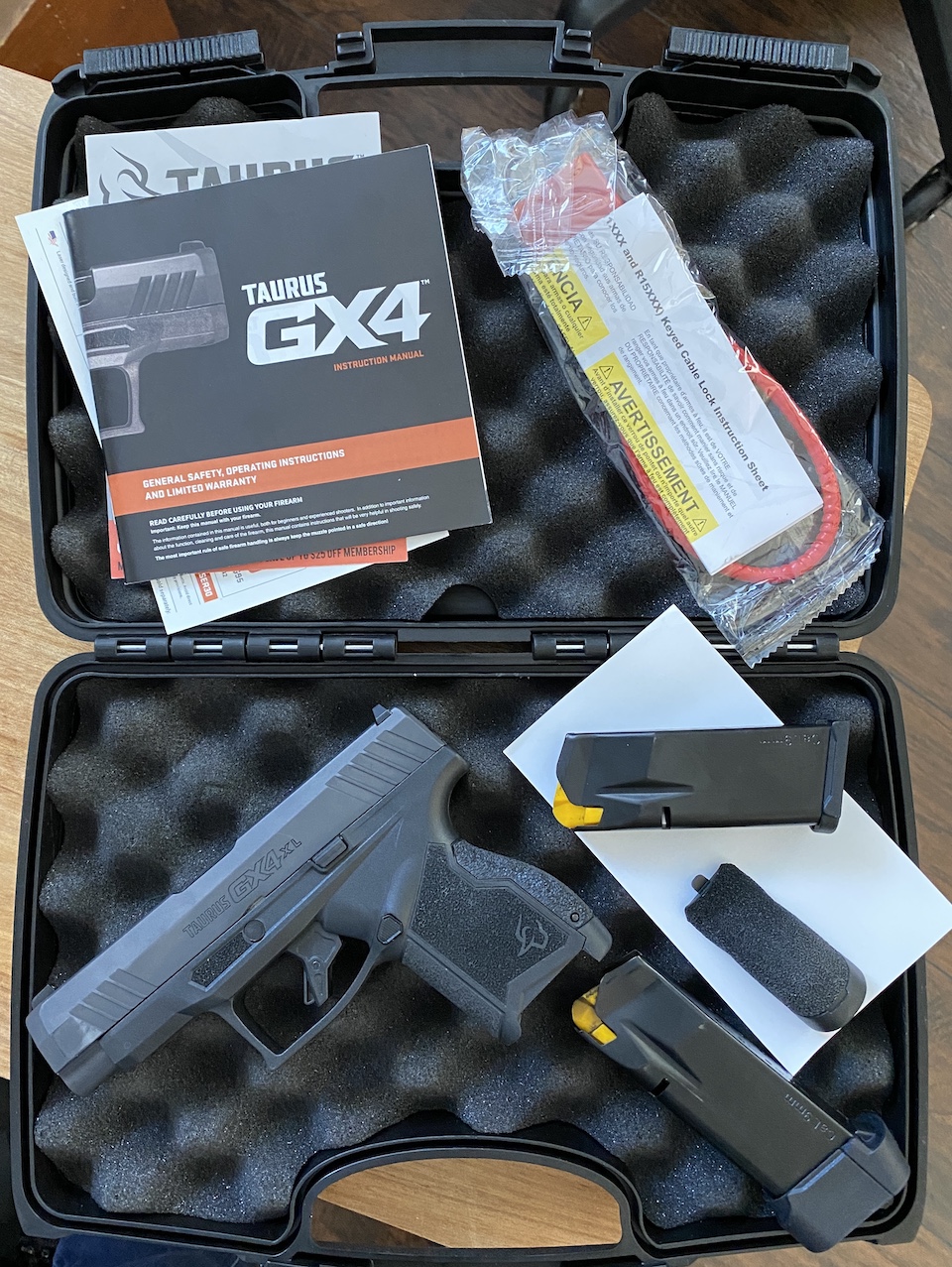 Interchangeable Grips
Knowing that the GX4XL comes with interchangeable grips, that's the first thing I wanted to check out. The larger grip felt fine, but I went ahead and changed to the smaller grip for comparison, and I found I did prefer the smaller one. Interchangeable grips are a very important feature for me – since I have such small hands.
I would have preferred the provided booklet contained instructions on how to change the grips as I like all directions in one place, but it was also easy to find the information online.
Both grips have a nice texture to keep better hand contact, but they also aren't overly rough as some can be.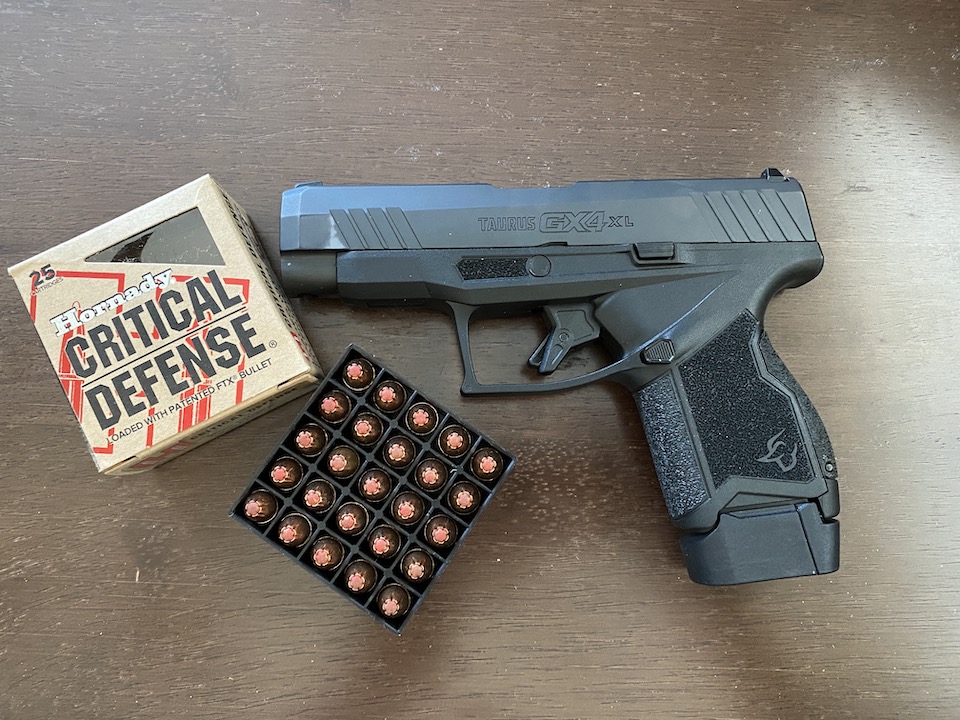 Accuracy
I took the Taurus to my local indoor range to try it out. I admit I'm getting quite spoiled having a temperature-controlled place to shoot in complete comfort. I shot the gun while standing at 21 feet without any kind of brace or rest. I knew my groups wouldn't be spectacular shooting freestyle, but I wanted to see what I could do at that distance if I needed to defend myself.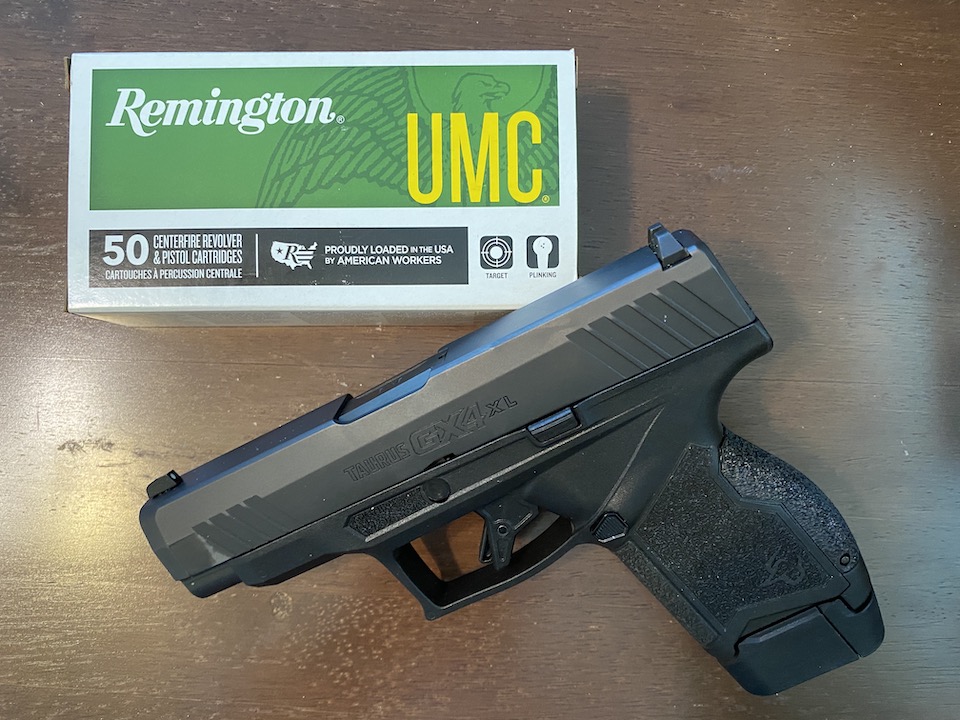 I tried three different boxes of ammunition and obtained the following results:
Remington UMC – 115 gr full metal jacket: largest group – 3.25; smallest group – 1.5; average 2.58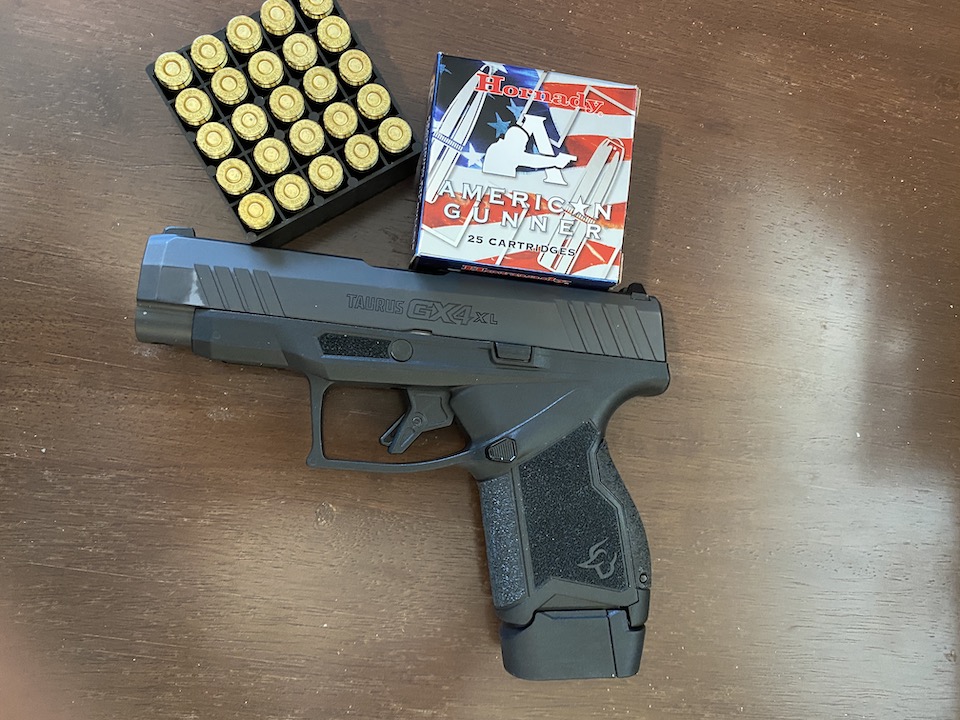 Hornady American Gunner – 115 gr XTP, 1155fps – largest group – 5; smallest group – 3.75; average – 4.25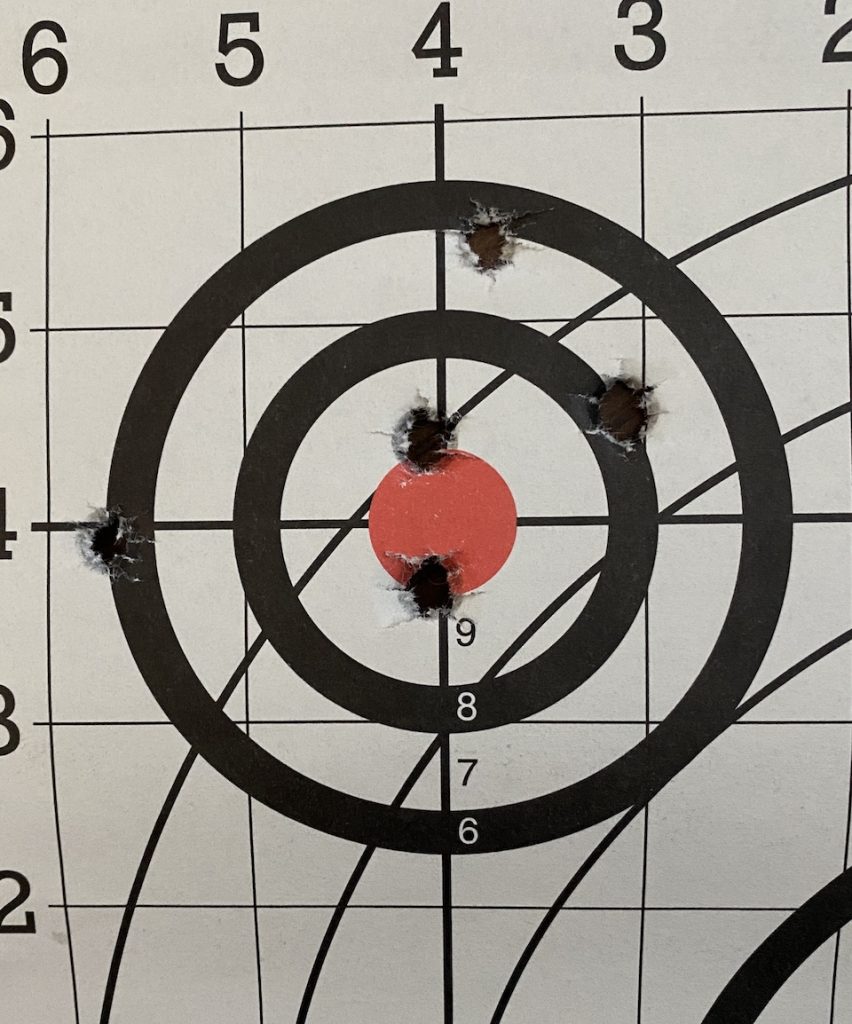 Hornady Critical Defense – 115 gr FTX, 1135fps – largest group – 3.5; smallest group – 2.5; average – 2.92
I had no malfunctions with any of the ammunition. However, as I was warming up, the front sight flipped sideways. Shooting at an indoor range has many advantages and this one also has a gunsmith on staff, so I ran the gun out to him, and he quickly had the sight back in place and I was back in action. Note: This gun is the same one that the publisher put several hundred rounds through (see review here) before having it shipped to me in Texas.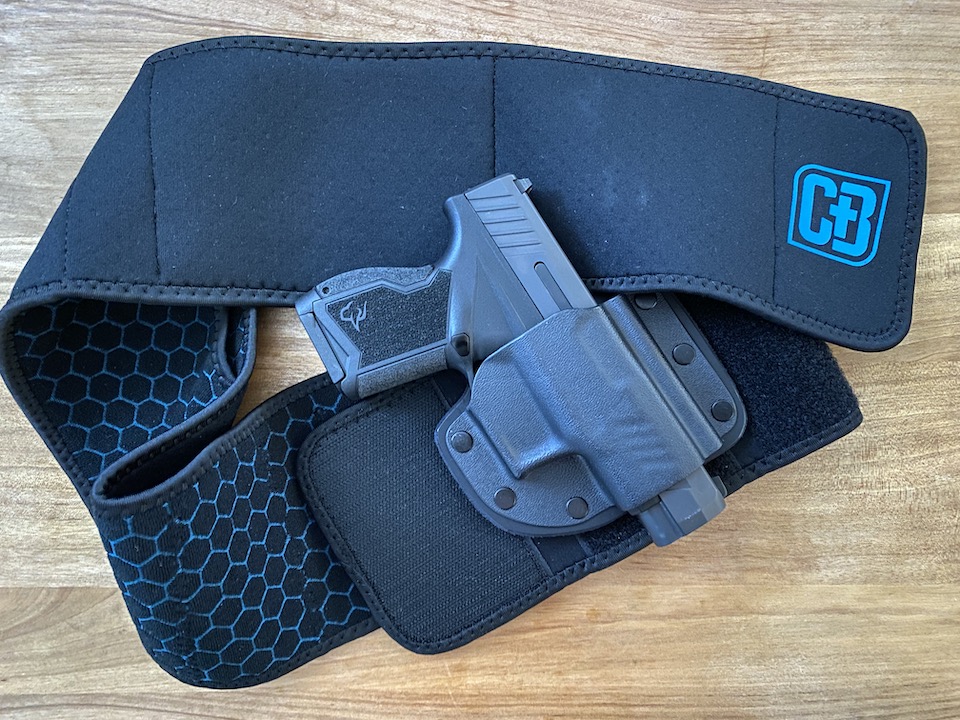 Comfort of Shooting
Several years ago, I rented a variety of single stack 9mm handguns to compare. I thought I knew which one I would get based on size, but I just wanted to try them out to be sure. But I changed my mind. It was easy to rule out which ones I didn't like because they were snappy and painful to shoot. Even if a gun feels like it's a good size to carry, if it hurts to shoot it you won't want to practice and become proficient with it.
I'm very happy to say that the recoil of the Taurus GX4XL is very manageable and doesn't hurt my hand at all. I put a lot of rounds through it because it is just so comfortable and so much fun to shoot.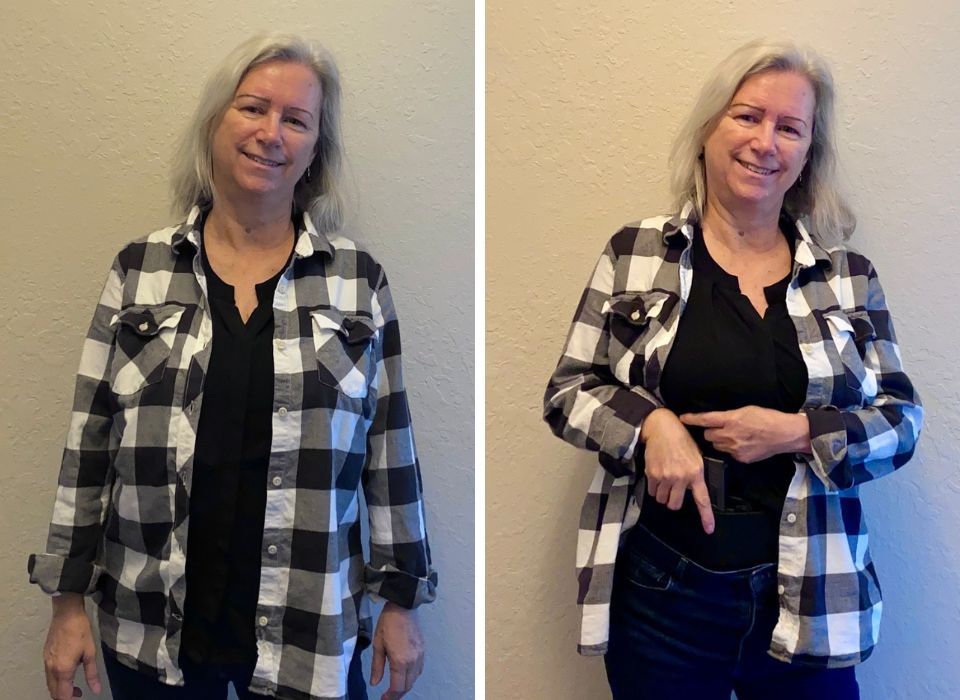 Final Thoughts on the Taurus GX4XL
Overall, I am very impressed with this gun. It really is as good as all the others say. The feel of the grip, the ability to change the size of the grip, the lower recoil than expected, the accuracy of the gun and the affordable price make it an excellent choice for a carry gun.
MSRP $429
Learn more about the Taurus GX4XL.
About Nancy Keaton

Nancy Keaton is a retired college administrator, president of her local gun club, competitive shooter and freelance writer whose work has appeared in A Girl and A Gun Women's Shooting League, "American Shooting Journal," "American Concealed," "Northwest Meetings + Events," and other publications. She enjoys writing about a wide variety of topics and interviewing ordinary people doing amazing things. To see a compilation of her writing, check out https://nancykeaton.contently.com. View all posts by Nancy Keaton →