Interview with 'Wicked Tuna' Captain Michelle Bancewicz
The 12th season of National Geographic's series "Wicked Tuna" starts with splash, as the first-ever female tuna boat captain appears on the show. Captain Michelle Bancewicz, along with her first mate, Lea Pinaud, take Michelle's boat, "No Limits," on the water to compete with fellows in the fishing industry. Michelle is no stranger to the world of tuna fishing, though. In fact, you may have heard about or seen her video of when she hauled aboard – solo – a 643-pound bluefin tuna.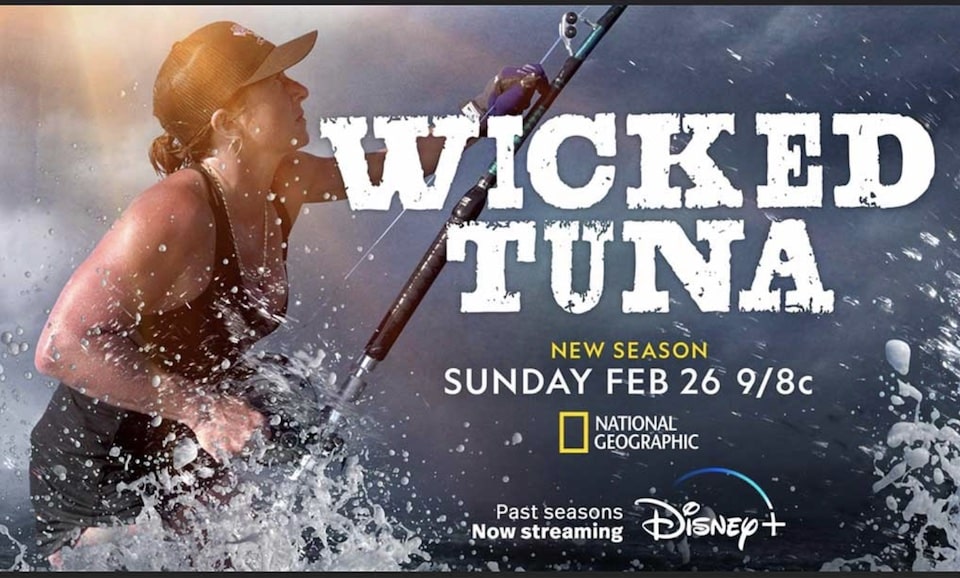 Find out more about Michelle Bancewicz, the show and what the future holds.
You say you grew up fishing? Please describe that for us.
My dad was a recreational fisherman. We had a small boat, a 28-foot Carver. It was a few miles away from our house. We would pack up for the weekend, and in the summer, we would spend a lot of time on the boat. I have one brother, who is 14 months older than me. During the morning, we'd go running up the street to the great charter head boats, work there for the day and then run back. That was during my teenage years. I was in the galley, because that's where they put the girls. I'd go up on the deck, and they'd say, 'Get back in the galley!' I'd cook food and sell snacks. I couldn't get out and work the deck.
How'd you get on deck?
I didn't until 2014 when I decided I wanted to go back and work on the head boats, and I started working as a deck hand. As a teenager, I worked for two different companies in the gallies, and some of them allowed to work on the deck sometimes.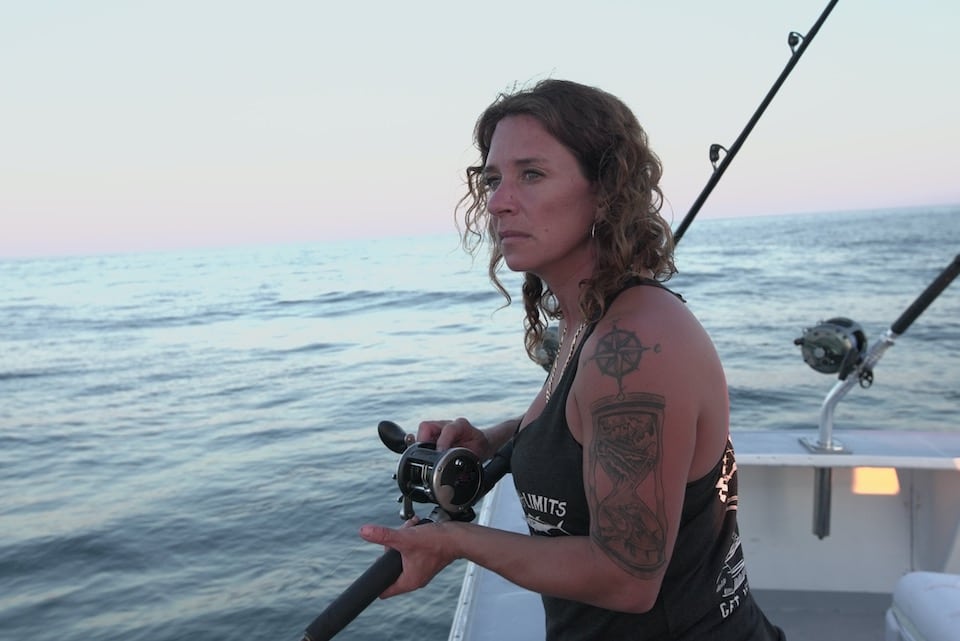 What experiences did you have before you bought your boat?
In 2014, my children were in school and I decided I was going to go back on the water. I love the water and I missed it. I got my captain's license and started working on the charter head boats. In late 2015, a friend who was a captain on one of the head boats asked me to go tuna fishing with him. We went out, we got one and I was fascinated with them. In 2016, I would fish on as many different boats as I could just to learn anything I could. Off-season, I would go to fishing seminars – a lot of times by myself. There were no girls there, except maybe girls with their boyfriends. I'd go there and sit in a big roomful of guys. Eventually, the local captains and I would go in a group, but the first few years were tough. In 2017, I started taking a friend's boat because he wasn't using it, and I started bringing in fish as a captain. In 2019, I finally was able to get my own boat, which was the same make and model of the boat I was already driving. It's a 31 BHM.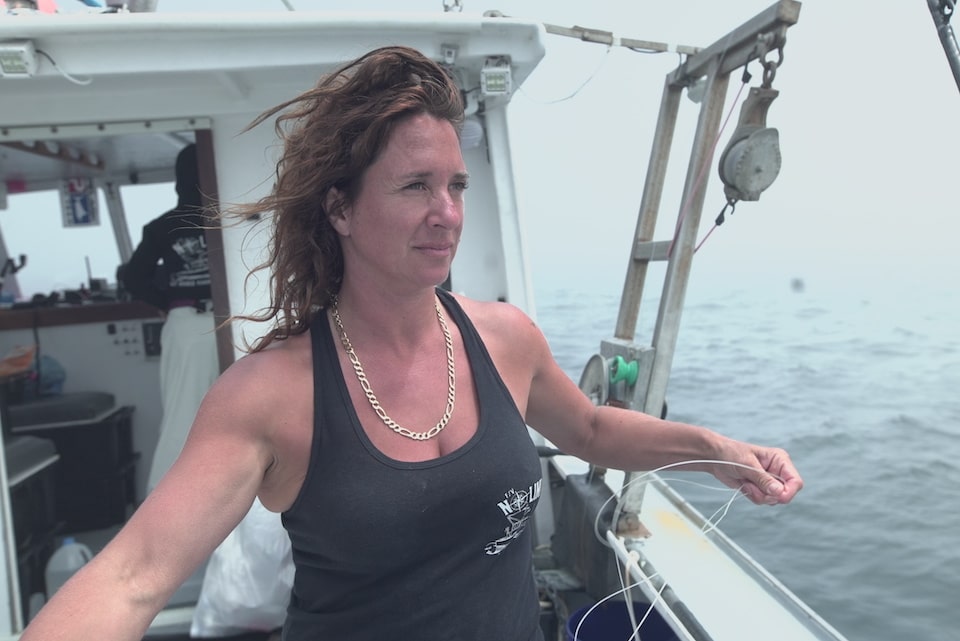 You are a captain, and that's rare for a woman in this field. What do you have to do to qualify?
Back in 2014, I'd keep taking my brother's boat and he said, 'Michelle, if you're going to keep taking this boat, you're going to need to take your safety course!' My brother and my father both have their captains' licenses. So I thought, 'I'm going to do that – get my captain's license.' It was more for bragging rights, because my dad and my brother had it. Did I ever think I'd be where I am now? Probably not.
There are different qualifications. You need a specific amount of sea time – just like any other thing. It's sea time and tests and you have to go through a lot of paperwork. Being a captain – there's so much more to that: you really have to know your boat. That's something you don't learn in class. When I went into boat ownership, I didn't know anything about electrical, plumbing, mechanical. Throughout these past few years, I've learned basically every square foot of my boat – underfoot and on top. You have to be able to swap things out, especially if you're out there by yourself. You have to be able to troubleshoot that and do something. That was challenging … and it still is. I love to learn, but with the proper support from specific people, I'd be lost.
Your daughters? Are they interested in the family business?
They have very little interest … it kills me. They show it here and there. They support me and they're super proud of me. I would love for them to hop on the train here!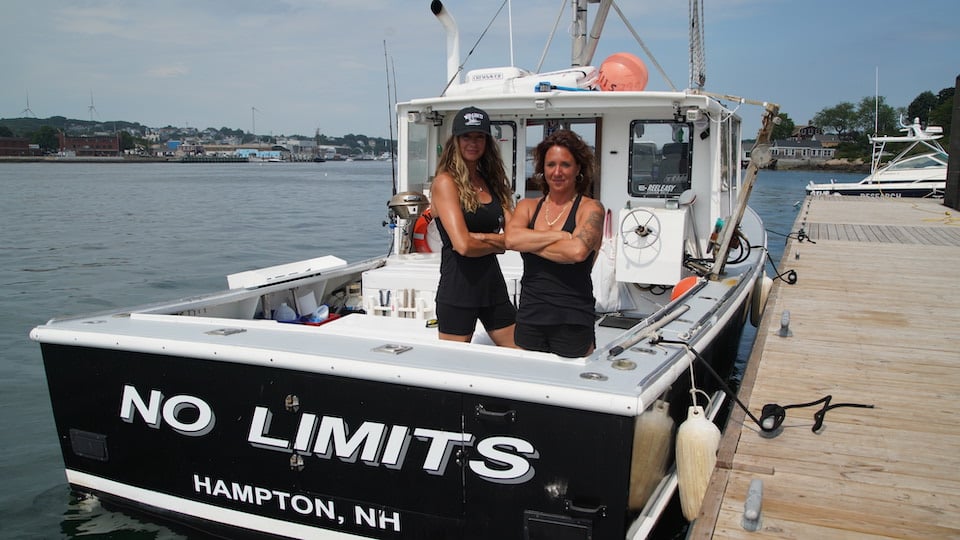 Your first mate, Lea Pinaud. What's her background before working with you?
Lea and I do what we do for our children. She has one son and I have two daughters. We're similar in a lot of ways; we have a lot of the same stuff in our lives going on – on land. We're both going through divorces, after 20-year relationships. She grew up recreational fishing with her father, mainly striper fishing. She loves fishing. She was a huge "Wicked Tuna" fan. She'd go to their question-and-answer appearances. I didn't know her at this point. I watched it a little bit. For the most part, I don't watch a lot of TV. Lea worked at a gym, and my husband (at the time) worked out there and it was a Sunday night and she was trying to clear out the gym, and said, 'I gotta get home and watch "Wicked Tuna!"'
He said, 'Wait a minute! You gotta meet my wife. She's looking for an all-girl crew and you gotta meet her!" So we met and on our first trip, we fought a fish for about an hour and it broke off. On our second trip – that's a trip I'll never forget – it was my longest fight. It was 32 hours. We hooked up at about 11:30 a.m. one day and tail wrapped it around 4 a.m. the next day. This fish – we could not get this fish to the boat. The more time that went on, we thought, 'You can't give up now!' It was brutal. It was sunny, it was beautiful, it was rough, we went north, we went south, we had the Coast Guard out looking for us as a missing vessel. It was the most crazy trip I've been on. Neither one of us slept. We fought that fish. One would drive the boat and one would fight the fish. We got it, but did we get it on the boat? No. We were so exhausted and we didn't have an anchor. The seas picked up and a storm rolled in. I could barely keep my eyes open. I was so weak that I couldn't pull that fish up on the boat. I couldn't even keep my eyes open. Lea looked at me and said, 'What are we doing? Is this worth our lives?' We cut it.
Lea's worked on a couple other boats, just like I did. She went from 2019 being a hard-core "Wicked Tuna" fan to being on the show!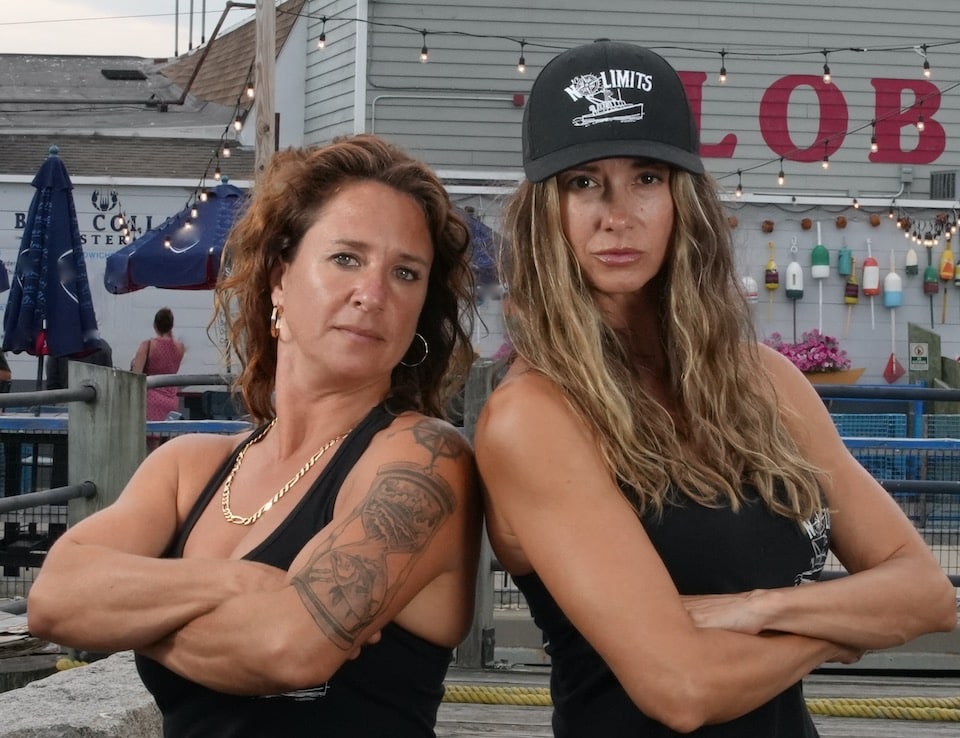 How many hours were you out that day that you caught the 360-pound tuna?
We usually go out the night before … we want to be ready when the sun comes up. We don't want to waste any time.
Is your fish fight, at 11 ½ hours, the longest one in the history of the show?
No. I heard that the longest fish fight was back in season 6 and Pinwheel fought a fish for 12 hours and 9 minutes.
How many days a week on average do you fish?
Four. It's open during season – June 1 till around December – Sundays, Mondays, Wednesdays and Thursdays. Your day off isn't a day off! That's when you have to get everything else done.
How do you stay in shape to do this job, or is the job enough to stay in shape?
I'm not someone that really likes the gym at all. During the season, the job is enough to keep me in shape. On really rough days, you get a full body workout just by walking. At this point in the season, I should be going to the gym. It's hard work. You're hauling anchor. You can't stop and let it go.
You said, "I worked hard to get where I am." Any credits, other than to your dad, to anyone along the way?
There are so many people who have helped me to get where I am today:
My parents and sister-in-law – for helping me out with my daughters.
Derek – who introduced me to tuna fishing in 2015.
Dozens of captains that I fished with, who were happy to teach me whatever they could.
My best friend, my mechanic, and without him I'd be completely lost. He's taught me everything, and sometimes, he fishes near me and he'll just jump over on my boat. Right now, I'm having a rebuild on my motor, and he's taking control of that whole project for me. Without him, I couldn't do it.
My children – for supporting and believing in me and knowing their mom is out there on the water, fearless, night after night.
You said, "I definitely don't want to be the 'girl boat' that comes in last."
It's just even coming into the fleet into Gloucester. I don't want to be the 'girl boat' on the show because we're girls. You obviously saw the video of my solo catch; that earned me some respect. I think things happen for a reason – and you can't take that away.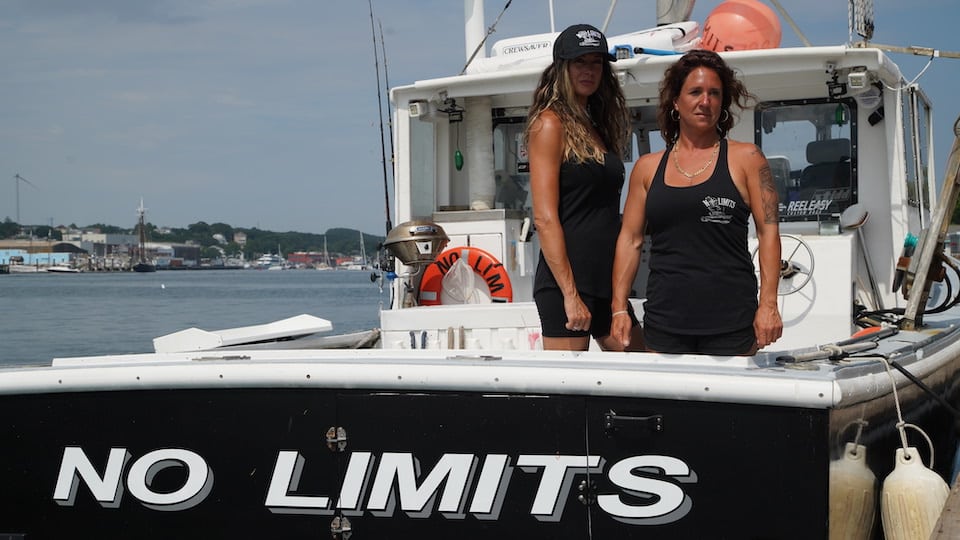 Anything else?
As a matter of fact, the whole fleet has been amazing. I didn't know what to expect … I didn't know whether I'd be accepted. A lot of people know who I was because there are no other women around in this industry … Dave Marciano ("Hard Merchandise" captain) has helped us out and he even dropped us off a box of everything we'd really need. He stepped up and that meant a lot to Lea and me.
Do you sell logo merchandise?
I have a website where people can buy merchandise, and soon we'll be booking charters.
"Wicked Tuna" premieres Sunday, February 26, at 9/8c on National Geographic. Past seasons are available on Disney+.
Visit FV No Limits online. Michelle Bancewicz will be offering tuna and haddock charters, as well.
About Barbara Baird

Publisher/Editor Barbara Baird is a freelance writer in hunting, shooting and outdoor markets. Her bylines are found at several top hunting and shooting publications. She also is a travel writer, and you can follow her at https://www.ozarkian.com. View all posts by Barbara Baird →