Crossbow Setup and Practice: CenterPoint Sniper Elite 385
When whitetail season has come to an unwanted close, it's time to put your guns, bows, spears and knives away, and stay coddled in your camouflage snuggie, rocking back and forth until opening day shows up again. That's ridiculous! Whether you're a seasoned hunter or shooter or you are trying something new, it's the perfect opportunity to get shooting practice. This next whitetail season, beginning in August 2023, I am hoping to take my CenterPoint Sniper Elite 385 Crossbow (MSRP $314.99) to the field and tell of a bountifully successful hunt. Before I chose the Sniper Elite, I did my research. I asked this question: Does it produce enough energy to make an ethical kill shot? With 385 feet per second and 131.5-foot pounds of energy, the answer is yes!
To tell you the truth, archery is new to me. I am accustomed to hunting with firearms and big bore airguns, so a crossbow is nearest those things I'm accustomed to in the wide world of archery. It is similar in some ways, but also very different. For so many years, I have been intimidated by archery, I'm pushing past the intimidation and am ready to give crossbow hunting a try! Here's to practicing for the sake of a deer ham!
I get to make a couple decisions before I get started. What optic do I want to hunt with? I have the included 4X32 archery optic or my favorite for hunting, the ATN X-Sight 4K Pro (MSRP $799). The best way to make my decision is to take it to the range and pull the trigger.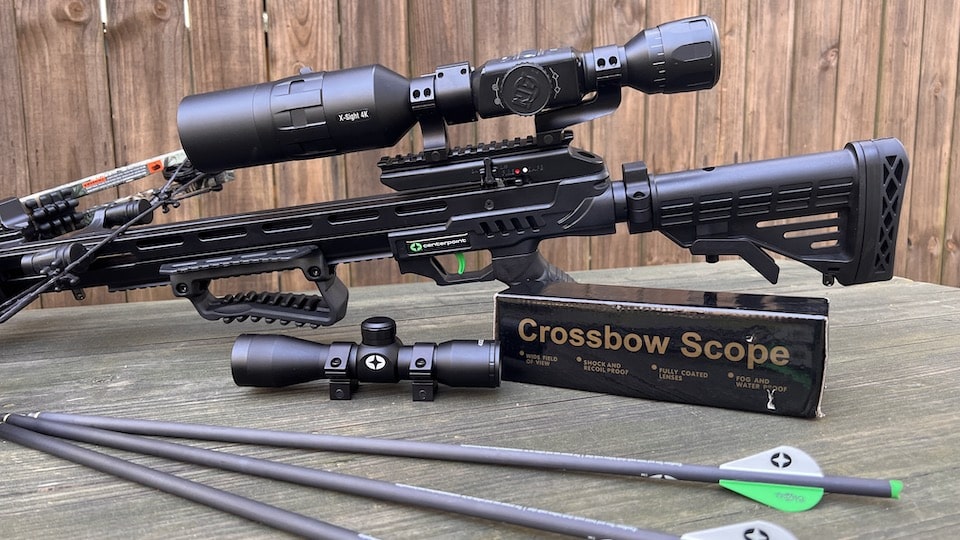 After removing my Crossbow from the hard Plano Manta Hard Crossbow Case (MSRP $144.99), I chose to kick things off with my favorite, the ATN optic. Before I take any shots, I need to decide which arrows shoot best. My options are the included CenterPoint 20 inch 400 Grain Crossbow Arrows (MSRP $79.99) with lighted green nocks or the CenterPoint 20 inch 400 Grain Carbon Crossbow Arrows (MSRP $59.99). These arrows are nearly the same, I may have to make a choice by color, the only way to find out which one gives the best performance is by loading them up and letting them fly.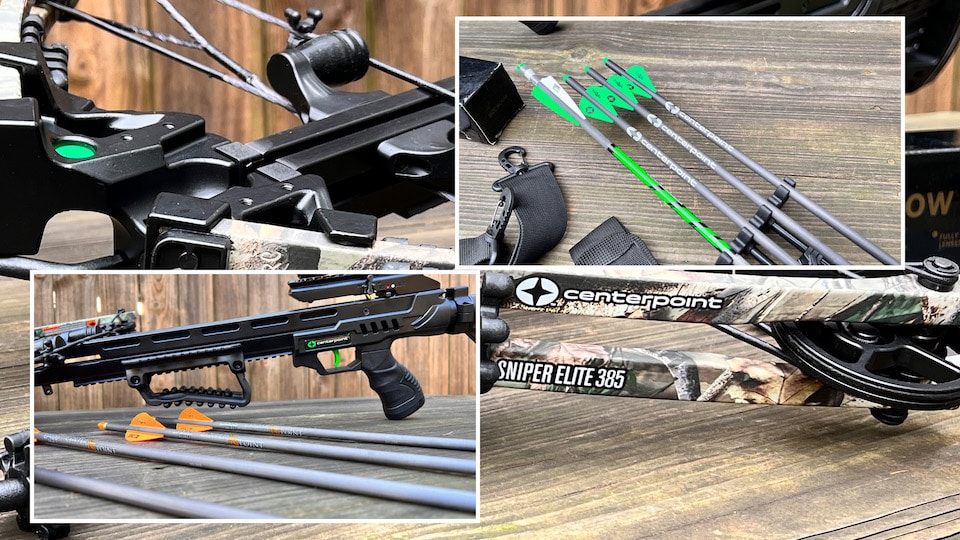 Shooter ready and the optic mounted, I opt for the orange and white CenterPoint Arrows first. I'm expecting similar results from both arrows with the weight, length and material being almost identical. Using the CenterPoint Power Draw Cranking Device (MSRP $71.99), I cock the crossbow, load the arrow and take my place with my right hand on the grip and my trigger finger above the trigger guard. With a deep inhale and steady exhale, I place the crosshairs on the center bull of the Morrell Double Duty Archery Bag (MSRP $87.99), disengage the safety, slide my finger onto the trigger and squeeze. With only a couple shots, the crossbow is dialed in. I take a few more shots with those arrows before I decide to test the green and white CenterPoint ones. Just as I suspect, extremely similar results – so, choice by color it is!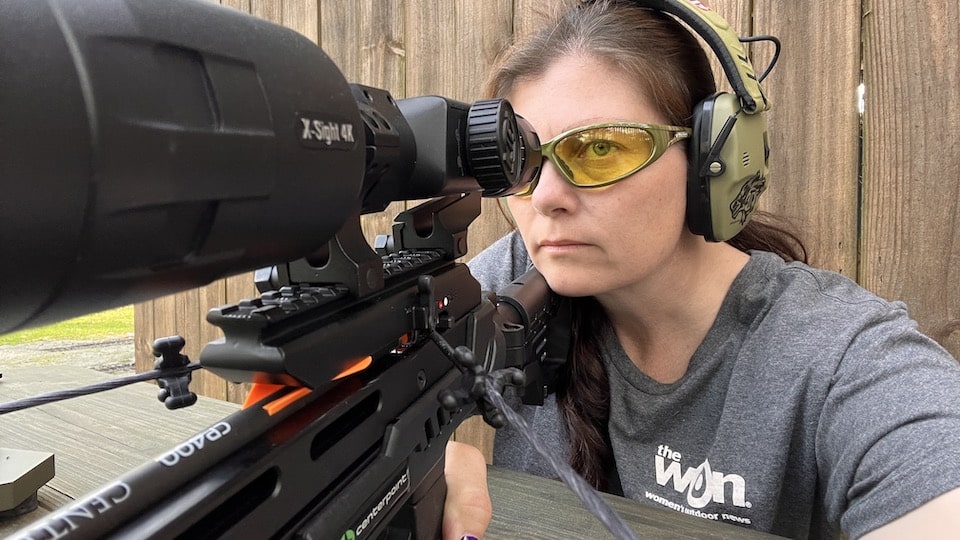 I'm not done yet; practice means habitual or customary performance or operation. First, I took several shots at 25 yards. It's important to get accustomed to the feel of the crossbow, the cheek weld, the grip and trigger pull. I spent some time being attentive to the follow through, when the shots were accurate my goal is to create a habitual performance. One imperative action that comes to mind with shooting is consistency; when you find success, wash, rinse and repeat until it becomes a natural action.
I started this journey with resistance to archery, I wasn't sure if it was for me. After taking the CenterPoint Sniper Elite to the range and shooting it until the setting of the sun, I found myself excited and ready to take the next shot, imagining myself and my new equipment in the field with my crossbow cocked, arrow loaded and crosshairs on a next season whitetail deer.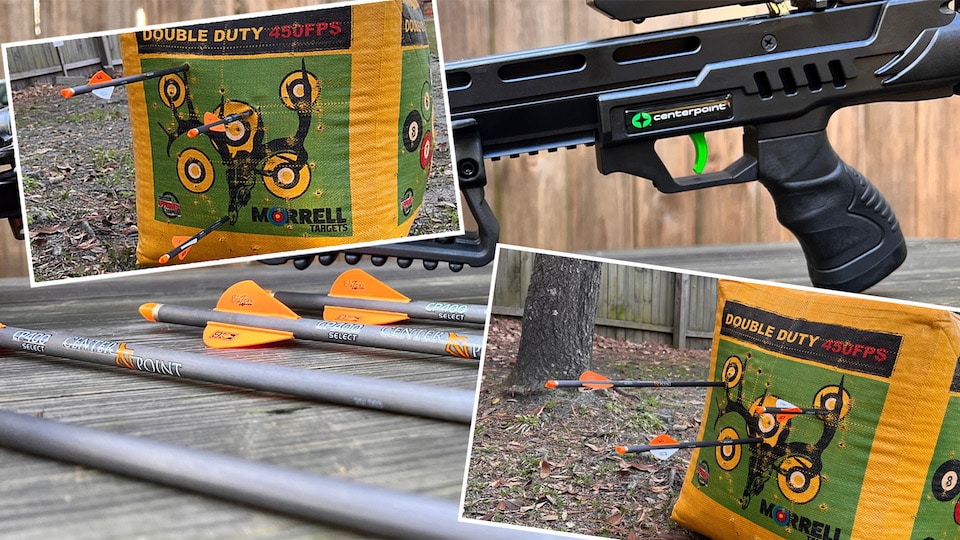 I still have plenty of practice and plenty of time to do so. After I'm comfortable with my follow through, it's time to implement another facet of practice, distance. To increase my chance for a successful hunt when the time comes, I'll increase the distance in increments, from 25 yards to 30 yards and so on until I reach the max distance capability. As I said previously, rinse and repeat.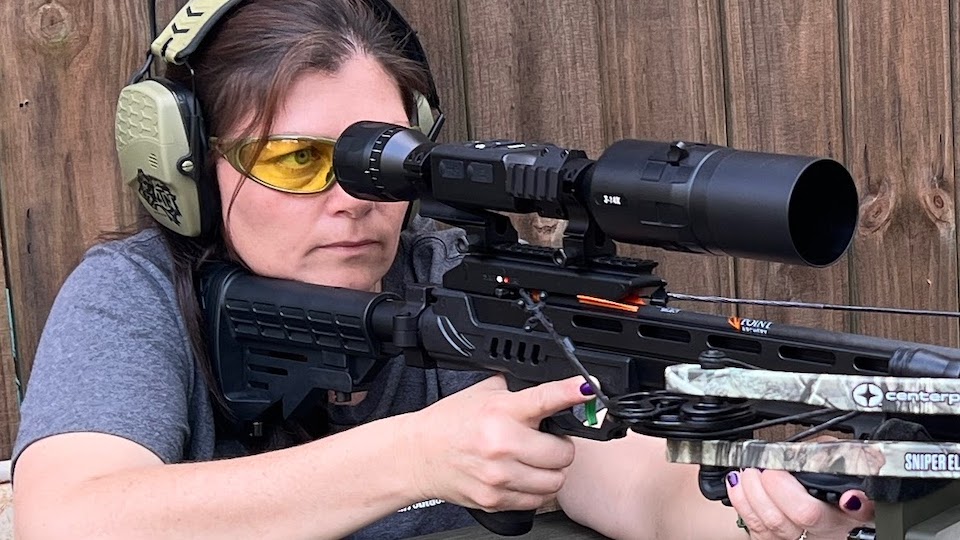 If I continue in my developed successful habits and my equipment is properly maintained, accuracy will be spot on. Maintaining equipment is generally simple; it takes more time and effort to create good consistent shooting habits. I will continue my practice throughout the next several months and eagerly await whitetail season's return. For me, it's not easy to put off my impatience, but I will use the time wisely practicing with my crossbow, until fewer mistakes are made, and consequently, fewer bullseyes are missed. It all goes back to the old saying, "Practice makes perfect."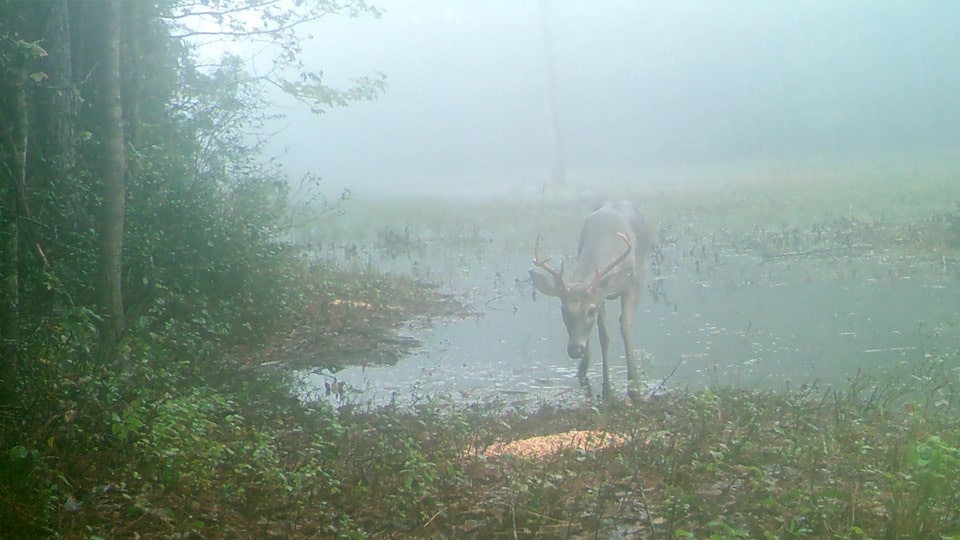 Learn more about Pyramyd Air's lineup of crossbows.
About Angie Perry

I am a wife and a mother who loves the outdoors, I also review and test airguns and shooting products for various manufacturers. As Airgun Angie, I get to spend a fair amount of time outdoors hunting and shooting! I love what I do, I get the opportunity to test many different types of shooting and hunting gear. My current adventures can be found on https://www.youtube.com/channel/UC764VE4T-i2XihiyISmkJKA You can also follow me on Facebook, @leadlife17 "Airgun Angie." View all posts by Angie Perry →