SilencerCo Sparrow on a Ruger-57
It had been a couple of weeks since The Bomb and I had been on the range, and lately, whenever we go out to train, we mean business. It's all about times and distances and accuracy. But on this day, we decided to let all that go away and just enjoy the sport of target shooting – with a Ruger-57 combined with a SilencerCo Sparrow 22.

Sponsored by SilencerCo
Why this combination, you might ask? Three years ago, I reviewed the Ruger-57, and the Bomb (in case you don't know who that is, he's my hubby of 45 years) lent his expertise in the article. He's an explosives and ballistics expert, and you can find out more about him here. Meanwhile, he's also my shooting partner, and that comes in handy for me since he was on the United States Air Force Academy's pistol shooting team and also served as the shooting team commander at RAF Cranwell in the early 1990s. Let's just say this: the man can shoot. And explain it.
The Bomb and I liked the Ruger-57 so much that we purchased it after I reviewed it. We really hadn't taken it out for exercise lately, and since we also had attached the new threaded barrel kit to it, we decided it would be a great pairing for the purpose of this post.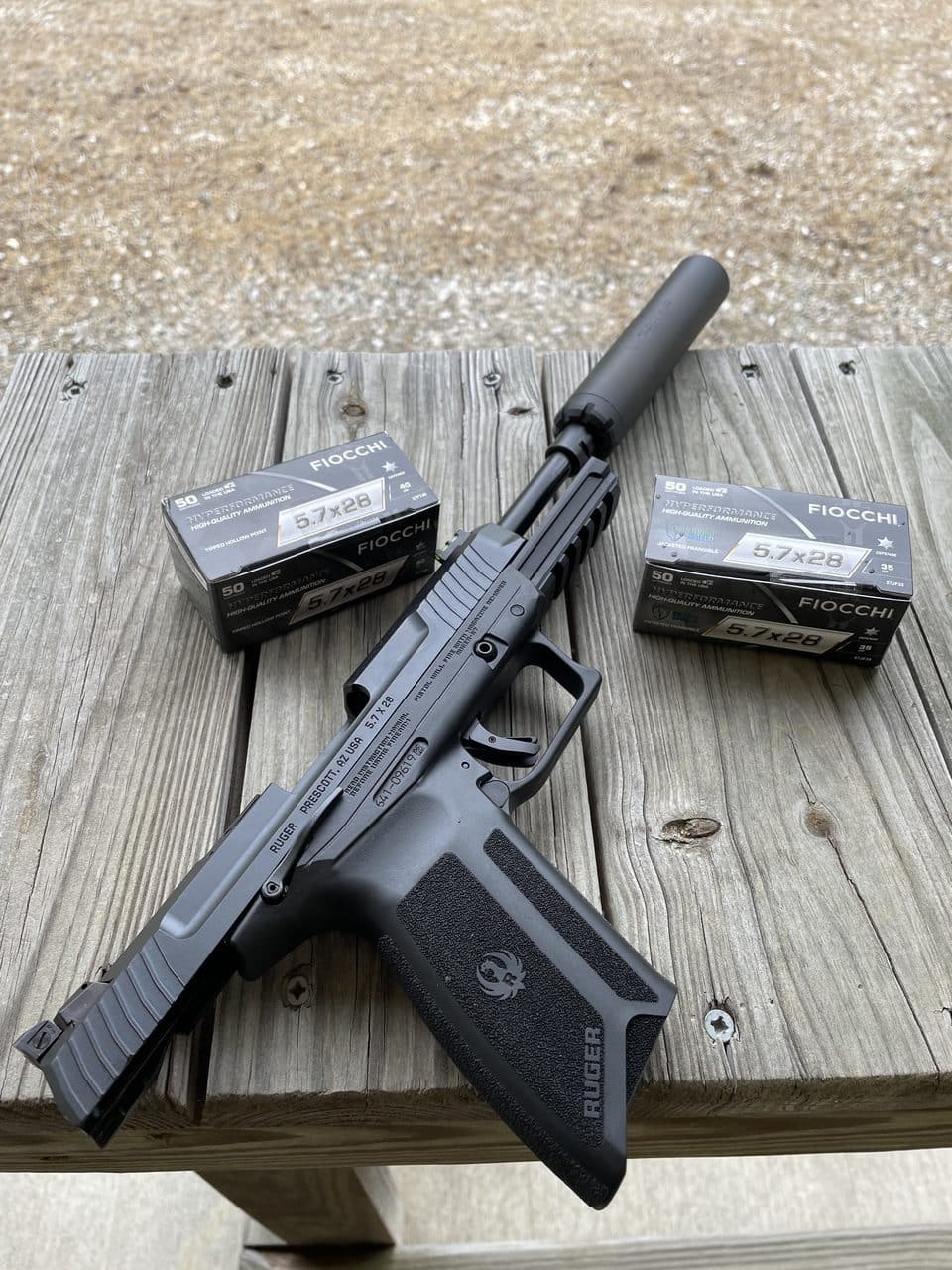 SilencerCo Sparrow 22
I reviewed the Sparrow 22 in 2020. Late last year, I decided to purchase one of my own and the paperwork is in the process as I await a tax stamp from the ATF for it. That's how much I liked it. Fortunately, SilencerCo issued me another one for my reviews while I wait for the thumb-twiddling ATF.
The Sparrow 22 lives up to its name by being small and delicate. It weighs only 6.5 ounces. Made of stainless steel, it measures 5.08 inches and comes at the ready to equip guns chambered in these calibers: 22LR, 7WSM, 17HMR, 22MAG, 22WMR, 22 Hornet and 5.7 x 28mm.
The Sparrow came first in the line of fine silencers offered by SilencerCo, 15 years ago.
Not only is it lightweight, it can be cleaned fairly easily – a real boon when shooting dirty rimfire ammo through it.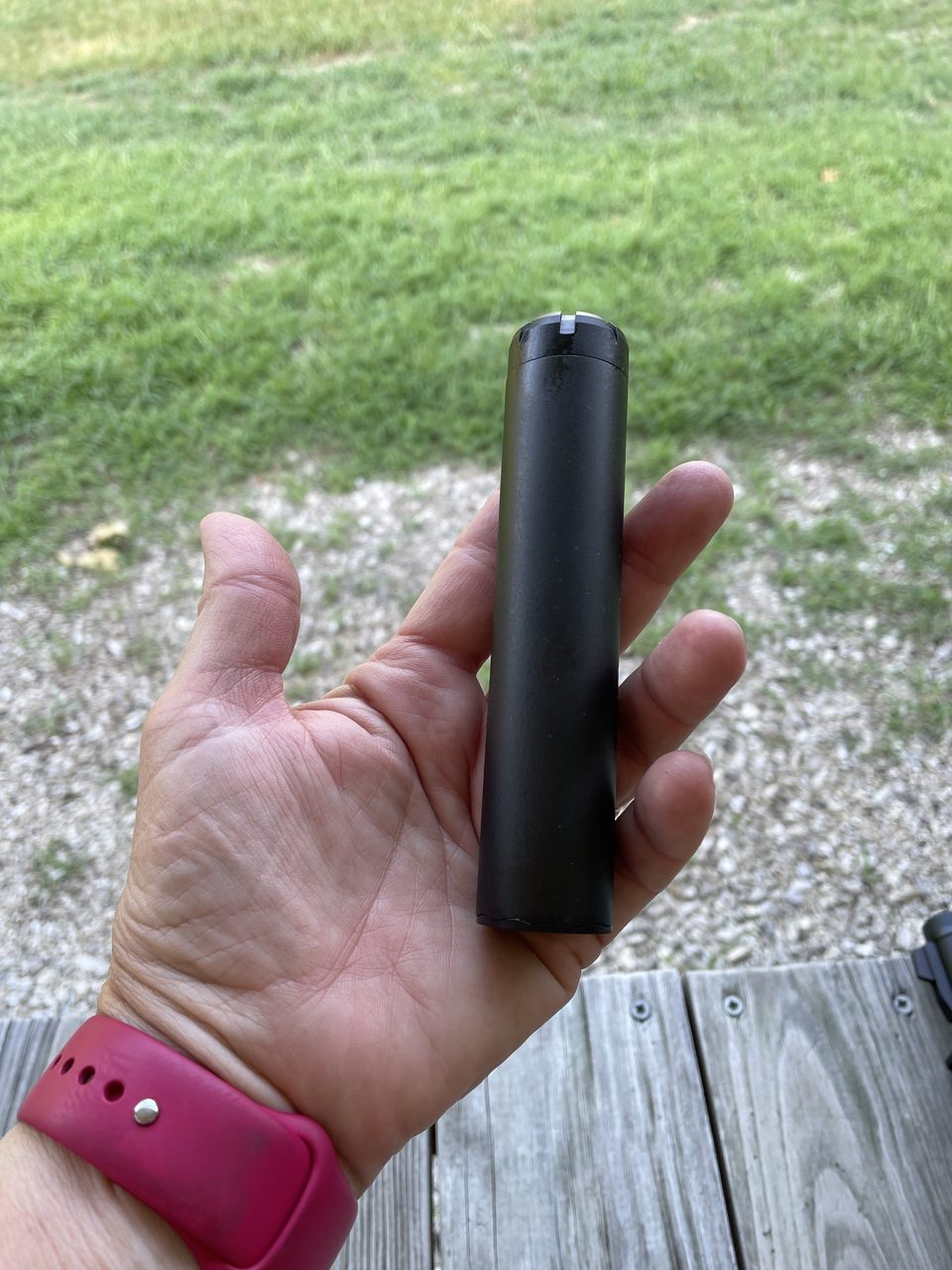 The Ammo
Before heading out the door to the range, we gathered the ammo we wanted to use, including Fiocchi's new subsonic ammo offered in the company's Range Dynamics series and two Hyperformance Defense 5.7x28mm cartridge models introduced at the 2023 SHOT Show.
Equipped with a 62-grain FMJ bullet, the Range Dynamics Subsonic is a great option for a suppressed or un-suppressed firearm. Intended for target shooting and general "plinking," the round has an advertised muzzle velocity of 1050 feet per second (fps), slightly less than sonic velocity at sea level standard conditions. Perfect for suppressed shooting, the projectiles of subsonic ammo don't generate shock waves as they travel through the air; there's no supersonic "crack" noise from them downrange and at the target.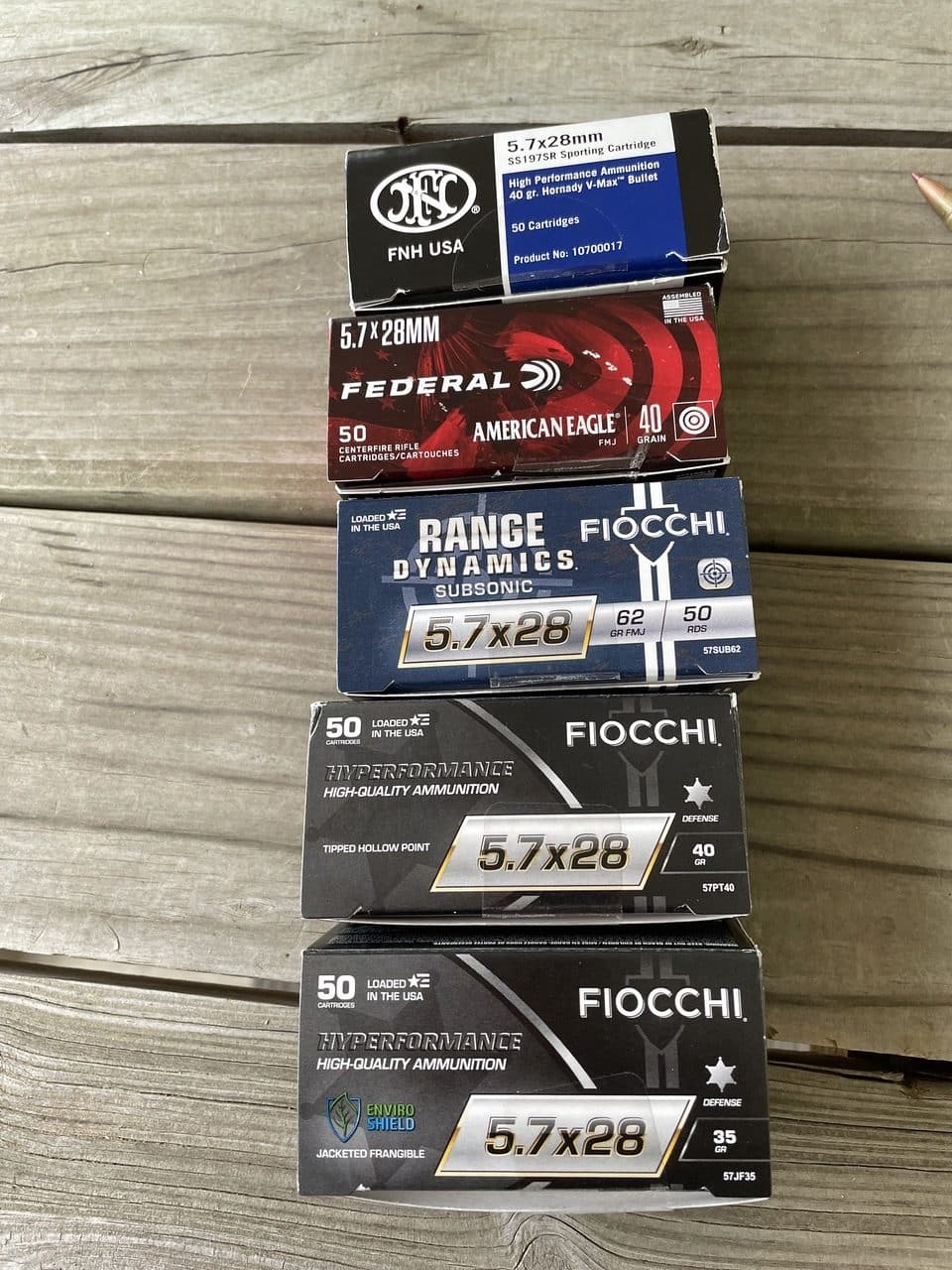 From Fiocchi's Hyperformance line of ammunition, designed for personal and home defense, the 5.7x28mm offerings are the 35-grain red plastic-tipped jacketed frangible and the 40-grain black plastic-tipped hollow point cartridges. Each has an advertised muzzle velocity of 1750 fps, and for our fun-shooting day, we didn't bother to chronograph any of the loads.
Thanks to Fiocchi, we had a supply of each of these three 5.7 variations on hand.
We also grabbed some of Federal's American Eagle FMJ 40 grain 5.7 x 28mm ammo and FNH USA's High Performance ammunition (with 40 grain, Hornady V-Max bullets).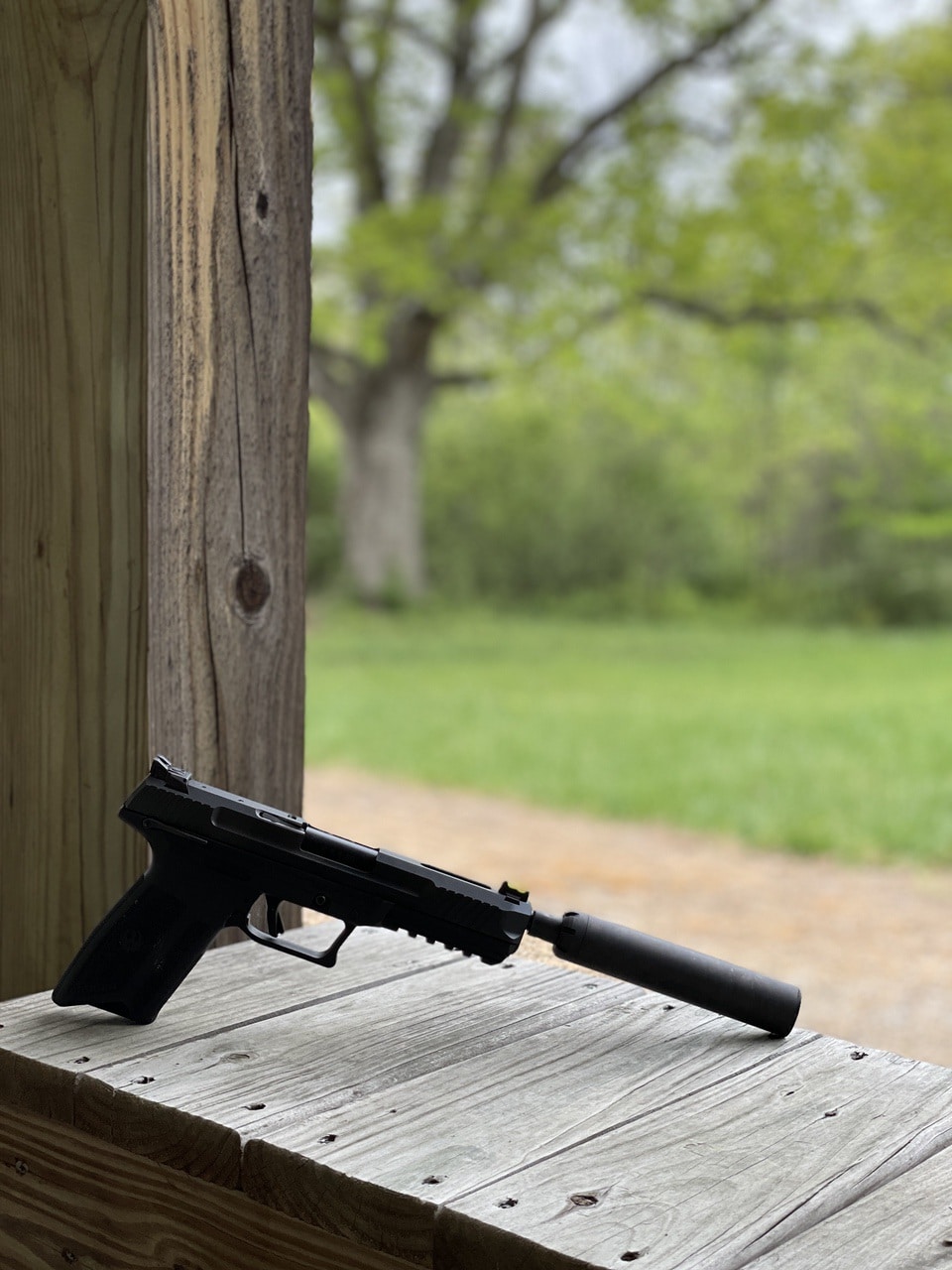 Range Time
On the range, we shot from 7 yards to 40 yards. We had friendly competitions, and then we brought out the steel to shoot at 40 yards. We found that this gun, like all guns, has preferences as to which ammo it likes to "eat." Nevertheless, since we were shooting five different variations from three different brands, and none of the ammo shot very far off the gun's original sight alignment, we didn't try adjusting the sights for each different type. We just used "Kentucky windage" on our targets to adjust points of impact and carried on with the fun, both suppressed and unsuppressed.
From what we could tell, the Sparrow 22 did not affect the point of impact. The suppressor was small enough that it lay below the sight line and did not to interfere with our fun.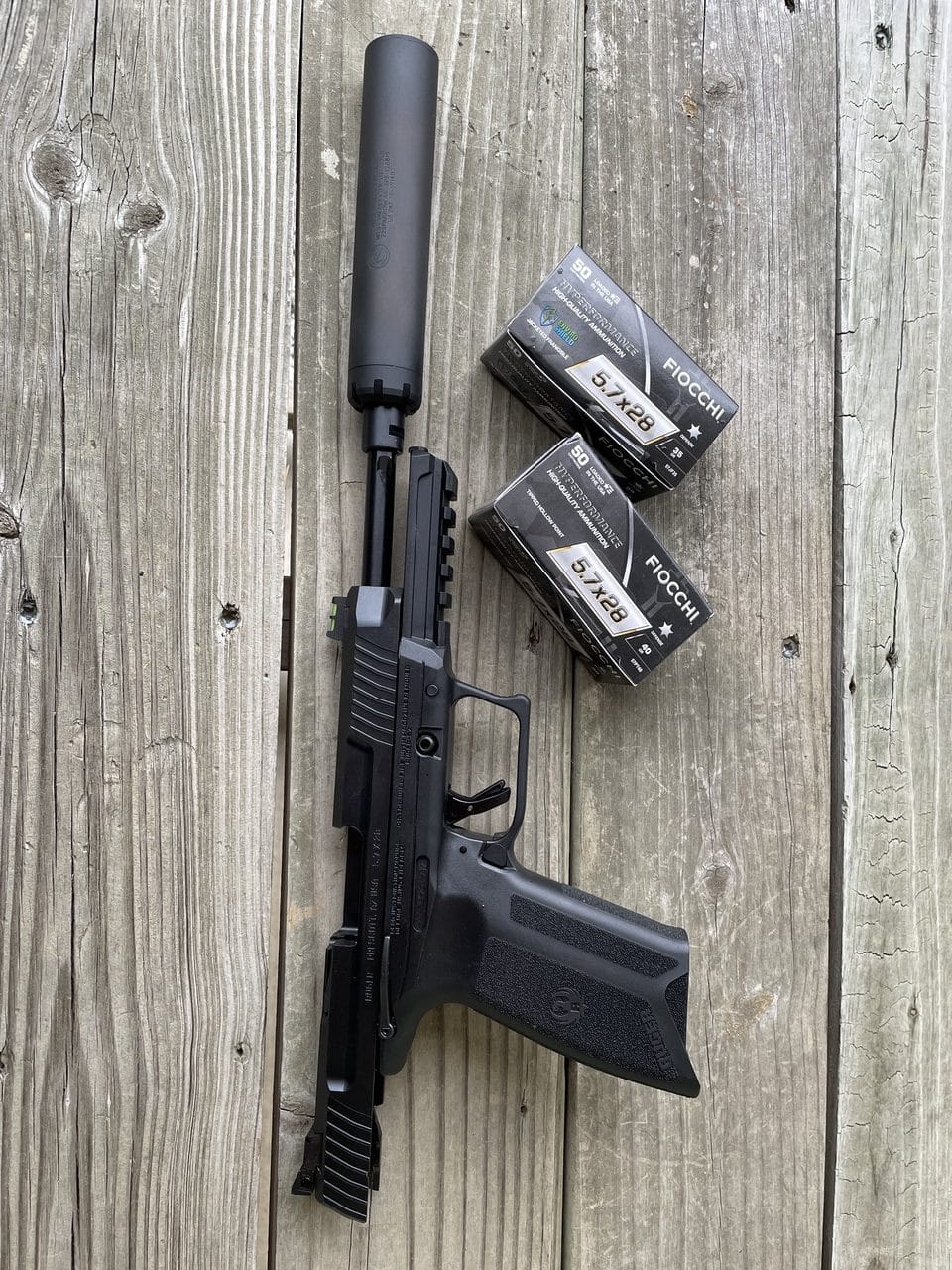 And fun we had. We shot almost 200 rounds. While picking up the brass afterward, we talked about how refreshing it was to just shoot. Of course, we put into practice our fundamentals, but we shot without pressure (except, perhaps, during our little competition).
The combination of the Sparrow 22 on the Ruger-57 worked well for us, and we will be taking this pair out to the range again soon.
The Sparrow 22's MSRP is $349.
About Barbara Baird

Publisher/Editor Barbara Baird is a freelance writer in hunting, shooting and outdoor markets. Her bylines are found at several top hunting and shooting publications. She also is a travel writer, and you can follow her at https://www.ozarkian.com. View all posts by Barbara Baird →
The Conversation