Heritage Rough Rider: Perhaps Best Described as "Easy Rider"
Last Christmas my husband bought a few Heritage revolvers for presents because they had a sweet deal of a rebate running. We've used the pistols for plinking and varmint control since. I want to share some of the features of this revolver and what's available in the Heritage Rough Rider line of revolvers. While they are a tribute to the American history of the single-action revolver and Teddy Roosevelt, they are also really easy – easy on the pocketbook, and easy for a new revolver shooter to master the basics.

Ride On With $ In Your Wallet!
First, this is a budget gun. I'm usually not a big "budget" gun person. But I think the intro-level revolver skills and amazing variety in this line are not to be overlooked for new gun owners or someone who wants a fun revolver.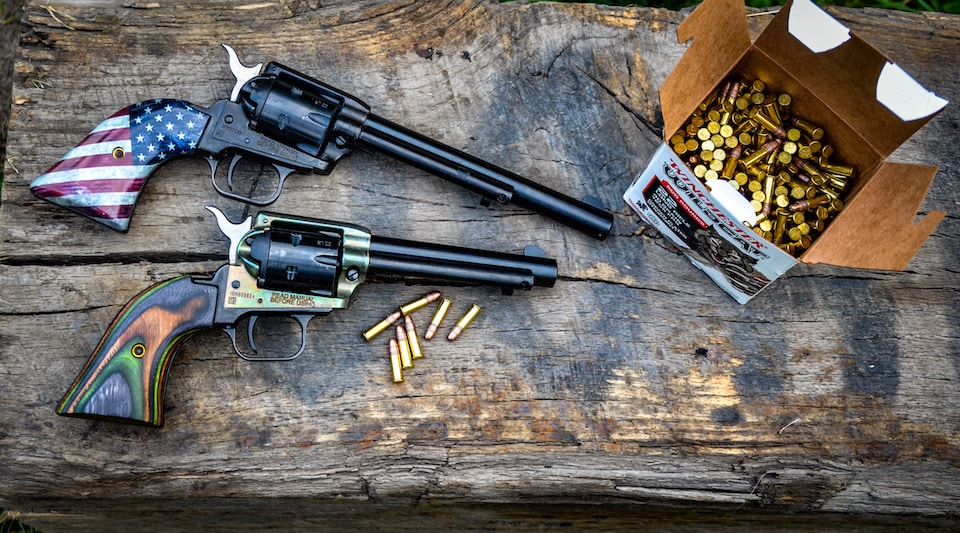 Looking at the Heritage Manufacturing Co. website makes me feel like I found an old-time Sears and Roebuck catalog and can afford to buy something! There is a huge array of options for these revolvers: grips, finishes, barrel lengths and engraved cylinders (to name a few). There is such a variety; these revolvers are fun to configure, using the colors a person prefers. Everything from a simulated case-hardening, to various PVD colors on cylinders, Cerakote colors on frames and even American flag grips. There are ranges in prices, but some models are just $169 for .22 LR.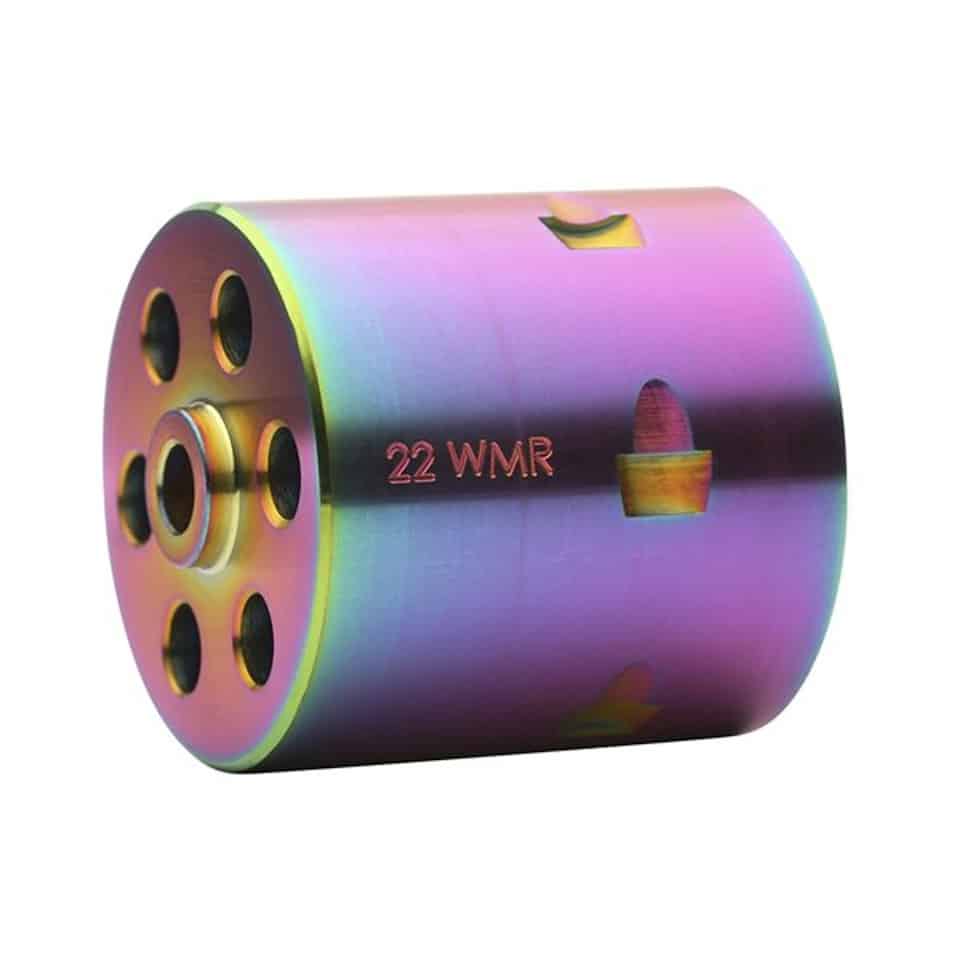 Cylinder options include colors (like Prism PVD finish), caliber (.22LR and .22 WMR) and different engravings. They are affordable, ranging from $34.99-38.99.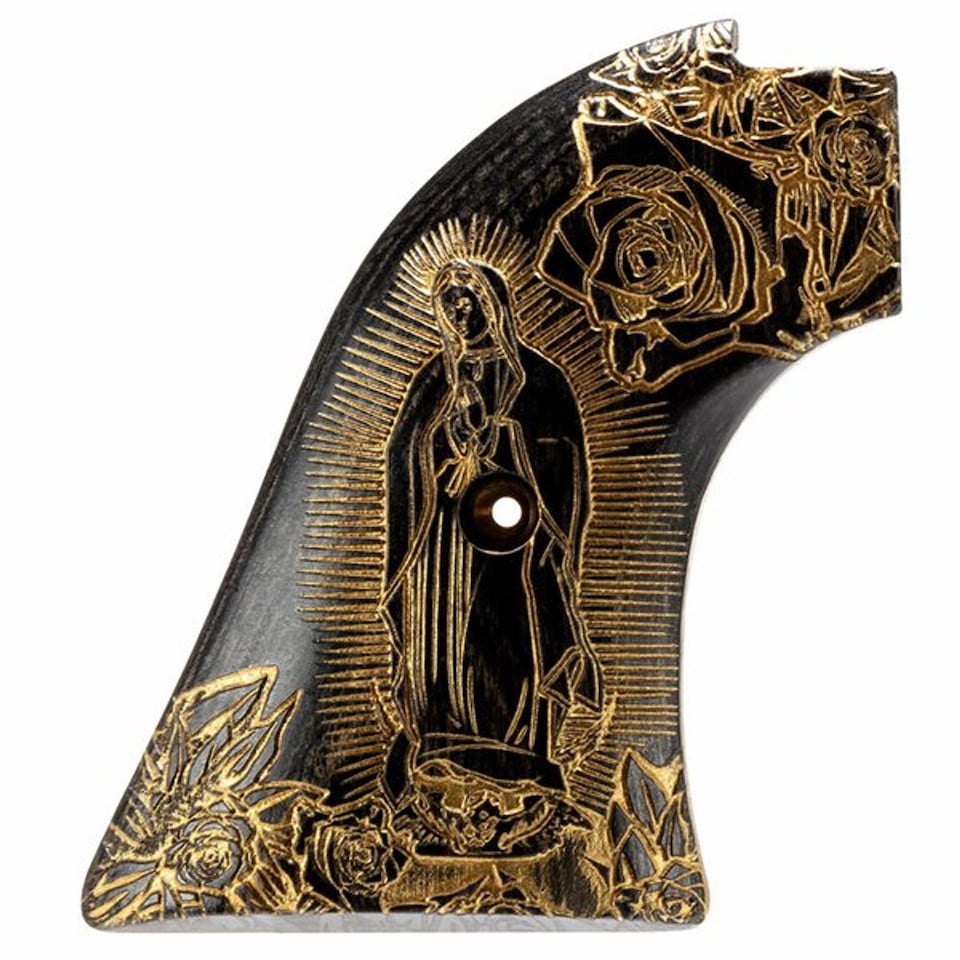 Trying to find a link for the grip offerings, I came across several that made me grin. I have visions of some distant future museum showcasing a case-hardened model with the Altamont Virgin (Our Lady of Guadalupe) engraved in gold on black grips. The willingness to embrace gun owners' desire for individuality – to customize on a budget – really speaks to the kid in me who always wanted a pretty gun. They even have some combo packs of grips and cylinder, like one celebrating Lady Liberty.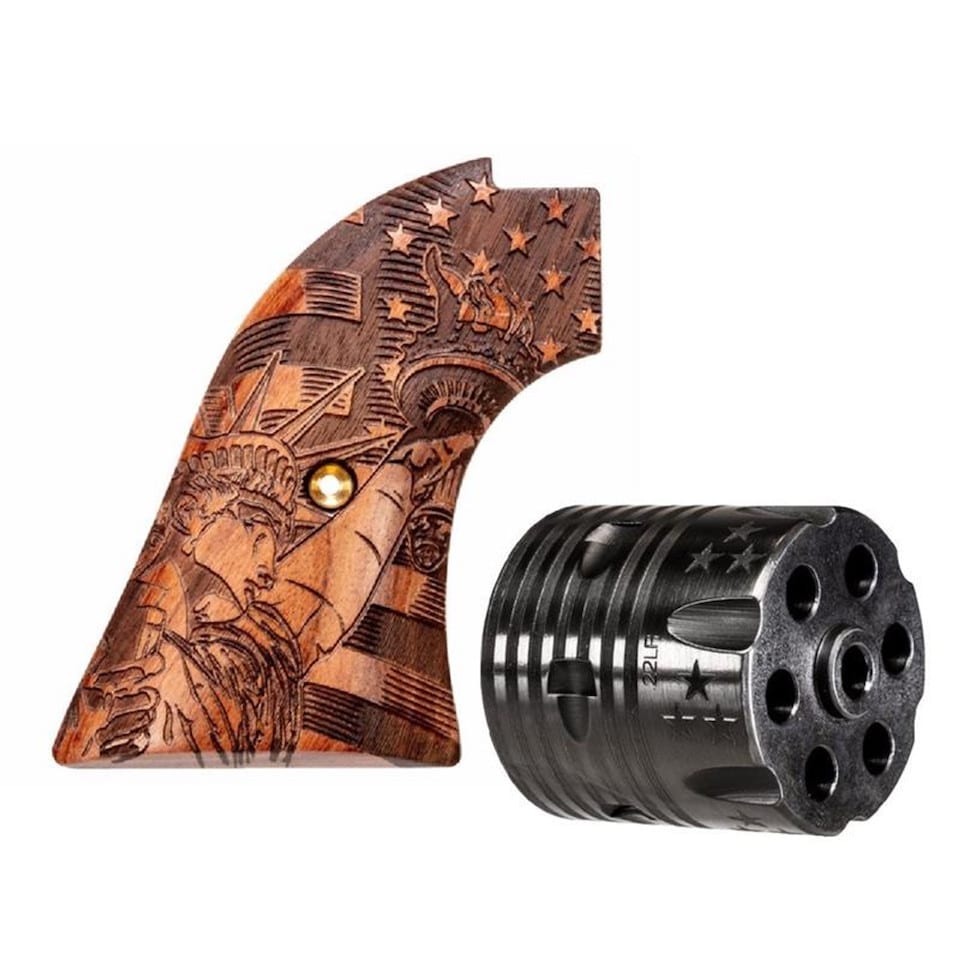 Pros and Cons
The biggest pro is the price point. The second is that for a new revolver owner, someone can, without huge investment, learn basic skills in manipulating and using a revolver. There is also a safety, more properly, a firing pin block. But the fact that it has a visible safety is handy for new gun owners or maybe that grandchild who deserves an "Old West" tool to learn firearm safety and how to shoot a revolver.
The biggest con I dealt with was the pop-up on their website, asking me to subscribe to their email list. Seriously, it's a fun little gun to shoot and for the money, my whole family finds it enjoyable. My only other "con" is that the finish I most love seeing for its historical use, case hardening, is just "simulated". But it's still nice to look at.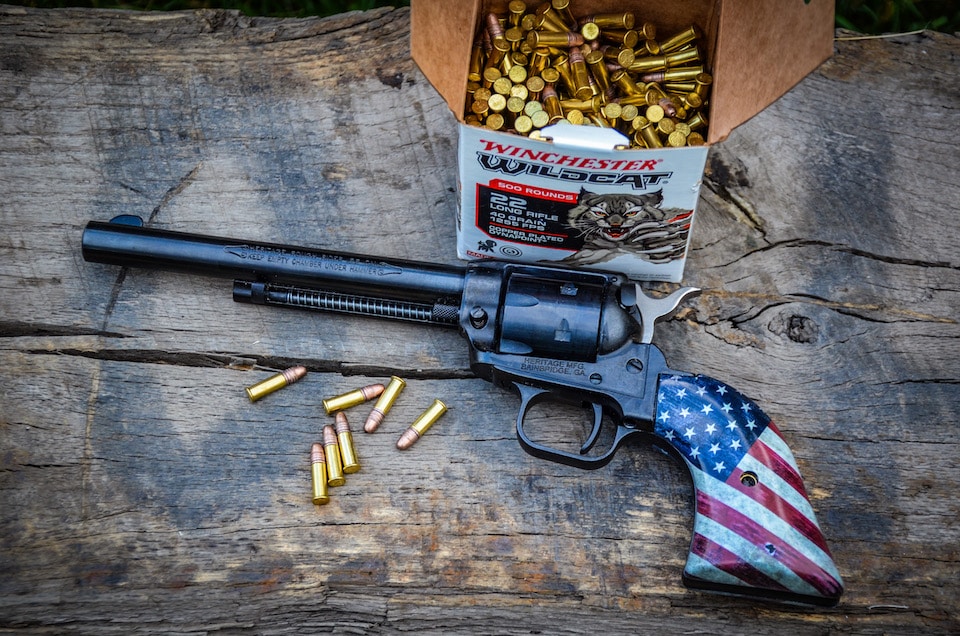 Things to Know About the Heritage Rough Rider Revolvers
If you have never worked with or owned a revolver before, take some time to learn about the way a single-action revolver works. Look at the manual that came with your gun and watch a few videos. Barbara Baird, publisher of The WON, recently wrote a related post called "What You Must Do If You Want to Shoot a Revolver."
Your brand-new revolver will come with a cylinder safety disc. This is what you want in your cylinder if you want to dry fire. Dry firing your revolver without this plastic insert can damage the firing pin.
This revolver has 4 "notches" or clicks you'll hear as you manipulate the hammer. The first is the safety notch. The second is the loading notch (half-cock). The third has been described as of no consequence, and the fourth is fully cocked.
Learning to load and unload, manipulate the cylinder and de-cocking the hammer are great skills to learn with this revolver.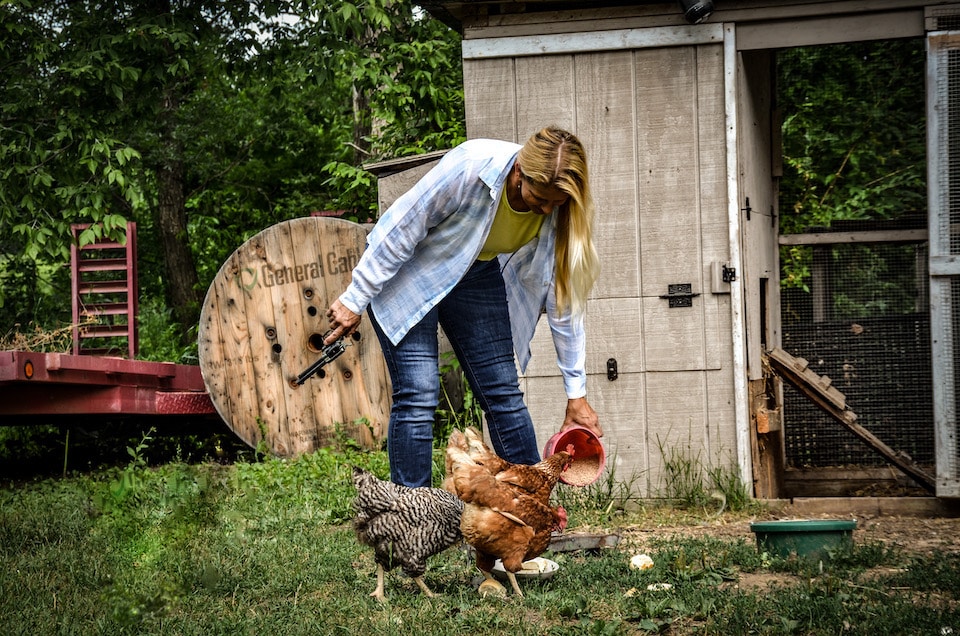 Personal Use
We've used these Heritage Rough Rider revolvers to plink on steel targets and for varmint control on our property. Carrying something around in my garden while I work, as I open and shut the chicken coop (we've had a run of foxes and raccoons this year) or having it at the ready when we see critters that dig under buildings, are all fitting reasons to carry a side-arm during daily chores.
The models we have are the 6.5" with American grips, and the 4.75" with simulated case-hardening. I really like how they both look, and when we plink from farther away, it seems like the extra barrel length is helpful. Both work well for critter control. The 4.75" is just less weight to tote around my property.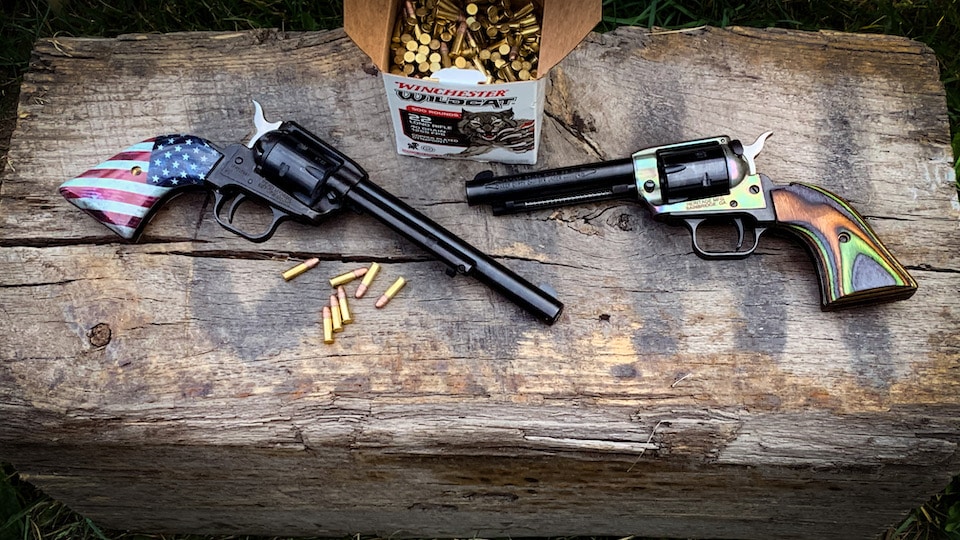 If you can get your hands on one of these Heritage Rough Rider revolvers, they are a fun little piece too easy to use, and even more fun to customize.
TECH SPECS
Frame: Zinc Alloy
Cylinder: Alloy Steel
Barrel: Alloy Steel
Cylinder/ Frame / Barrel Finishes: Wide Variety
Check out the entire line of Heritage Rough Rider revolvers here.
About Becky Yackley

Becky Yackley primarily competes in 3 Gun, USPSA, Bianchi pistol, but has competed in shooting since 1989 in disciplines from service-rifle, to NCAA Air Rifle and Smallbore, air pistol and a little bit of long range rifle. She shoots guns and cameras at competitions around the country, and writes in her fictional spare time. View all posts by Becky Yackley →
The Conversation