Image Based Decision Drills Training with Shelley Hill
I met Shelley Hill at the A Girl and A Gun National Conference in Grand Junction, Colorado, a few years ago. If you don't already know her and are ever in the same room, you can easily pick her out. She's the one with the flaming red hair, huge smile and contagious laugh. Shelley also is the person who offers Image Based Decisional Drills (IBDD) training through The Complete Combatant, a company she co-owns with her husband, Brian Hill.
Sponsored by Springfield Armory
While at a writers' event in 2021, I received Shelley's Image Based Decisional Drills kit. Honestly, I wasn't sure what it was, and because of things going on in my life, I placed the packet on a shelf in my gun room and forgot about it. That is until I decided last spring I wanted to take personal training and began searching through instructors I knew. I was beyond excited to find out Shelley offered her decision making training online. Perfect!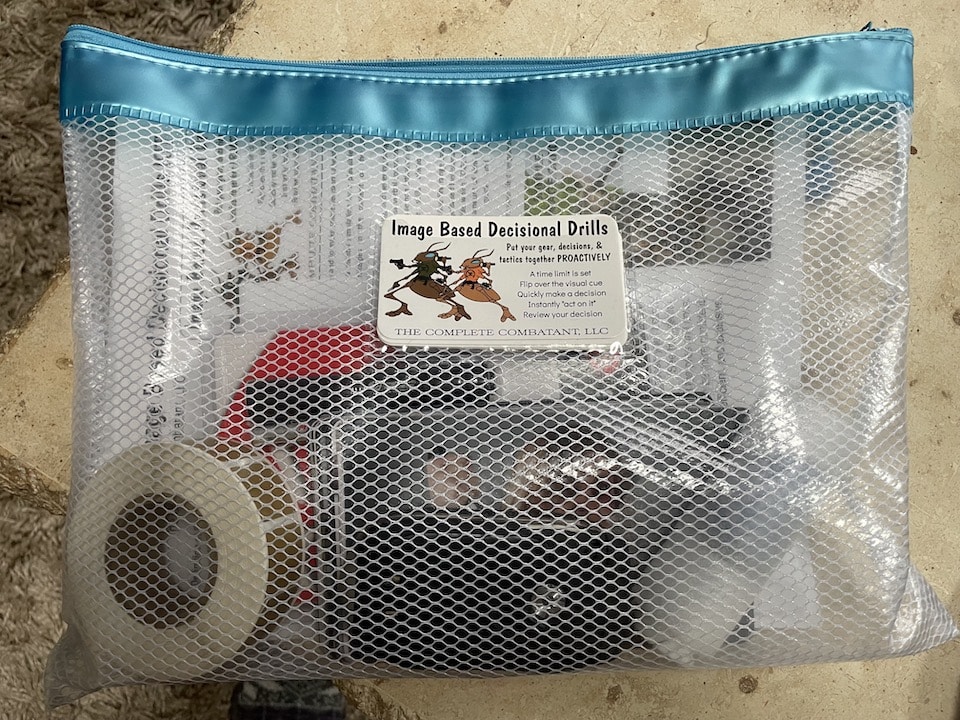 As a firearms trainer and writer, I often look to other professionals for ways to teach shooting and self-protection. Shelley's training is unique; it's all based on visual cues and bridges the gap between recognizing a threat and responding. She believes decisions are more important than techniques.
The Class
Shelley's Image Based Decisional Drills three-hour online Zoom class was like nothing I've ever taken. Besides having a notebook and pen ready, I set up a target across the room from my chair and had some items from the kit, a mock phone, inert pepper spray, a flashlight and my SIRT pistol in front of me.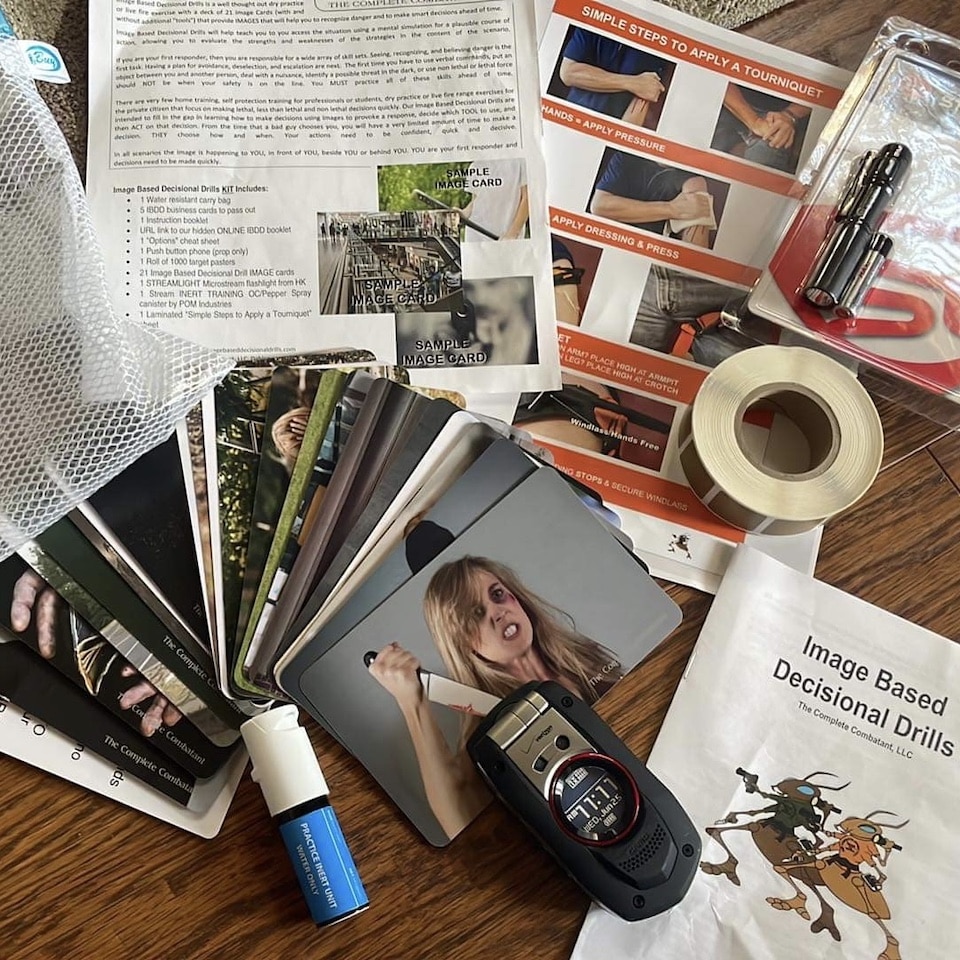 There were seven of us in the class that evening (no more than ten students can register). Shelley began by telling us about herself and how she developed her decision-making training. Then, through a series of slides, she explained what to look for in a possible threat to help make a decision on how to react. Next, we showed her what we learned.
Images of people on flashcards appeared on the monitor to provoke a response in which I had to decide what tool to use and then act on my decision. I had to set up my laptop camera so Shelley could watch my movements. It wasn't an option to just say what I would do; I had to do it. Everyone in the class worked with Shelley first and then with partners.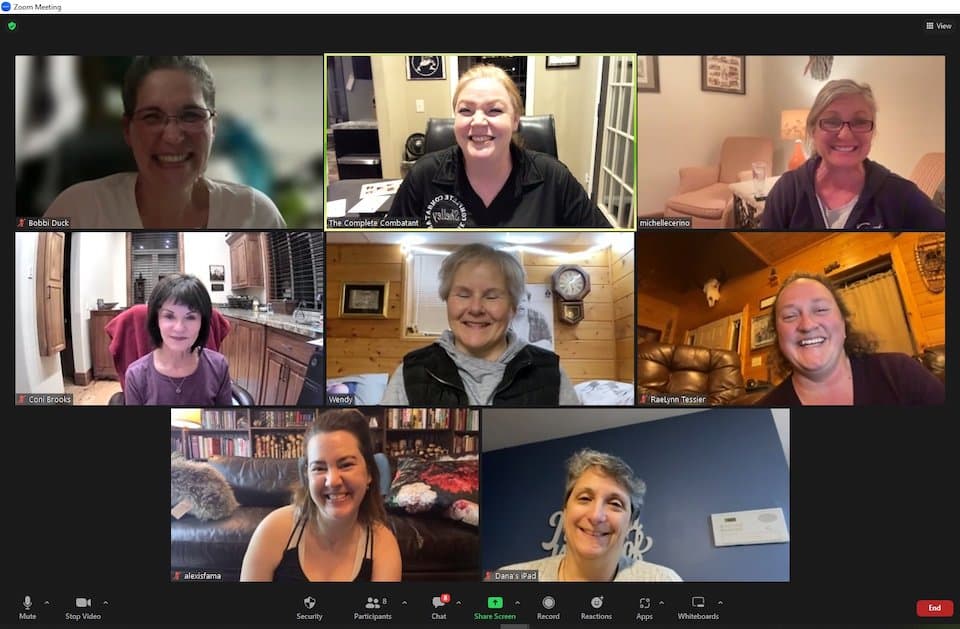 Five Things I Learned:
1 I have minimal time to react when the bad guy appears so I need to know what to look for and why.
2 If someone tries to engage me in conversation, I can be rude, put up my hand and say these words: "STOP, no thank you. I can't help you."
3 I need to be confident and quick in how I choose to react.
4 Practicing a 911 script is extremely important. Stating my location should come first so the dispatcher can send the police right away.
5 When I can't carry my firearm, there are other options.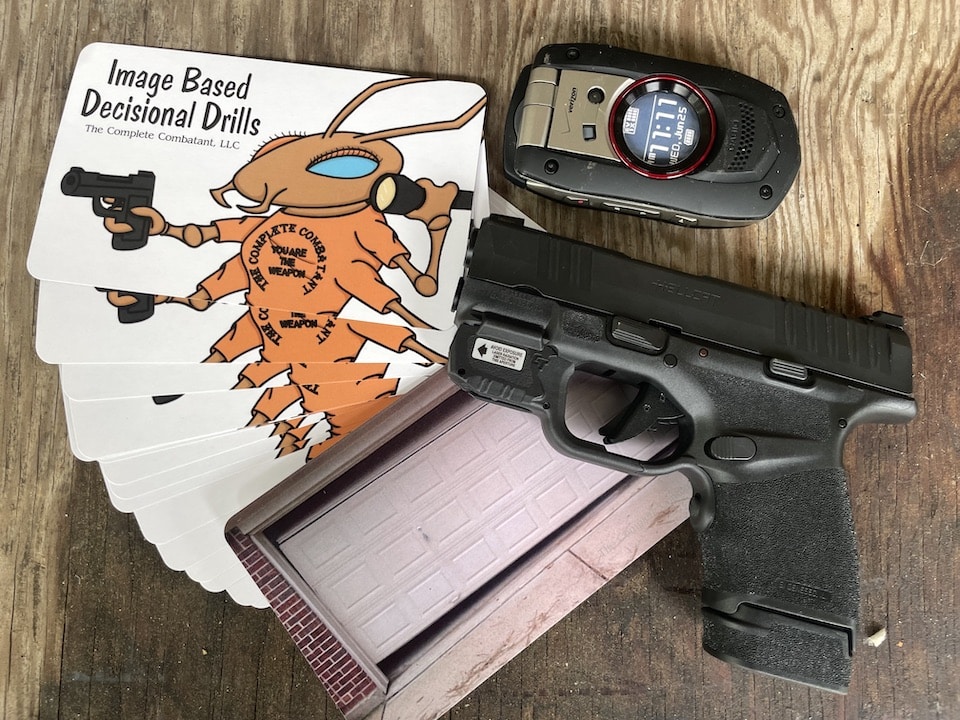 Next time I'm on the range working with a partner, I will bring a packet of the IBDD cards so we can work through them. Reacting to an image and having someone there to act as a 911 dispatcher is excellent practice. Plus, we can discuss the scenarios together and our reactions together.

Shelley offers two other online decision making training courses, Reactionary Zones and Interrupt the Attack Cycle. I suggest registering for those, too. You won't be disappointed in what you learn in just three hours. Also, if you're interested in the flashcards she uses for the classes, she has a bunch of IBDD Expansion Packs to add to your initial kit.
If you choose to carry a firearm for personal protection, be sure to check out Springfield Armory's line of handguns here.
About Michelle Cerino

Michelle Cerino, aka Princess Gunslinger, first entered the firearms industry in 2011 as co-owner, president and trainer at a national training company. She immediately began competing in both 3-Gun and NRA Action Pistol, becoming a sponsored shooter. Michelle is currently a columnist and Managing Editor of Women's Outdoor News, as well as owner of Pervenio LLC. She also manages social media for Vera Koo and GTM Original. Michelle encourages others to step out of the comforts of home and explore. View all posts by Michelle Cerino →