SilencerCo Velos LBP
When SilencerCo introduced its Velos LBP (low back pressure), I knew I would want to take this one out for a spin – but how to tell a different story than the usual suppressor piece?

Sponsored by SilencerCo
I called my senior friend, Nancy, who started shooting a few years ago. Her goal? To become proficient at personal defense shooting, and she has done that – through a variety of courses and actively belonging for several years to a women's shooting organization.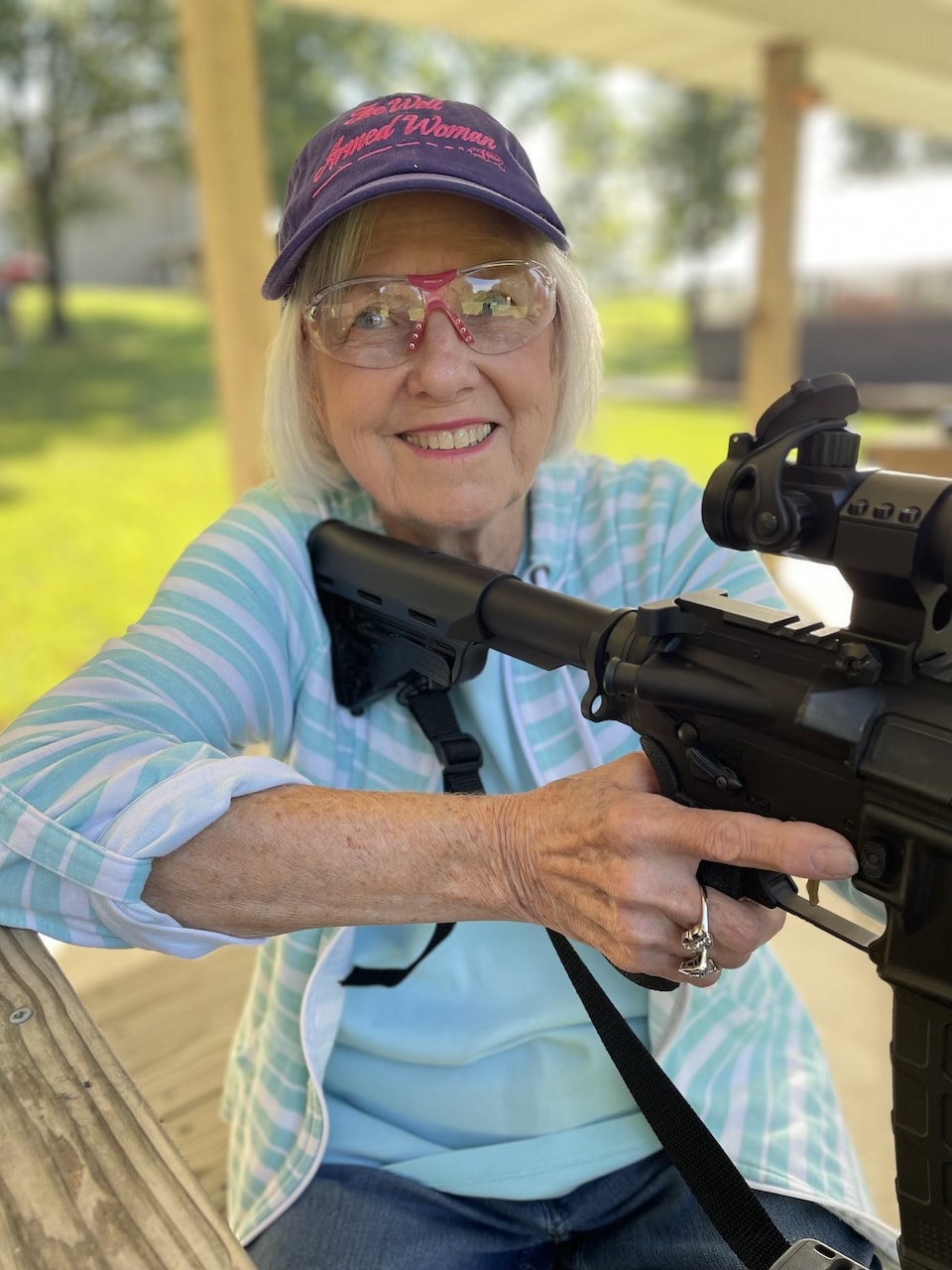 As often happens with women who shoot, she became interested in other types of firearms. She even got gung-ho enough to purchase an AR last year, before her wrist surgery.
Now that she's healed up, she's ready to move forward with learning how to shoot an AR. What better way for her to learn than to put the Velos LBP on my red dot equipped AR? It is proven that quite a lot of the fear of recoil (even though it is nearly non-existent with a .223 caliber AR) comes from the loud noises associated with shooting, so quieting things down for a beginning rifle shooter should help quite a bit.
For new AR owners, I recommend our series on ARs, here.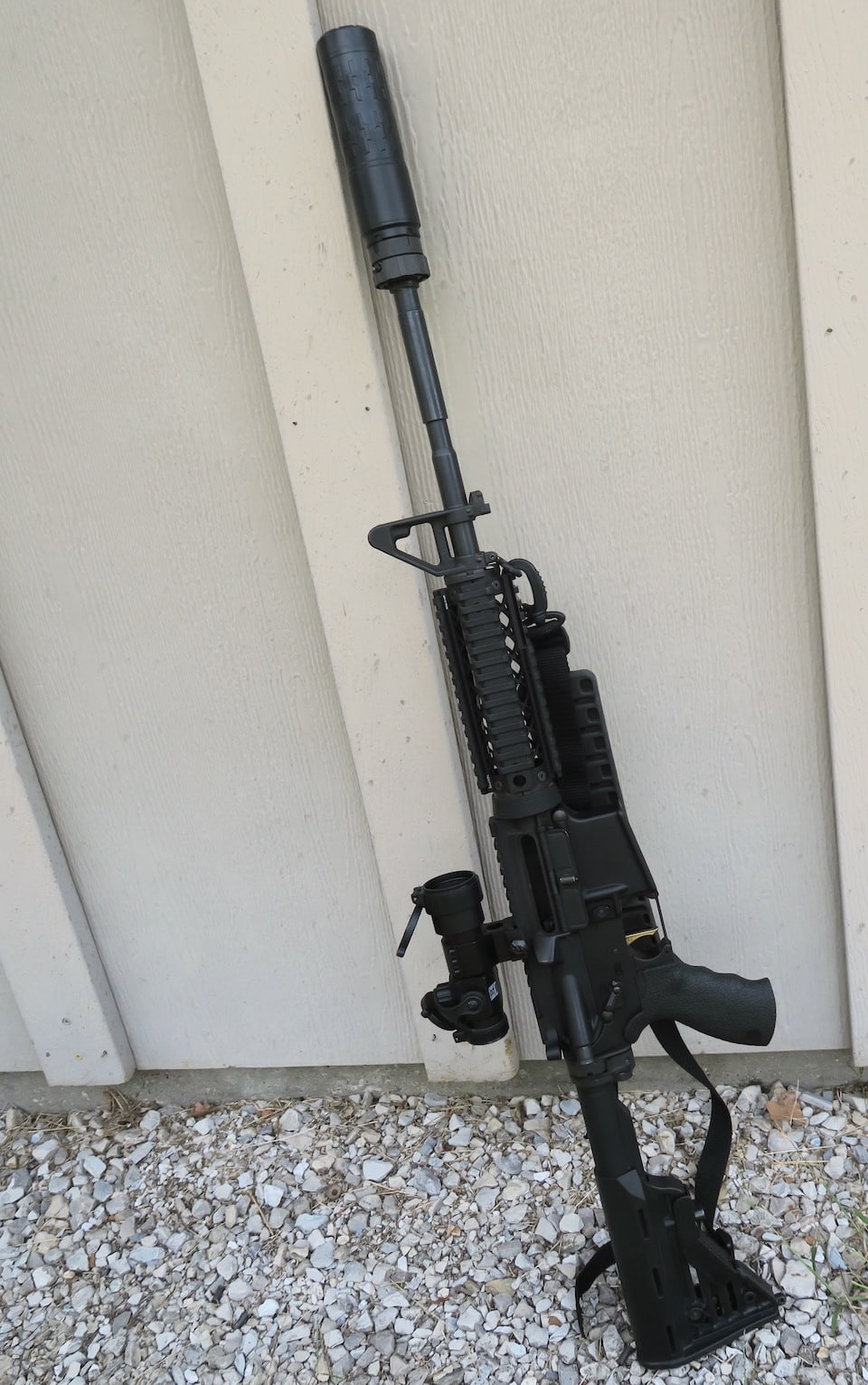 Nancy has familiarized herself somewhat with the AR platform, specifically when she spent time after she received it taking it apart and cleaning it at our bench.
On this day, though, it came time to run her through the rhymes and reasons of an AR. She is petite, and not comfortable with shooting a rifle off-hand. Her recent surgery has rendered her support hand and arm weaker than before; even though she is doing regular exercises to improve her strength, it will still be some time before it is back to normal. I strongly advised her to think about incorporating cover that would support her rifle, such as her bed or a kitchen island if she were to use an AR in home defense, rather than trying to wield the long gun offhand. Therefore, she practiced from a seated position for this first time on the range.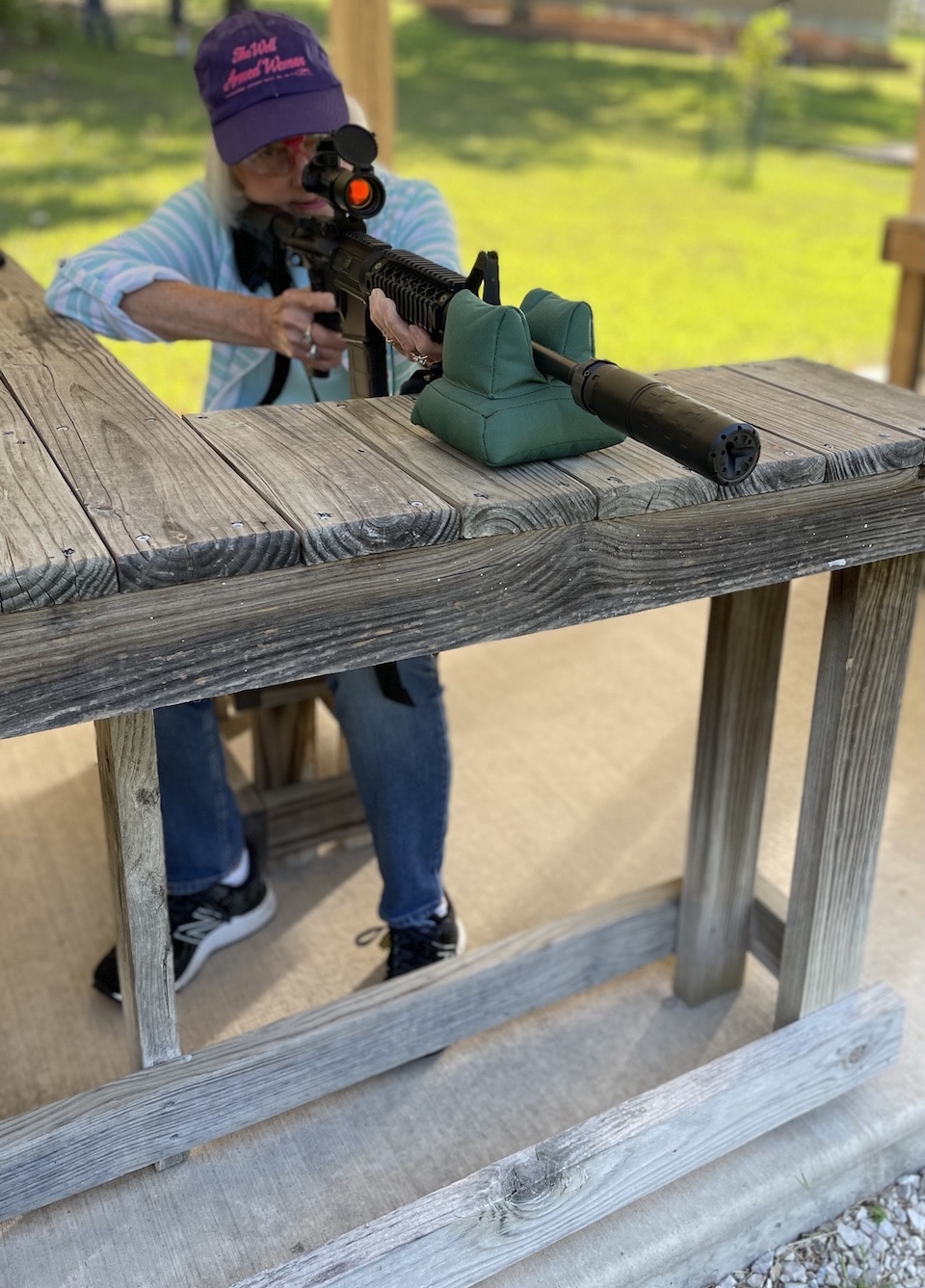 She did not feel that the suppressor made the gun too heavy at the front, though, and easily managed placement and shots, with good follow-throughs, downrange at 50 yards – making tight groups.
After she became comfortable with shooting my AR with the Velos suppressor, she felt comfortable enough to remove her hearing protection. At first, though, she stood away from the bench as I shot it (without hearing protection) to show her how loud it would be. In a situation of home defense, it's good to know that you can pick up a rifle and use it without destroying your hearing in the process.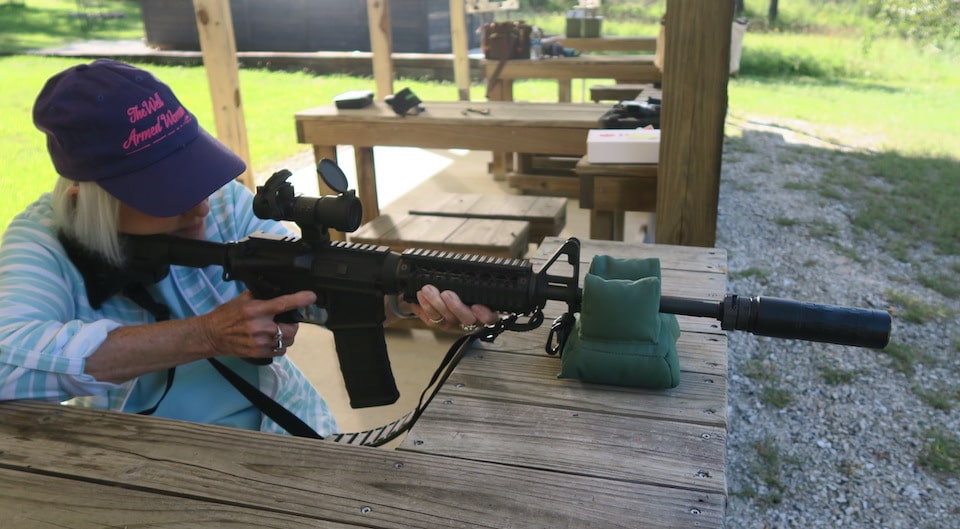 She left our range session with a renewed interested in learning to shoot her own AR. She also will be purchasing a red-dot sight in the near future, and who knows? She might even want to add a suppressor.
Why a Velos LBP?
As I stated, the Velos LBP has been designed specifically using low back-pressure technology. Otherwise known as blow-back (that annoying gas and unburned powder particles that "blow back" through the ejection port and the charging handle channel after discharging a suppressed AR – usually into the eye area of a shooter), the Velos does a good job of managing this problem and also, suppresses sound.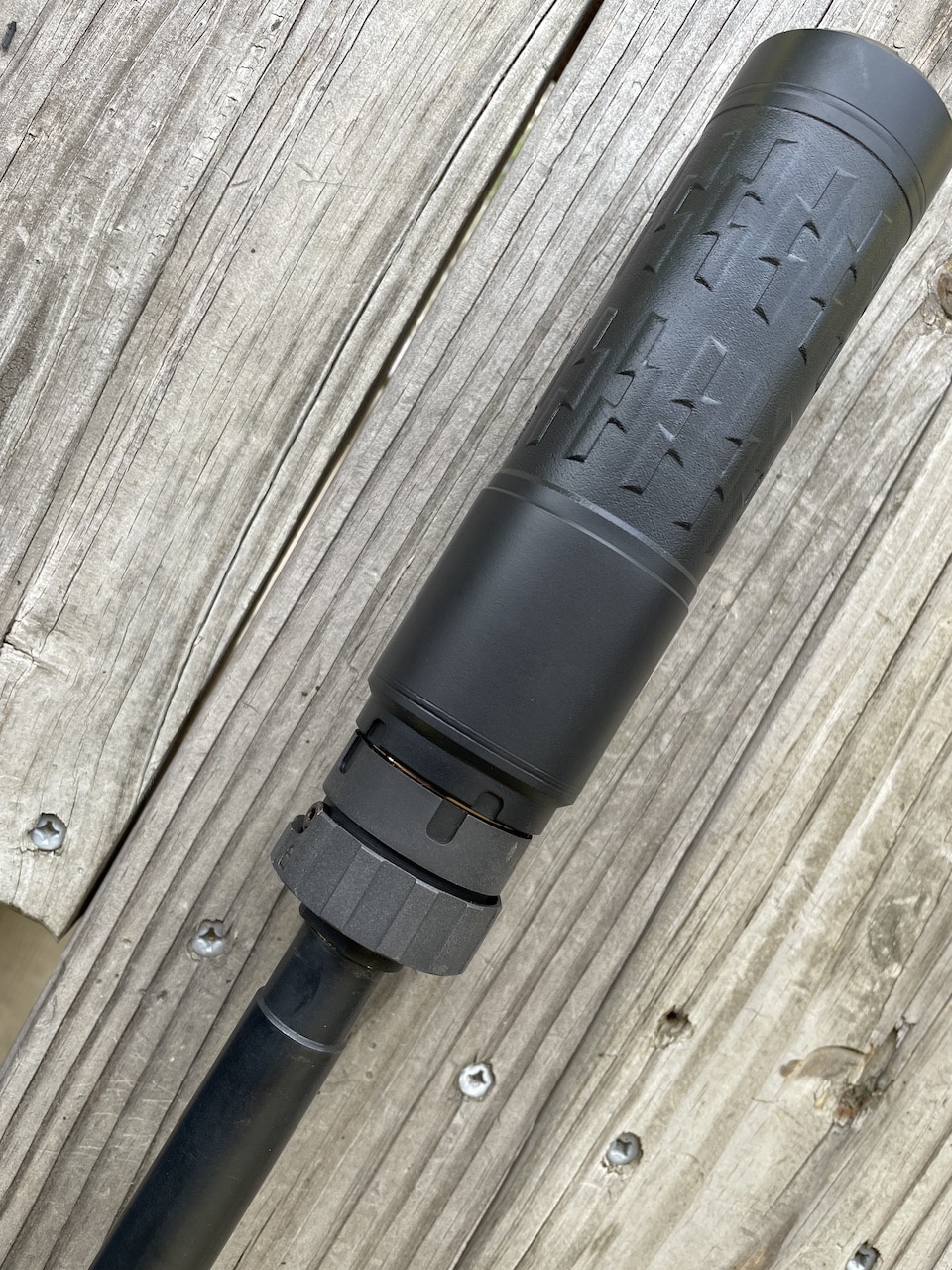 The Velos LBP comes with these specs:
2.23 and 5.56 caliber
15.2 ounces in weight
5.98 inches in length
1.73 inches diameter
Fully welded
Charlie internal flash hider front cap (minimizes flash)
Made from 17-4 stainless steel
3D printed Inconel 625 core
Full auto rated
No barrel length restrictions
V-Series Cerakote finish
SilencerCo claims the Velos LBP is its "most durable suppressor" because of its patented Hoplon blast baffle. This particular baffle will deflect debris, which improves the lifespan of the overall suppressor.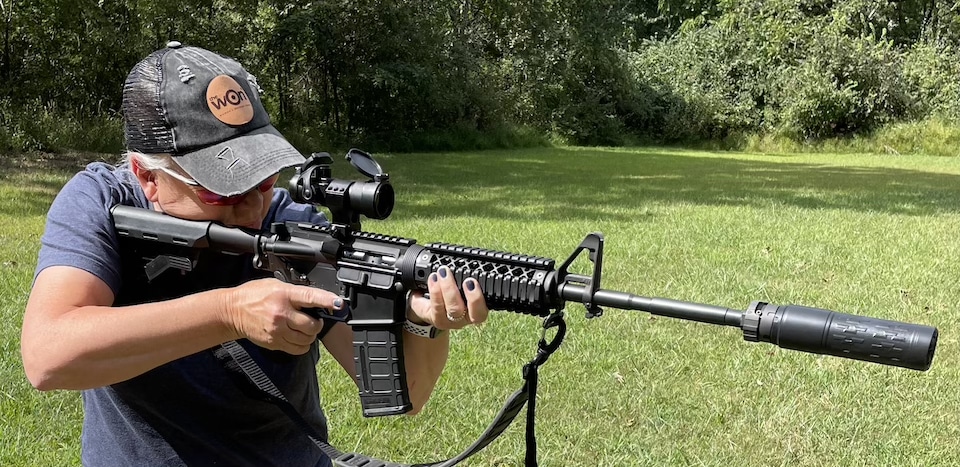 It ships with an internal Charlie flash hider front cap, a Charlie ASR mount, ASR Flash Hider in 1/2 x 28, a spanner wrench and a Charlie tool.
Learn more about the SilencerCo Velos LBP.
MSRP: $1174
About Barbara Baird

Publisher/Editor Barbara Baird is a freelance writer in hunting, shooting and outdoor markets. Her bylines are found at several top hunting and shooting publications. She also is a travel writer, and you can follow her at https://www.ozarkian.com. View all posts by Barbara Baird →