Syren Savvy: Megan Watts with More Advice for Waterfowl Hunting
We interviewed Megan Watts, aka "the Waterfowl Queen," back in 2021. We wanted to check with her to see if she could further enlighten us with waterfowl hunting tips for this year. We caught her at a time in her life when she's super busy; besides getting out to hunt (which is her passion) and fulfilling duties as a pro-staffer for Syren, she's also completing training for being a dental hygienist. Megan hunts with Syren's XLR5 Waterfowler.

Sponsored by Syren USA
In our previous article, you said that the best waterfowl weather is like this: "snowing and icy, super super cold, but with good wind." What advice do you have for novice hunters on getting properly outfitted and what steps do you take to make sure you're able to hunt in those conditions and stay out there for the long hours needed for a successful hunt?
For novice hunters, I wouldn't jump the gun of following which brand or gun everyone is going to tell you to use. It's better to get recommendations to hear about the brands out there, but to also go out and try on what works best for you. (Everyone is going to have an opinion.) Sometimes your camo is not always going to match and that's perfectly OK. Being comfortable is what helps bring joy to the sport. Finding stores that carry multiple brands is key as well because you're able to try on almost everything. I have found that wooly fleece-lined bibs or pants is going to be your warmest gear for any hunting. I love being comfortable doing anything on a day-to-day basis, and I suggest finding that brand that makes you feel like you're cuddled up in a soft fluffy blanket; that's the best way I can even describe how my clothes feel. Hot hands also stay strapped on me and never leave my side because I'm not one to wear gloves hardly unless it's slow. I am a very textural person and prefer to feel the trigger, or feel what I'm doing with my hands to feel safe.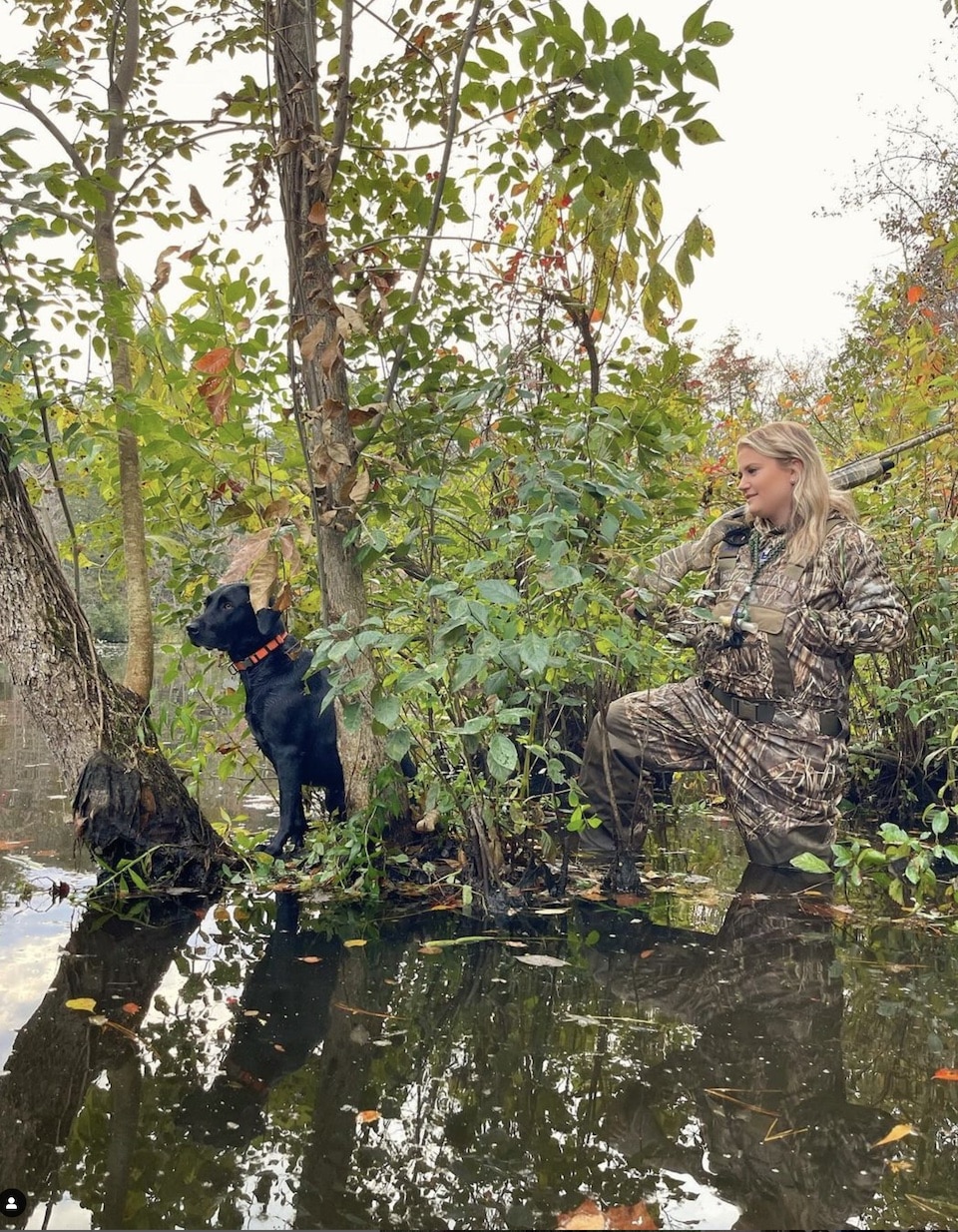 Do you prefer a group hunt with a larger group of friends? Or a 1- to 2- person more intimate hunt? And why? (Pros and cons of both)
I personally like to hunt with a group of 3 max, including myself. I have found I like to hunt public [lands] more because of the thrill and adrenaline it brings me, but when you're hunting public it's easier to conceal a smaller group of people. There is less for the birds to look at – as in movement and discoloration in the grasses. Fewer things to hide. I will have a hunt at least 4 times a year of a group hunt for everyone to get together. I would say the pros of a small group would be the following:
Less movement
Less gear to hide
Able to find and go new places out on a whim
Less distractions to focus on working birds
Easier to hide 2-3 people than 6
I will say that if you have a larger group, it's probably best to find a place with a actual blind on a private piece so friends have a place to move, talk and keep their belongings.
What's the craziest, most bizarre thing that you've ever experienced on a hunt?
I want to say the craziest thing that has happened to me was on public land. I walked to this little duck hole and had apparently made some boys mad because I beat them to this spot that they were after. The sun starts to rise and birds start to work, well they were less than maybe 80 yards from me. They were shooting in my direction in the air at birds nowhere near them (sky busting) and the shot was constantly hitting me and raining on me. I kept my cool even through it is very unsafe. Morning continues and I had birds committing to me, they shot at my spread to flare my birds. I had finally had enough and was that person to call the Maryland National Resources Police. I had taken pictures of their truck plates, the BB's in my hood, my decoy sled and my blind bag. Very scary weird morning.
The funniest thing I will say is how dumb ducks and geese can be when it comes to ice; they will misjudge everything and every landing and you can to see them slide and crash into each other, which with geese causes fights. Mallards will hiss.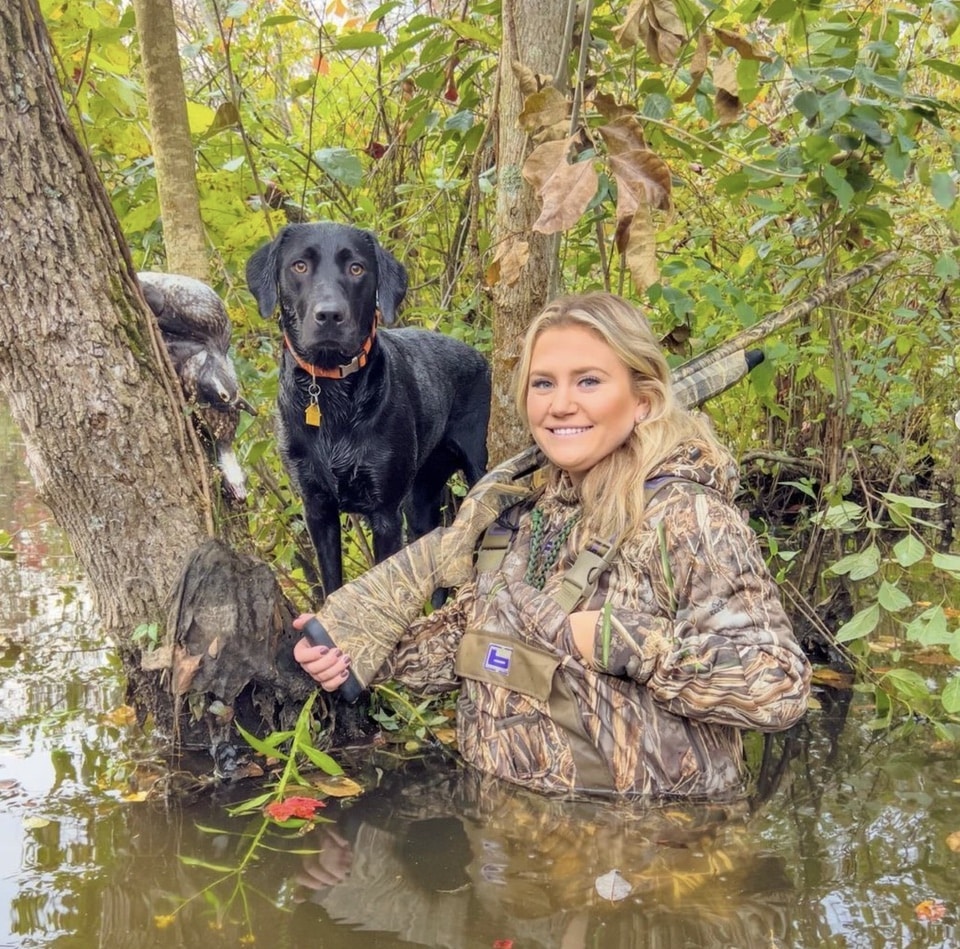 You're located in Maryland's historic Eastern Shore, on the Chesapeake bay, which some might regard as the mecca of waterfowl hunting. How you ever traveled to other waterfowl hunting destinations? If so, what is your favorite and why?
Maryland does draw a lot of attention, but mostly for the bluebills, redheads, canvasbacks and some sea-ducks! I have traveled, but only to Arkansas, for what was a mallard hunt but turned into a woodie hunt because that's what flew and I am not one to discriminate. I would love to go to Massachusetts for Harlequins, common golden eyes and a Barrows Goldeneye. They used to be really common in the Chesapeake Bay waters, but they have slowly disappeared over the years.
What's the main reason you'd advise women to get into waterfowl hunting?
I would say it is a very rewarding hobby. To learn about how to load and unload a boat, drive and operate a mud motor versus an outboard, learning wind directions and how to set decoys accordingly and gun safety would be the biggest reasons. Hunting and learning to be successful gives you this sense of self accomplishment of knowing you're able to go out there and do it yourself, where other people put up a block in their brain of someone must take me after years of knowing what it takes and involves. You don't need the best boat, the fastest motor, just something that works. Quite honestly, if you can do it and do it well, you're either going to intimidate a man or you're going to impress him. Again, it's very rewarding as well when you're able to teach another fellow woman how to do everything because you're able to rely on one another.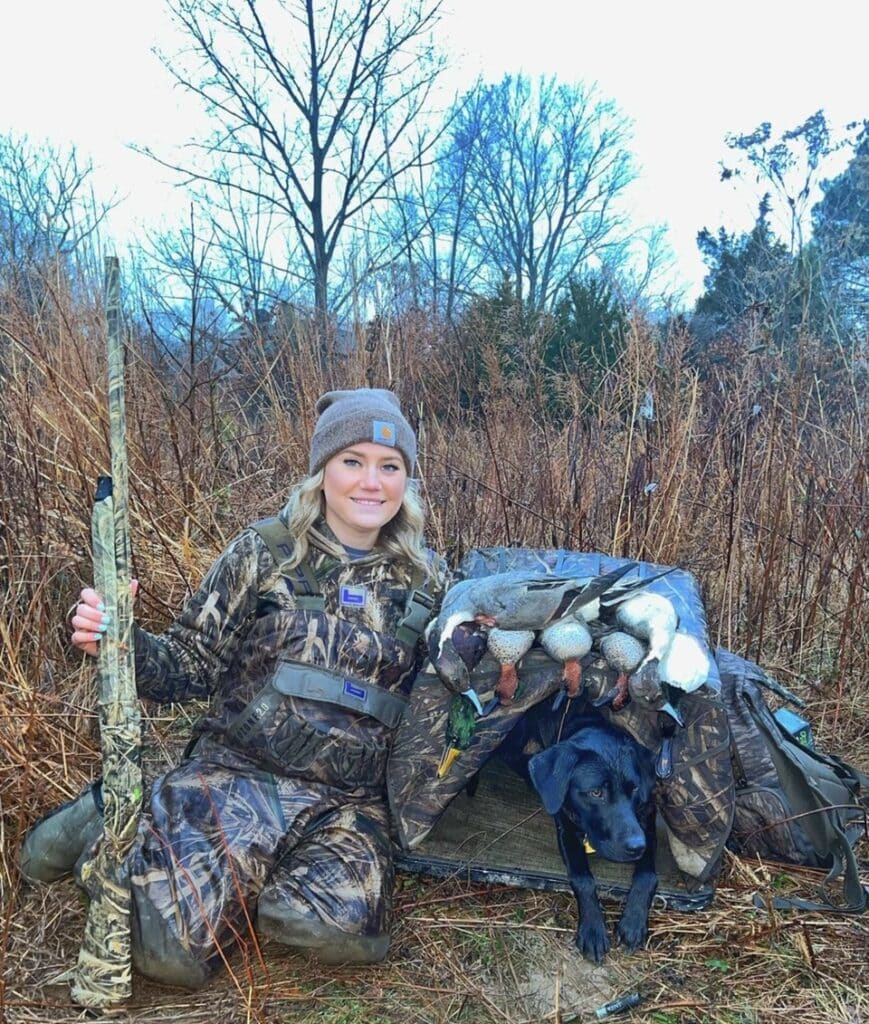 How important is it to you to get more women involved in hunting, shooting, and the great outdoors?
Getting women involved is absolutely very important. A lot of families raise their daughters and they never get to experience hunting, shooting or fishing – unless someone offers to take them. A lot of people seem to be very uneducated about how important hunting is. It's not always about the harvest; a lot of it has to do with conservation which isn't something people grow up learning about. I've been seeing through social media the growth of outdoors becoming popular amongst women, which is phenomenal because it brings people together across the country being able to share what birds you have in your eastern fly zone versus what is in the western fly zone.
Being able to trade hunts with people and meet new people is how the sport grows. Girls will feel more comfortable hunting with girls than men, due to the fact they simply just are men. Calling can be intimidating, shooting can be intimidating – simply due to the lack of knowledge and experience. It's finding that who is willing to teach you and broaden your knowledge on how to do things, such as stopping and hold points for sporting clays, understanding when a bird likes the calling that day or doesn't want to hear a call that day.
If someone wants to go, are there specific drills or methods to use for practicing with your shotgun? On the clays courses or even, dry fire?
I personally do not like to dry fire but I would recommend them watching without having a gun for their first time and being able to talk to them and establish blind rules of any blind for the very first time. Explain when you take your safety off, why you prop your gun up the way you do, being situational awareness is huge. In the sporting clay range or skeet range, it's a little bit easier due to only being allowed to load your gun when you're in the stand or box for your station right before you are ready to fire.
What size chokes do you bring with you to the hunt and why?
For waterfowl hunting, I like to shoot a MOD (modified) choke. You're able to shoot short range, mid-range and long range with this choke and have it open up at 35 yards; you would roughly have a 40-yard spread of shot. When you figure out how to lead a bird or a target, you're able to shoot at any range with a MOD. For sporting clays, I have double light MODs in my O/U (Syren Tempio Sporting), which are a little lighter than a full modified choke. You're able to shoot the closer targets and not have a worry of the choke not opening up in time. It more or less is in between an improved cylinder choke and a modified choke. I was in the habit of changing my chokes out for every target; it was unnecessary to say the least. Every now and then if I know for sure that there is a long range target at say 70 yards, I will change my choke to a full MOD or a full in general.
Steel shot — let's talk about the importance of that!
There are definitely many brands of steel shot, and people definitely get fired up about what is best and what is not. I change sizes up for different birds based off what I am after that day. For geese I like to shoot 1's or BBs. There is T shot and triple BB, but I personally have never used them and don't really have intentions on using it. Just preference due to having ducks come in with our spreads a lot; T shot will absolutely obliterate a duck breast and we're out to eat not waste. For Ducks I like to use 2's or 4's. It's a smaller shot, allowing for more of a bb count inside of your cartridge, and it doesn't mess up the breast meat too bad.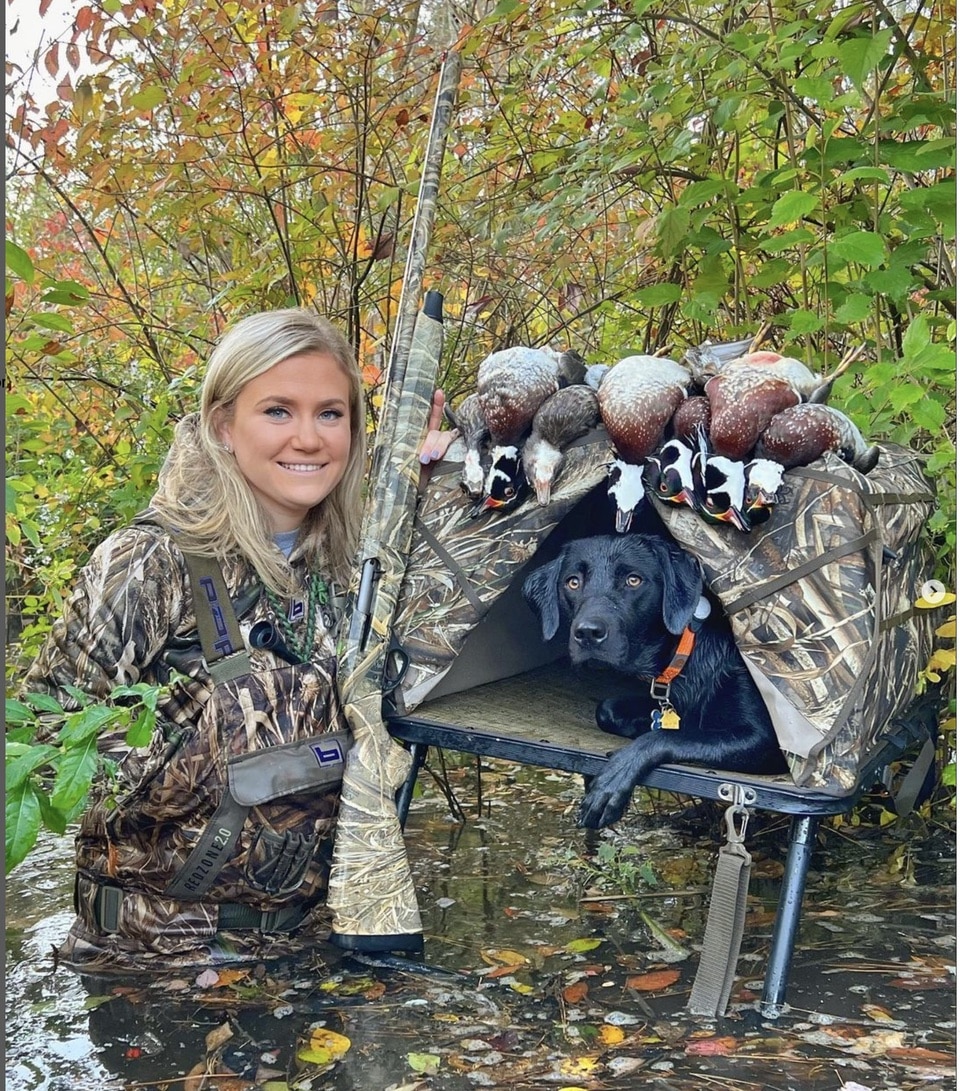 Is it necessary to have a dog?
It's not exactly necessary to have a dog, but are they fun to have, so absolutely yes. Dogs enjoy the sport as much as you will. Take them once and you're going to have to take them the rest of the time as well. Training a dog can be expensive if you choose to send your dog to a trainer, but if you're able to train the dog yourself it is a great experience and gives you a closer bond to your dog. There is a level of respect established between you and your dog. I highly recommend to start off training your dog the very minute you get your puppy. It's harder to teach an old dog new tricks, especially if you have a dog that doesn't have the drive to learn and constantly learn something new. Dogs make your hunt easier because of their love to retrieve. Most of the places you're going to hunt, you can either walk to, kayak to, or drive a boat to, which are also methods of being able to retriever a duck or goose as well. Dogs just bring joy.
Hunting safely — what are some tips you'd like to pass along?
Situational awareness is huge. Biggest part of hunting. Being aware of if your gun is on safety the second you pull it back down into the blind, making sure it's pointed in a safe direction as in the barrel not pointed at another person when laying down, where the dog is in the blind. If your dog is walking around near your gun, your hand should be reaching for your barrel to ensure the gun does not fall over in the blind. Accidents happen, yes, but are preventable in most cases.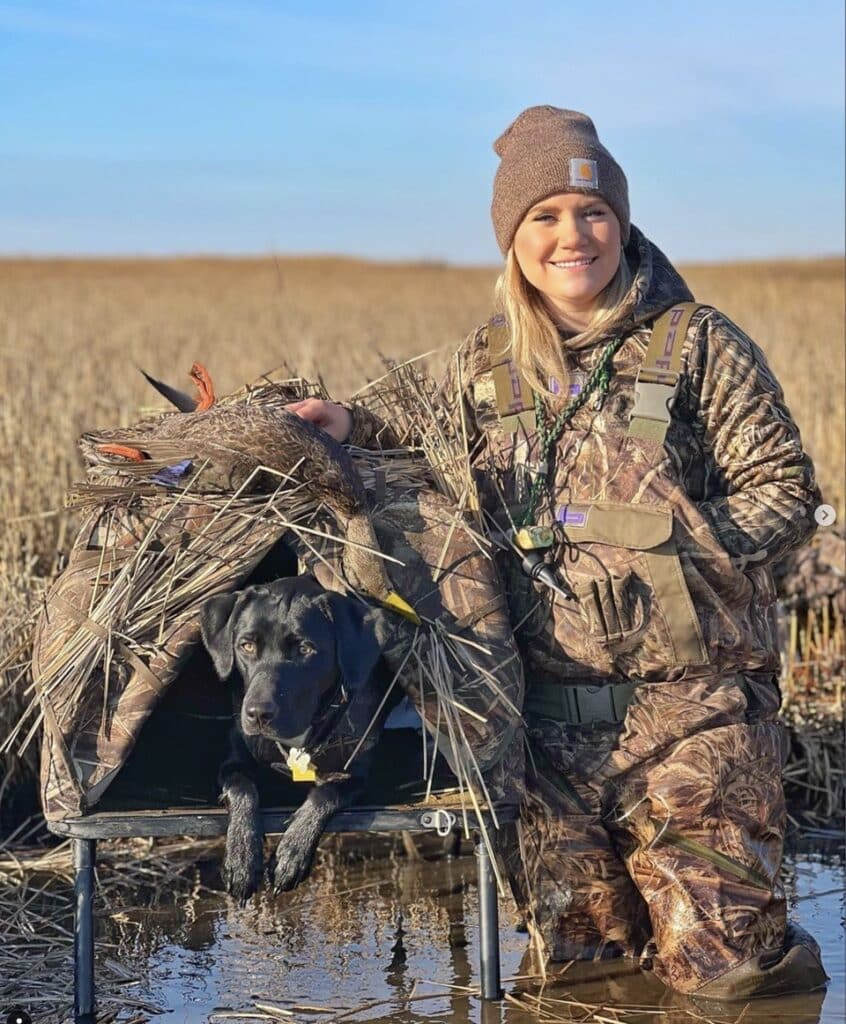 Follow Megan Watters, Waterfowl Queen, on Instagram.
Visit Syren to see the fine line of shotguns designed for women.
About The WON

The Women's Outdoor News, aka The WON, features news, reviews and stories about women who are shooting, hunting, fishing and actively engaging in outdoor adventure. This publication is for women, by women. View all posts by The WON →