Syren USA's Pro-Staffer Megan Watts, the 'Waterfowl Queen'
Meet Syren Pro-Staffer Megan Watts, aka the "Waterfowl Queen," on Instagram. We ran a feature on her a while back, but we thought you'd like to hear about why she's named herself the queen of the waterfowl hunters' world.

Sponsored by Syren USA
The WON: You say you've been hunting since you were 7. How'd you get started and why?
Megan Watts: I had the fascination for hunting when my dad would come home with all these ducks and geese, some even having bands. I begged to go, but my mom was not too keen on the idea of me going being I was so young … but I didn't let up. She gave in, but told me if I wanted to hunt, I had to shoot for 4-H for what at the time was Talbot County Clay Busters. I actually ended up not being half-bad at shooting clays, which is now another hobby I do besides hunting. The first time I went hunting, I was basically just observing and seeing how everything went to make sure this is something I wanted to do – because you're taking a life to put food on your table. At a young age, I figured that out quick and the morals/ethics that come along with hunting.
The WON: What kept you hunting?
Megan Watts: The first time I actually killed a first pair of geese is what kept me hunting; from that point on, I was hooked – beyond hooked. It was snowing and icy, super super cold, but with good wind – best waterfowl weather. My dad was actually not in the blind at the time, he was walking along the shoreline where we hunt because you can find quite a few arrowheads, deer sheds and every now and then, something from the War of 1812. My dad's lifelong friend actually called the pair of geese in for me and said, "This is all you, I ain't shootin." I had 3 shells ready, but in 2 shots, I shot both geese. I was beyond excited. Ran out of the blind to tell my dad, even though it was evident from afar.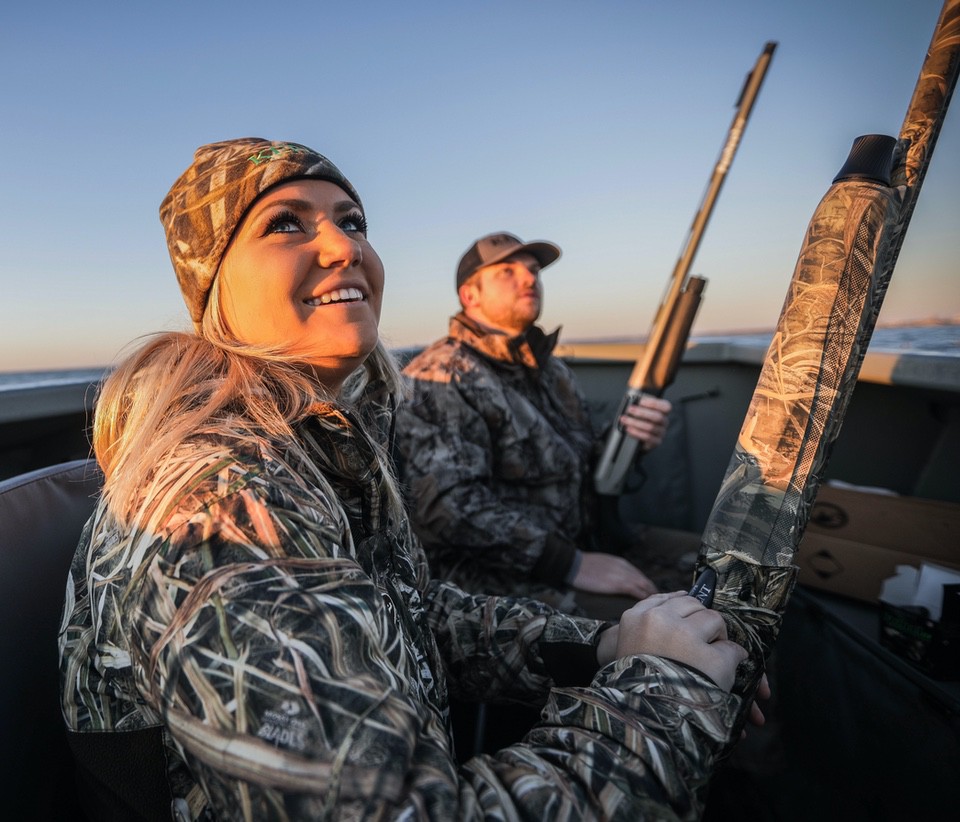 The WON: Favorite species to hunt?
Megan Watts: I never got to experience large groups of ducks dumping into decoys till about 2019 – crazy to think being I've been hunting for 15 years now, but I would have to say it's a toss-up between redheads (type of diving duck) and Gadwalls or wigeons (type of puddle ducks you'd find in the marsh). The way a redhead just cups up and has no hesitation of coming into the spread is just something to watch all in itself. Wigeon/Gadwall both kind of fly the same, but they'll typically come in groups of 5 to 35. Listening to them soar over top of you, to get right with the wind, is something to hear, and then when it's finally time to shoot, watching them back pedal in the decoys is so crazy to watch because they want in the decoys so bad.

The WON: Tell us about why the XLR5 Waterfowler from Syren works so well. What are your fav features of this model, especially when compared to other brands?
Megan Watts: The Syren Waterfowler has been hands-down the best duck gun I've owned. I've never once had this gun jam on me and I've put it through the ringer, I will say. I'm not the easiest on my duck guns. It has seen sand from brant hunting, dirt from goose hunting and mud from puddle duck hunting – never misfired. Never once.
I'm a "very cold" person, regardless of what I wear and what I do. The bolt release button is super easy to push in when your fingers are cold, and the shell release button is easy to push as well while weather gloves. The stock of the gun is shorter, and I've found it does not catch in your armpit when you're trying to pull your gun up to shoot with hunting clothes on (all layers).
The most common guns I've seen women hunting with recently would be Beretta A400s, Stoeger M3500 and Benelli M2/M3. The stocks on all of those guns are super long, from what I've found, and they get hung up in my armpit even without hunting clothing on. I've also found the Benelli's shell release buttons are very thin and super hard to click/push when wearing gloves, and even without gloves, when your fingers are cold. I like to be comfortable hunting and to be comfortable when handling my gun.
The Waterfowler also has a good weight to the gun; it feels smooth when you swing through with it — easy to follow through for your shot string. I barely feel a kick from the Waterfowler.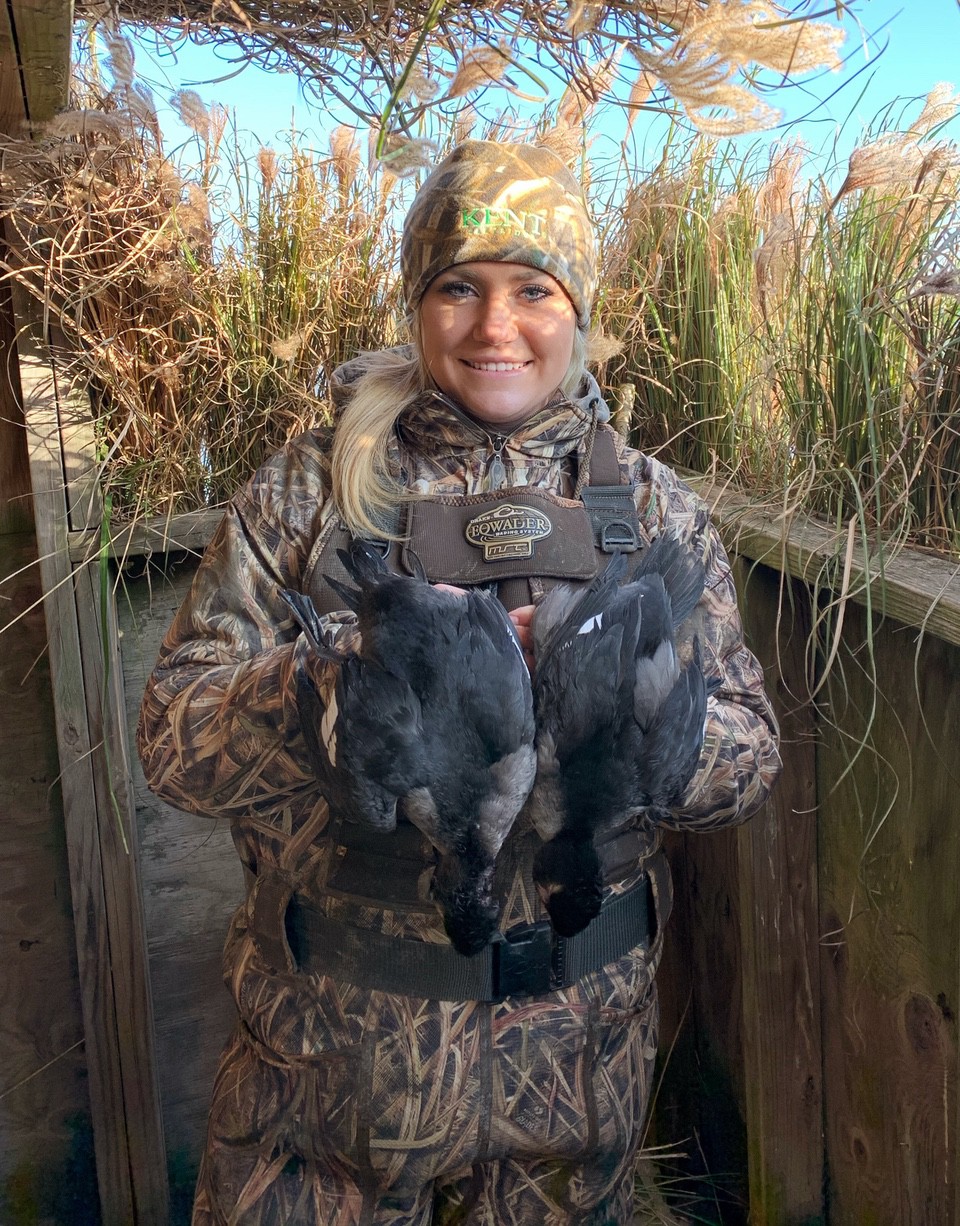 The WON: Are you an early season, late season or all season waterfowler?
Megan Watts: I'm an all-season, all-weather waterfowl hunter. Nothing really stops me; I'll sit through being soaked, being cold, being both soaked and cold just to get a couple ducks.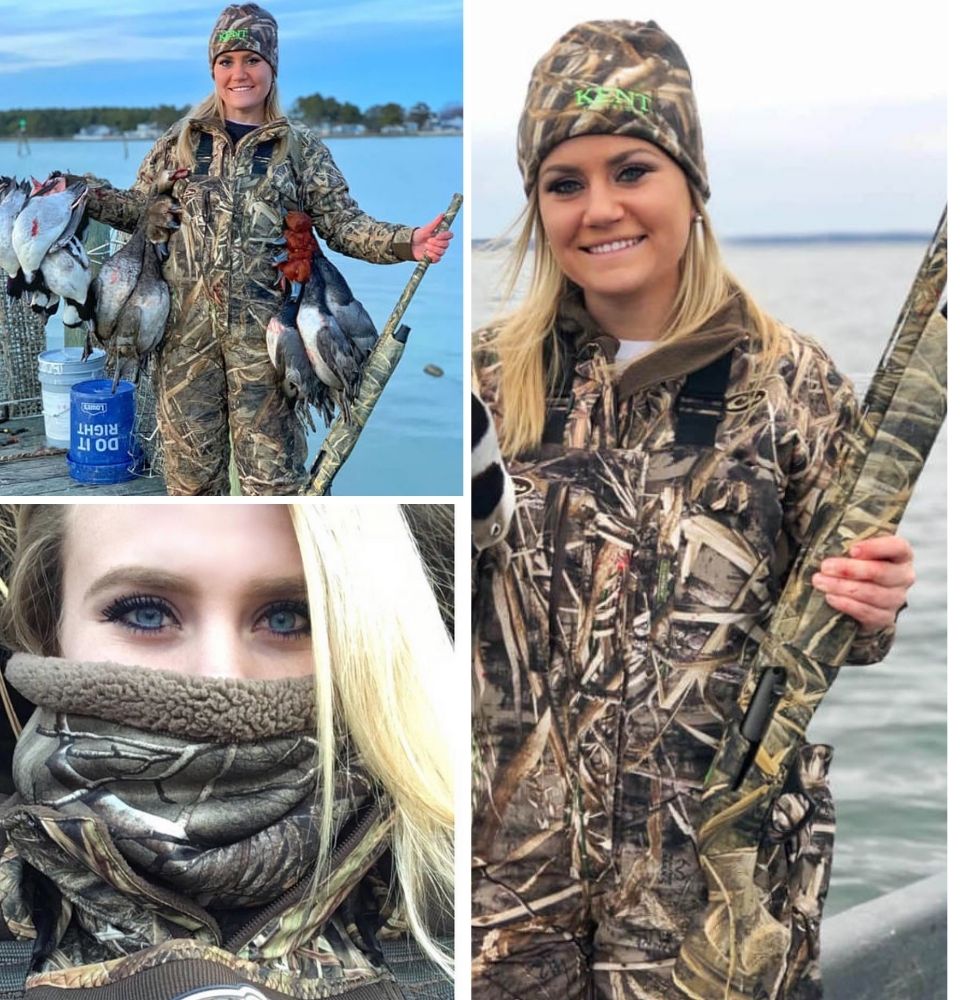 The WON: What's happening in the world of women and waterfowl hunting? What are you personally seeing?
Megan Watts: Here's something I've been seeing … the social media app TikTok has had a huge play in females waterfowl hunting and it hasn't exactly been things that give a good name to the waterfowl hunters in general. It's been things that make me irate, such as girls letting crippled ducks go to keep hunting. That's morally and ethically wrong in my eyes and it's illegal in states.
Another thing I'm seeing is women being bashed by guys on all platforms. I can't quite figure out why, but younger groups of men have been the culprit from ages 20 to 35ish.
I'm also seeing more and more women group hunts and not guided hunts at that. I truly love seeing more and more women getting into hunting – understanding and appreciating the outdoors with what it has to have offer. It's hard in some areas to find women to hunt with, I've been fortunate enough to have girl cousins who grew up with me hunting, even some friends that grew up hunting. I offer them a spot every chance I get in my blinds.
The WON: Do you have a favorite recipe for goose? For duck? Please share!
Megan Watts: My most recent kick for both duck and goose has been Fajitas!
Ducks: 6 breasts (feeds 3)
Goose: 4 breasts (feeds 3)
1 onion
1 bell pepper
1 bag shredded Mexican style cheese
Vegetable oil
Soft bag of tortillas
Smoked paprika
Cut duck or goose into small thin strips about a centimeter wide. If they're super long, cut them in half. Generously coat the strips of meat in the smoked paprika.
Cut the onions and bell pepper into thin long strips.
In a medium pan, coat the pan in vegetable oil over medium heat. Then cook the meat in the pan till browned on the outside. Then, cook the sliced peppers and onions in the same pan after the meat is finished. Cook the peppers and onions till golden brown.
Place the cooked goose/duck in the tortilla, the cooked peppers and onions on top of the meat, sprinkle cheese and the fajita is complete.
The WON: Best tip for the blind bag organization?
Megan Watts: My best tip for blind bag organization is keeping your boxes of shells on one side of the bag, and snacks on the other. I typically put my gloves in the side pockets, as well as my headlight on the other side. But, always have room for snacks.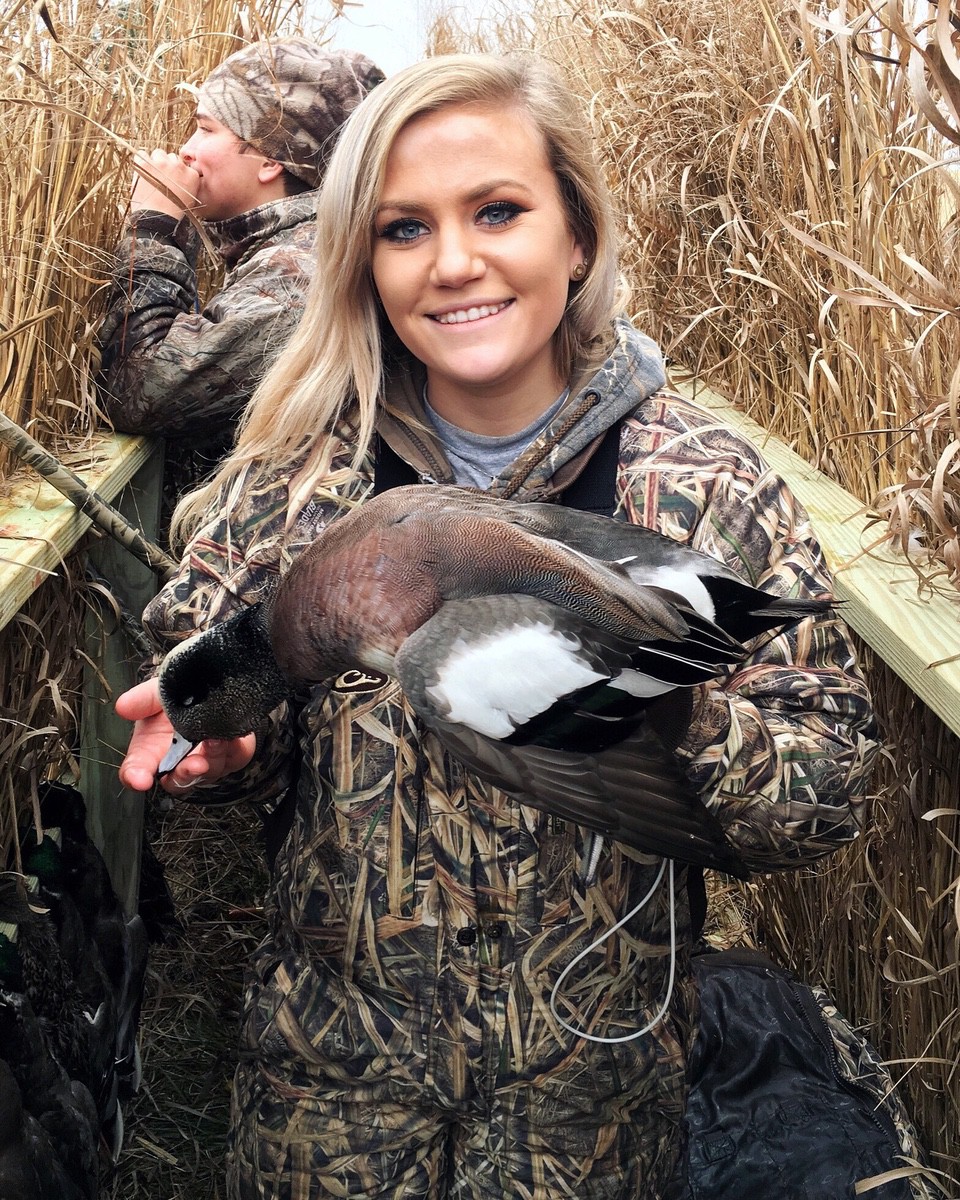 The WON: Do you want to brag on your duck dog a bit? She's awfully cute!
Megan Watts: So, I actually hunt with 2 black labs, and unfortunately neither are mine. The 1 black lab I hunt with primarily is named Scout, she's roughly 3-to-4 years old now. She's been getting better and better with time; she wasn't sent anywhere to be trained. She was trained by my dad's friend who owns her. And just like me, she loves her snacks. Just not long ago, about 3 weeks ago, I bought a 50-count munchkin box from Dunkin' and left it in the blind to set out decoys and we come back inside the blind, and she had her whole head inside the box. Even while looking at us, she was still inhaling them, till we stopped her.
The other black lab I hunt with is named Lacey; she is a hunting machine. She was sent for a few weeks to be trained, but was pulled from the trainer and trained by her owner. She never misses a duck, if she can't see them, she can smell them. She's about 2 years old. She doesn't exactly have an interest in food, she is always eyes to the sky. Also, she's as sweet as can be and always excited to see somebody.
I also have a pet duck. Her name is Munchie; she is a Pekin duck. She loves cherry tomatoes. My sister also bought her a duck diaper to bring her inside the house. Munchie loves to sleep on a towel in the house, where they feed her oatmeal.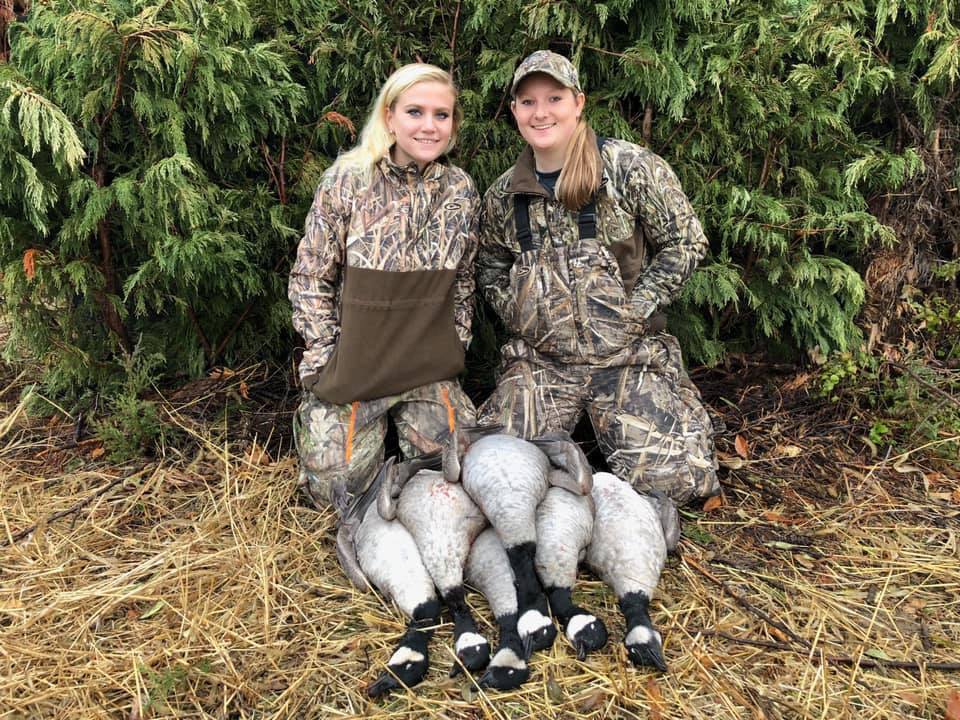 The WON: What's a dream duck hunt that you'd love to take someday? Why?
Megan Watts: A dream duck hunt I would love to take one day would be going to Alaska to shoot a King Eider, goldeneye and a Harlequin! We have common goldeneyes around Maryland but not in plentiful numbers and they are hard to come by. I've never shot any of those species besides a hen goldeneye. I have so much fascination in those 3 species, I hope to eventually 1 day get 1 — especially for the experience, as well. All of them are so beautiful. Goldeneyes are primarily black/green with white; Harlequins are blue, rust orange, black, white and grey. King Eiders are mostly white and black-bodied with a sea-foam greenish and sky-blue head, paired with an orange, black and pink bill.
Follow Megan Watters, Waterfowl Queen, on Instagram.
About Barbara Baird

Publisher/Editor Barbara Baird is a freelance writer in hunting, shooting and outdoor markets. Her bylines are found at several top hunting and shooting publications. She also is a travel writer, and you can follow her at https://www.ozarkian.com. View all posts by Barbara Baird →