Babbs in the Woods: That grass thing
I like to chew on dried grass when I'm in the field hunting. No, not like a cow in the field munching on it, but plucking one piece at a time – one with a nice tender green thread at the end, inserting it between a couple of molars and working on it throughout the morning. Or flossing my teeth with it. Hours can get long out there.
Throughout the years, photographs have appeared of me with a piece of grass hanging out of my mouth. You know, I hardly realize the grass is there anymore, except when I look at the photos.
Like the one to the left, taken in South Dakota last summer with outdoor blogger NorCal Cazadora (Holly Heyser). Or the shot taken in a dove field when I was hot and perspiring and doveless – and that included no Dove under my arms that day. It was one of those early mornings where running water and a stick of deodorant didn't factor into play. This is the photo that the National Wild Turkey Federation used last year when it included me in its poster person campaign for "It's My NWTF."
Then, I noticed some copycats out there in the outdoor field, who wanted to copy that grassy look, and of course, they got away with it.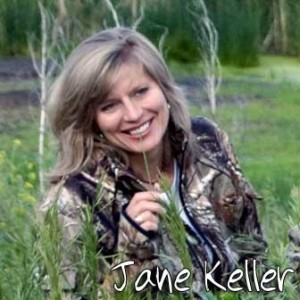 Like Jane Keller, of Team Huntress, who not only uses the shot as her official avatar and mug shot all overtheInternet, but who sent it to me and told me she liked the look.
And, Jody Narantic, The Hunter's Wife, who opted for a flower instead of grass because, well, that just suits her more. She always goes for more scent, preferring to imagine her potential for becoming a huntress while carrying out the garbage in her jammies and slippers. Usually, she's just stepped out of a shower that I can only imagine is filled with Bath & Body buffet of soaps and gels.
Imitation – the most extreme form of flattery!
~
Barbara Baird
Twitter: http://twitter.com/babbsbaird
Facebook: http://facebook.com/babbsthewon
About Barbara Baird

Publisher/Editor Barbara Baird is a freelance writer in hunting, shooting and outdoor markets. Her bylines are found at several top hunting and shooting publications. She also is a travel writer, and you can follow her at https://www.ozarkian.com. View all posts by Barbara Baird →
The Conversation