Babbs in the Woods: New 'American Girl' doll really green and 'out there'

Is there anyone in this country (with a female relative under the age of 25) that can't list some of the names in the lineup of American Girl dolls? You know – Felicity, Josefina, Molly and Addy, to name a few. We bought the books, not the dolls.
American Girl just introduced a doll, one that promotes going outdoors. Her name is Lanie Holland, and it sounds like she comes from a family of couch potatoes. Her outdoorsy aunt comes to visit and opens the back door, and voila! … Lanie learns to love the outdoors in two books. Maybe she'll wear her butterfly outfit or better yet, her garden outfit and that comes complete with a hammock set.
The main problem I have with Lanie is her affiliation with the National Wildlife Federation and its "Be Out There" program. The NWF signed on to the global warming scare, stating on its website: global warming is the single biggest threat to wildlife.
I'm thinking that if Lanie learned her lessons from the scientists we've heard about lately who advocate this political global warming business, here's how she operates.
In science class – "Oh, I don't like that lab test result. It's not what I expected. I'll throw it out, or better yet, I'll just fudge my lab report and oh yeah, I'll give my science partner my Little Debbie treats tomorrow in the lunchroom."

In math class – "What? Statistics? You know that they can prove anything and I want to prove that global warming is real, so I'll just make sure I select the data points that statistically verify the results I want to prove."

In English class – "My sources for my paper on 'Global Warming and Why Kids Should Really, Really Like Be Scared' are all those scientists from NOAA and NASA that did all that work for the government and charged my parents a lot of money in tax dollars. Oh yeah, and I'll watch Al Gore's movie again and cite that."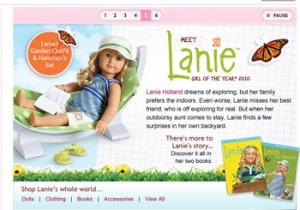 Scratch little Lanie's surface and she does not smell like new-doll plastic here. She smells like dirt thrown at the rest of us in the form of brainwashing about global warming (Oops – I mean, "climate change," the latest version of the title that allows for "unwarming" without blowing the anthropomorphic accusation out of the water).
In fact, I think Addy and Molly and all the rest of those girls should refuse to play with Lanie when she wants them to play outside. And maybe the parents of all those little girls who think this doll would be a great addition to the A.G. lineup should think twice about where she really comes from. ~Barbara Baird Twitter: http://twitter.com/babbsbaird
Facebook: http://facebook.com/babbsthewon
About Barbara Baird

Publisher/Editor Barbara Baird is a freelance writer in hunting, shooting and outdoor markets. Her bylines are found at several top hunting and shooting publications. She also is a travel writer, and you can follow her at https://www.ozarkian.com. View all posts by Barbara Baird →
The Conversation