Babbs in the Woods: If Nature is a Mother, her best friend is (Poison) Ivy

Act 1, Scene 1: Barb, aka MIL (for Mother-In-Law): How about if we set the blind here, oh daughter-in-law who hath not hunted the elusive Eastern before now?
DIL (Daughter-In-Law) pulls the stops out on the blind and it unfolds like one of those windshield sun protector things, except about 225 times bigger: Sure!
MIL, unzips the door to the blind: OK, let's put the chairs in now.
DIL, points to ground inside the blind: Uh, isn't that poison ivy?
MIL: "Crap!"And so now, I suffer from meeting Mother Nature's friend, (Poison) Ivy who showed up frequently during our two-day hunt last week. In fact, my husband says that if poison ivy were a cash crop, we'd be millionaires.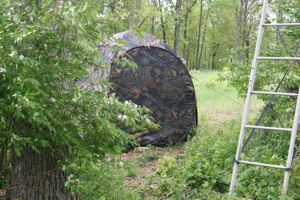 And, it seems everyone has a poison ivy story – like my husband's late Uncle Junior. Which brings up another story about that particular uncle. After Junior was born, the nurse asked his dad what to he wanted to name the baby, and my husband's grandfather (named George) said, "Why Junior, of course!" And, the nurse didn't realize that he meant George as the first name, so his first name was Junior. I love that story.
So, Uncle Junior was a little ankle biter and went fishing with his boy cousins and needed to use the outdoor restroom. He wiped his little behind with a nearby leaf and you ought to know the rest of the story, but what you don't know is that little Junior was a nine-year-old boy with a new step mom and he didn't want her to attend to his backside. So he suffered.
When Junior grew up he worked for the gas company, and of course, worked around poison ivy. One day, the story goes, he saw a lineman eat a poison ivy leaf and asked him what the heck he was doing that for, and the lineman said he ate it to keep up his tolerance to it. [DISCLAIMER: DO NOT EAT POISON IVY!]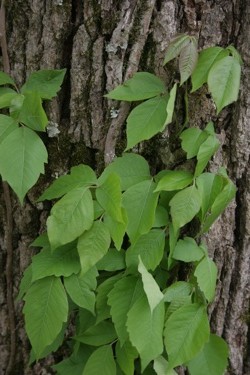 So remember the "leaves of three, let them be" and also, we at The WON do not recommend that you eat poison ivy, but we do remind you that Nature is a Mother and her best friend is (Poison) Ivy.
~Barbara Baird
Twitter: http://twitter.com/babbsbaird
Facebook: http://facebook.com/babbsthewon
About Barbara Baird

Publisher/Editor Barbara Baird is a freelance writer in hunting, shooting and outdoor markets. Her bylines are found at several top hunting and shooting publications. She also is a travel writer, and you can follow her at https://www.ozarkian.com. View all posts by Barbara Baird →
The Conversation