Babbs in the Woods: On daffodils and babies
A monumental task taking almost 16 months came to completion yesterday. I stood looking at piles of old yearbooks, magazines and letters. Another pile held vintage dresses and old uniforms that once belonged to my in-laws.
That will go to local theater groups. Another pile waits for a charity shop run.
As I write this post, I hear songs from Phoebes and cardinals outside my office window, interspersed with screeching of a red-tailed hawk that has a nest in the woods next to our house. It's hunting in our yard again and its cries are an airborne death knell.
These sounds remind me of our lives lately. It's been quite a week. Sorting through the last of the remnants of my inlaws' 66-years of marriage at the ranch house they built and lived in for more than 40 years in the Ozarks combines with the news that my husband and I will be grandparents for the first time – of twins – this fall. Old life and now, new life.
The joy of hearing the news about the impending births and yet, the bittersweet knowledge that we can't pick up the phone and tell his parents the news. So, I walked down to the family cemetery on the ranch yesterday and told them. My mother-in-law's wind chimes tinkled. They hang from a cedar tree near her remains. A breeze blew fresh smells of forsythia and daffodils in my direction.
I like to think they know that life goes on from them to their son to their grandson to the new babies that will someday learn to love that old place like they did and I do.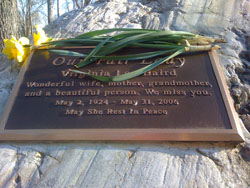 About Barbara Baird

Publisher/Editor Barbara Baird is a freelance writer in hunting, shooting and outdoor markets. Her bylines are found at several top hunting and shooting publications. She also is a travel writer, and you can follow her at https://www.ozarkian.com. View all posts by Barbara Baird →
The Conversation