Babbs in the Woods: A case of Magnum P.I. and the 'Tail-end' blues
It was one of those weeks. My dog died and my case of poison ivy went from being simply irritating to downright annoying. Let's just say I got a case of Magnum P.I. (P.I. aka poison ivy), and if you ever watched the TV show affiliated with that name, you know how far removed it is to have to watch an old rerun on TV as compared to watching real life in an Urgent Care facility on a Saturday afternoon.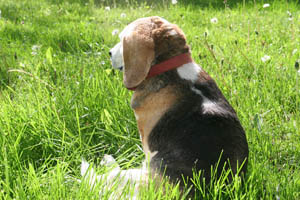 And, about my dog … Miss Prissy went to join her husband, Pokey, and son, Pokey Junior, in doggy Heaven, where I'm sure there's a field for beagles that features rabbits that run and run and run and never get caught. She more than likely suffered a heart attack and all signs pointed to another one last week. So, I made the decision to end her life in the exam room at the vet's office. I hate that. I wanted to bring her home, but she was in major distress.
After we buried her in our pet cemetery in Possum Holler, I resumed scratching. I tried almost everything my pals on Facebook suggested for the poison ivy outbreak, including bleach, gels and creams and oh yeah, taking a drink of wine. I used my blow dryer up against my skin. I exposed my arms and legs to sunlight. I still wound up in an unflattering position in Urgent Care on a Saturday afternoon, waiting for a shot in the hiney.
Some weeks … well you're just glad to see the tail-end of them, even if you're sorry you'll never see the tail-end of a dog you loved again.
~Barbara Baird
Twitter: http://twitter.com/babbsbaird
Facebook: http://facebook.com/babbsthewon
About Barbara Baird

Publisher/Editor Barbara Baird is a freelance writer in hunting, shooting and outdoor markets. Her bylines are found at several top hunting and shooting publications. She also is a travel writer, and you can follow her at https://www.ozarkian.com. View all posts by Barbara Baird →
The Conversation