Babbs in the Woods: Doing the paintball, pop-knot pat-down

At last count, I had 18 paintball pop-knots on my body from my recent nine-round "Capture the Flag" paintball adventure with BLACKHAWK!'s Navy SEALS and other fit staff, pro-shooter Todd Jarrett and several outdoor bloggers – all male.
I call it a Babbs' moment, thanks to Associate Editor Paige Eissinger who named such moments after her cat got its tail caught in her printer. At about 5:15 a.m., EDT this morning, I had the honor of receiving the paintball, pop-knot pat-down by a female TSA agent at the Norfolk, Va. airport. I had no clue I had been singled out until I walked past the TSA agent at the metal detector and he stepped aside and I realized I was in the little glass room – you know, the one usually reserved for grannies or those folks with walkers or metal parts in their bodies.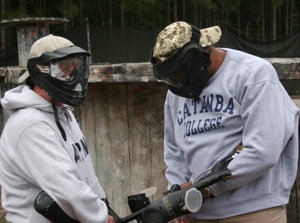 "Please remove your jacket," said the male agent." To which I answered, "I've been playing paintball with former Navy SEALS," and motioned to the line of bruises that run from my shoulders to my wrists on each arm. No response.
Then, the female agent took over: "Face your belongings, ma'am, and I need you to place your feet on the footsteps on the rug (which must have been based on a pro-basketball player's footsize)." Again, I said, "I've been playing paintball with former Navy SEALS!" She gave me that "yeah, I'm sure" look and asked, "Do you have these all over your body?"
I thought,"She's going to give me a pass! She thinks I'm a battered wife or something!"
I answered in the affirmative, and she gave me the soft treatment, almost like a rub. She also tucked up my pant bottoms. Then, she dismissed me. And clucked, I think. Or maybe it was a tsk. Whatever, it added to the long list of Babbs' moments that will keep me chuckling my way through old age.
Twitter: http://twitter.com/babbsbaird
Facebook: http://facebook.com/babbsthewon
About Barbara Baird

Publisher/Editor Barbara Baird is a freelance writer in hunting, shooting and outdoor markets. Her bylines are found at several top hunting and shooting publications. She also is a travel writer, and you can follow her at https://www.ozarkian.com. View all posts by Barbara Baird →
The Conversation