Babbs in the Woods: No sucker punches from these (KNOXX) stocks
"Let's ask Barb to come on over for a demonstration."
I never really like to hear those words because they bring back chalkboard experiences in math class or even worse, 7th grade gym class and a pull-up bar. In this case, pro shooter Todd Jarrett had singled me out of a crowd of gun and outdoor bloggers at a shooting demonstration at the Norfolk, Va., police range. The task? To place my left hand between the Remington 870 shotgun stock and his shooting shoulder.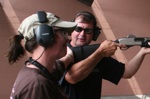 Now, Todd's a nice guy so I decided to help him out and I trusted him – and the stock. He shot a few rounds and other than a little press each time he shot the gun, I hardly felt a thing.
Then, the rest of the bloggers got their opportunity to a) take the recoil on their hands and b) feel Todd Jarrett's pecs. Todd demonstrated the BLACKHAWK Knoxx Compstock, featuring an improved patented recoil reducing system that slows the entire recoil cycle down and absorbs more than 54 percent of the net peak recoil. A cam roller extension spring gets credit for this feat. No sucker punches to the shoulder, gals, and it fits all varieties of Remington 870 12 gauge, C Mossberg 12 and 20 gauge and Winchester 12 and 20 gauge. Retail: $119.99
BLACKHAWK! had brought us to this range to sell us on the idea of its line of KNOXX Stocks for shotguns and rifles. Former police officers, former Navy SEALs and Marines, along with a cop from Tampa made up the mix of bloggers and company representatives. It would be a hard sell – to cops, former cops, former soldiers and three females, two in sleeveless attire!
After the demonstration with Todd, I headed over to the rifle portion of the shooting exercise. Two years ago I shot an elephant gun on a range in Idaho, courtesy of BLACKHAWK!, and its rifle stock line. No problem then, so I knew a .300 Win Mag would not hurt either. And, it didn't.
Gary Cauble, Director of Business Development for OEM, told us that the Axiom UL stock on the Howa 1500 contained two recoil suppression devices for maximum recoil reduction, a completely free-floated barrel, an adjustable length-of-pull from 11.25 to 15.25 inches and durable reinforced polymer construction with aluminum pillar bedding. And, it only weighs 2 pounds, 9 ounces. It shot like a dream, and I have to give credit to the stock and its reputation, because Laura Burgess stepped right up to the line in her foxy sleeveless top and shot several rounds through that rifle. Mounted that thing right on her skin. No problem. Retail: $269.99
Getting a little hotdog on …
I like Gary Cauble. He's a nice family guy. He and his uncle patented the recoil system for the KNOXX stocks and then, sold the idea to BLACKHAWK! I met him in Idaho and I knew he had a little bit of "hot dog" in him, so when it was my turn to fire the Mossberg 500A, sporting the BreachersGrip, and shooting Federal Ammo, 00 Buckshot, I knew what that little old pistol grip would do, and wouldn't do to my hand. I checked: "Hey Gary, isn't this the grip that we shot one-handed in Idaho?"
He nodded and gave me the "You go, girl" look. So I loaded up the shotgun, got my stance ready and took three shots one-handed. That was enough, but with a 75 percent reduction in perceived felt recoil and with its ability to cut muzzle rise, I'm not saying it was easy, but it was doable. Retail: $99.99
And, it was worth it because Todd Jarrett said, "I ain't never seen a woman do that."
Every woman wants to hear that, at least once in her life. ~Barbara Baird
Resources:
KNOXX stocks: http://www.blackhawk.com/catalog/Stocks,10.htm
To see why women like KNOXX stocks: http://www.youtube.com/watch?v=ojqXVclmRHE&feature=related
To view what happened at the first-ever bloggers' seminar at BLACKHAWK: http://www.youtube.com/watch?v=bOIamqKsCm4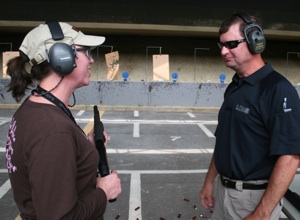 About Barbara Baird

Publisher/Editor Barbara Baird is a freelance writer in hunting, shooting and outdoor markets. Her bylines are found at several top hunting and shooting publications. She also is a travel writer, and you can follow her at https://www.ozarkian.com. View all posts by Barbara Baird →
The Conversation