Babbs in the Woods: The Battle of the Beetle begins
I knew it had to be too good to be true. First I spent a day fly fishing on a beautiful stream last week in the Ozarks with friends and family and then, my husband and I flew to California to spend time sipping wine with family, riding on a vintage steam train and eating Ethiopian and Cuban dishes. Only to come home and wander by my rose garden and what in the wide world of insects is that? The battle of the beetle began today.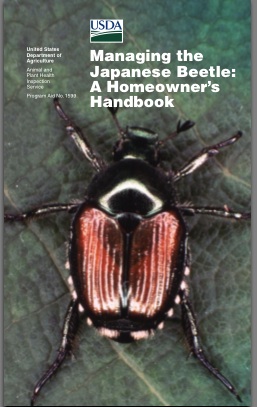 Every rose in my garden was covered with these nasty insects that have no natural enemies to keep its population in check. So, I turned to my government's publication titled "Managing the Japanese Beetle: A Homeowner's Handbook." Really, the United States Department of Agriculture published a handbook to engage in warfare in the battle of the beetle. It's not cheery reading material. It uses phrases like "no quick fixes" and "integrated pest management (IPM) program" and "biological, cultural and chemical strategies" – a three-prong approach. And I just wanted to catch up on the laundry, meet a deadline or two and take the cardboard to the recycling center. The yard was supposed to wait until the weekend!
I stopped by the local nursery on my way to the recycling center and sought advice from Penny, the Goddess of the Greenhouse. I even brought her a few beetles in a plastic bag. She sold me the last trap, told me to figure out how to put it together, and said, "I'm sure you can get the beetles to fly into the trap, even though you couldn't call a turkey in this year." I'm still stinging a little from that remark, but hey, I'm lucky she had one trap left. We live in a two-greenhouse town and the other one is located farther than where I wanted to drive.
She also handed me a spray can of permethrin-based stuff, but I came home and found some chemical that indicated it would be lethal on Japanese beetles, and diluted it with water in a sprayer. Now, my roses have no beetles and very few petals on them, the trap has about 100 beetles in it and oh yeah, the hibiscus is looking naked, too.
One Japanese beetle glommed on to my Adam's apple during the process and I think it bit me. There are lots of theories out there as to whether Japanese beetles bite or if those are really Asian lady beetles that bite. Someone at a Yahoo forum wrote that it's really beetle spit that stings, not a bite.
Great … I went into the battle of the beetles and got spit on – what a super start to this week. ~ Barbara Baird
Twitter: http://twitter.com/babbsbaird
Facebook: http://facebook.com/babbsthewon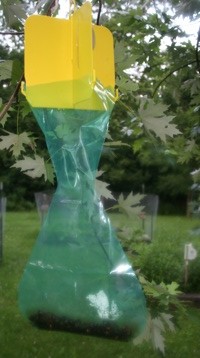 About Barbara Baird

Publisher/Editor Barbara Baird is a freelance writer in hunting, shooting and outdoor markets. Her bylines are found at several top hunting and shooting publications. She also is a travel writer, and you can follow her at https://www.ozarkian.com. View all posts by Barbara Baird →
The Conversation