Babbs in the Woods: Chigger City, SD — Population? Millions and millions
My sister and I stood in the kitchen at the lodge in South Dakota waiting impatiently for her fancy schmancy coffee maker with the grinder included to color some water brown for us. We'd been up late the night before and needed a caffeine boost to head out to the prairie again in the morning to find dog towns.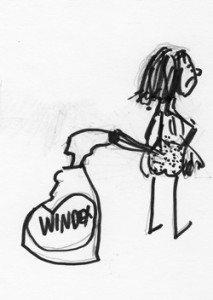 Our annual summer vacation tradition includes prairie dog eradication efforts in central South Dakota. Thanks to my sister and her husband, we have a home base, a headquarters, surrounded by hayfields and pheasants – and infested by chiggers.
She lifted her nightgown and really, I didn't want to look but I did anyway. About a two-foot band of chigger "bites" covered her body from mid-stomach to mid-thigh – all around. "Holy cow!" I exclaimed. She grabbed the Windex from below the sink and started spraying herself in front. "Spray my behind!" she commanded.
Later that night, she sat in a bleach bath and reported that her efforts had been greatly rewarded, even though she appeared to be two shades lighter from her waist down. I did not verify those results. Meanwhile, our "organic and holistic" sister (who was not with us at the time) remains horrified at the prospects of after-effects of Windex and bleach in our chigger sister's bloodstream.
I did not realize that chiggers lived and thrived in South Dakota. I am quite familiar with them here in my home in the Ozarks. Chiggers, aka trombiculidae, are referred to as red bug, scrub-itch mites and of course, in their larval stage, chiggers.
A primer on chiggers
From (what else) Wikipedia, the free encyclopedia …
After crawling onto their host, they inject digestive enzymes into the skin that break down skin cells. They do not actually "bite," but instead form a hole in the skin called a stylostome and chew up tiny parts of the inner skin, thus causing severe irritation and swelling. The severe itching is accompanied by red pimple-like bumps (papules) or hives and skin rash or lesions on a sun-exposed area. For humans, itching usually occurs after the larvae detach from the skin.
It's been a couple of weeks, and my sis reports that all she has to deal with now are thousands of scabs. Of course, if you want to offer your chigger advice, please feel free to do so here. ~Barbara Baird
About Barbara Baird

Publisher/Editor Barbara Baird is a freelance writer in hunting, shooting and outdoor markets. Her bylines are found at several top hunting and shooting publications. She also is a travel writer, and you can follow her at https://www.ozarkian.com. View all posts by Barbara Baird →
The Conversation