Babbs in the Woods: On ball caps and power ponies

"OK, so that's not an 'old man's' ball cap, Mom. That's a trucker style."
I got the lowdown on ball caps from my daughter – the one who advises me on shopping trips using three words: frumpy or not frumpy.
I really miss that kid, because she's the one that advised me that underwear, er panties, need to match the rise of the jean and that it's not acceptable to wear underpants two or three inches higher than the waistband of my jeans.
Ball caps always seem to be in fashion.
I just received my 25th ball cap in about 24 months – free. Yes, free. Everywhere I go, it seems, someone hands me a free ball cap, and sometimes, I get two or three!
I am beginning to think ball caps are like your favorite jeans. You might have 15 pairs of jeans, and you will wear two or three pairs all the time. The others just sit there going out of style with their skinny legs or bell bottoms.
The last free ball cap I received came from RO Drift Boats, Bozeman, Montana. According to my daughter, it's a trucker style cap. It also is called a "gimme cap," because it is often the style given away for advertising. The hat features a mesh back — which is ever so cool — and a plastic thingey with nubbins on it that align with holes in another plastic thingey.
According to my daughter, the "old man" hat has a metal clasp that allows for adjustment of a fabric band. I actually prefer this style of hat, because some days it seems that my hair swells.
Side Bar: The Power Pony … a "must-have" if you wear a lot of ball caps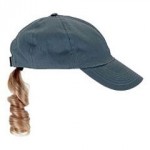 I know you've seen these … fake ponytails that you can clip onto the back hole of a ball cap. Don't go there. They never match what's truly under your hat and usually look like a Halloween costume accoutrement. God forbid the wind blows your hat off your head. You'll be chasing a pony.
Instead, opt for the real thing: the power pony.
The associate editor, Paige Eissinger, and I have been growing out power ponies for about 18 months now. Her hair is down to her waist practically, and mine sticks out about three inches from the back of my trucker style hat hole.
I see that my pal Holly Heyser is growing her hair out, too. I wonder … is it because she wants a power pony? She wears a lot of ball caps.
My other pal, Marti Davis, an avid outdoors woman summed up the main reason for wearing a ponytail with a ball cap: "I got tired of being called a boy."
We figure if we get the power pony going, then for the most part, identification of our gender does not require going lower than the neck. Although some men wear ponytails, it still works to trigger almost immediate identification of being a female … that is, unless you're sporting a moustache like the waitress that usually works our section at the local Steak 'n Shake. Come to think of it, she also wears a ponytail.
Twitter: http://twitter.com/babbsbaird
Facebook: http://facebook.com/babbsthewon
About Barbara Baird

Publisher/Editor Barbara Baird is a freelance writer in hunting, shooting and outdoor markets. Her bylines are found at several top hunting and shooting publications. She also is a travel writer, and you can follow her at https://www.ozarkian.com. View all posts by Barbara Baird →
The Conversation