Babbs in the Woods: Is that a sock on the sidewalk? Or what?
Recently on a trip to Bozeman, Mont., courtesy of Prois Hunting and Field Apparel, Kirstie Pike and I wrapped up our evening called Ladies' Night at The Powder Horn in historic downtown Bozeman. We really needed to head back to the motel to work, but on the way, we stopped at the city library so Kirstie could meet Nomkoo.
Who in the wide world of environmental awareness is Nomkoo?
Nomkoo is short for Nonkhubulwane, a nine-foot-tall, 1.3-ton elephant sculpture made of woven recycled tires. Made in Africa by artist Andries Botha, Nomkoo is traveling internationally to "encourage creative projects and discussions about a more respectful and sustainable relationship with the earth." Bozeman is one of five cities in the U.S. to host her as part of her North American Tour. The city of Bozeman embraced this giant, and held poetry readings, a song competition and various events circling her rather large body on the lawn of the library.
Wait … there are more …
Nomkoo belongs to a international troupe of elephants made of tires that travel the world, leaving a rather large carbon footprint, I'd say, to promote "issues of sustainability, conservation, the environment and the inter-relationships of all living things."
But wait … what's that sock doing on the sidewalk?
Kirsite, an RN when not designing or marketing women's camo, has two factors in her favor when it comes to being aware of her surroundings: she's a hunter in the West, and oh yeah, she's the mom of two teenage girls.
"What is that?" she asked and pointed to a shape on the sidewalk near the library.
We walked closer to see. It was a sock, and it looked like a hiking sock. Just lying there stretched out.
"Wait!" said Kirstie, because now she had spotted the sock's mate, across from it and near a bench. "There's another one."
We wondered why someone would give up their socks at this site. Or, perhaps the socks flew out of someone's pack while bicycling by?
Just goes to show you about life. You can think you're going to stop and learn something along the way, in this case, about the importance of sustainability, and you wind up wondering how a pair of good-looking hiking socks got left on a sidewalk instead.
You may read more about Nomkoo at www.nomkoo.org. Donations are welcome.
Check out Prois' line of women's camo at www.proishunting.com. Purchases are welcome.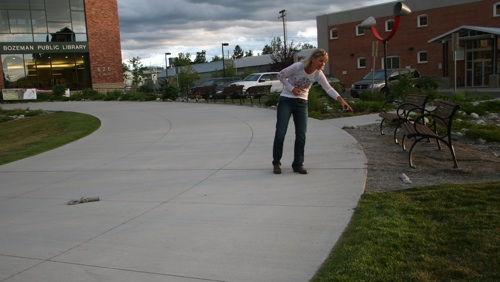 About Barbara Baird

Publisher/Editor Barbara Baird is a freelance writer in hunting, shooting and outdoor markets. Her bylines are found at several top hunting and shooting publications. She also is a travel writer, and you can follow her at https://www.ozarkian.com. View all posts by Barbara Baird →
The Conversation