Babbs in the Woods: How big is that buffalo target?
You know it's starting to be a long, long winter when you're reading the backs of cereal boxes, poring over seed catalogs and staring at life-size buffalo target sales pitches.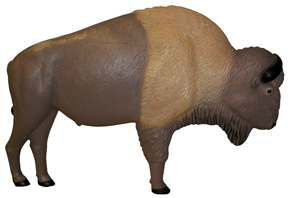 I read the product release regarding Rinehart's new buffalo target today and really? The release reads, "Any experienced bowhunter can tell you that hunting a massive and extremely vast animal such as a buffalo takes precise practice and impeccable precision prior to stepping into the field. That's why the renowned makers of innovative 3-D targets, Rinehart Targets® have created the durable Rinehart Buffalo Target™ — providing bowhunters with a authentic practice experience for preparing for the big hunt."
Frankly, any bowhunter would say that about any game she is going to take with a bow. It takes "precise practice and impeccable precision." You could say the same for hunting with a rifle. Or with a knife or a spear. Especially a knife or a spear.
Just think of the logistics of this beast of a target. First of all, it's life-sized. That means it stands 55 inches and measures 55 inches in length. Talk about a refrigerator size box in your back yard. Rinehart also offers a Stegosaurus, but its height is 15 inches and it's only about three feet long. It weighs 45 pounds. So, we know that's not a life-sized Stegosaurus. Just imagine that in your back yard.
A quick search on the Web shows a photo from the Archery Trade Association Show on NYBowhunter.com that makes it obvious that this dude is not going to fit in the storage shed very easily. Although it supposedly breaks down into pieces, and even though the product release claims "this lightweight Buffalo can be set up in a snap when it's time for practice and easily stored away during the off-season," I want to know. Does it come with its own shed or barn? Because there is no way this thing will fit in our shed with our two antlerless buck targets (it took a few tries to get my sight aimed), sleds, shooting target stands and mowing equipment.
I've seen Rinehart targets. They're very nice. But really, and honey, if you're reading this … do not buy me one of these.
8f987599721a42dc92cbe861a6b044b0
About Barbara Baird

Publisher/Editor Barbara Baird is a freelance writer in hunting, shooting and outdoor markets. Her bylines are found at several top hunting and shooting publications. She also is a travel writer, and you can follow her at https://www.ozarkian.com. View all posts by Barbara Baird →
The Conversation