Babbs in the Woods: This one will make your head itch — ticks on antlers
This week, an email update with the subject line "Can Ticks Affect Deer Development?" popped into my inbox from Quality Deer Management Association, one of my favorite wildlife conservation organizations.
Living in the land of tickdom here in the Ozarks of Missouri, combined with billions and billions of chiggers, I have often wondered if deer are as bothered by ticks and other parasites and mites as we are. And then, I see them wander through my backyard and stop and scratch, and I think they just gotta be.
But … ticks on antlers? Did that just make your head itch?
About this deer in the game photos below, Joe Hamilton, a wildlife biologist and Director of Education and Outreach for QDMA, writes, "Obviously this buck is not completely healthy, and 
I think there is some kind of issue with his right front leg/foot, which could 
be the cause."
And then, Joe posed the question of what other factors affect antler growth? And now, I'm wishing I'd taken a few wildlife biology classes, because this stuff is fascinating. Also, one other little piece of trivia for you wildlife lovers out there. From the article, "The relative number of parasites on a deer is referred to as a 'burden' 
by scientists." So, in more than one way, harboring parasites is a burden to an animal.
You may read the article and a related article by Kip Adams about other factors that affect antler growth.
If you are a deer hunter or a deer watcher, please take a hard look at what the QDMA has to offer, particularly in the form of education of its members in deer management practices. Check out QDMA.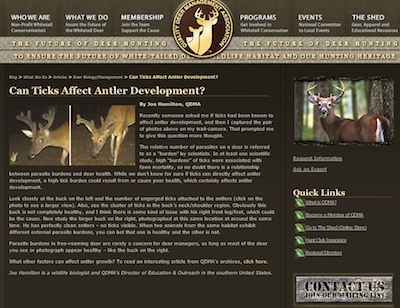 About Barbara Baird

Publisher/Editor Barbara Baird is a freelance writer in hunting, shooting and outdoor markets. Her bylines are found at several top hunting and shooting publications. She also is a travel writer, and you can follow her at https://www.ozarkian.com. View all posts by Barbara Baird →
The Conversation