Babbs in the Woods: Tisma Juett's 'First Shots' at managing national shooting program well placed
I met Tisma Juette three years ago, when she worked for Bass Pro Shops in the Chicago area and coordinated women's outdoor events. What a go-getter she was. Later, we hooked up at a National Wild Turkey Federation convention in Nashville. On that day, we started early in the morning at an IHOP, hit the floor of the convention and then spent the evening listening to music at BB King's in Nashville with a bunch of other outdoor women. By the time we had finished, it was the next morning!
So you can imagine my delight when I read that she had been named manager of the National Shooting Sports Foundation's First Shots' program. In between duties (including travel) and getting settled into her new digs in Connecticut, Tisma answered these questions.
Get to know her a little better here, and then, try out the program and let her know what you think about it.
Babbs: Please tell me what you do in your new job, your official title, etc.?
Tisma: I am the manager of a recruitment and retention program designed to help range owners and sporting clubs increase participation in the shooting sports by introducing new people to the sport of target shooting through the First Shots program.
Babbs: Why were you interested in applying for the job?
Tisma: As anyone who participates in the shooting sports can attest, shooting is fun! This program is designed to introduce people — who have never shot a firearm before — to take their first shots and consequently, to see what they have been missing and give them the opportunity to shoot. The National Shooting Sports Foundation (NSSF) partners with ranges and has designed to make the program free to participants with a minimal cost to the ranges.
I remember taking my first shots and I remember not only the joy and excitement I had, but also I remember the excitement for those who were instructing me and how much they were enjoying my experience. That is a great feeling and that is why I wanted to join this program. Top that with the fact that the NSSF is such a wonderful organization, filled with great people who strive to promote, protect and preserve hunting and the shooting sports.
Babbs: What's the difference between your homebase in Illinois and your new home in Conneticut?
Tisma: Like anything new, discovery is a wonderful! I am learning about the history of the area, meeting new people, and experiencing new things. Connecticut is beautiful. Back roads can be taken almost anywhere. The roads are winding with lots of hills and valleys and the sights are just amazing! In the Chicago area, to get from point A to point B usually involved an expressway or two and everyone was in a hurry. I am finding Connecticut to be more peaceful, especially from a driving standpoint.
Babbs: Please discuss plans for First Shots program; you had mentioned muzzleloaders. Anything you can announce yet?
Tisma: Shots was started in 2005. Since that time, thousands of people have had the opportunity to take their first shots. A program has been created to build upon the excitement of a person taking their first shot. Currently, First Shots incorporates shooting .22 caliber handguns, .22 caliber rifles, or 12- and 20-gauge shotguns.
Participants want to know what other opportunities are available within the shooting sports. The next step is a program called Second Round. Second Round will help ranges introduce people to larger calibers or firearms, different types of firearms and shooting sports games. From .38 caliber revolvers to muzzleloaders, from trap and skeet to sporting clays, from cowboy action to steel challenge, there are just so many different things to do safely with firearms that a new shooter has no idea where to go after taking those first shots. Second Round will point them where to take that next step.
Babbs: It sounds like the NSSF keeps thinking on its feet. Who are some of the others there and what are they doing?
Tisma: Aside from First Shots, there are many programs which are sponsored by the NSSF. Melissa Schilling is the manager of Recruitment and Retention and she is working on a program called Explore Wingshooting. This new program will is being introduced in the Northeast and will help the new hunter education graduate go on a pheasant hunt.
Zach Snow, the manager of Shooting Promotions, has developed the Collegiate Shooting Sports Initiative geared at helping colleges create shooting teams or improving the programs they currently have in place.
Together, we are getting more people involved in the shooting sports.
Babbs: What do you want people to know about First Shots, from your experience with the program on a personal level?
Tisma: I have found there are number of people who would like to learn how about firearms and the shooting sports; they just don't know where to go or how to start. I was one of those. I tried it and boy, howdy, did I like it!
After every First Shots event, the participants are asked to fill out a survey on their experiences of the day. The survey asks a variety of questions including, if this was their first time shooting, their primary reason for attending the event and asks if they plan to continue shooting. If they say yes, we ask if we may contact them in six-month intervals to follow up on their shooting activities. Our research shows that 43 percent of seminar participants in the six months after their First Shots purchased an average of $588.60 on shooting-related equipment (Industry Intelligence Report – 2/2009 contact Jim Curcuruto, director of research in our office for more stats if needed).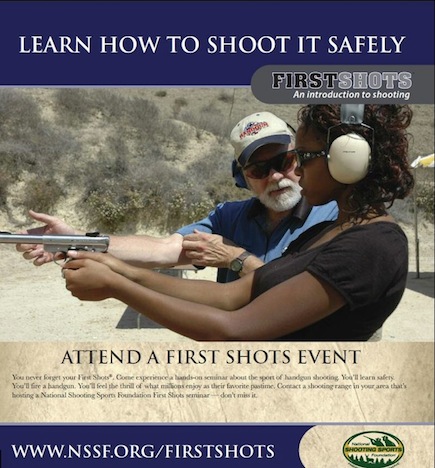 Babbs: What's the best way for people to find out more about First Shots?
Tisma: First Shots has a Facebook page. We give participants a flyer in their event kits and ask them to like us on Facebook. We use this page to add helpful tidbits from the NSSF that we think may be beneficial or interesting to new shooters. There even is a video on range etiquette, which was created to help take some of the anxiety out of a new shooter going to the range. The page also lets participants interact with us in the office and with other First Shots participants. So, if you are not a fan of First Shots on Facebook, please "like" us.
About Barbara Baird

Publisher/Editor Barbara Baird is a freelance writer in hunting, shooting and outdoor markets. Her bylines are found at several top hunting and shooting publications. She also is a travel writer, and you can follow her at https://www.ozarkian.com. View all posts by Barbara Baird →
The Conversation