Teen shooter Allie Barrett joins Secure Firearm Products' team
Carl Junction, MO – Secure Firearm Products announced today that junior shooter, Allie Barrett, has become a member of the SFP Shooting Team. Barrett joins fellow SFP Shooting Team Members Mark Itzstein, Ryan McQuilty, Doug Carden, Karl Piper, Warren Piper, David Surgi, Paul Surgi and Sydney Surgi, and junior members, Tiffany Piper, Aaron Surgi, Theresa Surgi and Louis Surgi. The Secure Team competes in: NRA Action Pistol, ICORE, USPSA, IPSC and Steel Challenge.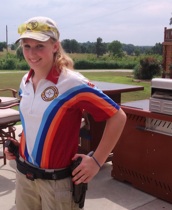 Allie is 15 years of age and resides with her parents and older brother just outside of Stockton, MO. In addition to Secure Firearm Products, she is proudly sponsored by Midwest Tactical Firearms Academy, and Sportsmans Paradise Gun Shop.
Allie began shooting with her father when she was 9 years old. Her first gun was a Walther P-22. When she was 13, she began shooting a Smith and Wesson 627 revolver. She is a Certified NRA Apprentice Pistol Instructor and helps out on her parent's Range, Midwest Tactical www.securefirearmproducts.com
Academy, when they are teaching CCW Classes and holding matches. She has shot in a few Steel Challenge matches, fun matches, and IDPA classifiers and has qualified as a Marksman.
"I'm very excited about becoming a member of the SFP Shooting Team," stated Allie, "and I can't wait to start competing in USPSA matches, ICORE matches, and eventually 3-Gun matches."
Barrett is attending the 2011 MGM Junior Shooting Camp this month and hopes to be competing in the 2011 Ruger Rimfire World Championship in early August. She is a member of USPSA and a Junior NRA member and is blogging for The Women of the USPSA beginning this month.
About Secure Firearm Products
Secure Firearm Products is a family owned and operated business. The Surgi family has been in the manufacturing business for over 60 years, and has developed and manufactured a high quality line of products for shooting sports enthusiasts and professionals since 2001. Their product line includes high security firearms cases, wall vaults and shooting target systems.
For more information about Secure Firearms Products visit Secure Firearm Products online or call 417-649- 7277.
About Barbara Baird

Publisher/Editor Barbara Baird is a freelance writer in hunting, shooting and outdoor markets. Her bylines are found at several top hunting and shooting publications. She also is a travel writer, and you can follow her at https://www.ozarkian.com. View all posts by Barbara Baird →
The Conversation