Win a 'Dancing Arrow Diva' gift bag from Gretchen Steele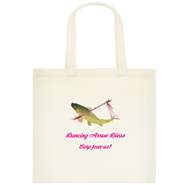 She likes to call it "the feminine invasion of the bowfishing world," and Gretchen Steele is offering a goody bag full of Dancing Arrow Diva products — journal, pen, tee shirt, key fob, mouse pad, bumper sticker (Carp Fear Me!) tucked into a colorful tote bag with the Dancing Arrow Diva logo on the front. Just visit Gretchen's blog, Walkin' with the Wild Woman, and sign up to win. Also, check out her wonderful photos of young women bowfishers. Who says slimy is nasty looking? The looks on these young women's faces with their "catch of the day," shows the pride they have in mastering a skill such as bowfishing. And, in the meantime, they're helping to eradicate the Illinois river system of nuisance fish that are threatening the Great Lakes' system.
Here are the details : To enter simply leave a comment about why you love bowfishing, what's great about bowfushing, why you would like to learn about bowfishing..anything about bowfishing! The contest runs through August 15th , and the winner will be announced on August 16th. The winner will be chosen via a random number generator and the number of your comment will be your assigned number.
Feel free to pass this great Dancing Arrow Diva giveaway on to all the bowfishers and anglers in your world! Now if you'll excuse me, my arrows are ready go dancing!
About Barbara Baird

Publisher/Editor Barbara Baird is a freelance writer in hunting, shooting and outdoor markets. Her bylines are found at several top hunting and shooting publications. She also is a travel writer, and you can follow her at https://www.ozarkian.com. View all posts by Barbara Baird →
The Conversation