Babbs in the Woods: Bye Baby Bunting .. Granny's not been hunting (yet)
It's the rut. It's whitetail season here in the Ozarks. I sit at the "governor's desk" – a piece of furniture built for "the Colonel," my father-in-law, in the '60s and make lists – call the plumber, talk to the general contractor about a strike plate for the back door and grab bars for the showers, get some more strawberries for the babies. My deer tags lay unfilled.
In fact, my deer tags have been retrieved from the trash from my husband at that other place I call home. I sit here with an expired trout tag and a migratory bird tag (that I mistakenly packed when I threw away the valuable tags) and three babies under the age of 15 months and their mommies and daddies and boxes all around me and no running water and generally, cheerful chaos. And the deer are in the rut and we see them salute us with white flags somewhere on the property almost every day. One baby daddy has already tagged a one-antlered buck.
When my husband brings me my tags, later this week – yeah, I know … I could get duplicates, but that means I have to quit unpacking and playing with grandbabies on the floor and start ignoring the contractor and worst of all, go stand in line at the Walmart, which is 10 miles from here – well, then I will put on my Próis, pick up my Ruger and get out there, with my Hunter's Safety System vest and into my Summit tree stand.
One thing about whitetail season, and it is the most popular season in this country according the U.S. Fish & Wildlife Survey … it brings families together. Families that would not stay in crummy places, stay in crummy places. People settle (and pay) for third-world country accommodations in order to tag the ultimate in hormone-free, organic, free-range venison. (People stay in construction zones of old houses with no running water in the kitchen and mazes of boxes, too.) Say what you want about the therapeutic benefits hunting, it also brings people together. Families often have to share their adult children (Is that an oxymoron?) at other holidays, but every fall, if those children are hunters, they'll come home to hunt if they can.
Just something to think about. You might want to take your kids hunting. Just do something with them that makes them want to come home – golf, tennis, shooting sports, bird watching …
You know what you do best.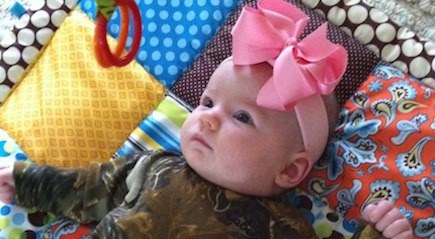 About Barbara Baird

Publisher/Editor Barbara Baird is a freelance writer in hunting, shooting and outdoor markets. Her bylines are found at several top hunting and shooting publications. She also is a travel writer, and you can follow her at https://www.ozarkian.com. View all posts by Barbara Baird →
The Conversation