This 'Renegade' loyal to women's outdoor pursuits
Boots have always been the bane of my existence. I inherited my dad's feet with a wide toe box and my mom's high arches and narrow heels. I have worn through many pairs of boots that weren't necessarily bad. They just didn't fit right.
Just when I think I've found a pair, they turn on me. They blister me when they start to wear out. They blister me before they start to wear out. They start to sag out and stretch and slip and blister. Did I say they blister me a lot? Even when I wear good socks and perfect insoles? I've had more blisters on my feet than a 100-foot-long piece of bubble wrap has those little air blisters, aka pockets.
And, I've been to boot specialists in hiking stores who have worked with me on fit and function. So, when I received an invitation from Ingrid Niehaus to stop by the LOWA booth at SHOT Show last year, I figured I owed it to her. She's a great businesswoman and person and really cares about the products she represents. Besides that, she put me in a kayak with an NFL player a few years ago, and I still owed her payback for that interview. Even though it was a double paddle kayak and he made me peddle. Upstream.
And … the Guru Huntress reviewed a pair and liked them, too. That's a great recommendation, right there.
Not only was Ingrid at the boot booth, so was Tudor Dragomir, a boot designer with LOWA from north of Munich. Yes, the Germany Munich, not the one in North Dakota.
And we talked boots and Tudor explained how LOWA likes women's feet. It believes in designing from the foot out – not from taking a man's boot and attempting to break it down to fit a woman's fit. Tudor said, "From the outside a LOWA boot looks similar, but it is completely different than a men's boot. It's a different last, it's a different thickness of the mid-sole to make it more flexible, because women are not as heavy as men."
In fact, LOWA hires a woman boot designer who works at their headquarters in Munich.
I hike and I hunt.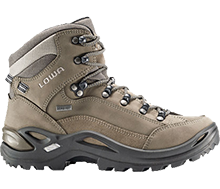 Most of the time, I do both – at the same time. So, Ingrid and Tudor decided to send me a pair of Renegade GTX Mid WS, the top-selling boot. And when I write "top-selling," I'm talking about half-a-million pairs per year worldwide. And the only reason I can think of that it works as a "renegade" in the women's boot market, is because it betrays the notion that a woman's boot cannot be lightweight, yet tough.
The Renegade features a Monowrap® Evo comfort construction. This means it offers a lightweight, sleek profile, but still comes with a supportive stabilizer. I especially like the stiff nylon shank that worked really well in these Ozark hills during turkey season – where I hunted for 19 days in these boots, averaging at least 5 miles a day on rocky terrain, and weathering everything from freezing morning temps to scorching late-season temps.
Here's how LOWA describes its Renegade:
UPPER: Nubuk leather.
MIDSOLE: PU Monowrap® Frame, a new, patented construction technique that allows us to reduce overall boot weight while retaining important lateral stability.
LINING: Seamless, waterproof GORE-TEX® lining reduces hot spots. A LOWA patented design.
OUTSOLE: Vibram® Evo.
SHANK: Full length nylon.
FOOTBED: Climate control footbed with comfort perforations to improve breathability.
DERBY STYLE LACING: Ensures great, customized fit.
Handcrafted in Slovakia: Bordered by Austria, a member of the European Union, and one of the fastest growing economies in the EU. LOWA employs a large group of highly skilled boot makers in this delightful country.
From Day #1, I wore these boots comfortably for hours. They support my feet marvelously and when it seems my ankle is going to turn — you know that feeling — it's like it magically pops back into place!
I wear these boots all the time now. For shooting on the range. For hiking. For coyote and squirrel hunting. For pig hunting. For going to the grocery store to buy arugula to pair with venison tenderloin and pasta. For pushing my grandbaby in her stroller on a trail.
I would even buy my own pair at full price – that's $220. And, I'm looking at doing so, because no outdoorswoman should own a single pair of great boots.
You always need back up.
Five stars. All As. High Five. Get these boots!
About Barbara Baird

Publisher/Editor Barbara Baird is a freelance writer in hunting, shooting and outdoor markets. Her bylines are found at several top hunting and shooting publications. She also is a travel writer, and you can follow her at https://www.ozarkian.com. View all posts by Barbara Baird →
The Conversation