Babbs in the Woods: Gunpowder and lead
When there's gunpowder in the air because hundreds of rounds have rocketed downrange, and when the sun is beating down on you and your black gun, and your instructor is commanding you to push those shots faster and faster, it gets intense. Some people might cringe. Some might be driven to compete more against others on the line. Some might quit because now the instructor is yelling. Eight of us stood our ground, wiped the sweat off our brows and crouched again to deliver center-of-mass shots to our paper targets. It was us against them – the imaginary bad guys, miscreants, in front of us, made of paper and wood.
We even threw in a move or two sideways and then, hustled downrange on command. We were the first group of women to be invited to Winchester Ammunition's "Ladies Only" Personal Defense Media Event.
Who are we?
Sarah Smith Barnum – Assistant Web Editor of Field & Stream, Outdoor Life
Lacey Baxter – Law enforcement, Joplin, Mo., and new freelance writer for FMG Publications
Karen Lee – Editor, Turkey Country magazine
Emily Miller – Senior Editor for Opinion, of The Washington Times
Gloria Shytles – Managing Editor, Intermedia Outdoors' specialty magazines
Ann Smith – Editor for NRA's online publications
Tel-e-phone …. Tell-a-woman
Winchester Ammunition, based in East Alton, Ill., wanted to acquaint us with its new line of PDX1 Defender ammo. Why invite women only? Said Michael Turbyfill, a PR rep from Chevalier Advertising, "Winchester has placed a heavy marketing emphasis on their PDX1 line of personal defense ammunition and this has been reflected in Chevalier's media relations strategy for Winchester. … With the rising popularity of concealed/carry among women, and an impressive list of potential endemic and non-endemic female media attendees, it made perfect sense."
Not only did it make sense, but also national trending toward women and gun ownership is up, up, up. A 2011 Gallup poll showed that gun ownership among women increased 10 percent between 2005 and 2011. Emily Miller, in a series at the Washington Times documenting her trials while obtaining a handgun in the D.C. area this past year, represents one of the thousands of women in the country who has awakened to the idea that self-defense with a handgun is not only prudent, it is a right.
Said Turbyfill, "Also, the rise of social media and 'shareable' content pushed Chevalier and Winchester to find ways to design the event around fun, visual elements to use on Facebook, Twitter, Youtube, etc." He is referring to gel testing and fruit shooting (documented with a slow-motion video camera). Most of us had never been privy to actual gel tests, where we could see the effects of the ammo as it expanded and in some cases, came apart as designed. Winchester's engineers spent time explaining the reasons for the design of the entire line of ammo, and then, they showed us that it really worked.
We followed drills as directed by Rob Pincus, a renowned self-defense shooting instructor, while on the ranges. We shot a variety of shotguns and AR-15s. On the pistol range, we shot mostly Smith & Wesson M&P 9mm handguns. These handguns offer interchangeable grips, to fit any size hand in our group of women. The new shooters performed extremely well with the M&P while the more experienced shooters practiced their techniques without malfunction problems or any other distractions because of the gun.
One of the newest additions to the lineup of personal defense ammo is the 12-gauge PDX1 Defender Segmented Slug, intended to compensate for error over traditional slugs. Upon impact the slug breaks into three equal projectiles, which means it reduces the chances of stray projectiles in small spaces and delivers greater knockdown power. Let's just say we were covered in fruit after that experience.
Another newcomer to the lineup is the PDX1 Defender .22 magnum. During its gel test, it traveled 1295 fps and created a 3-inch wound channel in the gel. This round provides the low recoil of a rimfire cartridge while depositing energy on target that approaches the .380 ACP.
Gun powder and lead … 'that's what she said'
I would be remiss not to mention the camaraderie formed among the women at this event. (And if you think a bunch of Sunday School teachers attended this event, think again. There were a few "that's what she said" moments behind the scenes from those of us who haven't completely grown up.) A little network of gun enthusiasts was born and now we have returned home and want to share our discoveries – that yes, we can carry a .22 if we want to, and yes, we can move sideways and shoot the center of mass, and yes, we can hardly wait to get together and shoot side-by-side again.
Thanks, Winchester Ammunition.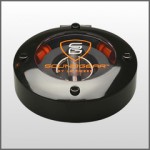 And, thanks to SoundGear, maker of the ultimate hearing protection that comes in the form of tiny, instant-fit silicone sleeves containing electronic hearing protection with a noise Reduction Rating of 25 dB. One of the women said she forgot she was wearing them, they felt so comfortable.
About Barbara Baird

Publisher/Editor Barbara Baird is a freelance writer in hunting, shooting and outdoor markets. Her bylines are found at several top hunting and shooting publications. She also is a travel writer, and you can follow her at https://www.ozarkian.com. View all posts by Barbara Baird →
The Conversation