Babbs in the Woods: Timberland and turkeys
Last spring turkey season, I hunted 19 days to get one turkey. You may read about it here if you want, and thanks to my buddy Marti Davis, I managed to put one in the pot.
And to get a cool fan so that I can attach it to one of those fancy schmancy Carry-Lite decoys next year for the spring season.
So, now it's fall turkey season in Missouri, and that means we can use our shotguns to put the pow on one. I love that saying … it's what Mandy Harling's daughter said to her one time, about wanting to put the "pow on a turkey," and even thought she's probably four years old, it describes it perfectly.
How I put the "pow" on a turkey in my Timberland boots
So in this blogpost, you get a turkey story and a gear review. Because I consider boots "gear." Believe me, where my ever-lovin', former bunion-bearing feet are concerned, boots are gear. A rose is a rose is a rose, and a boot is gear is a boot.
Dr. Bomb and I have been busy putting up tree stands. Oh yeah, and you can read about how we always manage to put up stands that need three people to do the job – at least that's what the instructions say. Two old farts to do a three-man job: that would be us – Dr. and Mrs. Bomb.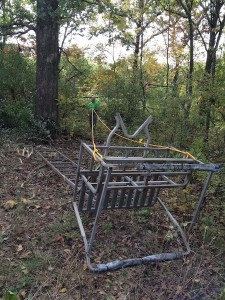 So, Dr. B. was bush hogging his way up from the valley to the top ridge field of our property tucked away in the Ozarks, not too far from Arkansas. And that morning, I packed a lunch and also, I packed my Remington 870 and #4 turkey loads in the truck and followed him – but not too closely, as that bush hog (the Squealer, as it is aptly called) threw stuff right, left and center – like limbs and rocks and dirt.
I drove on up to the ridge field near where Marti and I hunted and where I'd seen a few turkeys last week. I popped my Realtree fleece cap on, and walked along the fenceline, and then, I saw them. Three of them in the field in front of me. I hid in the bush and when they moved, I moved. At one time, I thought the lead hen looked right at me as I had stepped away from the bush and I stood at attention, wearing blue jeans, a sweatshirt and Carhartt jacket and my Timberland boots.
Finally, after about 10 minutes, the birds stopped, pecked and I put the pow on one of them. And, then I remembered that I'd forgotten to take anything out for dinner that night. Very convenient, because we would have fresh turkey nuggets.
And the boots?
They are my tried-and-true steel toe Timberland Pro boots. Made for women, these boots are built with standard manly-like safety features, such as steel toe, electrical hazard rating, a six-inch premium full-grain leather upper, nylon diffusion shank and high-rebound heel inserts. Here's something really cool, the Outlast Adaptive Comfort footbed is built to regulate your foot's temperature, keeping it cool. I didn't even realize they featured that until now. The description reads, "The anti-microbial, contoured open cell polyurethane footbed allows more airflow to your feet keeping away the smell and bacteria that can infect feet while also conforming to the contour of your unique foot for greater comfort and maximum performance."
They were comfy from day #1, and that was almost two years ago. I wear them all the time when we're working outdoors. I like the toe protection, especially because I'm lifting logs and rocks and helping Dr. Bomb with tree stands.
The best thing about these boots is that I forget I have them on, and I can work all day in them.
These boots cost $96 at the Working Person's Store.
About Barbara Baird

Publisher/Editor Barbara Baird is a freelance writer in hunting, shooting and outdoor markets. Her bylines are found at several top hunting and shooting publications. She also is a travel writer, and you can follow her at https://www.ozarkian.com. View all posts by Barbara Baird →
The Conversation