Babbs in the Woods: Gun Goddess bullet-casing jewelry the perfect touch for a business shot
Recently, I cleaned up, put on a white shirt and jacket and stood in front of a backdrop while Dr. Bomb (hubby) took photos for professional use. You'll be finding out next week why I had to change from Carhartt and camo into business on the top (and fleece sweatpants and Birkenstocks from the waist down).
It's always tricky to choose the accompanying jewelry for a business shot. Pearls? Diamond studs? Hoops? I went bare-lobed.
But the necklace … ah, that was another story.
I chose to wear one of my least complicated, yet most noticed pieces of jewelry – a bullet casing of a Winchester .45 that has been peeled and shaped into a flower. I have received more compliments on this necklace than any other gemstones I've ever worn.
And why is that? Because it reflects a lifestyle statement.
Athena Means, proprietor of Gun Goddess, gave me this necklace last year as a gift, in appreciation of the networking opportunities we share as she sponsors what we're doing here at The WON.
So, I called her and talked to her this week. I sent her that aforementioned photo. She said, "I thought it was interesting. You're wearing it backwards!"
Which doesn't surprise me in the least.
She added, "But I like it that way!"
Athena carries a full line of rosette necklaces made from nickel-plated or brass casings that have been cut and peeled back. The .45 casing comes with your choice of Swarovski crystal that replaces the spent primer. Retail is $22.50.
For the record, my necklace does not have a crystal on it. It is one of the first in the series and plain. Which, is how I like it.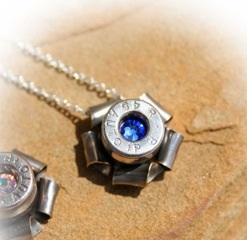 Now, if you wear the necklace backwards, like I do, it looks like a flower with a hole in the middle.
Athena offers several choices of ballistic jewelry, including "The Gun Collection," by Natalie Foster of Girls Guide to Guns, etched riflecasing pendants, rings, earrings and bracelets.
She also carries pendants, cufflinks, chains, money clips and other accessories for men.
About Barbara Baird

Publisher/Editor Barbara Baird is a freelance writer in hunting, shooting and outdoor markets. Her bylines are found at several top hunting and shooting publications. She also is a travel writer, and you can follow her at https://www.ozarkian.com. View all posts by Barbara Baird →
The Conversation